Beautiful Today
60° this afternoon, a bit higher under direct sunshine.
Clouds will roll in this afternoon, staging a few brief drizzlers Monday morning.
Monday
Off and on rain, amounting to under 0.10″, mostly (and probably exclusively) happening before lunch. It's possible some of us won't see any.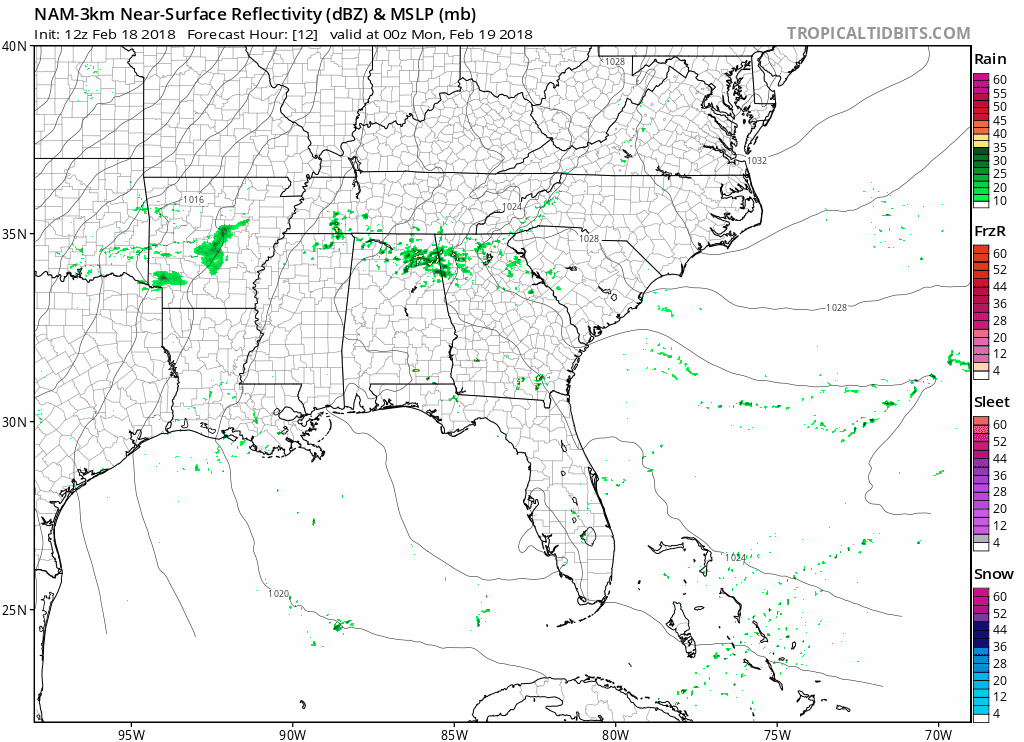 Near-Record Temps
Monday's high is 74°, the February 19 record is 75° set in 1986.
Windy
Although short of Wind Advisory criteria (30 MPH), south winds sustained around 16 MPH are expected.
Tuesday: Record Warmth and Windy
Just as windy as Monday, with gusts near 30 MPH. A Wind Advisory may be needed.
The February 20 record is 78° (set in 2014). With two days of south winds blowing in warm southern air, we're forecast to break that record by hitting 79°.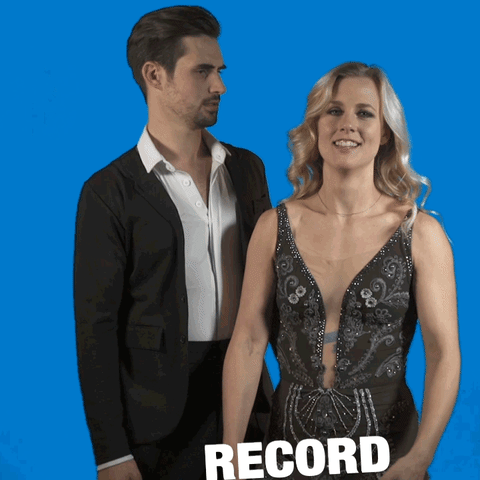 Wednesday: Will We Pay for the Warm February Days?
It's common in February for warm, moist air to be swept away by powerful winter cold fronts, setting the stage for severe weather.
This time?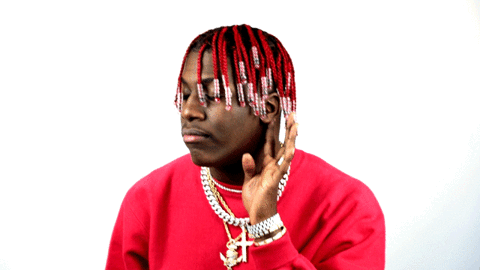 A cold front is coming Wednesday, but it doesn't look powerful. A few weak thunderstorms are possible, but strong and severe thunderstorms are not expected.
It will be a pretty good rainmaker, though.
From NWS-Nashville:
A cold front will drop into the area Wednesday into Thursday with 1-2 inch rainfall amounts as a wave moves along the front. The front will drift northward again late week as persistent southwest [winds] aloft bring more moisture and disturbances across the region.
High resolution models don't run into Wednesday, so forecasting ETAs is difficult. Best guess is rain arriving Wednesday morning and washing out the afternoon and evening. Because the front stays parked to our west and never really comes through, so expect 60°s with a high of 70°.
Thursday-Saturday: More Rain
It won't rain the entire time. Expect off and on rain as disturbances ride like waves overhead. If I had to guess, I'd bet on rain Thursday, but not Friday or Saturday, but do not plan around that. The models aren't that good at this range. They may change or flip-flop entirely.
Temps will drop back down into the 50°s and 60°s. Still pretty mild for us in February.
Flooding? Probably Not, Too Soon To Say
More from NWS-Nashville:
Regarding flooding potential, the ground is quite soggy and rivers are running high. The recent and expected rainfall this week will keep rivers elevated, with some in "action stage", but we do not anticipate any major, widespread flooding.
However…
If the midweek system produces more than expected 1-2 inches, and late week systems also produce some heavy rainfall, then we could see some problems- just a possibility to keep in mind.
We're still far away from the wettest February recorded, but we're climbing the charts:
So far this month, #Nashville has measured 7.59" of rain, making this the 17th wettest February on record (as of today). The wettest February ever for #Nashville was in 1880 when a whopping 12.37" of rain fell #tnwx

— NWS Nashville (@NWSNashville) February 17, 2018
Is Winter Over?
I've been fighting that conclusion because we can get snow in March. But looking at the Euro data, it seems to suggest Winter is gone and we can head straight into Spring: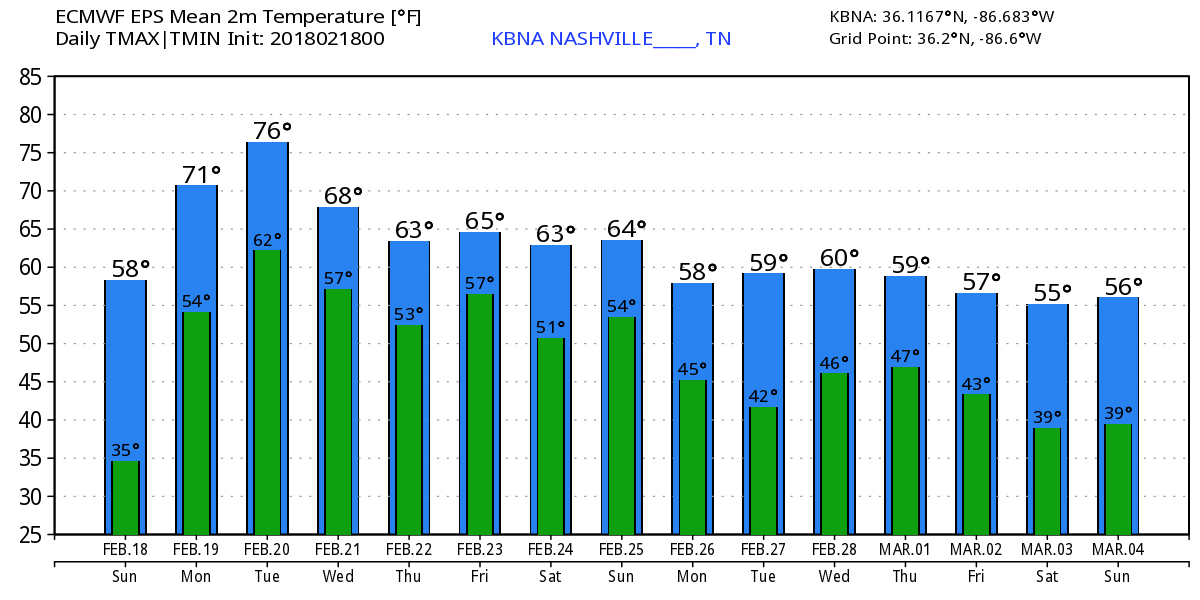 However, we're dipping below freezing at the end of the GEFS run: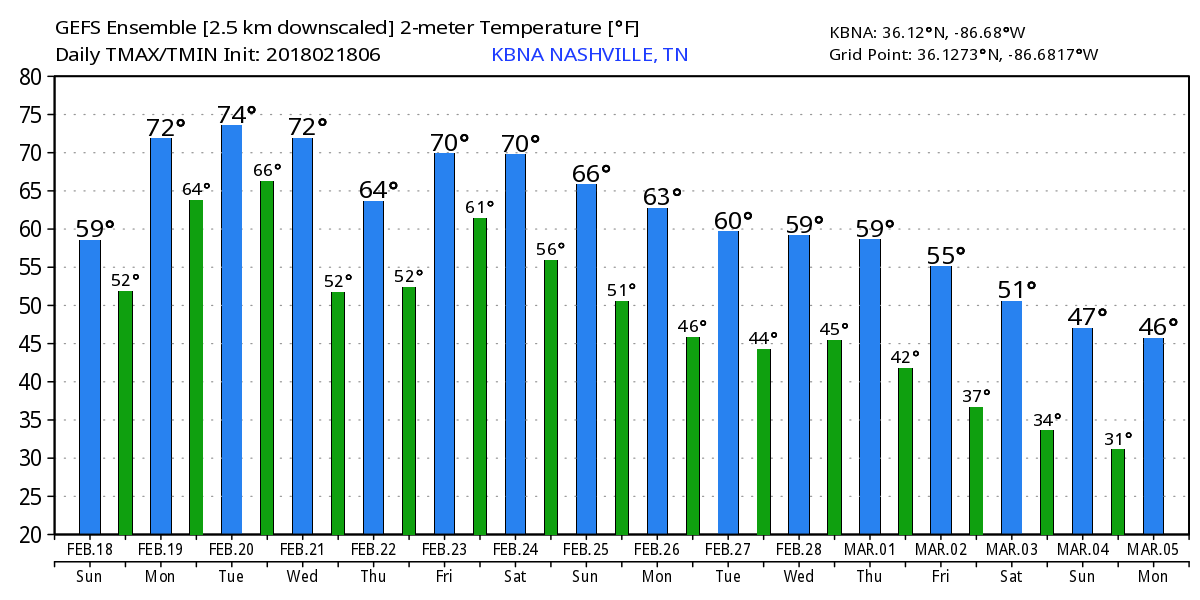 I still think it's too soon to declare Winter over.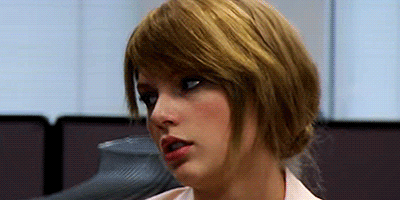 Saturday is Severe Weather Awareness Day
Thankfully, severe weather has been slow here over the past several years, even with the events we've been getting. All severe weather is local to the people impacted, so be ready if it happens to you. This year, NWS-Nashville is not only making it more family friendly, but also leaving plenty of good stuff to satisfy your inner weather curiosity.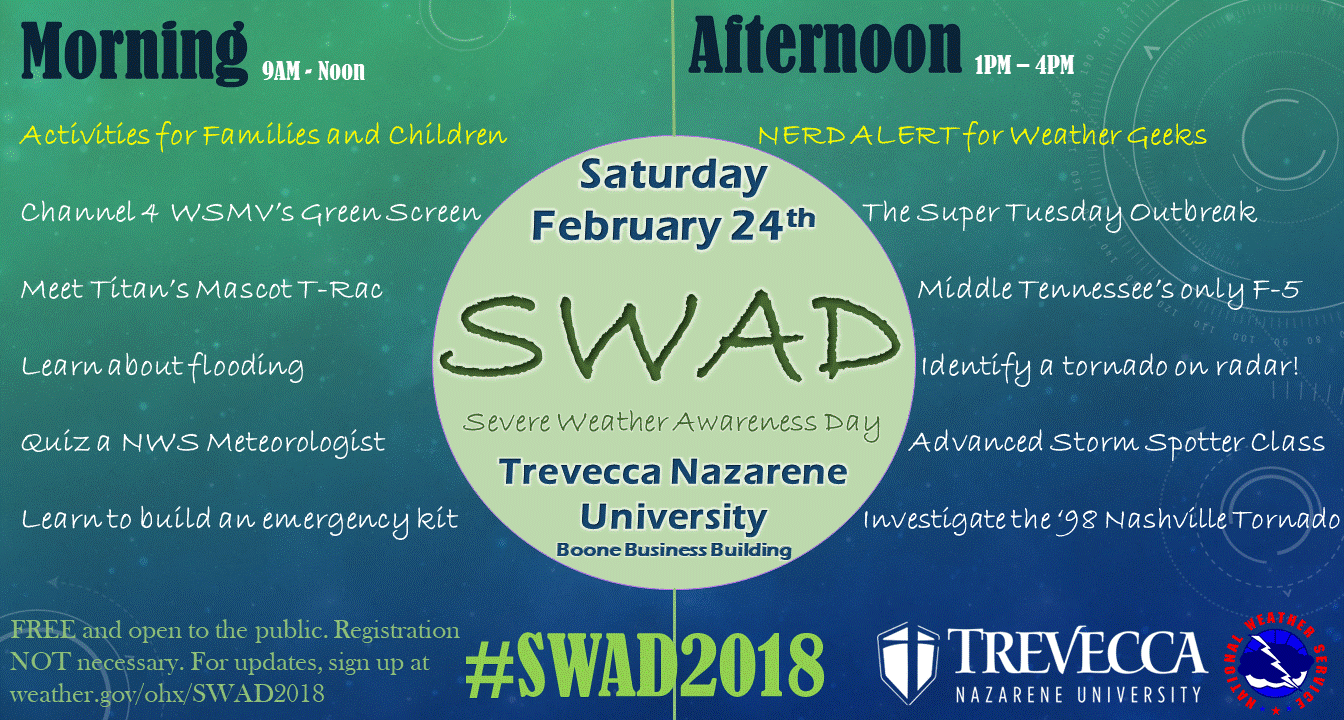 ---