Complex Forecast for Today's Rain and Possible Wintry Mix Tonight
At 9:45 AM rain is changing to snow near STL. System will take I-24 to Nashville. Most of it will be rain. Possible rain will change to snow after the PM rush hour as the precip departs east. Party/Panic level: low…but interested. pic.twitter.com/6njsVTb8L5

— NashSevereWx (@NashSevereWx) February 1, 2018
General Timing
Expect showers to begin after lunch, then a wet PM commute. After rush hour, very cold air rushing in from Kentucky may catch the departing precipitation, possibly changing rain to a mix of rain or snow, or just plain ole snow.
Three weather models, the GFS, NAM3, and HRRR, all show us having a small period of time where we may get some snow in the mix tonight.
GFS Loop Now Through Early Tomorrow Morning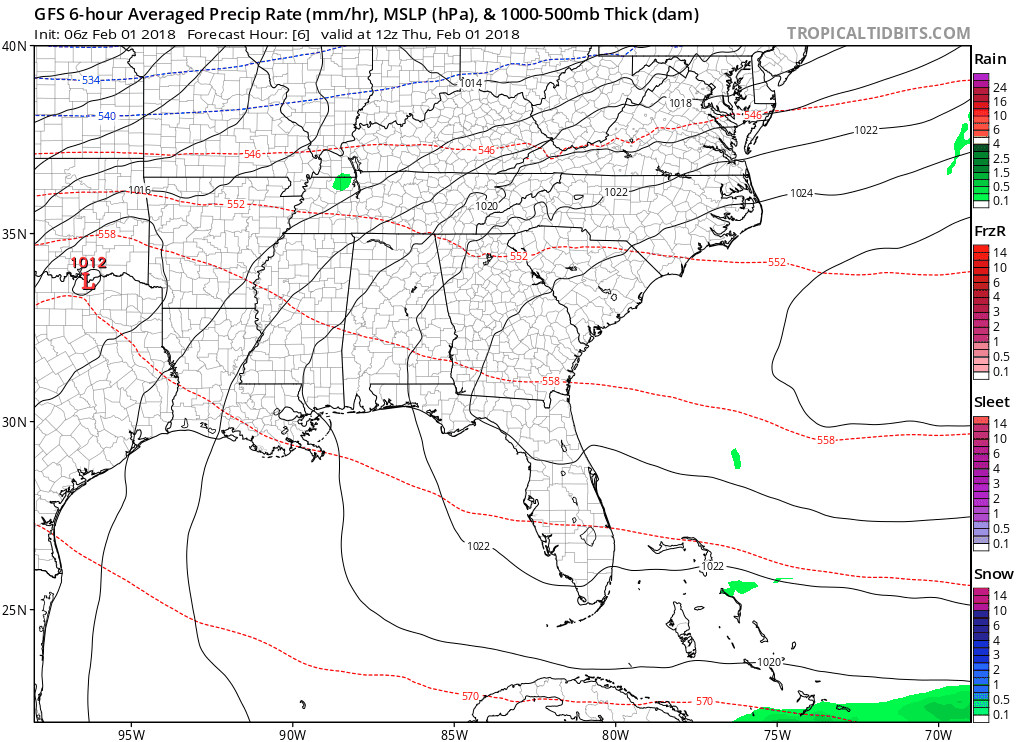 HRRR Loop Now Through Late Tonight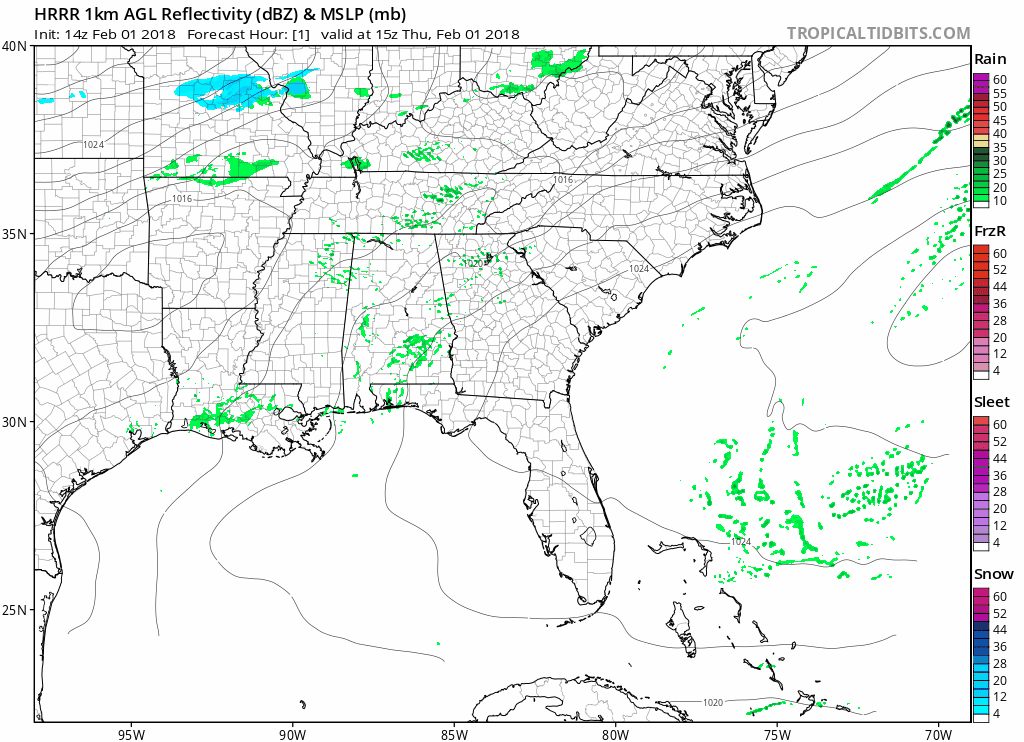 NAM3 Loop Now Through Late Tonight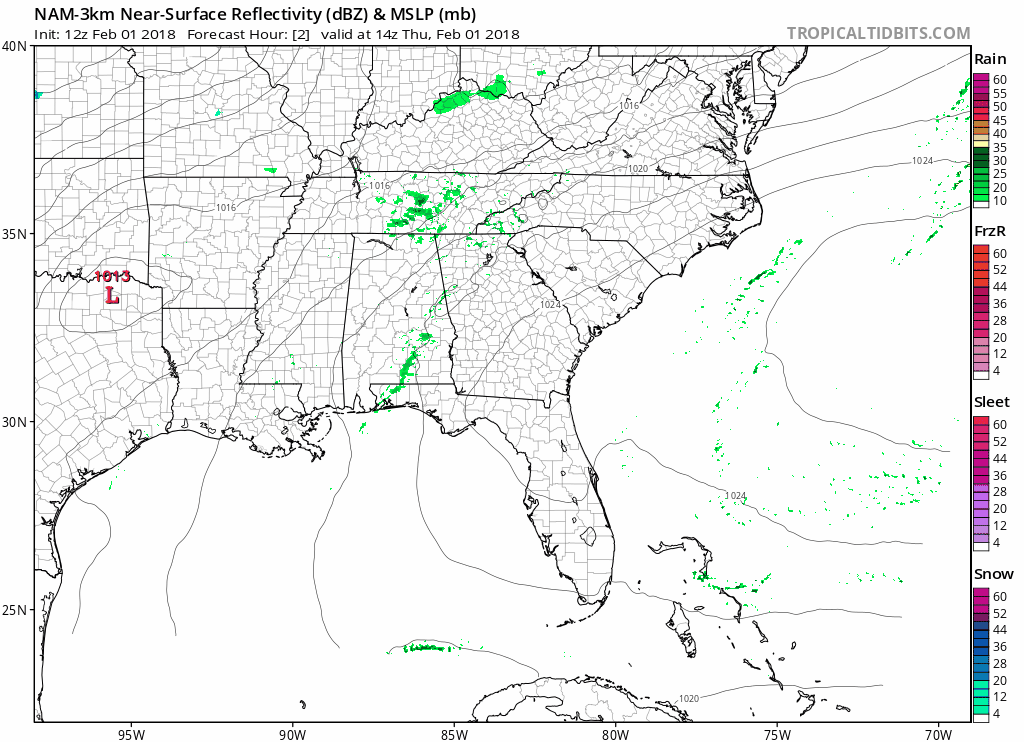 Any rain/snow we see tonight will move out around or before midnight.
Impacts (if any)
Any frozen stuff will fall on a very warm ground. Accumulation will be difficult. Grassy areas, elevated roads, decks, mailboxes, and garden gnomes are most likely to get a dandruff hat (Editor's joke).
Any wet roads could become icy overnight since temps will plummet to below freezing and stay there through most of the day tomorrow. Bridges and overpasses appear to be the greatest concern. Even if we get some snow, it is not expected to accumulate on most roads.
Bottomline
Rain may transition into a wintry mix this evening.
Accumulation mainly on elevated and grassy surfaces, if we see any snow at all.
Best case scenario: no snow.
Worst case scenario: <1"

*Note* <1″ doesn't mean up to an inch, this means much less than an inch. Maybe a few tenths of an inch.

Just rain & no snow also a very possible outcome.
This is an evolving event that we will continue to watch throughout the day. Be sure to stick with us on Twitter @NashSevereWx for the latest information. 
Drought Update
Rain is welcome. Updated drought monitor says we are "abnormally dry." pic.twitter.com/Ur3DSSrbaZ

— NashSevereWx (@NashSevereWx) February 1, 2018
Cold Tomorrow!
Brrrrr. Highs will barely reach above freezing with wind chill temps in the teens and low-20s through the majority of the day. Bundle up before heading out the door tomorrow!
More Wintry Uncertainty Saturday Afternoon – Overnight Sunday
Active weather continues this weekend as another system will move through our area Saturday into Sunday. Timing varies between models. GFS and Euro generally agree rain will arrive Saturday evening and last through the morning Sunday. NAM likes the same arrival time, but pushes showers out earlier Sunday morning.
GFS Loop 6 PM Saturday Through 6 PM Sunday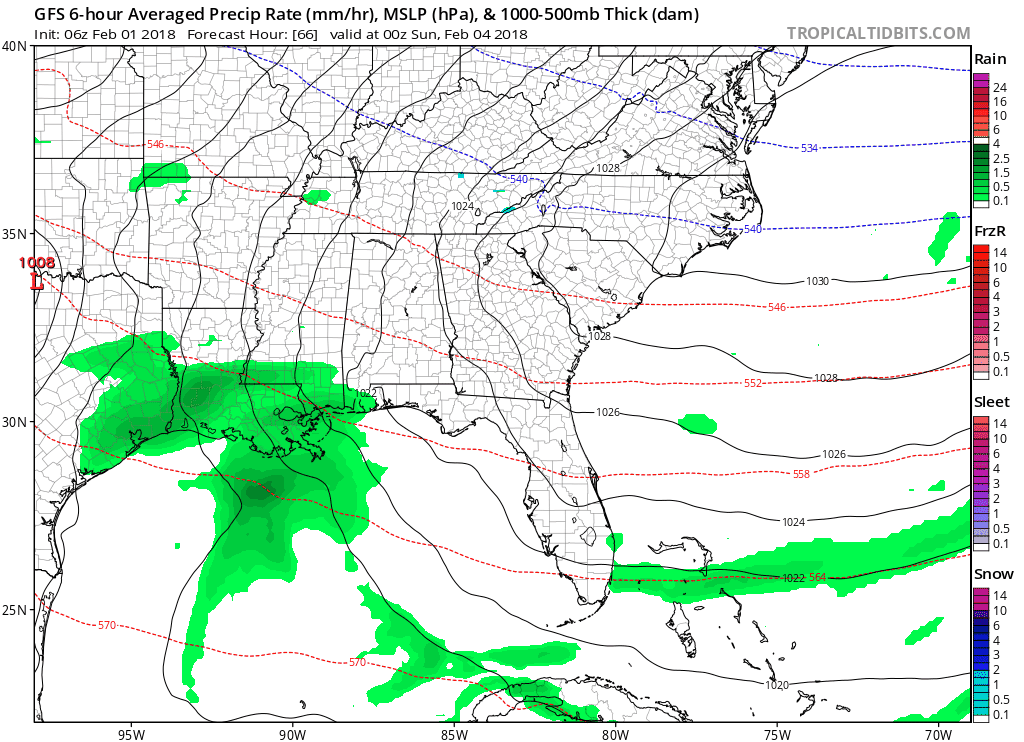 NAM Loop Noon Saturday Through 11 AM Sunday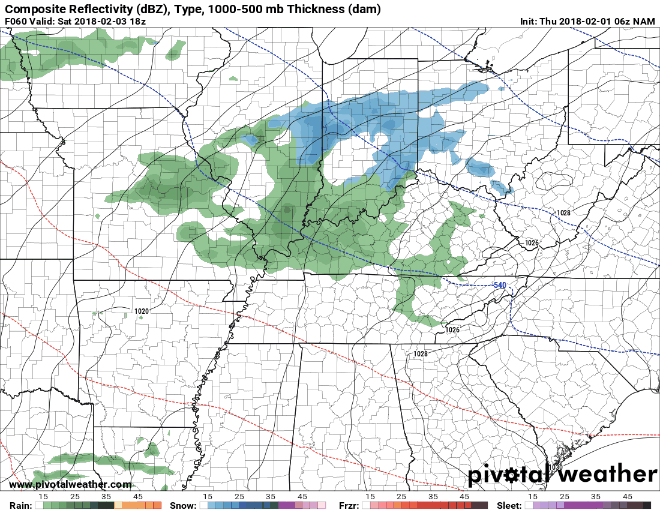 The one bit of good news, for now, is that no models appear to be showing any wintry mix. Models have flip-flopped between snow and no snow, but for right now it looks like this may stay a rain-only event.
Beyond this weekend, temps continue to yo-yo back and forth, with more precip-packing-systems passing through Middle Tennessee by the middle of next week, delivering more headaches to forecasters and GIF choosers.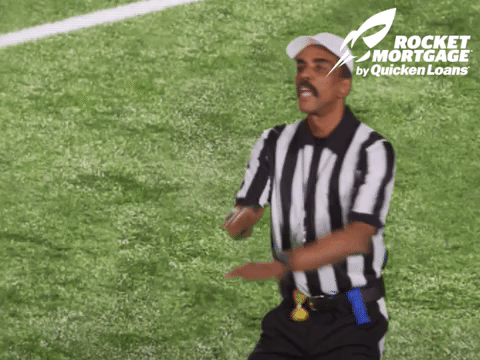 ---