Cool Today, Warmer Tomorrow
Today and tomorrow look to be two pretty nice days for this week.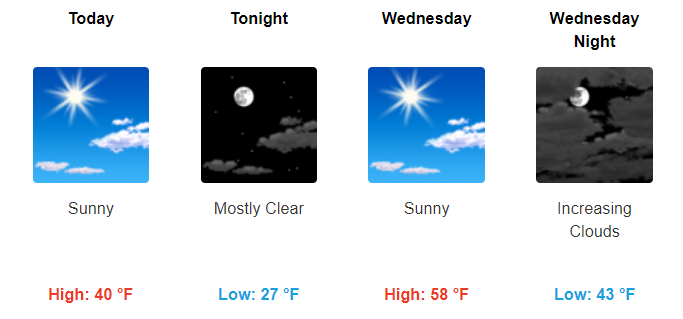 Sunny today and tomorrow with temps in the low 40°s today and highs skyrocketing into the upper 50°s tomorrow. Winds tomorrow may get a bit gusty at times with winds in the 10-15 mph range and gusts upwards of 25 mph.
Another Cold Front Arrives Thursday – Talking Rain & "Meh" Snow Potentials
Thursday looks dreary.
Showers will begin to form in the morning, increasing through the day. Total rainfall accumulation will likely stay below an inch.
The more "note-worthy" aspect of Thursday is the possibility of a wintry mix. Right now models aren't excited about snow here. Any wintry mix would have to wait until late Thursday night/overnight.
GFS and NAM both display a fast moving system with most of the precip leaving before any snow could begin to form.
GFS Loop Early Thursday Through Early Friday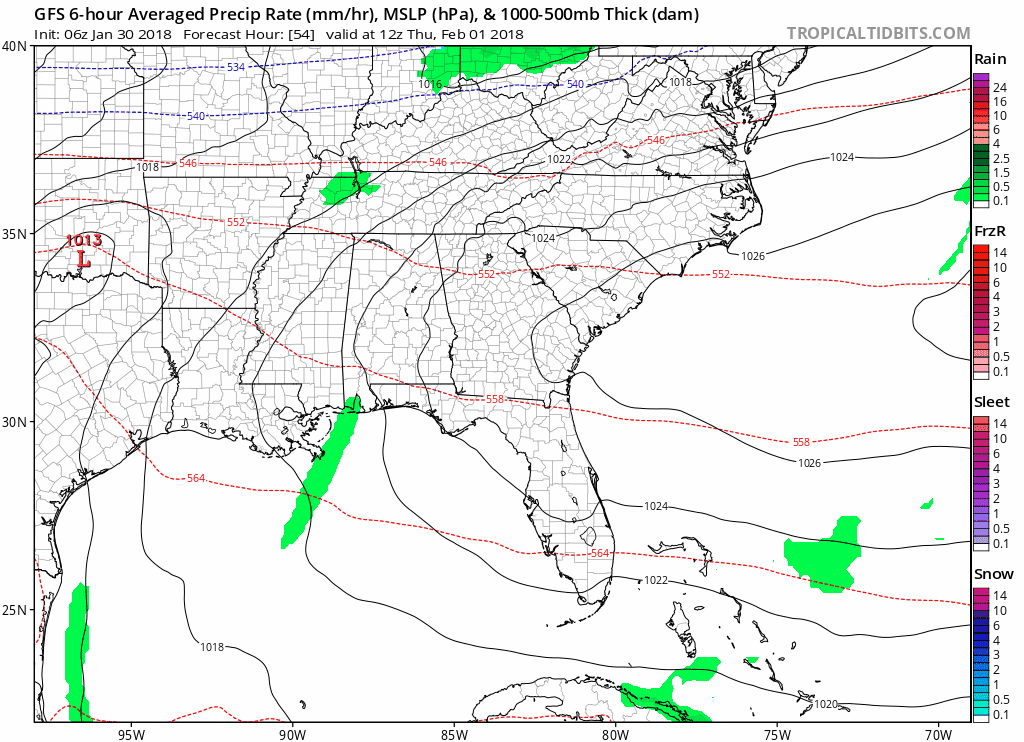 NAM Loop Thursday Morning Through Thursday Night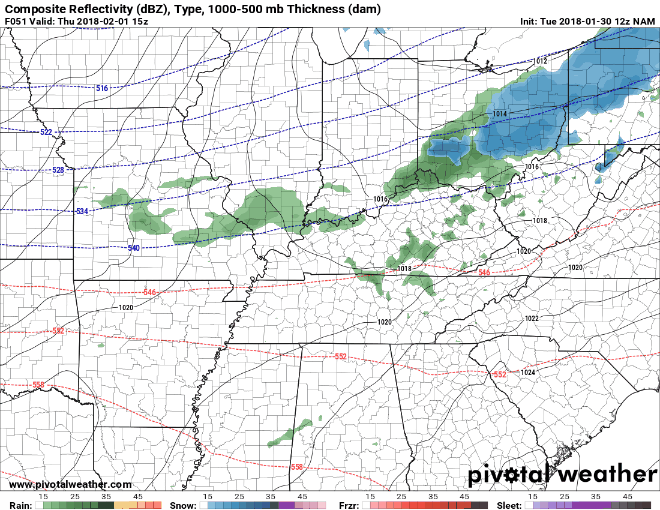 Where the uncertainties arise and how they could impact this forecast:
When Will The Precip Leave? 
Overall, this factor appears to have the greatest influence on whether or not we will see any wintry mix Thursday night into Friday. Initially, models were lingering moisture into the overnight hours and early morning hours Friday. However, models have since sped things up a bit, having all the moisture leave before any snow would begin to fall. Additionally, dry air is expected to funnel in behind this system, which would eat any snow we could have.
On the other hand, if the timing somehow slows down and the moisture sticks around, then we may see some wintry mix late Thursday night into Friday AM.
Will It Get Cold Enough Fast Enough? 
Temps will not begin to be cold enough to get a wintry mix until the late evening hours on Thursday. Right now the models think, by then, the precip will be gone.
Overall, this looks to primarily be a rain event. There is possibility of some of that rain turning into a wintry mix if the moisture hangs around long enough and the cold temps move in fast enough. Still have a few days for things to change, but this looks to be a little to no snow accumulation event for us. Stay tuned.
Editor's Note: this "cold air chasing the rain" is a common way a snow forecast busts around here. Often a tease on the models, usually the colder, drier air just doesn't catch the precip, and we get shut out. That said, wet roads and temps crashing into the low 20°s early Friday morning may still create some slick spots.
Cold Temps Return Again on Friday
Friday will be chilly with highs in the mid-30°s. Saturday highs will become more near-normal with temps in the upper-40°s. Expect sunshine both days.
More Uncertainty in the Future, Keeping an Eye on Saturday Night/Sunday
Temps will remain chilly heading into Saturday night and Sunday. Another potential system looks to bring some more rain and maybe even more snow during this time frame. Models are not agreeing with the timing of this, and there are still a lot of variables at play with this system. Additionally, models are hinting at another potential snow maker on Monday.
At this point, we are too far out to confidently discuss any specifics. As of right now, both of these systems are worth keeping an eye on.
---