Happy Snow Day!
Thanks for all the snow total measurements sent today to #tspotter !
So far, four reports of 3" of snow in Davidson Co., a fifth report 2.7". Three reports of 3" in Williamson, one 3.5" in Brentwood. Several measured less snow, thank you!, nothing under 1".

— NashSevereWx (@NashSevereWx) January 16, 2018
Among some of these reports:
2.4″ report from a CoCoRaHS station in Williamson County
2.7″ report in the Belle Meade area
2″ report near Nashville
2.5″ report in Franklin
1.5″ report from another CoCoRaHs in Williamson County
Some of the many photos:
@NashSevereWx #tspotter Spring Hill pic.twitter.com/oMhB1Bfm91

— Bobby Ehrhardt (@behrhardt) January 16, 2018
@NashSevereWx finally got out to the deck in Brentwood (near Edmondson Elementary) to measure our snow. 2 inches! #tspotter #data pic.twitter.com/YqrPIDWVNn

— allen t newton (@AllenTNewton) January 16, 2018
Snow measured from roof of car in Richland West End Neighborhood at 2 1/4". #tSpotter #nashvillesnow pic.twitter.com/7QxLlzm0pt

— Jennifer M. Eberle (@jeberle901) January 16, 2018
Totals vary from location to location, but it looks like just about everyone got a decent amount of snow! Enjoy!
Brutally Cold Tonight
Temps will continue to fall tonight and overnight. Temps will dive into the single digits, with wind chills going with it.
A Wind Chill Advisory is in effect for both counties tonight starting at 6 PM through 9 AM tomorrow morning.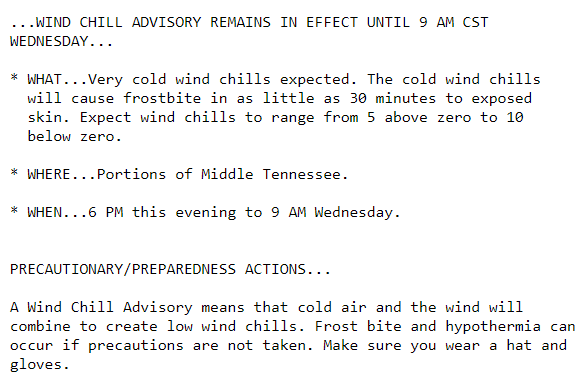 Wind chill values could get as cold as -5° to -10°.
Into the overnight hours and tomorrow morning, travel may continue to be hazardous. Here is a tidbit from our local NWS's afternoon discussion on road conditions.
Despite the end of snowfall, with these forecasted temps, it is likely that some refreezing of water from sunshine breaking out late this afternoon (and again on Wednesday) will occur on area roadways, not to mention shaded areas that might receive only minor roadway melting. Black ice could be a problem especially during the overnight hours. Caution will continue to be exercised for travel across the mid state region likely through the mid morning hours on Thu at least.
Rest of the Week

Tomorrow will also be frigid. Expect a warm up (and melting!) Thursday and Friday. Temps continue to warm through the weekend and into the beginning of next week. We may finally say goodbye to old man winter … for now.
---