Some may have woken up thinking "Where's the snow?"
It's coming. Recall last night this was going to be a slowly-falling snow over a 9 to 12 hour period. We're not even halfway through that window right now.
Radar just after 4 AM showed the snow band sitting off to the west.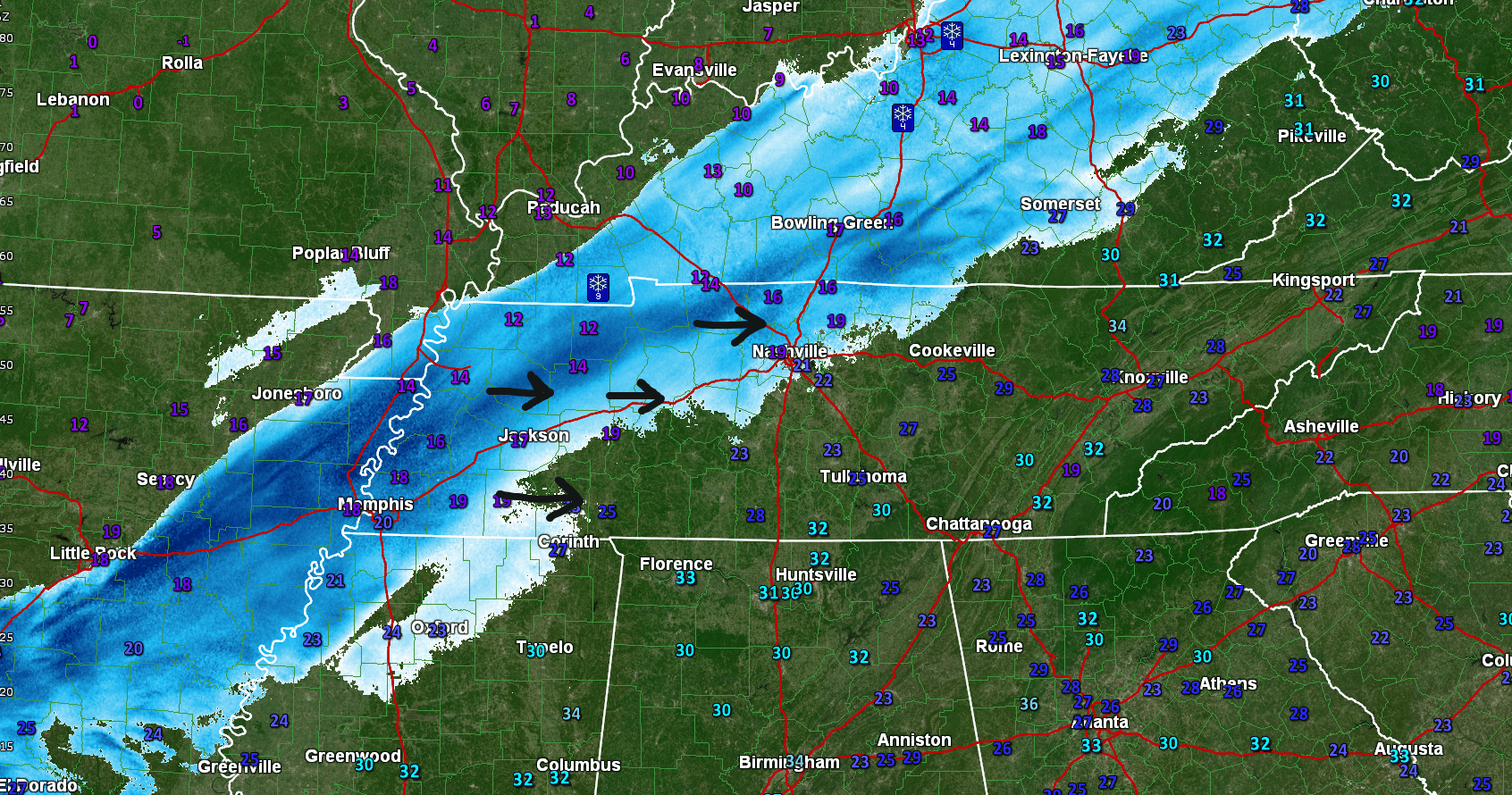 This entire band of snow is going to shift southeast this morning, arriving during the AM commute.
HRRR model hourly snow accumulation through noon today: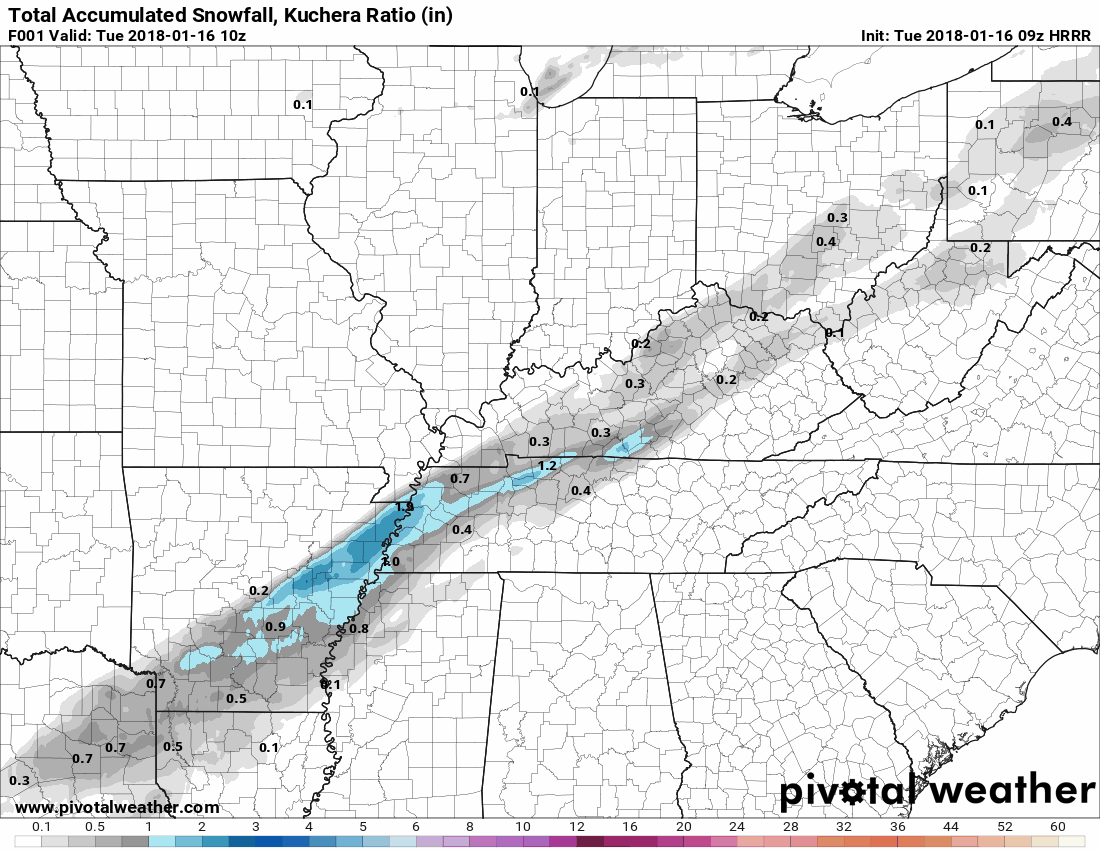 NAM3 model snowfall accumulation in three hour segments to noon Tuesday: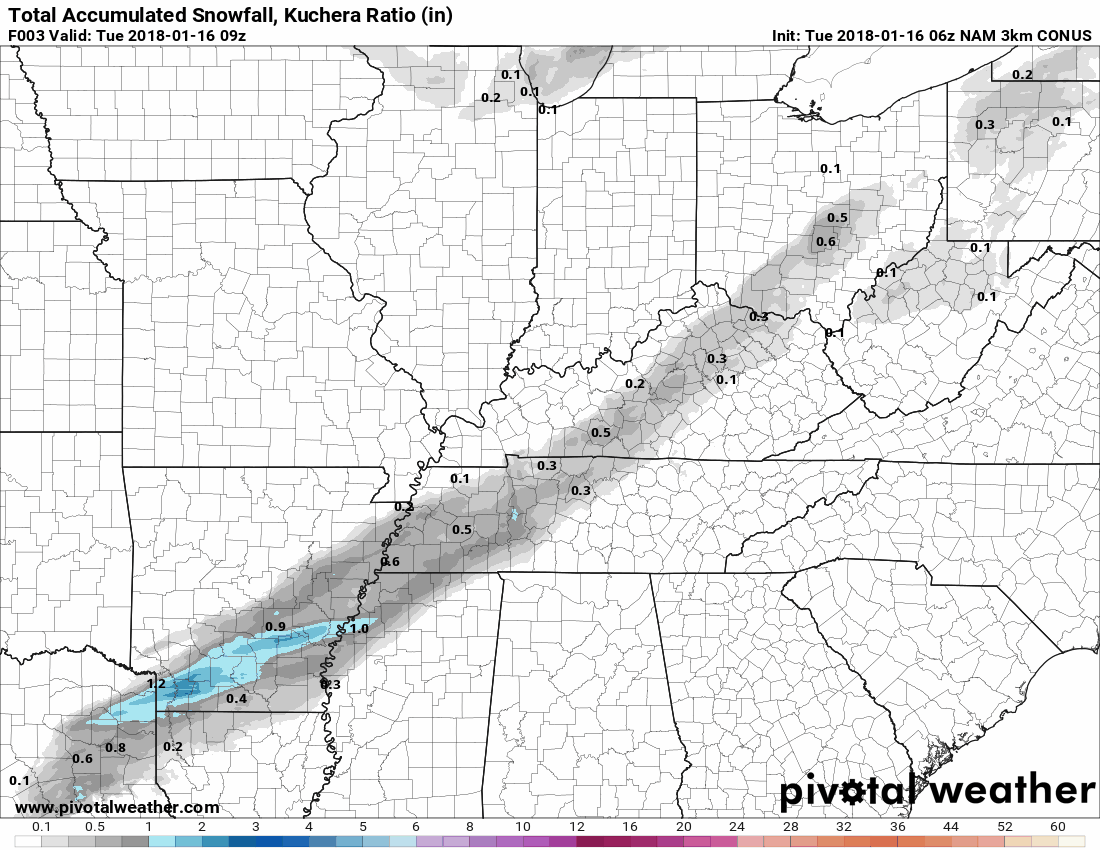 A Winter Weather Advisory remains in effect. Snow range is 1″ to 3″. Look for 2″ or more in Davidson County, 2″ or less in Williamson County.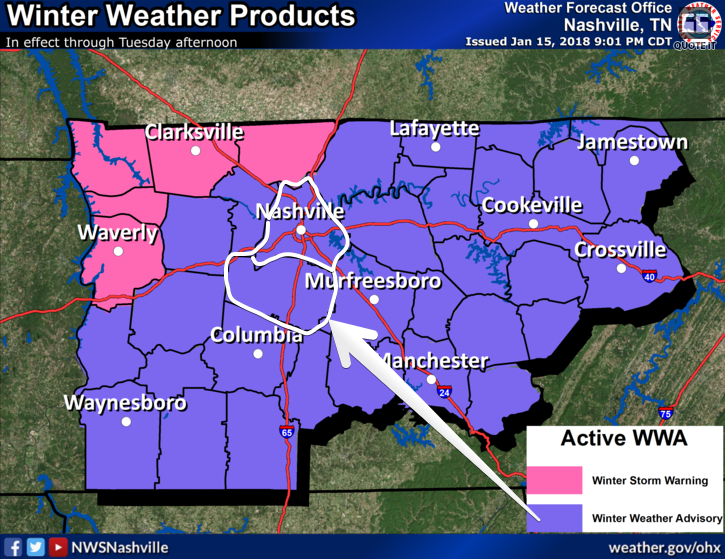 NWS-Nashville snow total amounts:
Snow will impact travel across the entire area. Follow @TrafficJamSam for all things road conditions. Also consult TDOT Smartway.
Send snow measurements taken off a hard surface (not grass) by tweeting your location and snow total including #tSpotter. Don't include snow from Friday. This will get your report to NWS-Nashville. Thanks!
Very Cold Arctic Air is Here: Wind Chill Advisory Tonight
Temps have been plummeting. 46° at 3:53 PM yesterday, 20° twelve hours later, with a wind chill of 7°.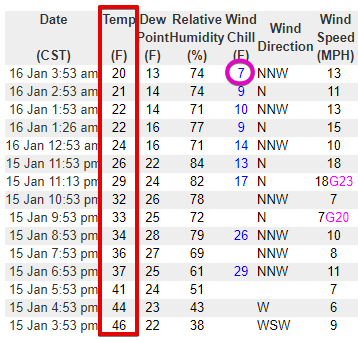 Temps will drop to 16° by sunrise, rising only to 18° this afternoon.
Tonight we will drop into the low teens, tweens, then bottom out at 8° early Wednesday morning.
Wind chills will go with it, dropping as low as -5° to -10°.
Therefore, NWS-Nashville issued a Wind Chill Advisory from 6 M tonight to 9 AM Wednesday.
P
We'll continue to cover this event on Twitter @NashSevereWx, which you can find on Twitter or on this page.
Sled Index
Go for it. You may not want to stay out too long. It's going to be very, very cold. If/When you get wet, come inside.
Week Ahead
Below freezing Wednesday. Snow melt should begin Thursday. Fifties this weekend! Rain Sunday.

---