Winter Weather Advisory: 9PM Tonight – 3PM Tuesday
We are under a Winter Weather Advisory.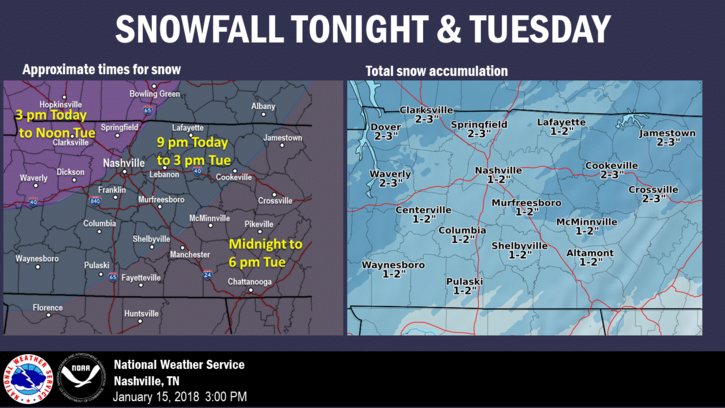 NWS Nashville has bumped up snowfall totals slightly for our area, taking into account any heavier pockets of snow that may develop overnight and tomorrow morning. We've already seen this system over-perform in portions of north Arkansas and southeast Missouri today, so higher amounts cannot be discounted.
Latest short-range models are in agreement with a light to moderate snowfall, beginning around midnight tonight:
HRRR Model Snowfall Accumulations by Hour thru 11 AM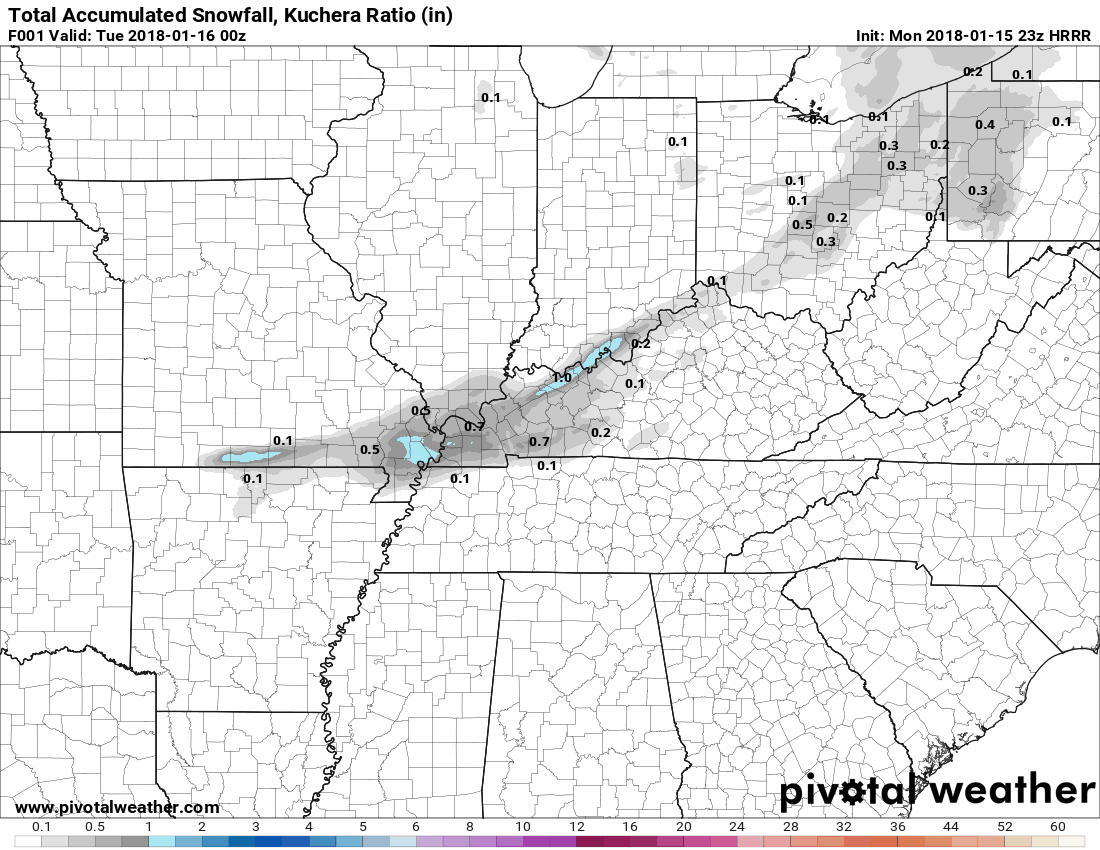 This will be a long, light, off and on snowfall, so it'll take 9 hours or more to reach the forecast totals.
Difference in Tuesday's snowfall from the last event we had…
What's different about tonight/tomorrow's snowfall is the "fluffiness/dryness" of the flakes. The fluffier/drier the snowflake, the higher the snow-to-liquid ratio (SLR). A higher SLR, such as a 15:1 ratio that is expected, generally means that 1 inch of liquid precipitation is equal to 15 inches of snowfall. In our case, we are only expecting around .1″-.15″ of liquid…making the snowfall equivalent ~ 1 to 1.5 inches.
These SLRs can and do change, even while the snow is falling. Determining a general SLR is difficult, which is why some areas could receive as little as 1/4″ and as much as 3″ of snow by tomorrow's conclusion. It all depends on 1) how much moisture the atmosphere decides it can work with and 2) the SLR output.
Impacts – Main Concern is Tuesday AM Commute
While the total amounts may be light, the impacts could be just as significant. Snow is expected to continue falling into the Tuesday morning rush hour. Driving in these conditions may result in lower visibilities at times and snow blowing around on roadways.
Snow should end around noon Tuesday.
Stay up-to-date by subscribing to NashSevereWx.com emails, following the blog, and checking @NashSevereWx on Twitter as this light snow event unfolds. We'll be up all night on Twitter providing updates. Also, David will do a Periscope this evening.
Bitter Cold For Much of the Week, Warm Up and Rain Late Weekend

SOOO COLD Tuesday and Wednesday nights. We get above the freezing mark Thursday as a light southerly wind kicks in. 40s Friday, 50s Saturday, and approaching the 60s by Sunday. Showers and maybe a few storms (??) could develop Sunday into Monday across the area…something we haven't seen in quite awhile.
---