No Worries Flurries Possible Tonight/Overnight
As I write, radar indicates a weak clipper system producing flurries in Missouri and north Arkansas. As it creeps east into Middle Tennessee, it should encounter low moisture content. Therefore, at most only flurries are expected here. NWS-Nashville wrote: "There should be no impacts from this quick-hitting clipper."
Brief Warmup Monday
Martin Luther King Jr. Day should see above-freezing temps before lunch. High 42°. After sunset, temps will plummet below freezing. Monday night, arctic air will race toward us, pushing a snow-toting clipper system that should arrive here very early Tuesday morning.
Tuesday Snowfall
How Much
Euro model, 1″: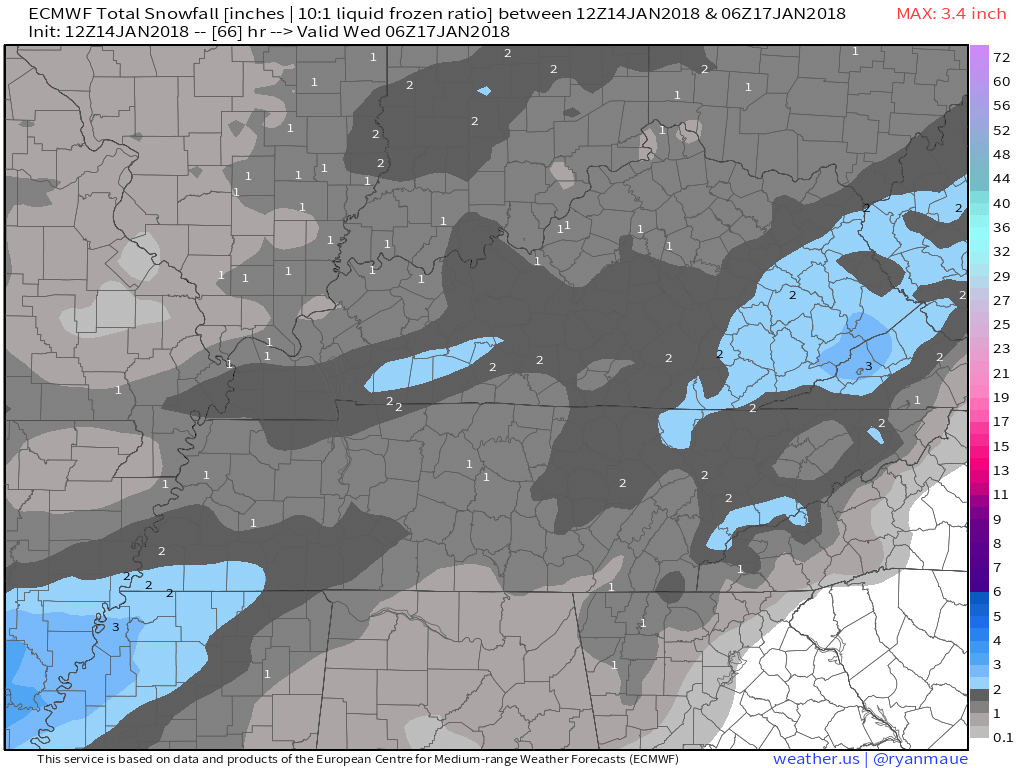 NAM3 model, about 1″, plus or minus a half inch either way: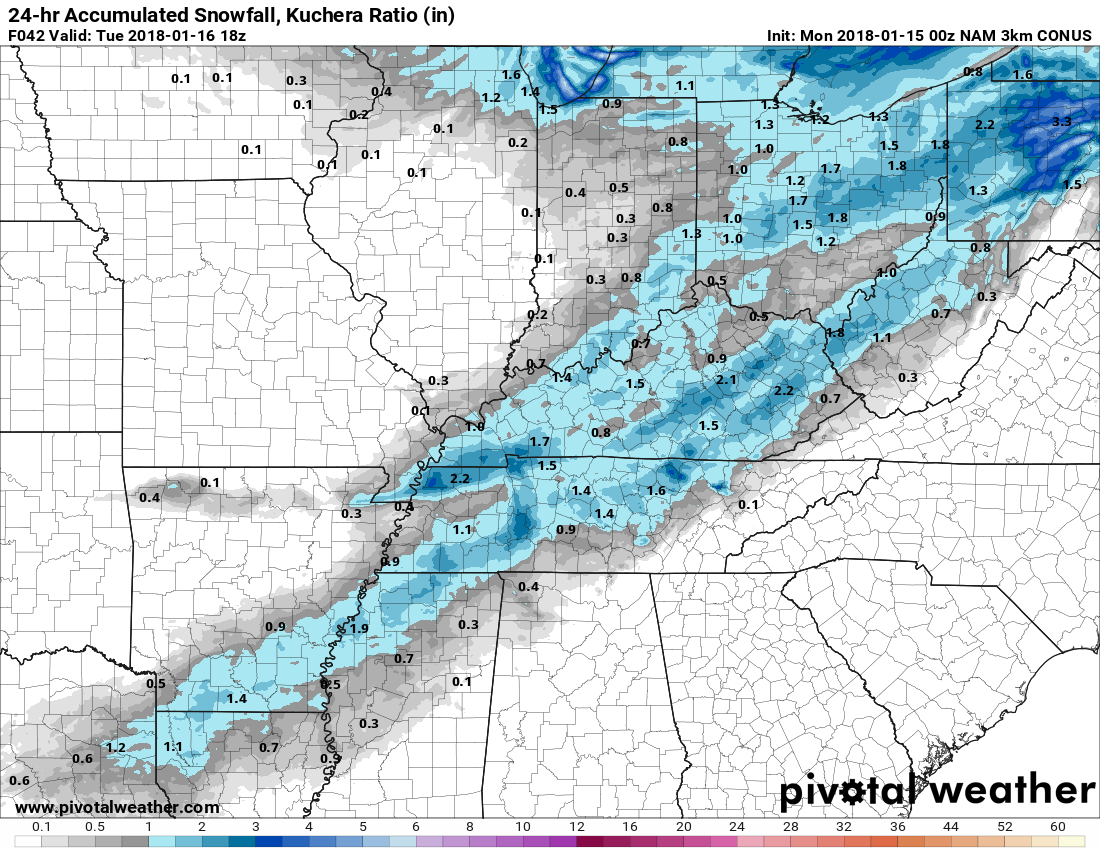 GFS Model, about 1″: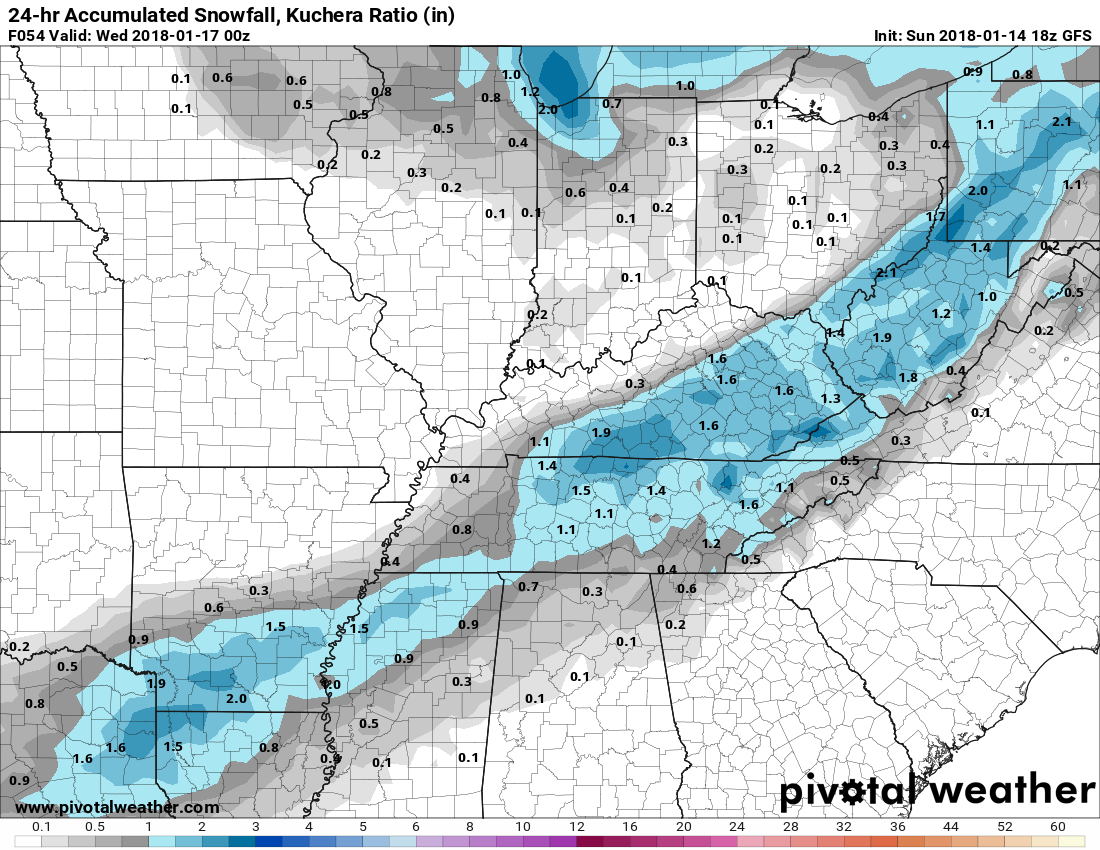 The mean Short Range Ensemble Forecast value is 1.27″.

When
Two models, below, agree snow should start around 3 AM Tuesday and end noon Tuesday. The Euro, not shown, thinks light snow may last past noon.
GFS Model: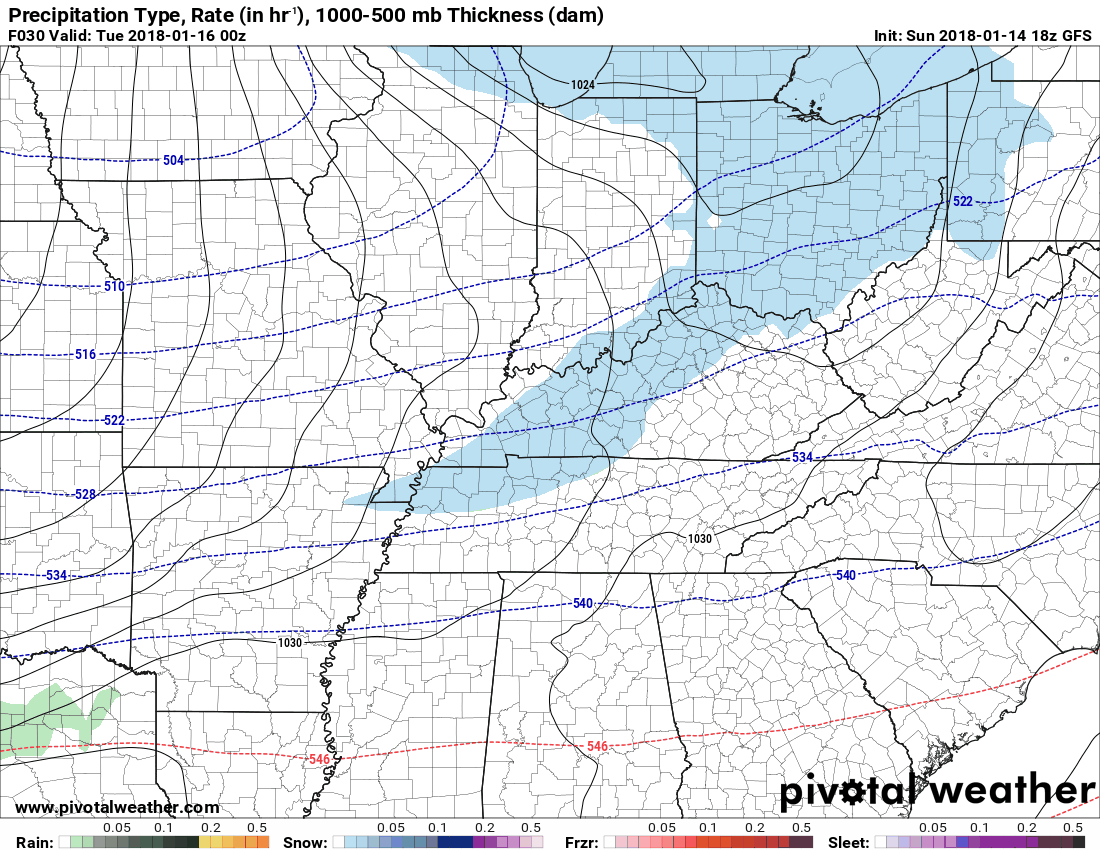 NAM3 Model: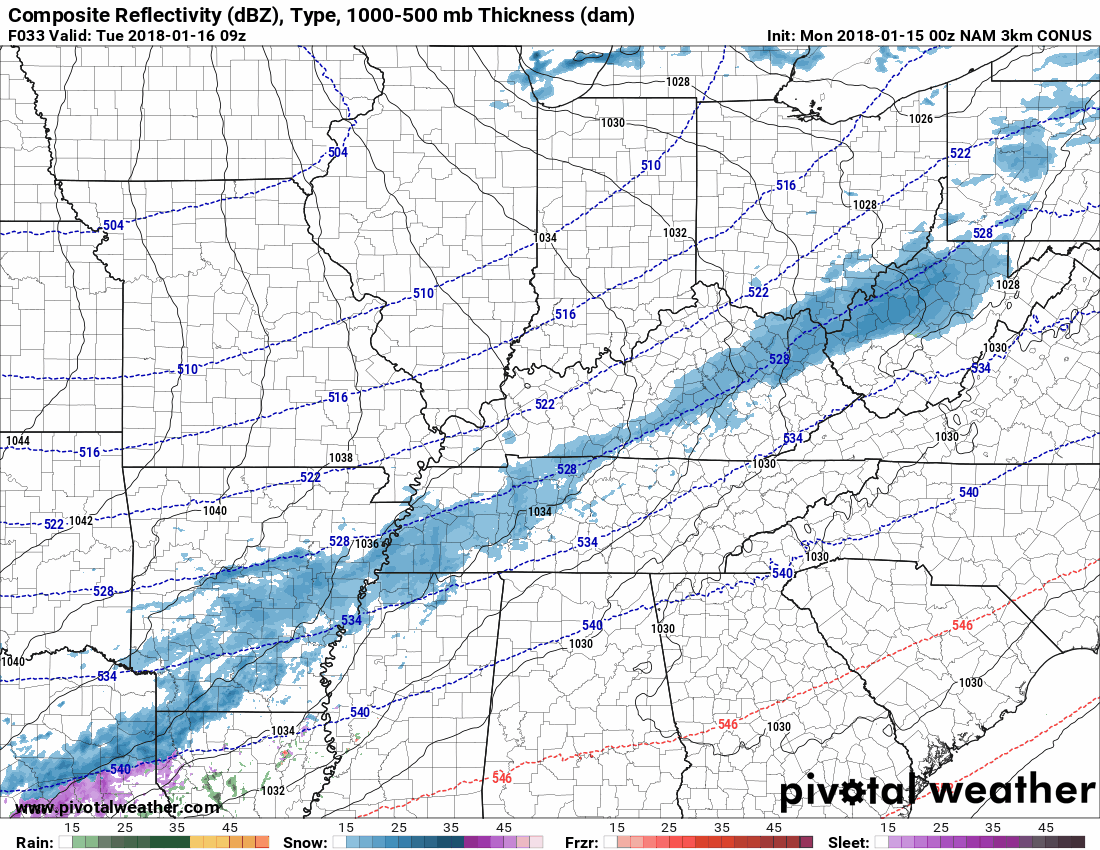 The snow may begin earlier than 3 AM. ETA may require adjustment in later forecasts.
Statements and Advisories
This afternoon, NWS-Nashville issued a Special Weather Statement headlining: "Another Round of Snow Likely for Middle Tennessee Monday Night and Tuesday."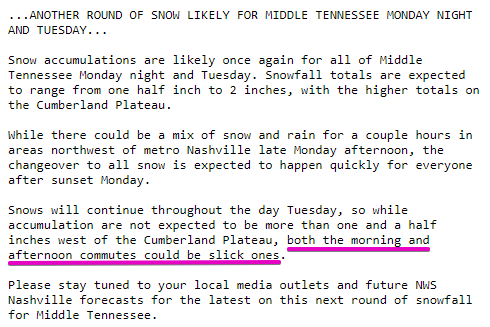 This Statement accompanied a forecast discussion emphasizing an accumulation range of 0.5″ to 1.5″ for Davidson & Williamson Counties. The 2″ is for the Plateau. From NWS-Nashville:
[T]his shouldn`t be a crippling system, but I do think we will range from 0.5 to 2 inches across a large portion of the mid-state. I have the higher totals on the Plateau, per the norm, but a 0.5 to 1.5 inches isn`t out of the question for everyone else. The downside, the snow will last through the morning hours and into the afternoon on Tuesday, so there will likely be at least some impact for the morning and maybe even the afternoon commutes.
NWS-Nashville likely will issue us a Winter Weather Advisory, about 24 hours before the first snow is expected. Expect issuance later tonight.
Also, Very Cold Tuesday
Snow should fall with temps, 25° at 3 AM, dropping to 16° by sunrise, then getting up only to 20° Tuesday afternoon.
Could This Be A Bigger Snow?
Models do not all agree on 0.5″ to 1.5″. The NAM12 model thinks a wave will ride along the clipper system and enhance snow totals to the tune of 3″ to 4″. That much snow is not the forecast, but I'm not going to hide data from you.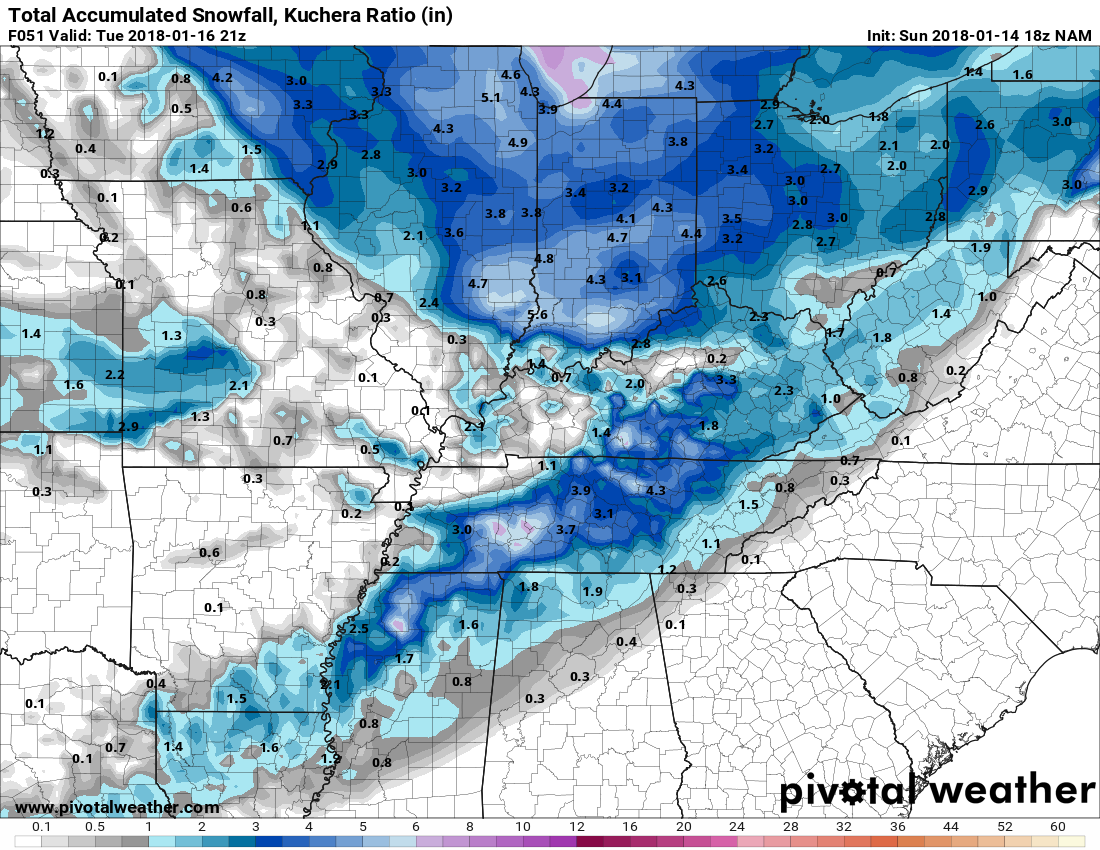 (Weather Nerds: I've used Kuchera ratios here; the baseline snow ratio of 10:1 doesn't look applicable with this event).
Stay connected to reliable sources of weather information for any forecast or timing changes. New model data will arrive before bedtime and will be tweeted @NashSevereWx. If you don't use Twitter you can access that information on this website.
Frigid Mid-Week Temps
If we get 1″ or more Tuesday, lows may be even colder than what is shown below. Attend to pipes vulnerable to very cold temps.

End of the Week
Warmer. Weekend highs in the mid 50°s!
Rain appears in longer-range models around the end of Sunday and/or the following Monday.
---