Today, Tonight, & Tomorrow
Below freezing again today. Tonight, clouds arrive. Flurries may break out. NWS-Nashville thinks flurries could develop into snow showers heavy enough to cause slick spots near the Kentucky border. We'll watch that, but think it'll be too far north to cause issues for us.
Martin Luther King Jr. Day should reach above freezing for several hours, from before lunch until the sun goes down.
Next Snow Maker: Clipper System Monday Night – Tuesday Morning
Models show a weakening, snow-toting "clipper" system arriving sometime late Monday night or early Tuesday morning. Snow totals are meager.
NAM3 Model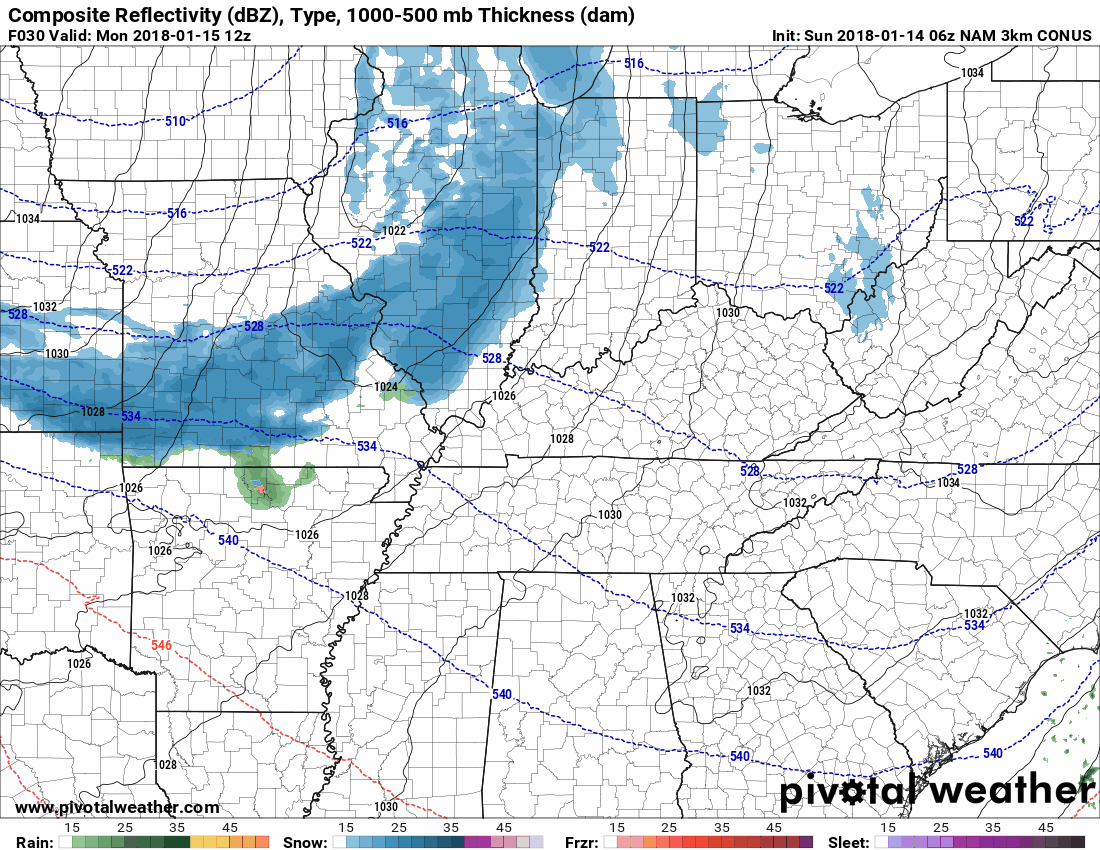 NAM3 model thinks this will produce under 0.5″: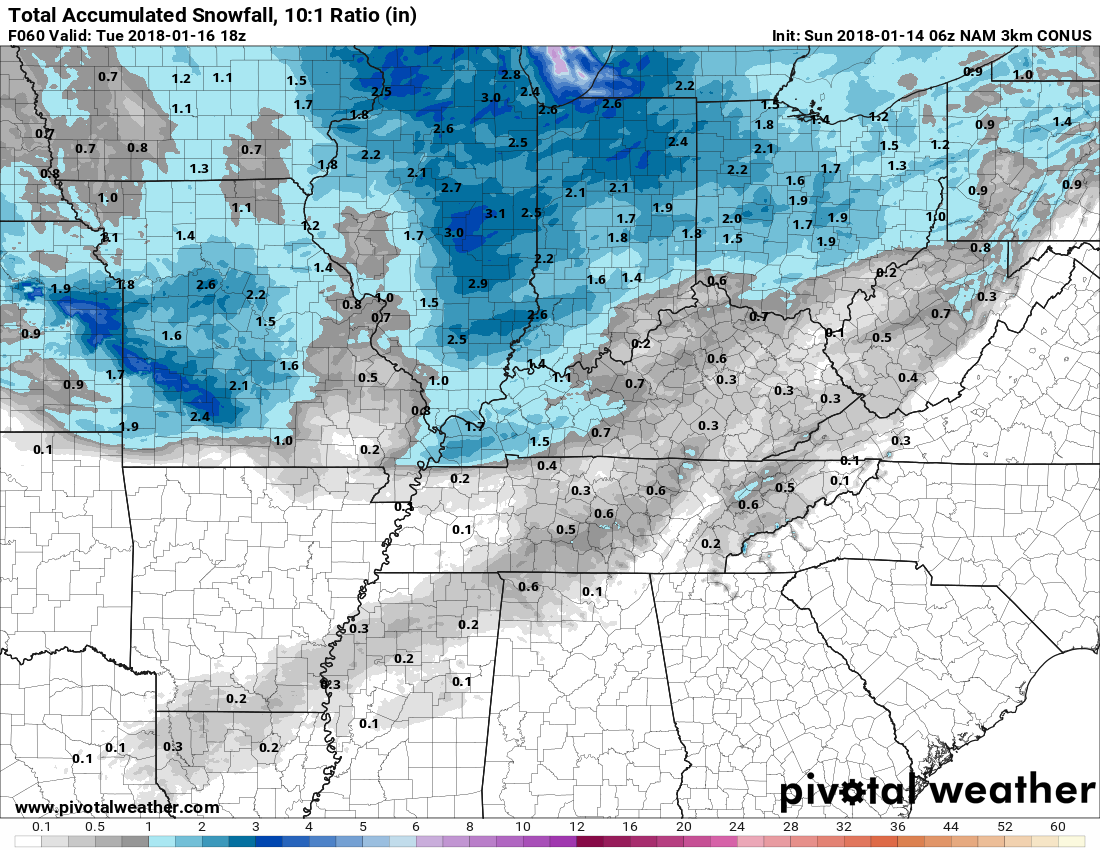 GFS Model
Under 1″, likely much less than 1″ for most: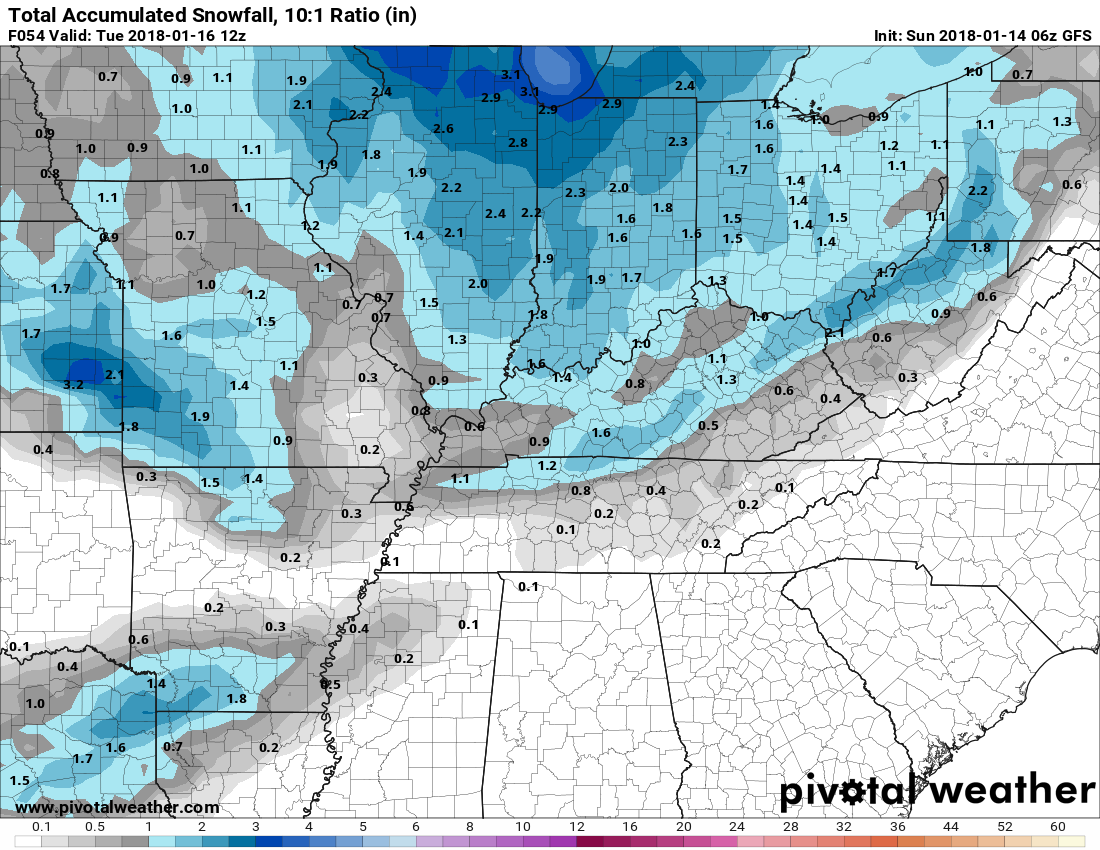 Canadian Model
Also under 1″: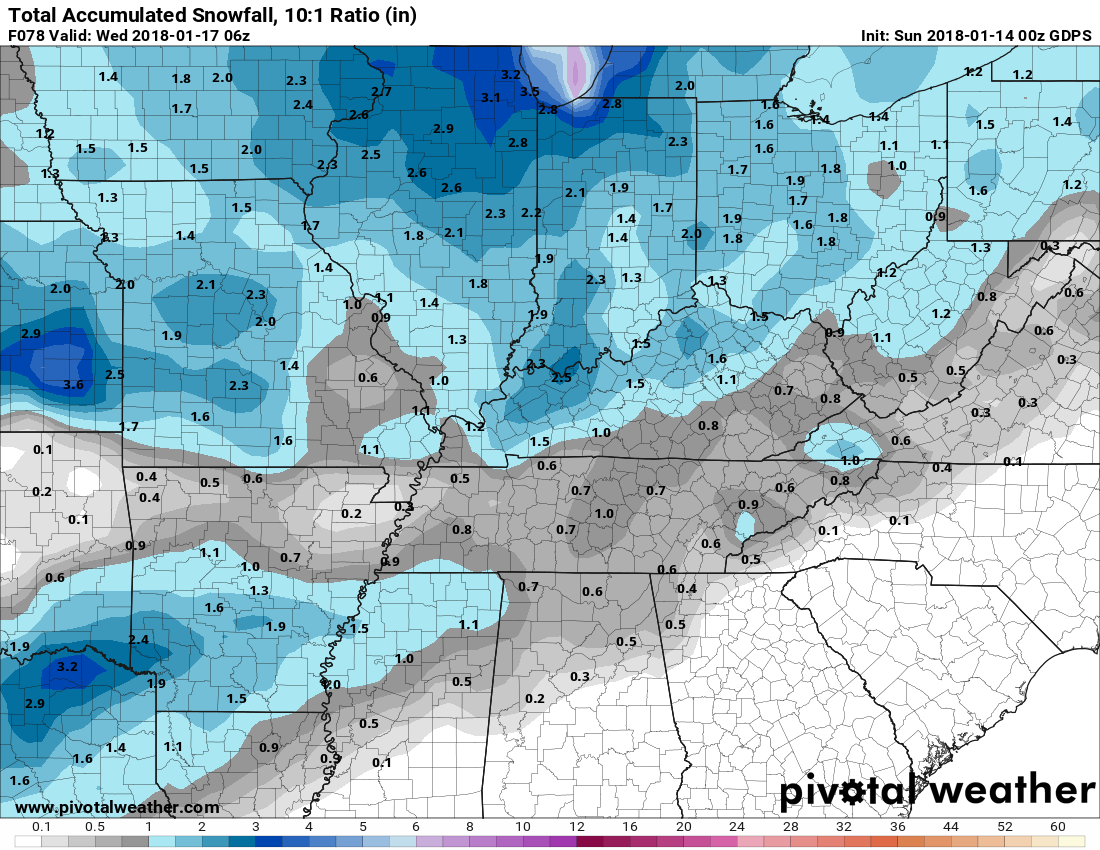 Euro Model
1″ or less.
Most likely time of arrival: between Monday evening after midnight until the Tuesday morning rush hour. Possible it'll arrive before or after then.
This system won't have the rain, freezing rain, sleet, snow, mix questions we had Friday. Expect snow, or nothing.
This morning, NWS-Nashville wrote:
Some places could have less [snow], some could have more. The physical difference in a cold atmosphere between a dusting of snow and 2 inches of snow is small, making it difficult to accurately forecast each location`s snowfall with decimal point precision. Anything within that range would not be surprising, and anything in that range could cause travel problems.
Any coating of snow on roads will cause problems considering how cold it's going to get as this precip arrives. We won't warm up long enough Monday afternoon to raise those ground temps. I expect brining efforts to be underway in advance of this system.
Plans Tuesday will be difficult to make Monday. Looks like it'll start falling after midnight. This is just a little snow, but given the temperature profiles it should create slick spots. And I can see us getting nothing at all, but I think will get very, very little.
Stay connected to updated information as more models get a better idea what we can expect.
Frigid Temps Behind the Clipper System
The passage of the cold front will bring some of the coldest temperatures so far this year, including widespread single digits Tuesday night and Wednesday night. If we do develop snow cover, lows could dip into the single digits below zero for some areas. Highs will reach the upper teens to low 20s at best for Tuesday and Wednesday.
Don't miss those low temps:

Warm Up Thursday
We'll poke above freezing again Thursday, getting warmer each day this week. 55° Saturday!
---