NWS Nashville – Special Weather Statement, Regarding Travel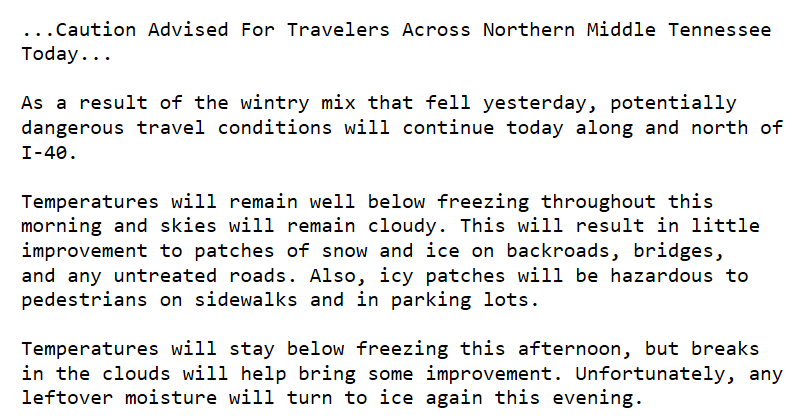 A few snow showers have developed across mainly northern portions of middle TN this morning. Think of someone randomly picking up a snow globe and shaking it for a minute…this is what the forecast for the afternoon will be. Random flurries, with sometimes a little more intense snow shower mixed in. Accumulations will not be of concern, but any heavier burst that develops could lightly cover the grass/elevated surfaces. Snow showers such as these are difficult to detect on radar at times, so if you get any fluffy stuff, send us your images or reports!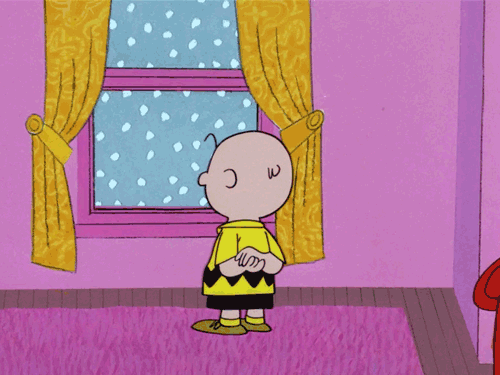 While Charlie waits to see if any more snowflakes will fall, he's smart to wait inside. With an official high in the mid 20s and a gusty north wind, wind chills dipping into the teens are expected. If you have to wander out today, though, bundle up!
Single digit wind chills are expected tonight, with temperatures in the low teens.
Watching A Clipper/Cold Front Combo Next Week
Sunday will be very similar to today, minus the snow. Cold, with highs in the upper 20s and low 30s. Monday, a "warm up" ensues with temperatures reaching the upper 30s and lower 40s. That won't last long, though.
Monday night-Tuesday, a cold front will approach the area. Moisture will be on the increase, even behind the front. Most weather models are in agreement with a light snow event for us during this time. EURO has been squeezing out more moisture than the GFS and some other models. Time will tell the impacts this may have on Tuesday morning's commute and the first day back to school after the MLK Holiday. Stay tuned for more updates!
GFS Model next Monday-Tuesday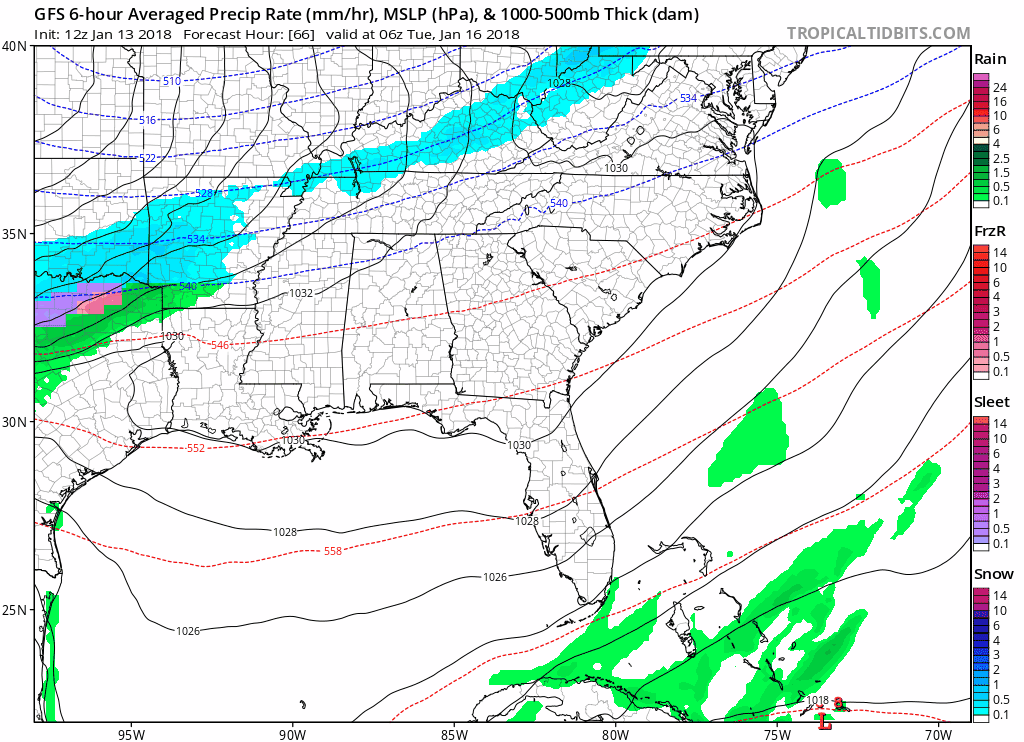 One thing that is for certain…any precipitation will fall as snow.
Brutal cold continues into at least Wednesday, and then we rise above the freezing mark on Thursday.
Late Next Week/Next Weekend – Warmer and Then…More Cold
Temperatures Friday will remain in the 40s, but with a decent amount of sunshine on Saturday, could push the upper 50s! After that, another cold front looks to immediately swoop in and knock temperatures down.
NWS Nashville mentioned this morning that some of the longer-range forecasts suggest a pattern that allows for continuous cold shots for the foreseeable future. The interpretation: old man winter is here to stay.
---