Note the time this was posted. Check Twitter @NashSevereWx for updates and any changes.
Winter Weather Advisory – 8 AM This Morning Through Midnight Tonight

What
Ice accumulation up to a 0.10 of an inch. This will occur in the AM and early afternoon primarily.
Snow and sleet accumulation around an 1″. This will occur during the afternoon into the early evening.
Note: models are showing different things. Some show more ice and/or snow, while others do not. These are just very rough estimates.
When and Current Model Trends
Already this morning we have see plenty of rainfall. The freezing line is currently knocking on our doorstep, which will turn our rain showers into a wintry mix very shortly. Expect for the wintry mix to arrive in the next hour or two.
The HRRR continues to show this early morning wintry mix continuing until around 9 AM. Then, an apparent "dry slot" moves in for a slight break in the action from around 10 AM to 2 PM. Some snow showers follow behind before shutting off into the early evening hours tonight.
HRRR Loop Through 10 PM Tonight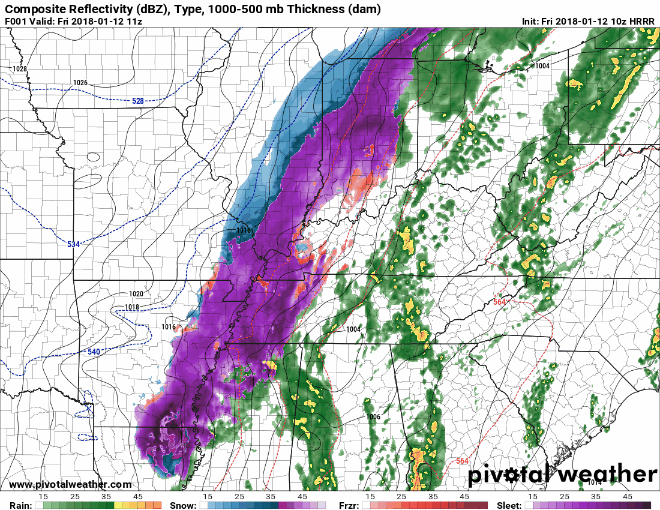 The NAM3, on the other hand, wants to transition straight from the wintry mix into the snow.
NAM3 Loop Now Through 9 PM Tonight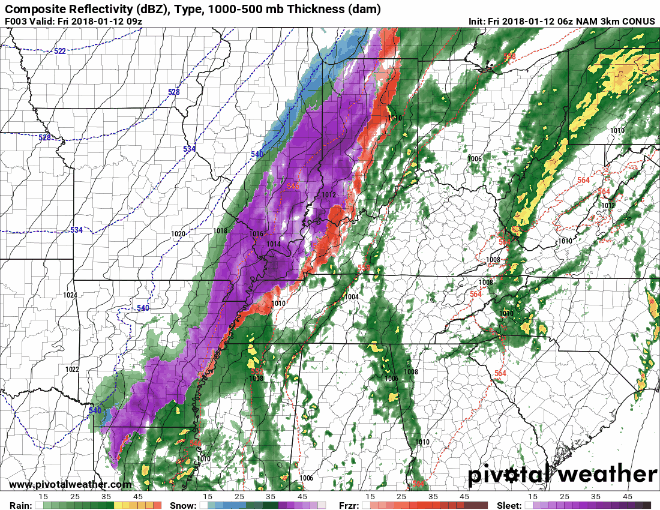 Which will be right? Who knows. We are beginning to get into that "look to the sky" period where models can only tell us so much about the event. We need to begin relying more on current observations and reports, not what one or two models may be showing.
If this "dry slot" were to arrive, this would be "good" news because it would mean less icing. We are still going to get ice this morning, but if this dry slot were to arrive this morning, we may not receive as much.
However, if this "dry slot" does not reach us like the NAM3 is showing, expect a transition from wintry mix to snow this afternoon with not a huge break inbetween.
A Very Brief Timeline
Summary:

Early-to-Mid-Morning: rain, freezing rain, wintry mix. Bridges, overpasses flash freeze.

Before/After Lunch: precip shuts off, temps drop, strong winds help but don't completely dry the roads, additional travel hazards develop.

Mid-Afternoon: Light snow. Roads worsen

— NashSevereWx (@NashSevereWx) January 12, 2018
From our local NWS, road conditions will worsen through the day.
"Regardless of all the fine details, the main story is that moisture will be around as temperatures drop quickly and stay in the 20s, so travel difficulties are likely. The travel issues will develop west to east through the day. Our northwest counties could develop problems before daybreak, with issues spreading to the I-65 corridor mid morning through early afternoon, then to the Plateau mid to late afternoon."
Your Plans
Road conditions: TDOT Smartway
Flights: Fly Nashville.
Today is one of those days that if you do not need to be on the roads, do not go out on the roads. Things will only worsen through the day. It is best to exercise caution at all times driving today as any ice that develops on the road may not be easily seen.
It Will Be Cold!
Today will be a chilly day. Temps look to continue falling down into the 20s even by this afternoon. Add in the gusty winds, and our wind chill values will fall into the teens.
Bridges and Overpasses, Areas at Elevation
Bridges and overpasses are nearly always the first to freeze. Be sure to exercise extreme caution this morning on your AM commute.
Temps now at freezing in NW Davidson Co. Frozen temps will continue to move SE and cover all of both counties over the next 90 min/2 hours. Does your route involve a bridge or overpass? That'll freeze first. "Never thought it would happen to me." Says guy in ditch. Be careful. pic.twitter.com/5IS9p6voBm

— NashSevereWx (@NashSevereWx) January 12, 2018
Other Roads
The closest road sensor (in Franklin, KY), still shows road temps slightly above freezing. Road temps will continue to decrease through the day, leading to icing. Each road is different and will freeze at different rates. Road conditions will likely deteriorate throughout the day.
Expect Changes to the Forecast!!
Keep in mind the weather is not beholden to the forecast and the models. Observations defeat forecasts every time, and we'll be Tweeting observations like crazy today through the entire event. You can find radar, tweets, and cameras here. Or, just follow us on Twitter.
Additionally, your reports are very helpful in seeing the big picture of this ongoing event. Be sure to report what you see using the #tspotter throughout the day today.
As we tweet about dropping temps and frozen precipitation, please remember #tspotter. If you see rain starting to freeze, roads getting treacherous, snow or ice accumulations, please tweet your location and a pic using #tspotter. This really helps us with "ground truth". ^wm

— NashSevereWx (@NashSevereWx) January 12, 2018
---