Winter Weather Advisory – Now In Effect Through Midnight Friday Night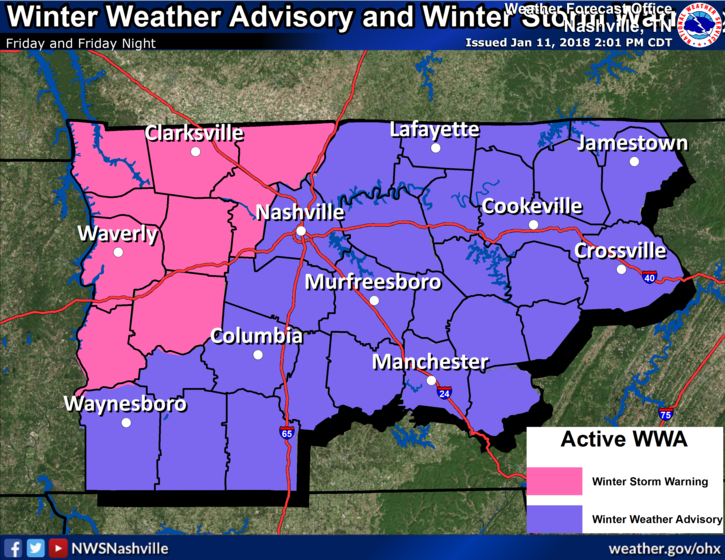 Updated: We are under a Winter Weather Advisory, beginning Friday at 8 AM, ending at MIDNIGHT Friday night.
Rain will transition to freezing rain and sleet in the morning, then to snow late morning or early afternoon. Ice accumulation of one to two tenths of an inch will occur along with the possibility for 1-2 inches of snow.
Based on the latest briefing from NWS Nashville, let's go through the timing/impacts of the event:
Morning Commute – Rain is here…transitioning to a freezing rain between 6-9AM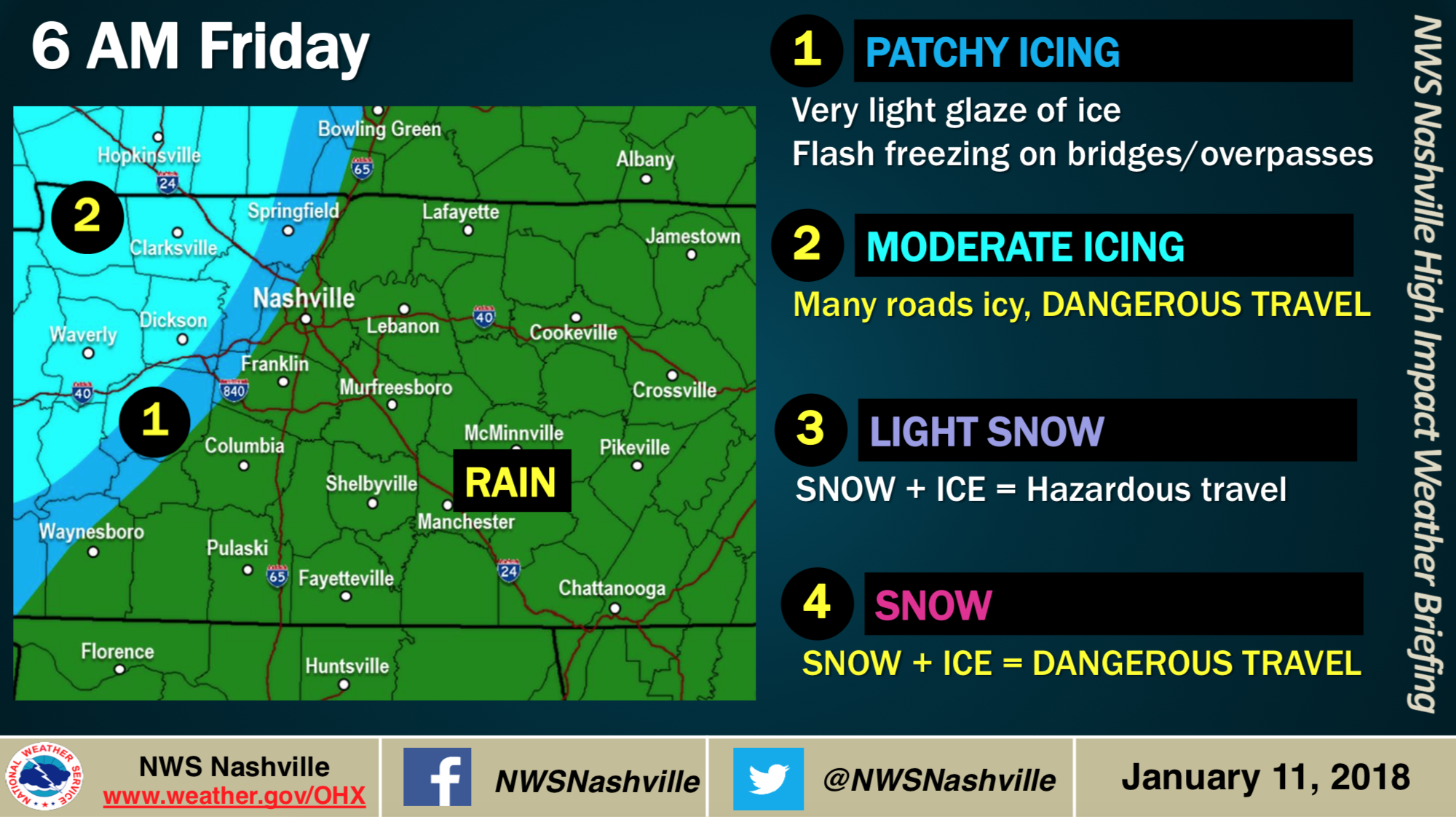 Lunchtime – Freezing Rain is falling, alongside temperatures. Road conditions becoming a concern.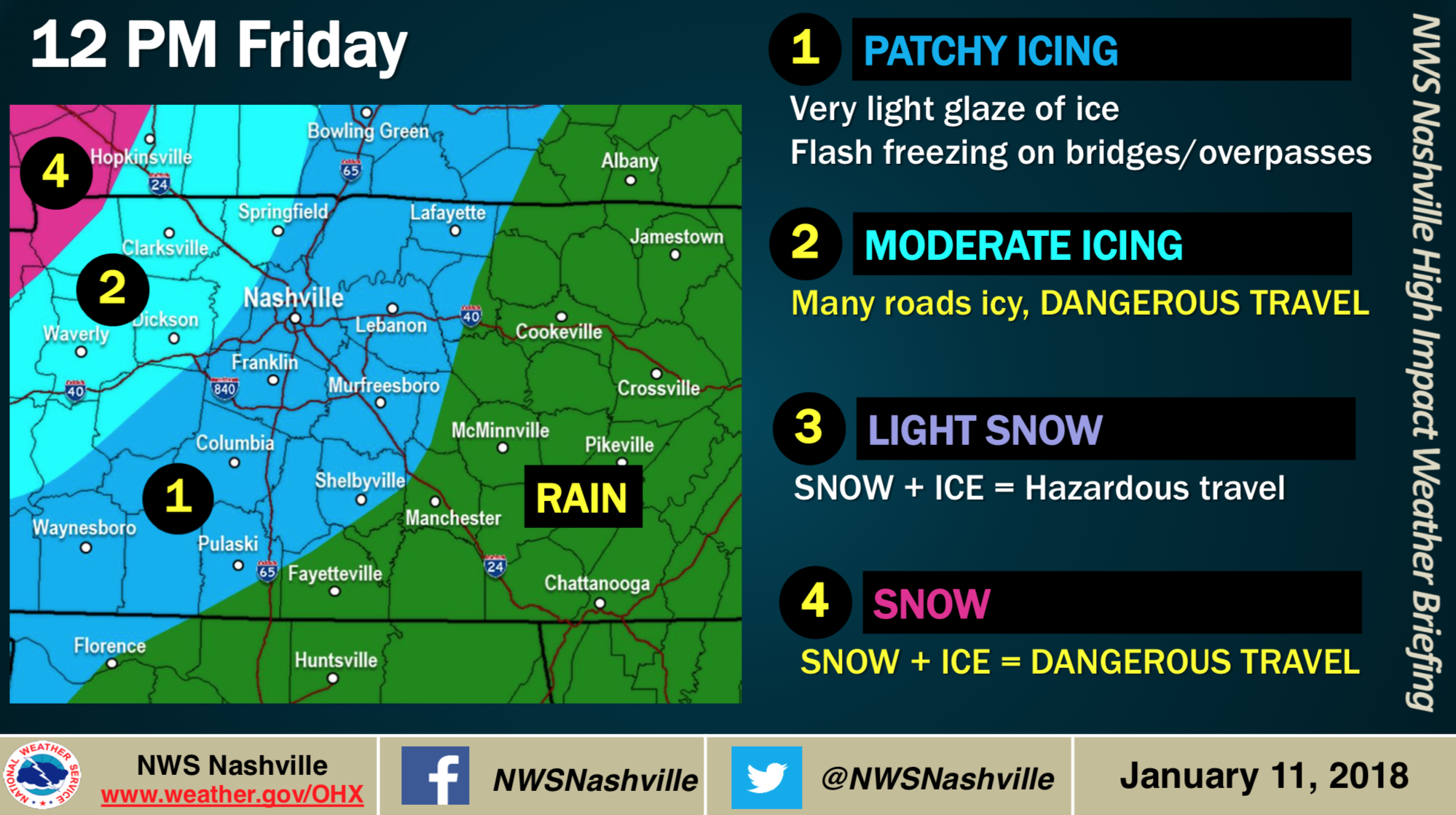 *AFTERNOON COMMUTE* – Driving conditions hazardous. This will be a consideration for schools and transportation home Friday afternoon. Ice on roadways likely.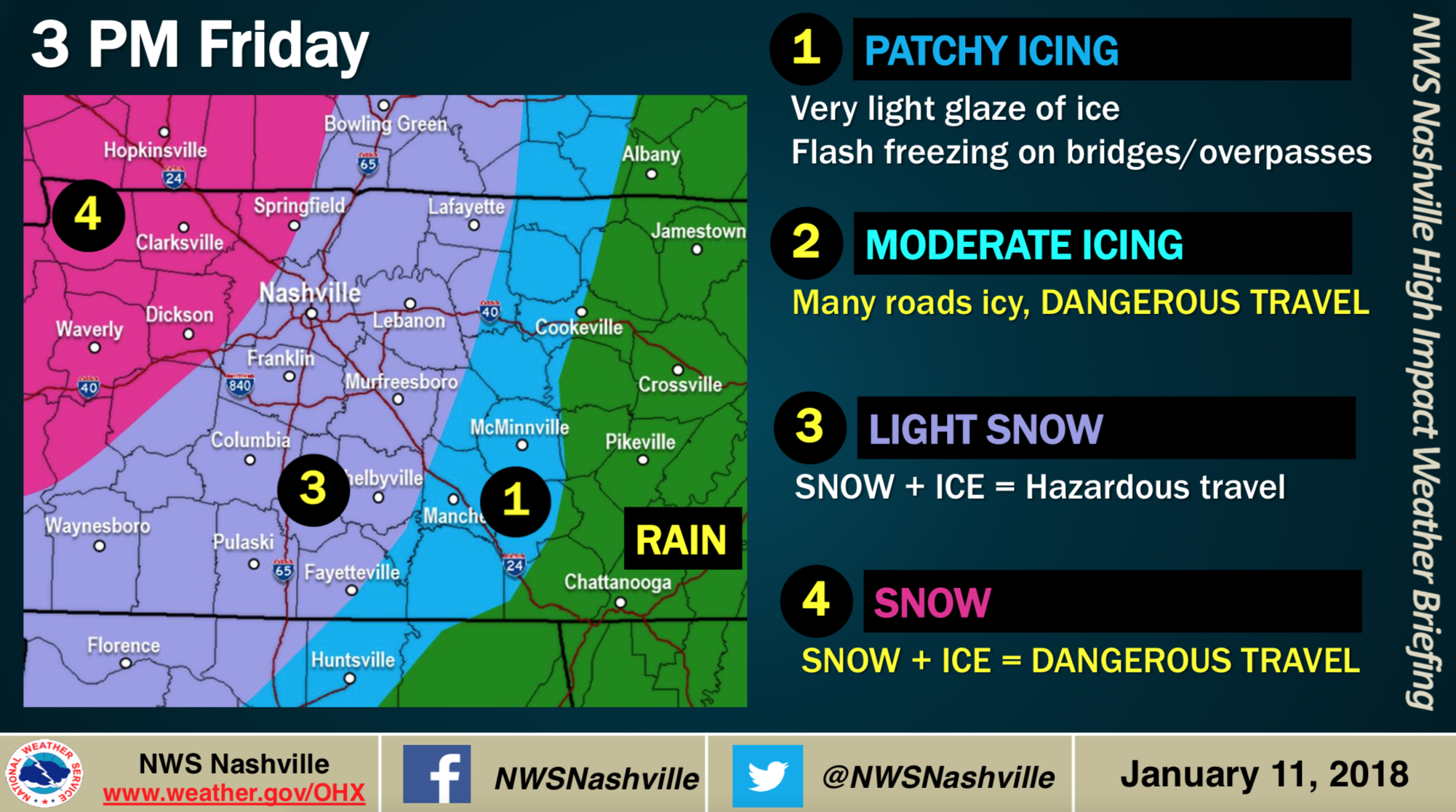 More ice and snow is expected west of us. Therefore, they get a Winter Storm Warning. Confused between a Winter Storm Warning and a Winter Weather Advisory?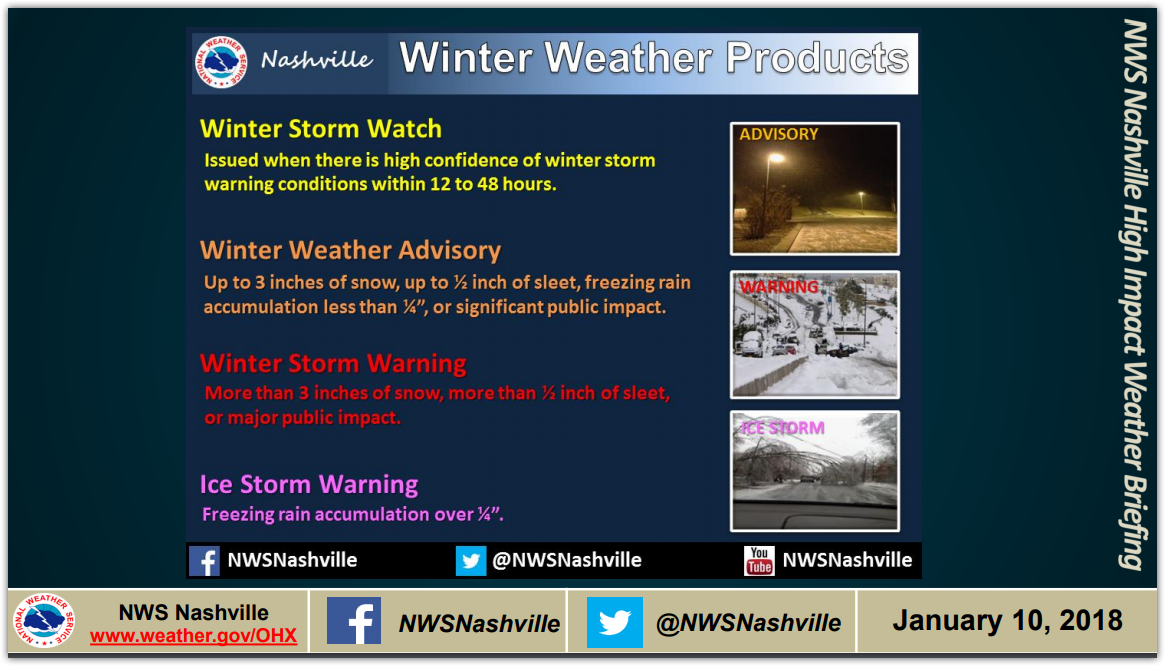 Ice
Ice Accumulations from the latest NAM: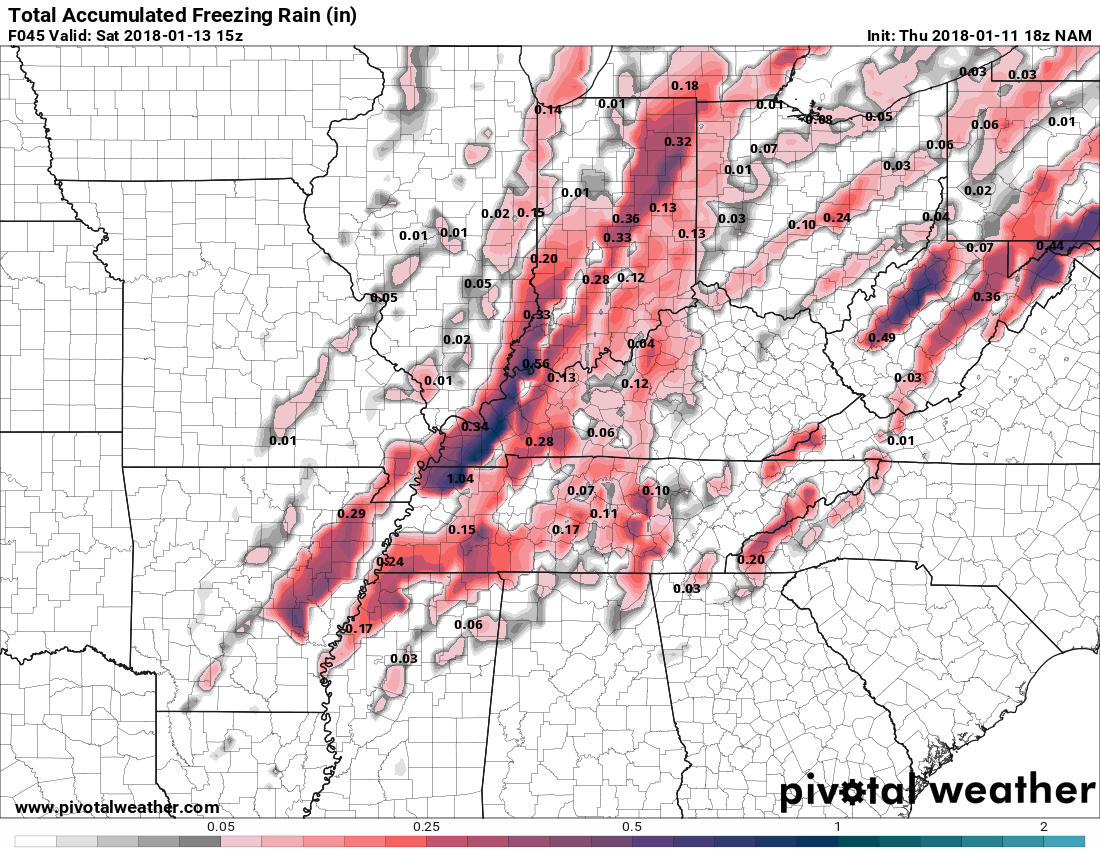 Ice Accumulations from the latest GFS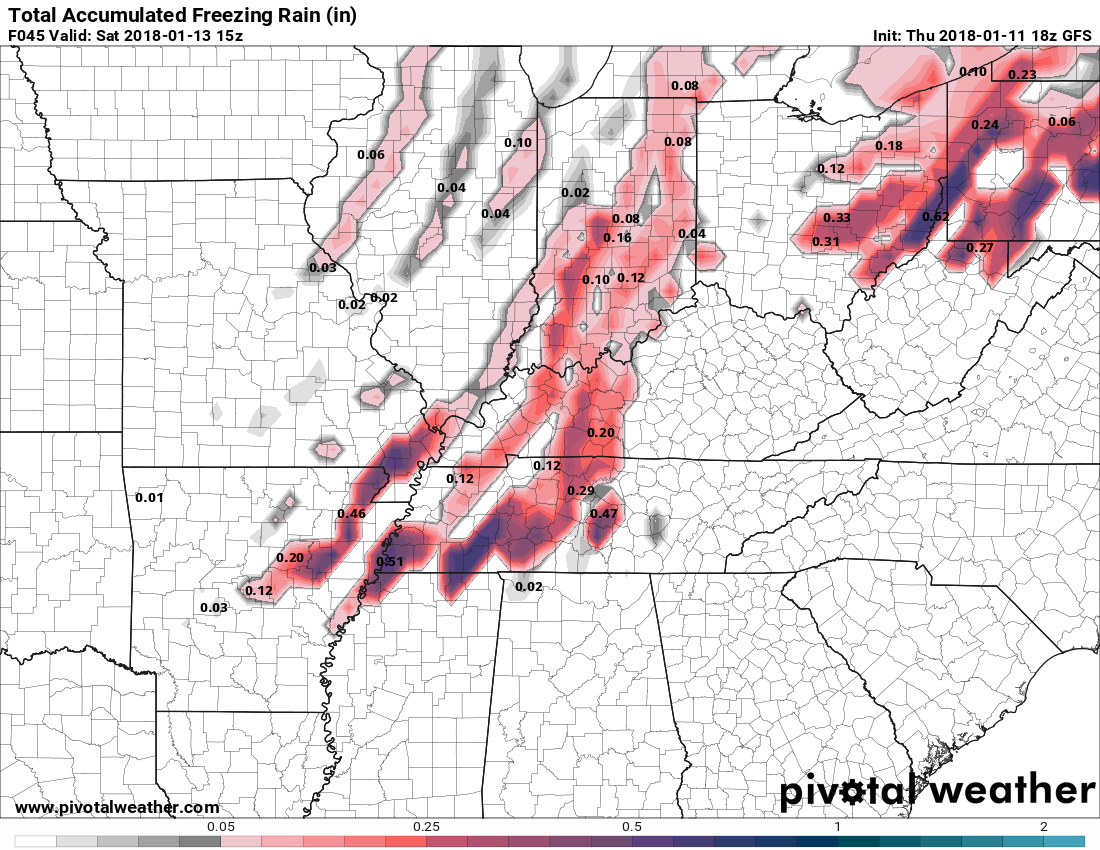 Take these latest model images with a grain of salt. The GFS has been pretty consistent on 0.15-0.30″ of ice. Even the Euro model has predicted more than 0.2″ of freezing rain for us.
No ice storm warning, but a winter weather advisory for up to 0.25″ of ice.
Let's not get caught off guard. Be aware of what an ice storm can do. Ice is the worst form of precipitation. Obviously, ice makes travel nearly impossible. Ice accumulation weighs down trees and power lines. 13-14 MPH winds forecasted tomorrow can cause them to fall.
Freezing rain is regular rain that falls, then freezes. That should happen first. Sleet is the stuff that goes pitter patter on windows. To avoid ice accumulation, we want freezing rain to quickly turn to sleet, and sleet to fast turn into snow.
The ground is still very warm; however, a warm ground may soon be a distant memory. If the snow transition doesn't happen quickly, we'll quickly turn into a skating rink.
Snow
More ice means less snow. Less ice means more snow. Latest runs of the models think we'll see just a little snow, averaging around 1.5″.
Sled Index: "I put my sled back where I found it. At least I know where it is."
That said — there's a small chance we could hit the snow jackpot, and hit 4″ or so. I'm not betting on it, but I don't think anyone should rule out that possibility.
ETA
For a few days I've discussed January 22, 2016. It was a similar event: rain changing to snow. The consensus model opinion was that rain would change to snow around noon, and we'd end up with a modest snowfall.
Instead it changed to snow around 7 AM and Nashville got 8″.
Tomorrow, make flexible plans. Your decision to do X or Y activity will depend on your risk tolerance, the need to be doing X or Y, and your specific ability to react. Do not think "I'm safe early morning" and make inflexible plans that will leave you trapped or gridlocked if these ETAs are wrong.
We'll be "wall to wall" on this event on Twitter, watching temps very closely. I hope we will be able to see the freezing temps coming and advise you whether the below ETA is looking good or not. I say "I hope" because there are too few resources to access sufficient, reliable, timely weather observations; tomorrow, we are going to feel the uncertainty this creates. We will use what we have: a network of surface temps from mainly personal weather stations, twice-daily balloon launches, dual-pol radar data, and models built on assumptions that may be just a bit off.
Generally speaking, current ETAs are:
Morning commute: Rain
Late morning: Freezing Rain to Sleet
Mid afternoon: Snow
Stay connected for updates and changes to ETAs. Remember January 22, 2016.
Flights
Yes, your flight may be impacted Friday. To what extent, I don't know. Airlines regularly function in this weather. The bigger concern will be getting to and from the airport. See above for that information.
Schools
We do not speculate on school closures. If and when we discuss the matter with certain school officials, we keep the substance of those conversations private out of respect for them. I don't want to create confusion and I don't pretend to know everything that goes into making such a decision. We will, however, RT official announcements for public school closures in Davidson and Williamson Counties.
Travel
Keep in mind we cover just two counties, Davidson and Williamson. We cannot and should not forecast beyond that area. So, your trip to Atlanta or Cincinnati or Dallas — I haven't studied the weather conditions along that entire route, and I don't really know what to expect there. I certainly don't want to give you bad information.
The ground will be warm tomorrow. That's good. However, TDOT isn't applying brine (the rain would just wash it away), so water will freeze sooner than it would if the brine was down.
I don't think local travel here anytime Friday is a good idea, unless it can be avoided. However, I'm a risk averse person; I remember Gridlocks of Snows Past — never again. I would not plan to travel after noon Friday, but if you ask on Twitter, we'll just say we don't recommend travel here tomorrow at all.
Even if most of the precip tomorrow falls as rain, by Friday night everything will freeze. Temps will be in the 20°s tonight and stay there just about all day Saturday and Sunday. Some roads, especially secondary roads, should have lingering slippery issues tomorrow.
All that said, if you can hold off on your Go/NoGo decision until tonight, do it. Get the benefit of updated forecast information and timing that's coming later today.
Bridges and Overpasses, Areas at Elevation
Bridges and overpasses always freeze first. Everything can be fine . . . until you hit an overpass and you start to slide.
Joelton, you're usually the canary in the mine, it happens to you first. Also, that section of 840 near Fairview is both at elevation and full of bridges and overpasses. It's a treacherous stretch of highway.
Clear Ice & Snow From the Top of Your Car
At least once per snow, we get a note from a police department asking people to remove the ice and snow atop your cars and trucks before driving. At 50 MPH, ice can slide off and penetrate the window of the car behind you. It's dangerous.
Yeah yeah yeah, if it happens, maybe the person behind you was following too close. If that's your response to this situation, be the bigger person! Maybe you can agree no one deserves an ice missile through the windshield at 50 MPH, even if they were following too close. Be considerate of the bad drivers and jerks tailgating you, Mr. and Ms. Perfect Driver.
Also if your brake lights are covered, maybe dust them off so we can see you stop.
We may not get much of this, but in case we do, be considerate.
Expect Changes to the Forecast!!
Consult multiple, reliable sources for all your weather information. Check back with them frequently. Avoid confirmation bias — hearing a forecast you like, then ignoring contrary information. Keep in mind the weather is not beholden to the forecast and the models. Observations defeat forecasts every time, and we'll be Tweeting observations like crazy today, tonight, tomorrow, through the entire event. You can find radar, tweets, and cameras here. Or, just follow us on Twitter.
More info tonight and tomorrow, and as usual on Twitter @NashSevereWx.
Will, Andrew, the Interns, and I volunteer our time to this site and at Twitter @NashSevereWx. The stuff we use to bring you all this info — data, computers, software, subscriptions, IT — costs money. If you like what we do and you'd like to support us financially, hit the link below. Yesterday, we had to commit another $40/month "to up our resources" to (cough) hopefully prevent this site from crashing due to high demand.  However, if you can't help or don't want to help, it's cool, feel no guilt trip. We want this to be free to everyone.
---