One Day At A Time, Starting With Today
This morning, we are dry. Cloudy, but dry. A strengthening south wind (gusting to ~20 mph at times) will continue to pump in moisture, keeping us under overcast skies. Temperatures this afternoon make up for the gloomy conditions, rising into the lower 60s. Any leftover decorations left out or a car that needs to be washed? Probably a better day than any to wrap those tasks up.
Why? Wet weather is on the way. Isolated to scattered showers likely won't start until after sunset tonight, and probably not until Thursday morning.
Latest HRRR Model Loop…not a whole lot in terms of rain today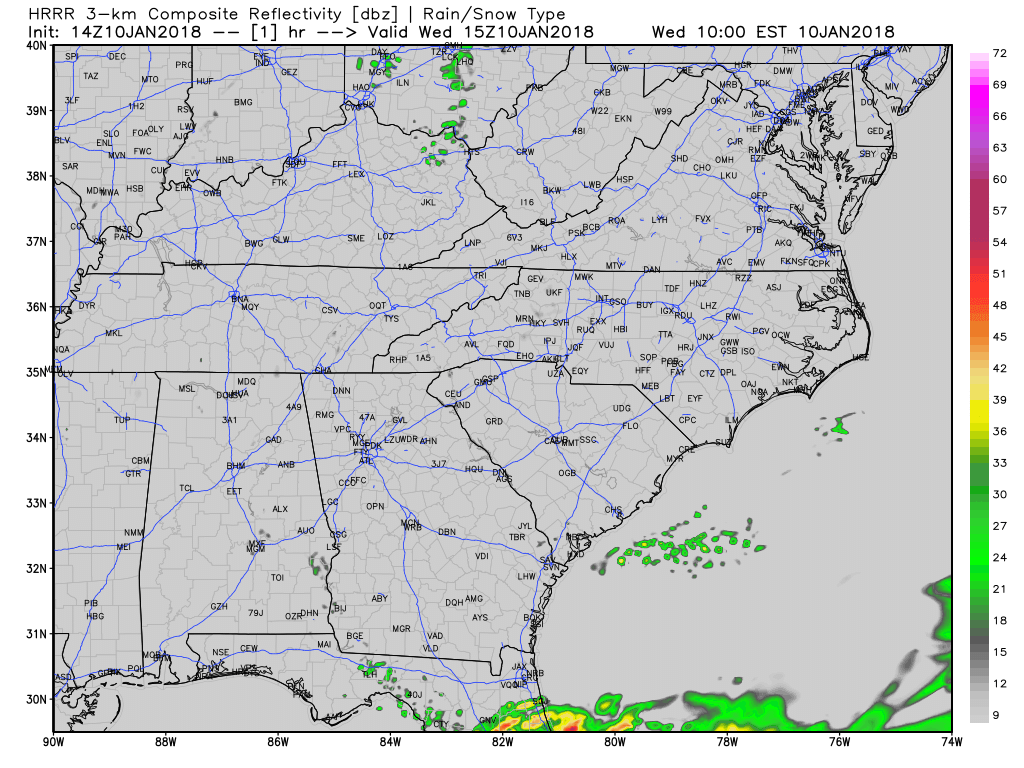 Showers will increase on coverage Thursday, so it's a "have your umbrella handy" day. Temperatures in the afternoon will even be a few degrees warmer than today, but you'll have to dodge raindrops to enjoy it.
*There is potential that rainfall Thursday night could create slick spots Friday morning. With warm ground temperatures today and tomorrow, would not anticipate black ice issues Friday morning, but it is still a mere possibility. Treat wet roads like icy roads Friday morning and allow extra time for your commute.*
NWS Nashville says, "Let's get to the 'meat and potatoes'…"
Note: Based on overnight analysis from NWS Nashville and discussions with the Weather Prediction Center, they have blended their forecast with a mix of the NAM, UKMET, and Canadian models. Why is this important? EURO and GFS models are seen to be too quick in moving moisture out before the meaningful cold air moves in.
What: A freezing rain, transitioning to an accumulating snowfall event over Middle Tennessee.
When: Friday into Friday night.
Impacts: Travel Friday afternoon and especially into Friday evening will quickly become hazardous, as temperatures plummet and precipitation continues to fall.
How this will happen: A cold front will move through early-to-mid afternoon Friday, while rain is falling. Rain will quickly begin transitioning to freezing rain and then to all snow by evening.
NWS Nashville (and we feel the same) sees enough variability in precipitation types and timing to hold off on agreeing to any freezing rain or snowfall amounts.
Weather Prediction Center – Probabilities of at least 4″ of snow through Saturday AM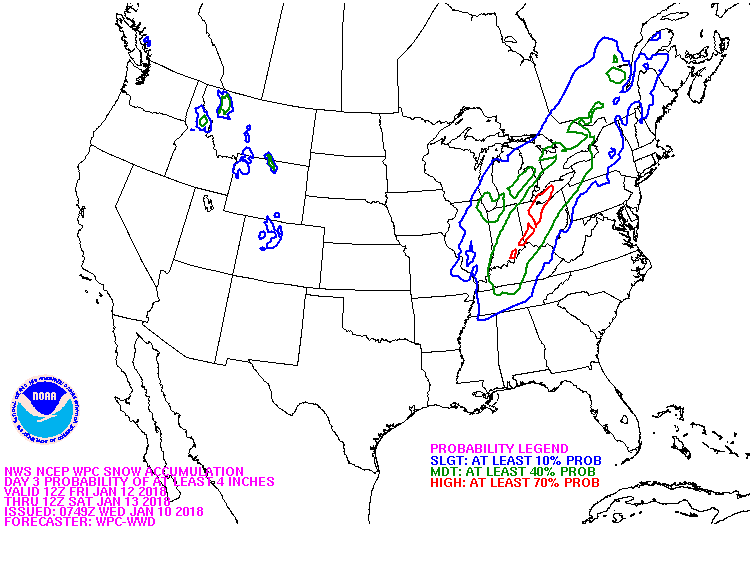 Generally speaking, Davidson County and points north have a 40% probability of 4″ snow totals at this time. This probability can and will likely adjust up/down. Areas further south will likely see rain/wintry mix cut down snow totals.
Unfortunately, model snowfall maps right now are one extreme or the other. For this morning update, will hold off on posting any potential accumulation maps to avoid confusion/latching on to fictional totals. Let's see what NWS Nashville has to say this afternoon, so as to keep the message as clear and consistent as possible. Winter weather is challenging enough to forecast, much less communicating quickly-evolving impacts. Message consistency and watching model trends over the next 36 hours will be key in a successful, accurate forecast. Stay tuned!
NWS Nashville's Special Weather Statement from the morning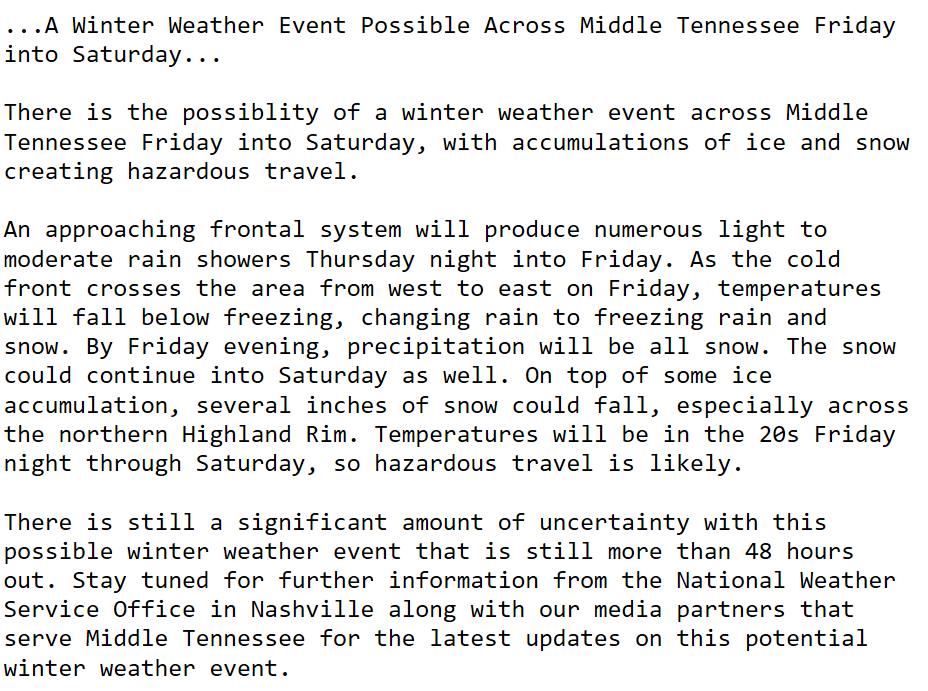 Extended Forecast from NWS Nashville

---