First and Foremost: Expect Forecast Revisions/Changes To This Forecast Tomorrow
Consult multiple, reliable sources of weather information.
Rain Thursday
"Friday snow" will be hard to believe Thursday afternoon when it starts raining off and on and we are in the mid 60°s. Rain will be heavy at times, and last into Friday morning. Sometime Friday, rain should transition to sleet and/or freezing rain, and eventually snow.
Where's the Brine?
Brine would be washed away and rendered useless by rainfall Thursday night through Friday morning. TDOT may decide not to apply it.
Fast Transition from Rain to Sleet then Snow
During Friday's rain, a cold front will race across Middle Tennessee, slashing temps from the mid 50°s into the mid/low 30°s in about a few hours.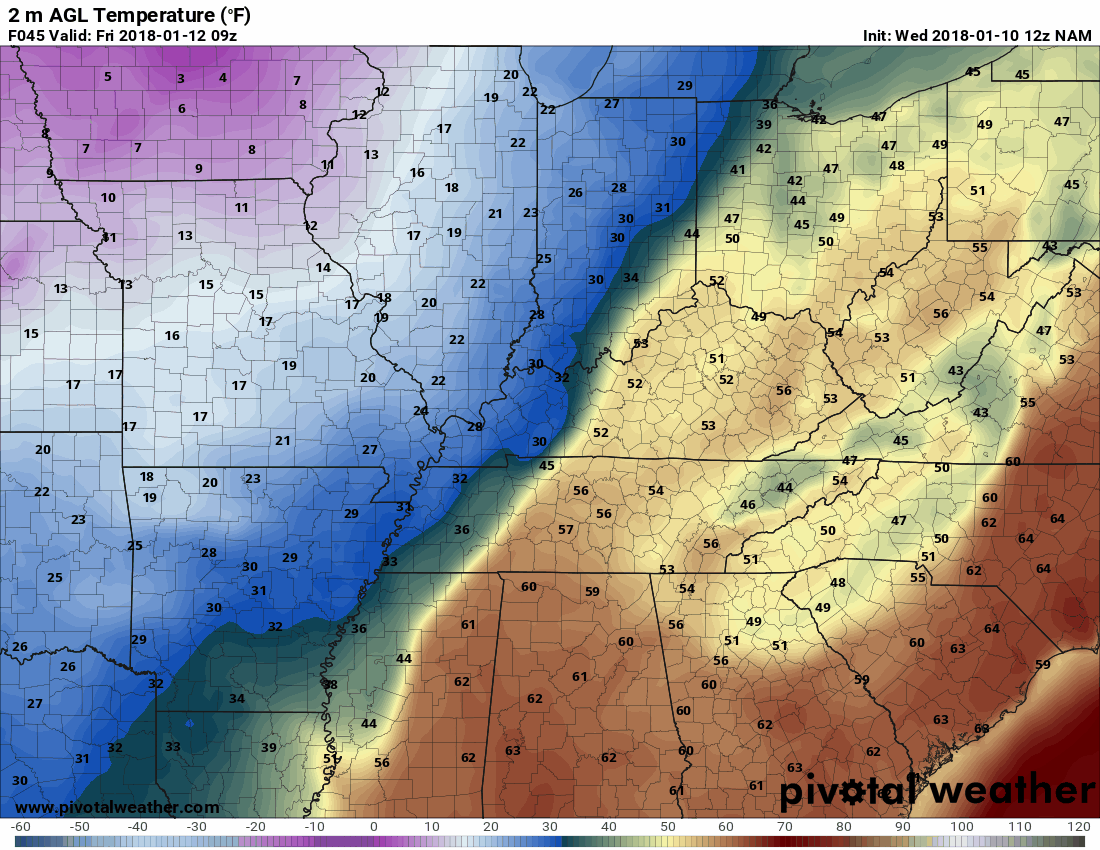 Yes, it's been warm. The ground has thawed from last weekend. The closest reliable road sensor to us, located in Franklin, KY, shows the pavement temp is about 5° colder than the air temp. The subsurface temp is about 15° colder than the air temp. So, yes, surfaces will be less receptive to frozen precip initially, but with temps crashing and considering potentially heavy frozen precip rates, stuff should start to freeze and stick within a few hours of it starting to fall.
Bridges, overpasses, and areas at elevation will be impacted first.
ETA: Transition from Rain to Frozen Precip
NWS-Nashville currently thinks the changeover will occur between sunrise and noon: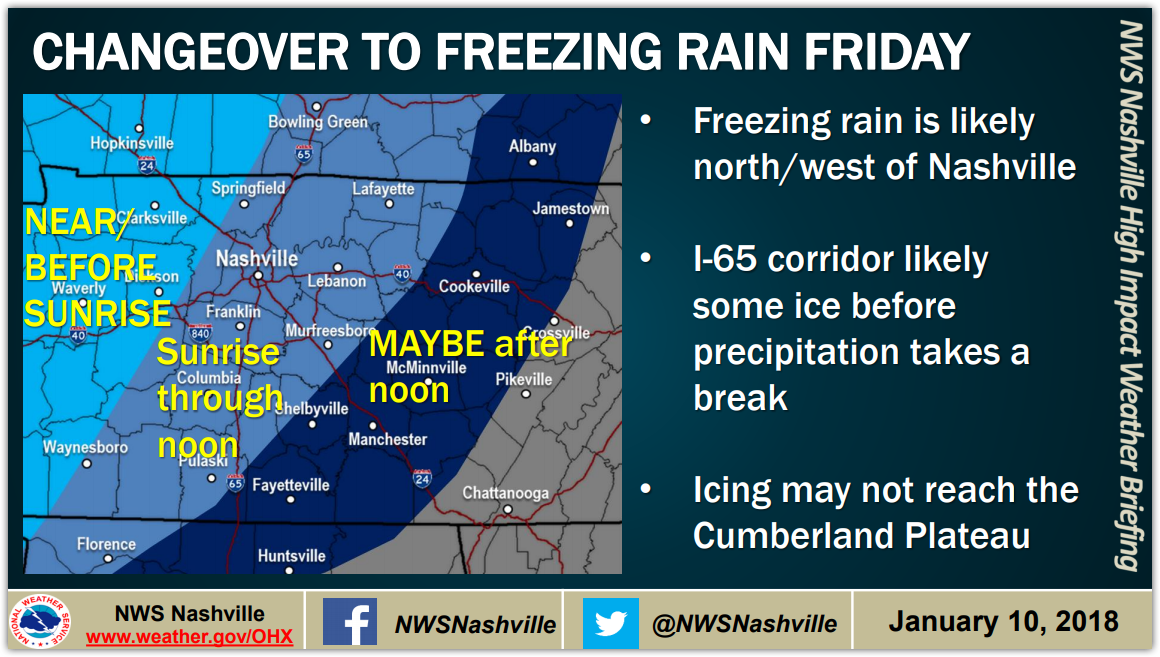 Models disagree when rain will change from rain to frozen precip. Some think before sunrise Friday, others mid-day, others Friday night. The above ETA is the most likely scenario, but it may change.
This afternoon, NWS-Nashville reiterated that point:
Some uncertainty exists in the time and speed of the transition from rain to wintry precipitation and this will play a big part in the hazards that develop. Please stay tuned for updates as we get closer to Friday.
On January 22, 2016, models predicted a mid-day transition from rain to snow. The models were way off, everyone was caught pants down. The transition actually happened around 7 AM and most of us got 8″.
Lesson learned. Models don't do well with ETA/transitions. Do not make inflexible Friday plans based on this ETA. Make flexible plans.
Again, the ETA may change, or it could be just plain wrong. Stay informed.
By the time you see sleet or snow Friday, if you're not already where you want or need to be, it'll be too late and you'll be at the mercy of snow-induced gridlock as everyone panics and gets on the road at the same time while roads gradually become slick and dangerous.
Ice Beneath
The transition from rain may begin as sleet, falling perhaps for an hour or two, maybe longer. A slushy, icy base may form. About that, NWS-Nashville wrote:
Ice accumulations up to 0.25″ inch are possible mainly Friday morning through early afternoon. Snow will replace the freezing rain & sleet as the entire profile sinks below freezing.
One possible, worst case scenario will be ice weighing down trees or power lines. That is more of a concern west of us, but don't rule it out here, either.
However, it's more likely a "glaze of ice" is on the way, which should not impact the power grid. However, if this transition occurs early, we'll have more ice. If the transition is closer to noon, less ice.
Snow On Top
Atop a thin, hopefully not a thick, layer of ice, snow should accumulate.
Generally speaking, we expect about 1″ to 2″ . . . unless a deformation band sets up overhead and hammers us. A deformation band is meteorology-speak for a narrow area of heavy snow rotating around a snowstorm's center. A deformation band overhead could produce at least 4″ of snow, maybe much more; whether it comes to us will depends on where it sets up, and whether snowstorm's center places it over our heads. This is an uncertainty with this event, and why any reasonable forecast should include the possibility of a snowfall exceeding 2″.
Confidence in higher snow totals are higher to our west; hence the issuance of a Winter Storm Watch over there:
Although excluded from the Winter Storm Watch, our counties, Davidson (Nashville) and Williamson, are covered by a Special Weather Statement:
About that, NWS-Nashville wrote:
It is possible that the Winter Storm Watch will be upgraded and expanded as we get closer to this event. That the initial area is limited to areas west of Nashville doesn't mean that locations farther east won't be significantly impacted.
Here's what the Watch, Advisory, and Warnings mean: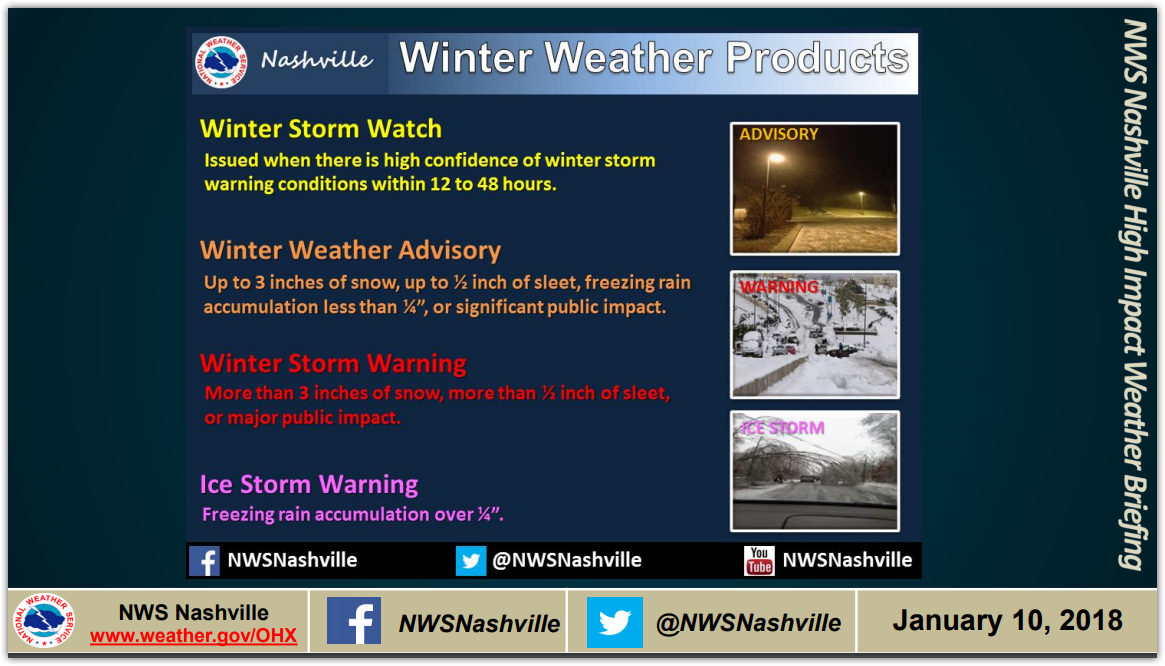 Best Case Scenario
Again, this is not the forecast. It's the best case scenario, which has about a 30% chance of happening: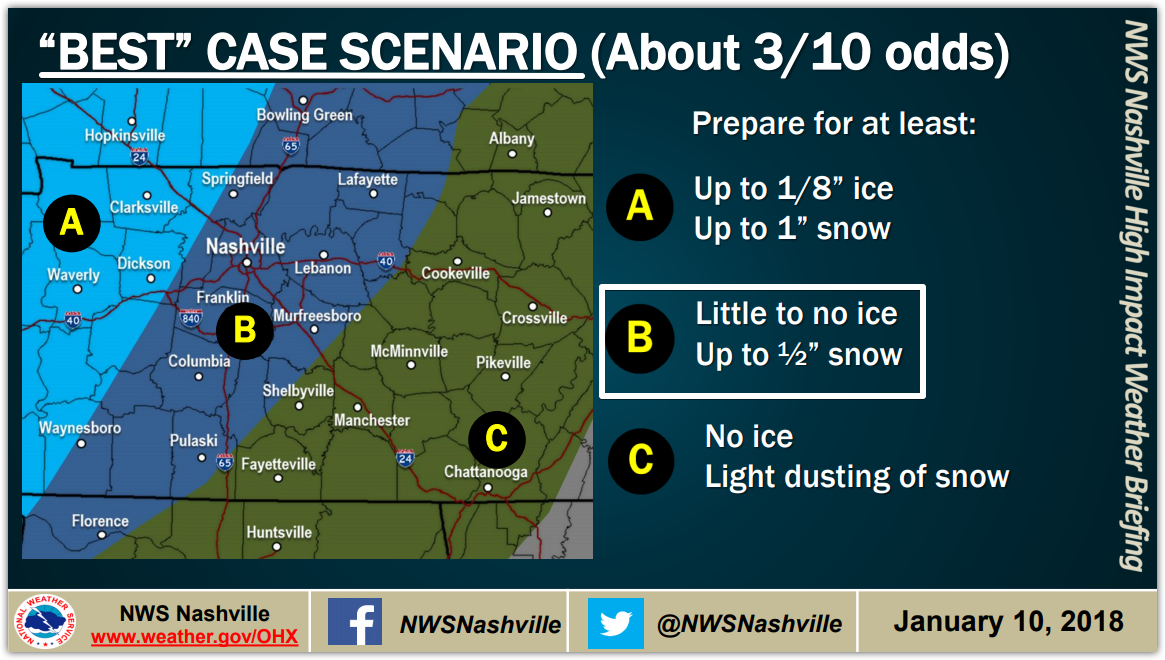 Note that even if the Best Case Scenario happens, all the rain that will have fallen Thursday night and Friday will freeze to the roads, creating hazardous travel, especially on bridges and overpasses, and at elevation.
Such as this, from a few days ago in Knoxville:
Currently in downtown Knoxville pic.twitter.com/POPmfXados

— Jon Arde (@jon_ard) January 8, 2018
Worst Case Scenario
This is not the forecast. It's the worst case scenario, which has a 20% chance of happening: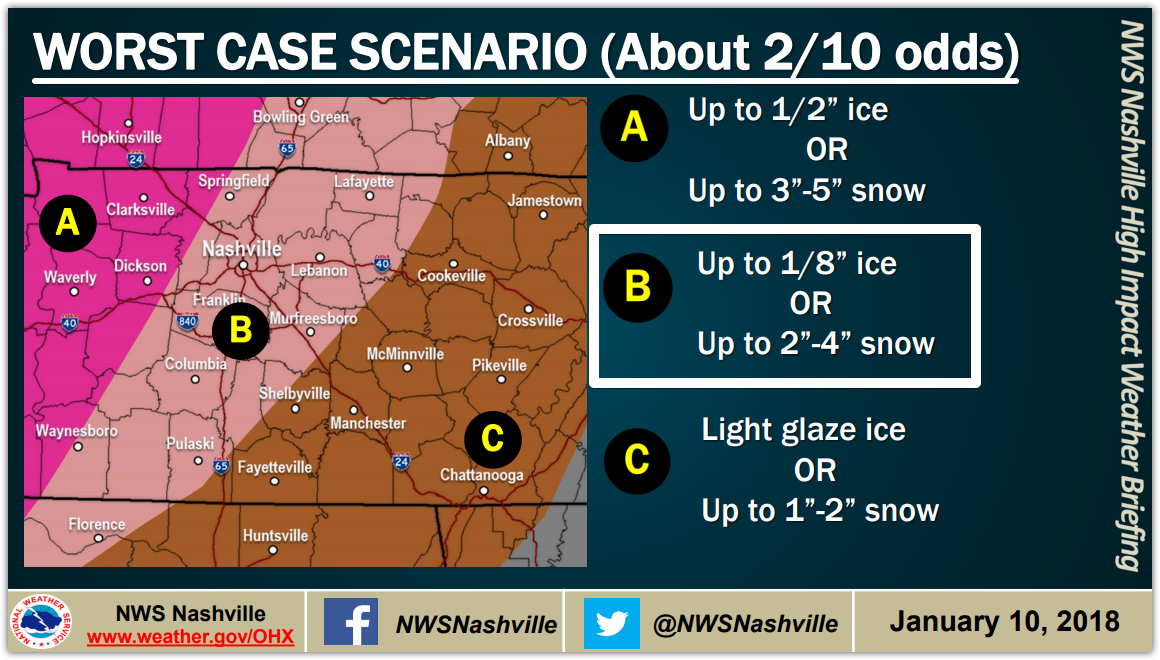 Cold Weekend
Temps won't rise above freezing this weekend. Many roads will struggle to recover from icy conditions. NWS-Nashville put it this way:
To add insult to injury, temperatures will drop well into the teens Saturday night, with the remainder of the forecast much colder than normal.
Clear Ice & Snow From the Top of Your Car
At least once per snow, we get a note from a police department asking people to remove the ice and snow atop your cars and trucks before driving. At 50 MPH, ice can slide off and penetrate the window of the car behind you. It's dangerous.
Yeah yeah yeah, if it happens, maybe the person behind you was following too close. If that's your response to this situation, be the bigger person! Maybe you can agree no one deserves an ice missile through the windshield at 50 MPH, even if they were following too close. Be considerate of the bad drivers and jerks tailgating you, Mr. and Ms. Perfect Driver.
Also if your brake lights are covered, maybe dust them off so we can see you stop.
Will, Andrew, the Interns, and I volunteer our time to this site and at Twitter @NashSevereWx. The stuff we use to bring you all this info — data, computers, software, subscriptions, IT — costs money. If you like what we do and you'd like to support us financially, hit the link below. Today we had to commit another $40/month "to up our resources" to (cough) hopefully prevent this site from crashing due to high demand.  However, if you can't help or don't want to help, it's cool, feel no guilt trip. We want this to be free to everyone.
More info tonight and tomorrow, and as usual on Twitter @NashSevereWx.
---