I know crap apps train us to see clipart snowflakes and nebulous percentages and draw conclusions; you're better served by reading discussions, understanding nuance, possibility, and ranges, and not blowing past important qualifiers like "right now" the forecast "could be" etc. pic.twitter.com/WLNVfETind

— NashSevereWx (@NashSevereWx) January 9, 2018
I wish this stuff was straightforward and certain. I think you know it isn't, this is future prediction. If you came here looking for a guess at a snow amount, you've found the wrong place. I mean, I wish I knew, but anyway, let's get on with it…
Summary
Rain falling Thursday night through Friday morning should freeze Friday night when we hit freezing, causing black ice and hazardous travel. Sometime Friday afternoon or evening, a transition to sleet/ice, then snow, is likely. We could see as little as a dusting to as much as a big event; however, right now, we think 1″ to 2″ is the mostly likely result. This forecast will be updated several times; consult multiple reliable sources for weather information. No, do not consult that app, you're better than that.
Don't Miss This
Rain beginning Thursday night will continue Friday morning, dumping about a half inch before the chance of snow arrives Friday around the evening rush hour, plus or minus about 4-6 hours.
Temps will drop through the 40°s into the 30°s while it's raining. When we hit freezing sometime Friday afternoon or evening, all that water is going to freeze and slick up the roads. Yes, this transition may occur before school lets out, or before/during the evening rush hour, but right now I think it may hold off until the evening. Stay tuned on this.
Therefore, snow or not, hazardous travel is expected Friday night. Bridges, overpasses, and areas at elevation will freeze first. The later we get into the evening, the higher your risk of encountering ice. This will continue into Saturday morning. We aren't expected to rise above freezing until Monday just before lunch.
The Models
Avoid confirmation bias; don't attach yourself to a big snow total or a dusting just because that's what you hope happens.
Don't just read one model and say "they're calling for x."
And:
Expect future models runs to show Friday PM's snowmaker wobbling this way and that. Wobble there, we get a dusting, wobble yonder and behold, snowmageddon.

Imagine model as tree, step back, discern the forest you should. pic.twitter.com/iSVnophyLH

— NashSevereWx (@NashSevereWx) January 9, 2018
I'm going to pull a Rickey Henderson and quote myself:
If you're here just to look for snow totals and not read the words that interpret or qualify the data, pull out your crap app and see what it says. That's faster, and you can miss the point more efficiently.
Euro
The best model at this range is the Euro, and the best part of the Euro is its ensemble: the prediction that most agrees with itself. The ensemble approach takes a bunch of runs of the Euro model and plots what is most likely.
Don't confuse the "best" model with "most accurate."
The Euro Ensemble indicates a 75% probability of us getting at least 1″ by Saturday night. Most of this should fall Friday night through Saturday morning: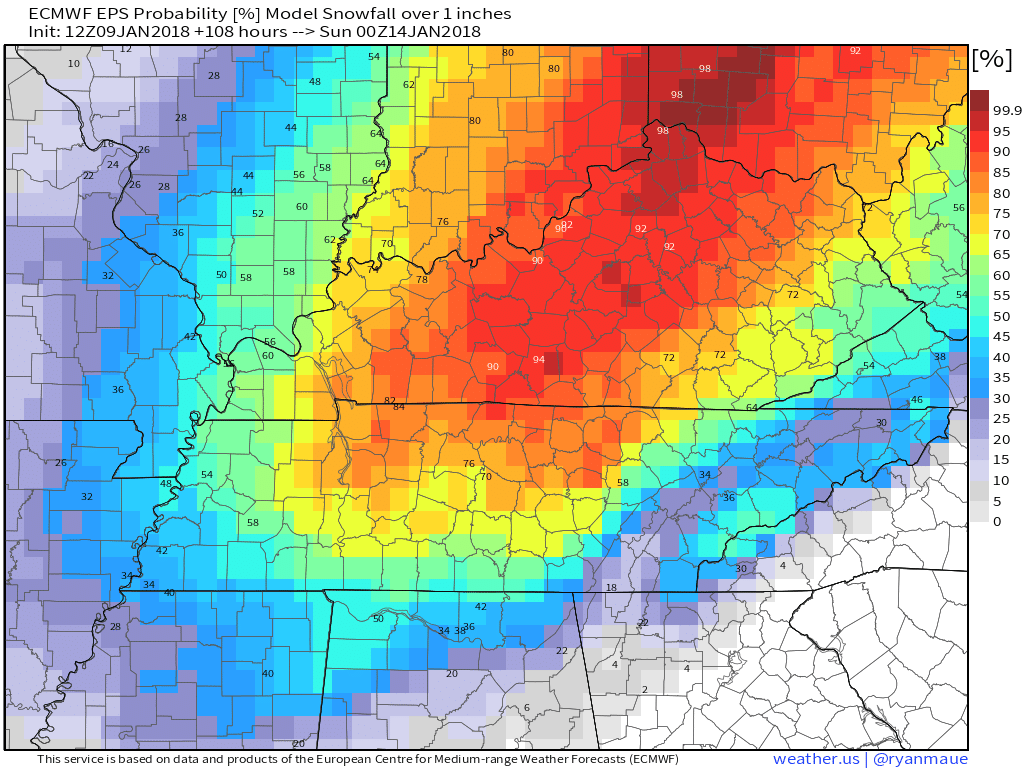 The Euro Ensemble prediction is 2″ to 3″.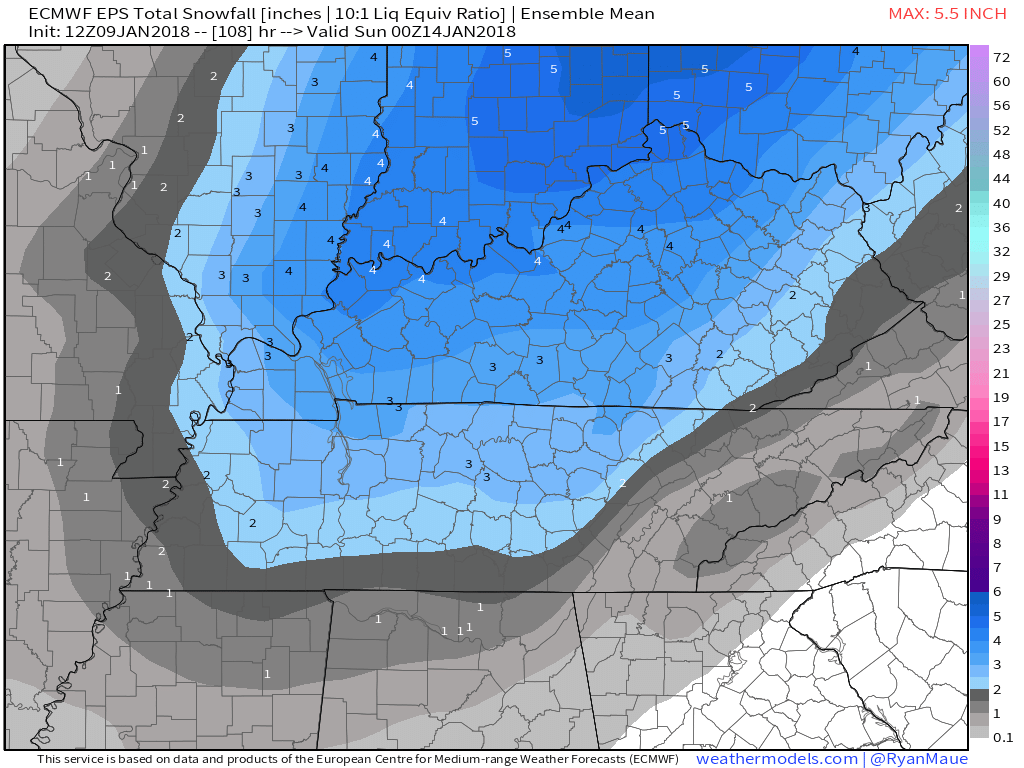 If you want to ignore ensemble data, and look at your own peril only at the latest run of the Euro, you get 6″ west of I-65, 4″ to 5″ east of I-65 in Davidson and Williamson Counties. This should define the high end of the range. Reliability of one model run like this is poor because it sees the tree instead of the forest, but it's folly to ignore the latest run. In fact, the trend among the last 6 runs of the Euro has gone from nothing/dusting with amounts increasing to that big 5″ to 6″ total.
GFS
The other global model is from the U.S., the GFS.
The GEFS — an ensemble approach like the Euro described above — has the big snow north of us in Kentucky: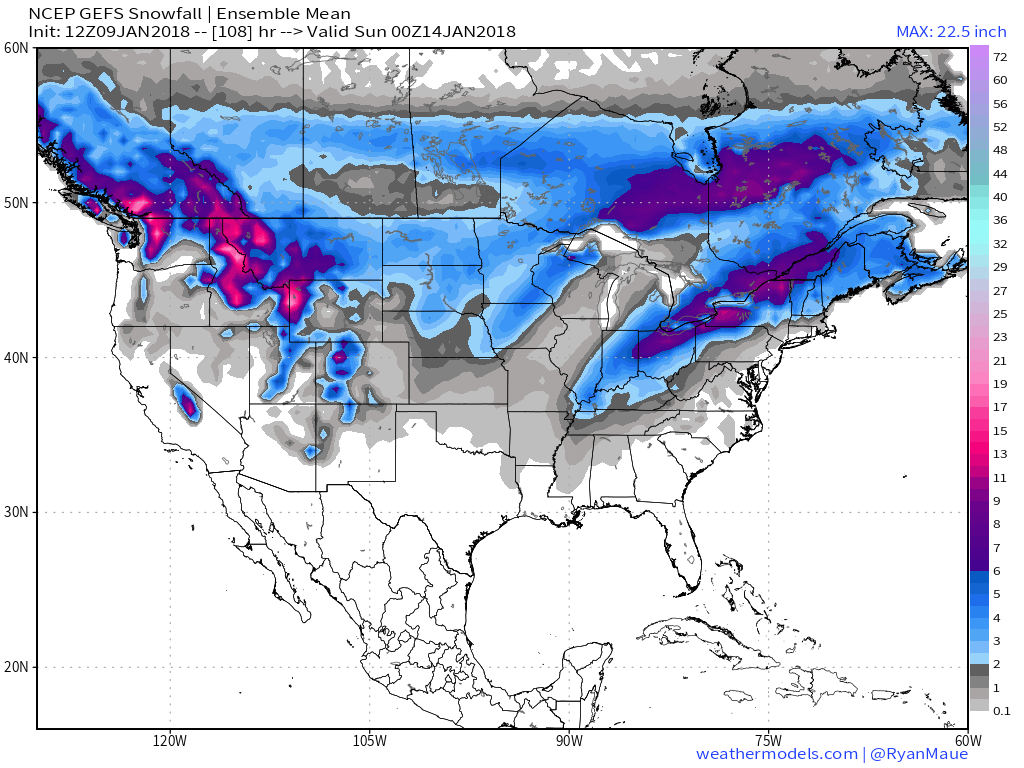 The latest single GFS run, the often ridiculed 18z, is the snow lovers' fear: just a dusting, with the deformation band of heaviest snow off to our northwest. Most models have the big snow to our NW, so I'm including this run: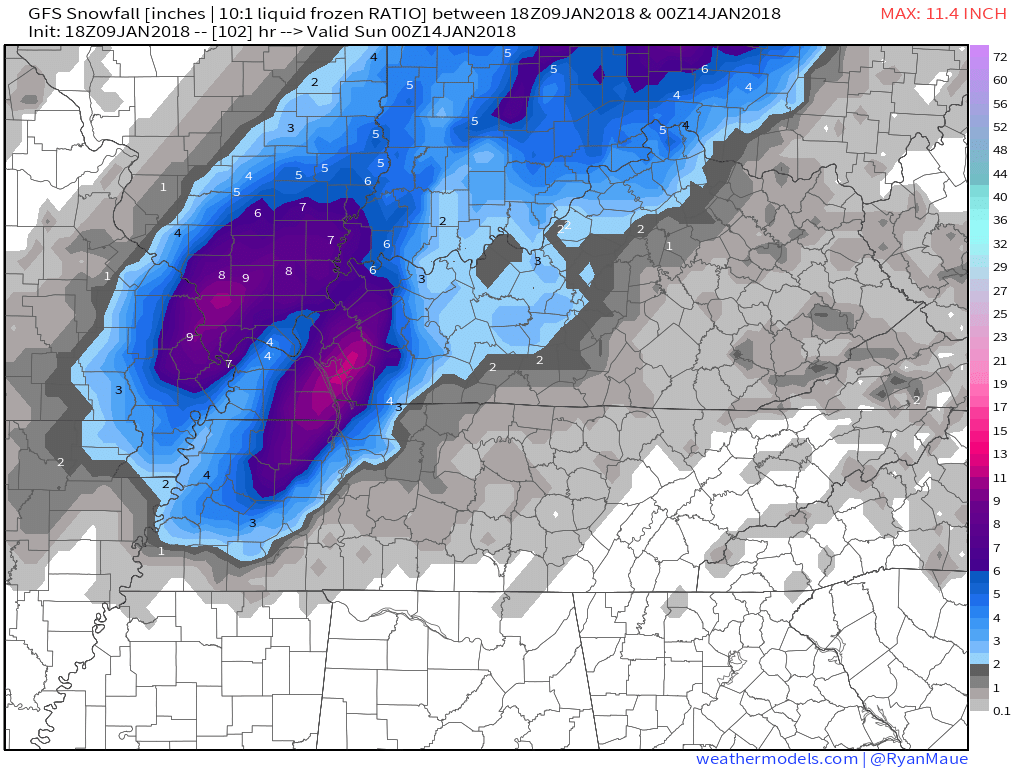 However, if you take the previous one, the more respected 12z run, it still delivers about 1″ to 2″, with the deformation band of highest snowfall setting up north of us: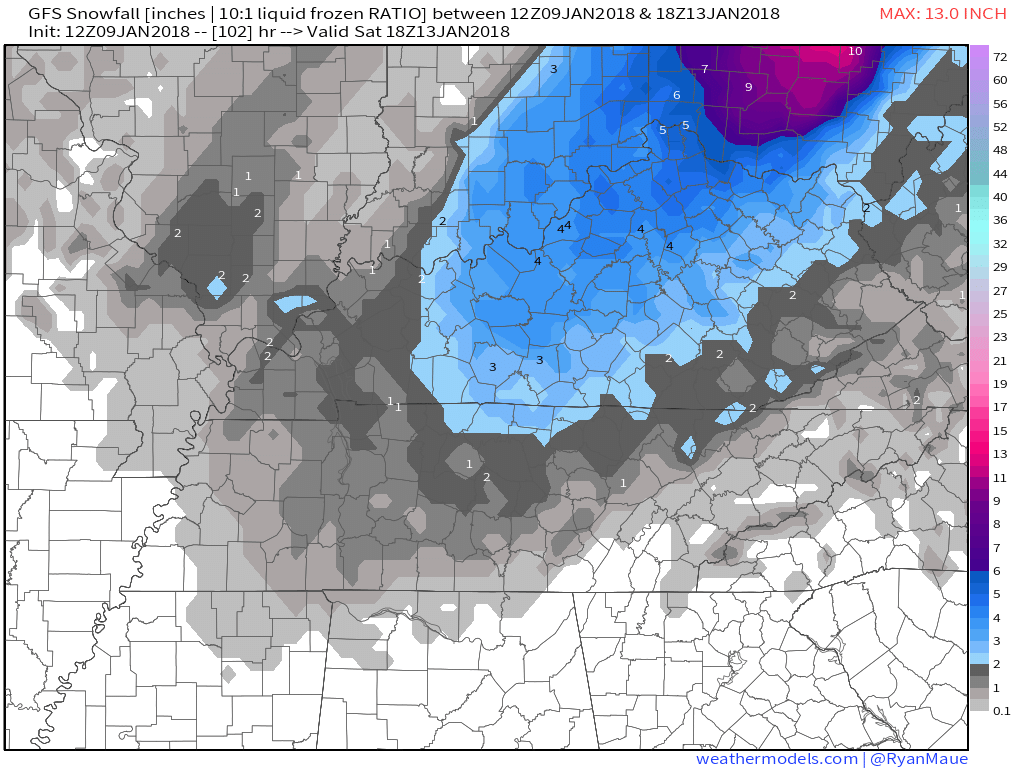 NAM12
The NAM is a different model. It's a regional model; whereas the others are global. NAM12 refers to a 12km of spatial resolution, kinda like standard definition TV from 10 years ago. NAM3 has a 3km spatial resolution, like HDTV. Yet we can't use the NAM3 because it only runs 60 hours out and the snow chance is more than 60 hours away.
Anyway, the 18z run of the NAM12 depicts what we call a clown map, too dramatic and unrealistic to be believable. It drops 18″ in west Tennessee, western parts of Davidson and Williamson Counties would get 8″, down to 3″ along and east of I-65.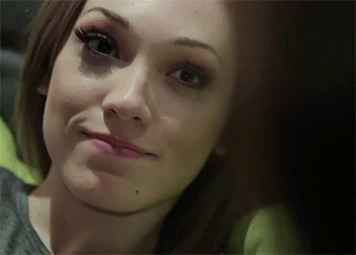 I don't post clown maps.
The prior run of the NAM12, the 12z, as a 7″ event in West Tennessee, but we'd miss out, just a dusting.
I think it's OK to dismiss those clown maps. Sure, it's possible a foot and a half of snow will fall one day, but this is the only model going crazy to the tune of one-point-five feet in west Tennessee, it's the only one doing it; the NAM12 is behaving like your distant tax evading and potentially criminal uncle, he can come to the family reunion but you're not letting him take your kids to the movie. And, yeah, maybe he's harmless, maybe he's right, but I'm not betting on it.
Note: these models assume a 10:1 ratio; for every 1″ of rain, we get 10″ of snow. Sometimes snow falls at a different ratio, like 8:1 or 12:1 or 15:1. Has to do with a lot of stuff you don't care about. But those ratios make a difference in what these models produce. So, if the ratios above are wrong, the result will be wrong.
What The Smart People Say
This makes a lot of sense, from @NWSNashville:
Since the air mass spreading in behind the front is quite cold, we expect the rain to probably change to snow in our western areas Friday afternoon, and over the remainder of the Mid-State Friday night. Right now, it looks like snow accumulations of 1 to 2 inches will be quite possible. In addition, deepening low pressure systems like this can often produce a band of higher snow amounts, depending on how strong the low becomes and, for that reason, we`ll have to keep a close eye on this weather system as the colder air spreads in Friday and Friday night.
Contrary to ill-informed minority opinion, no one is trying to hide anything from the public. Some are eager to attach themselves to the largest possible snow total and run with it. Or, even worse, they'll take crap app that says x or y inches of snow and say "they say it's going to snow x or y inches!" It's more complicated than that.
A measured, reasoned forecast is best, confronting nuance, disagreement, and looking for factual support; like the opposite of your Facebook timeline.
What Could Go Wrong?
Lots.
The Rain Leaves Before It Gets Cold Enough
What if the storm races away before we get cold enough? We have black ice on the streets, and nothing to sled on.
The 700mb Low Goes the Wrong Way
Current North Carolinian Paul Heggen always says "watch the 700mb low." What's that? The 700mb low is an area of pressure at 10,000 feet that's below normal pressure. The north and northwest side of that low is the snow producer, the east and southeast side is the rain producer.
So for snow, we want the 700mb low to pass to our southeast, putting us on the snowy north/northwest side. Like what the NAM12 model has at 18z:
If we get stuck on the wrong side of this low, we may be shut out of any good snowfall, and just get rain.
Most models want to track the 700mb low very close to us, hence talk about it wobbling 50 miles that way, 150 miles the other way — the exact track makes all the difference. The key is predicting where it's going to wobble. Right now, we just don't know, but the trend in the models is it to move where it puts us on the snowy side, but not far enough east to stretch a deformation band overhead and dump the big totals on us (although the latest run of the Euro was pretty close to doing just that).
Deformation Band Misses Us
Suppose the 700mb low passes southeast of us, putting us on the snowy side of the storm. The deformation band is where the heaviest snow falls. The meteorology part of it is hard to explain and this post is already TLDR; all you really need to know for this event is that the location of the deformation band will determine whether we get a big snow or a little one. Where it will set up is very difficult to predict. Usually it stretches from north and south and can be wide or narrow.
If a deformation band doesn't set up atop us, you'll be disappointed/excited you didn't end up on the high end of the snowfall range. Most models think the deformation band will set up pretty far west of us; probably this explains why NWS-Nashville is keeping us in the 1″ to 2″ category.
We Get Dry Slotted
Miss the deformation band? Maybe we'll get dry slotted. This happens when the counter-clockwise-rotating winds around the low pick up dry air, and the dry slot passes overhead. We've been dry slotted many times here. It's a painful source of disappointment.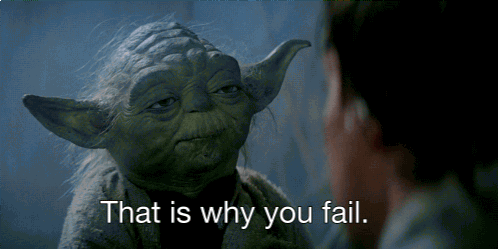 Sled Index
I made this up. It's a measure of how prepared I'm getting for sledding. As a general rule, we'll sled if snow covers the grass, so a few inches is enough.
If I'm not really convinced it'll snow that much, I'll not even bother looking for it in the garage. Or, maybe I'll at least look for it if I'm already where it may be.
I'm past both points. I'm not ready to apply a case of Pam to the bottom of my blue saucer sled ala Clark Griswold, but I am going to look for the big blue circle when I get home.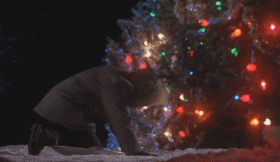 And full disclosure: I ordered icemelt on Amazon.
Will, Andrew, the Interns, and I volunteer our time to this site and at Twitter @NashSevereWx. But the stuff we use — data, computers, software, subscriptions, IT — it all costs money. If you like what we do and you'd like to support us financially, hit the link below. If not, it's cool, we're happy to help. Thanks. More in the morning, and tonight on the Tweeter.
---