There is no "one size fits all" forecast for Middle Tennessee tonight.
1.  For Davidson and Williamson Counties, the NWS-Nashville forecast from 9 PM to midnight includes a chance we will get all rain, a chance it'll be a sleet and rain mix, or a chance of all sleet; however, the most likely result will be rain. Freezing rain is not mentioned because temps are expected in the upper 30°s. There is no mention of snow.
2.  The HRRR model has rain arriving at 9 PM, with our wet bulb temperature just barely above freezing, keeping the precip all rain.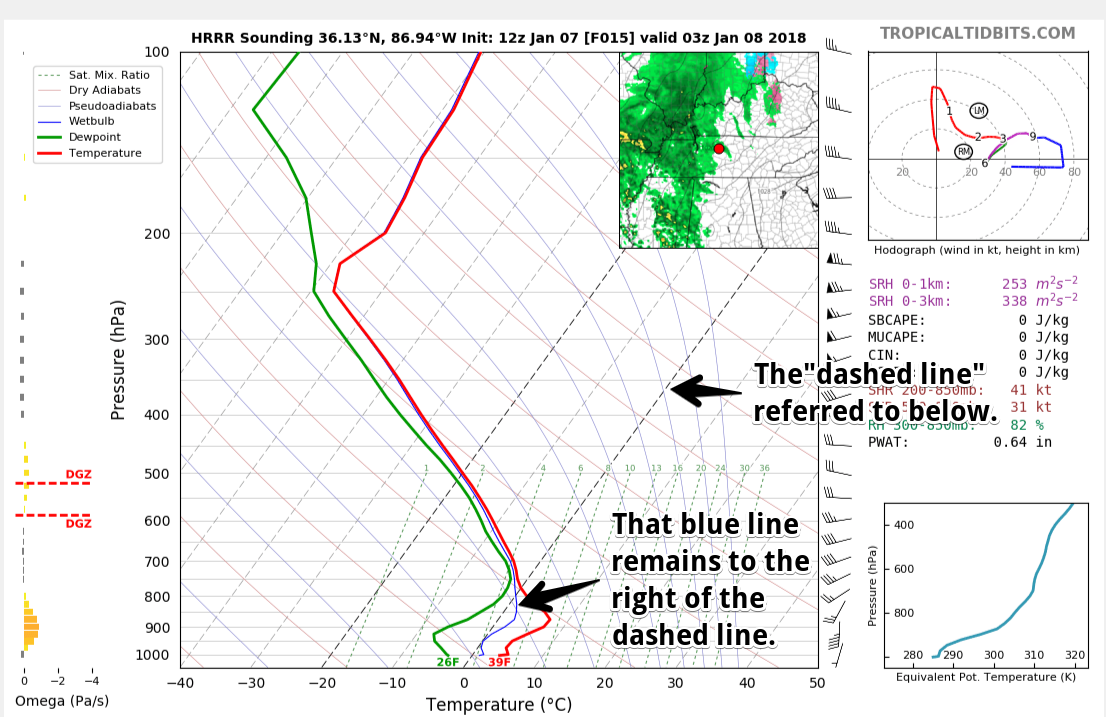 By midnight, the HRRR model has that blue line (showing the wetbulb temperature) below freezing. Therefore sleet could form aloft and fall to the ground, where it would melt when it hits the wet ground at a temp of 39°: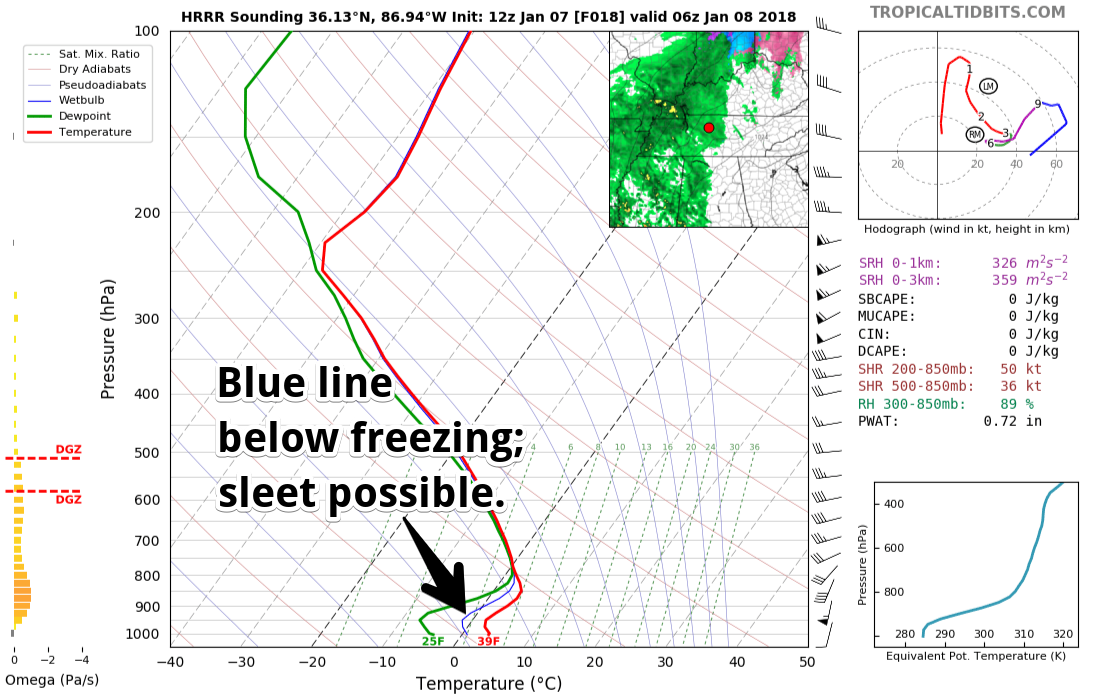 The ground is really cold and would be happy for anything on it to freeze; I would not be surprised to see a few slick spots develop on bridges, overpasses, and areas at elevation….if the HRRR model is correct. Keep reading.
The HRRR model isn't yet "in range" of the wee hours of Monday morning. But the NAM3 is!
3. The NAM3 model has a totally different idea. Whereas the HRRR model thinks may be rain/sleet from 9-midnight, the NAM3 thinks the Dry Air Monster is going to eat all precip during that time, and we won't see any precip until the wee hours of Monday morning. As in 3-4 AM.
When the Dry Air Monster eats precip, the air around him cools. So by the time the NAM3 model thinks the Dry Air Monster will be done eating — around 5 AM — we will be cold enough for sleet or freezing rain.
Yet the NAM3 doesn't have much sleet or freezing rain to give us, and by the time the bulk of the precip arrives, it's very little, and it's only rain — the sun will have come up and we'll warm up way past freezing. Below is the NAM3 model from 4 AM to noon.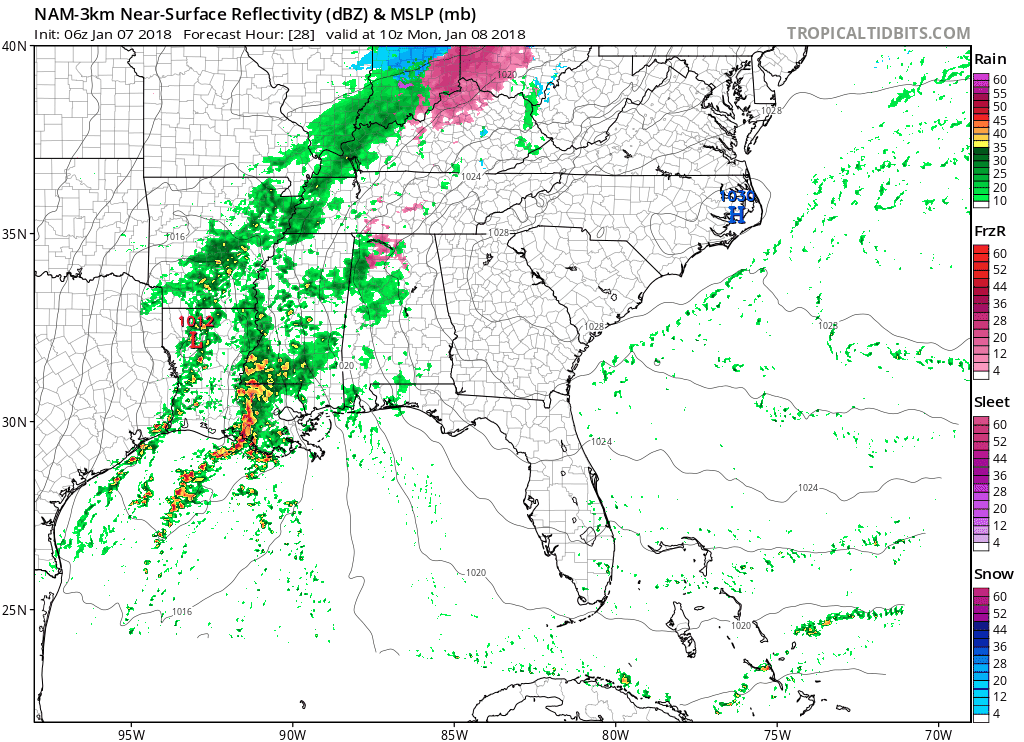 4.  The HREF has a NAM3 bias it seems. It also thinks the precip won't get here until 4 AM…as freezing rain: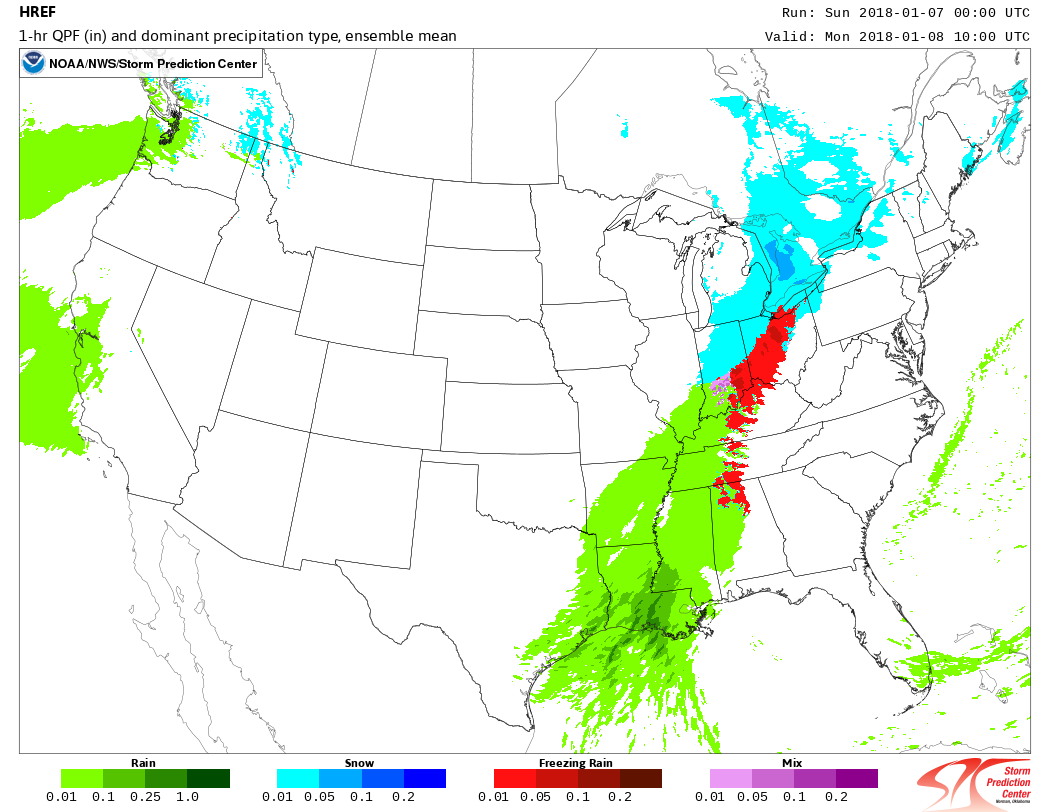 Therefore the main dispute between the models is whether we will see precip actually reach the ground between 9 PM and 3 AM. Right now looks to me like the Dry Air Monster will keep us dry tonight, but, as always, I hate to disagree with the HRRR model.
5.  Option #5 is the unknown. Any model could be 96% "right," but the 4% it's "wrong" can be the difference between rain and no impact, or sleet and a some impact. It's also possible this forecast is hot garbage and we get a minor icing event; however, "worst case scenarios" do not include a major ice or snow storm tonight.
I expect the forecast will change several times as higher resolution data arrives, fed by actual observations and radar trends. Those planning travel tonight and tomorrow morning should check back for changes to the forecast. We'll post updates here; the best place to get our updates is on our Twitter feed @NashSevereWx, which you can find on this website and/or on Twitter.
To be clear, we are not currently under a Winter Weather Advisory. Temp profiles east of us should be colder, so for those east of us NWS-Nashville issued a Winter Weather Advisory expecting ice accumulations up to 0.10″, which can create hazardous travel but would not be a major ice storm.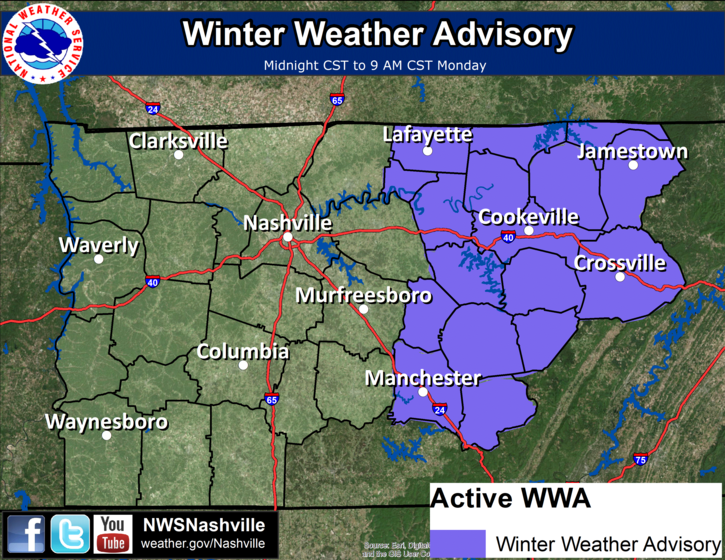 Right now my gut says when we wake up tomorrow morning there may be a few slick spots on bridges and overpasses, and at elevation, but that this will not be an event; however, my gut also says "draw no conclusions, look at how different the models are, beware the Dry Air Monster's evaporative cooling powers, don't forget how a little change in temps aloft can create a big difference in precip on the ground."
All models agree by mid morning Monday we'll be well above freezing, melting anything that may have frozen. The "danger time" will be before and during the morning rush hour.
Warmer, Cloudy, Soggy Week Ahead

We should get under a half inch of rain Monday. After that, rain chances are iffy, and rain totals should be relatively light.
End of the Week Snow Chance!
Very warm temps Thursday, rain, then a cold front racing in Friday will make things interesting. We may see that precip change to snow Friday afternoon or evening. Snow chances will also linger into the weekend.
I am pretty skeptical; usually 60° one day doesn't make for a big snowfall the next day. Often when cold temps trail behind the precip it's a big let down. Both GFS and Euro models have some snow, but it's light, and kinda meh. There's still plenty of time for this to change, but for now, my Sled Index is set to "It's not worth it to spend 10 minutes looking for it, but at least I'm thinking about it."
---