Our two counties, Davidson County and Williamson County, remain excluded from the Winter Weather Advisory.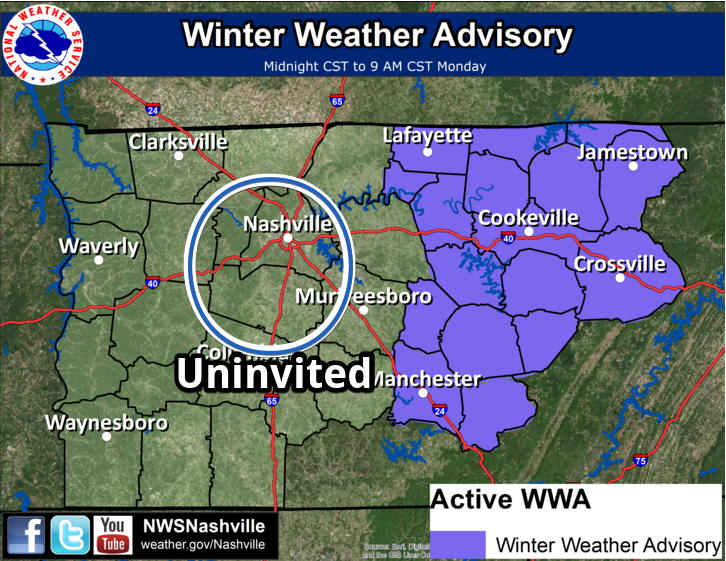 We expect a cold rain, but we also don't want to completely discount winter weather impacts tonight, overnight, or in the morning.
Details
It's so dry right now, and the dewpoint this afternoon is so low that, "at the surface, it is actually dry enough to reach marginal fire danger this afternoon." (NWS-Nashville afternoon forecast discussion).
Radar shows light rain moving our way from the Mississippi River, "but it will still be a while before [precip] is able to reach the surface. Besides a few sprinkles, the entire area will be dry for the remainder of the afternoon. [Western Middle Tennessee] should moisten up enough for precipitation to reach the ground before midnight." Here in Nashville and Williamson Co., expect to see precip before/around midnight.
When the precip starts falling tonight:
[I]t could be possible to see a couple sleet pellets mixed in with rain for locations along and west of I-65, but likely it will be strictly a rain event given the extent of the low level warm nose and surface temperatures staying above freezing.
Hence our exclusion from the Winter Weather Advisory.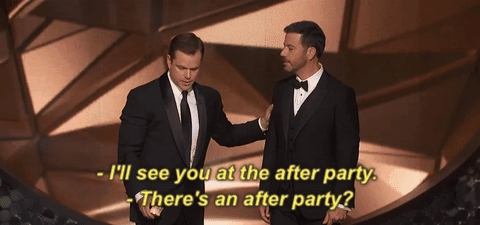 The NAM3 model shows only rain tonight, overnight, and into the morning rush hour. Below is the NAM3 model running from midnight to 2 PM: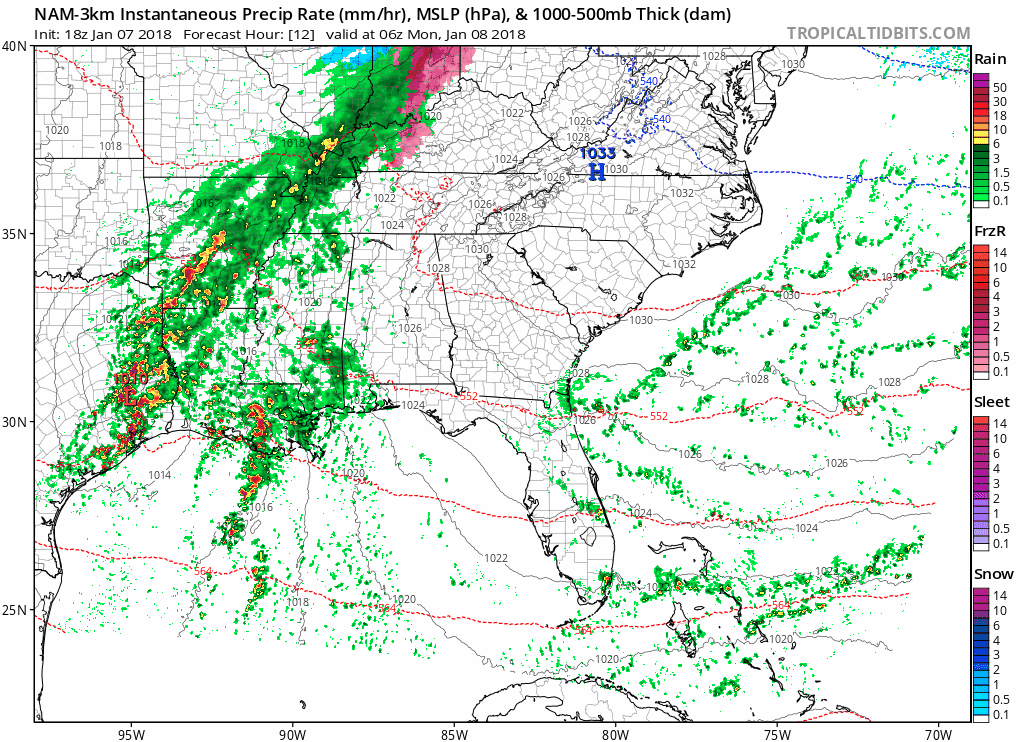 Sleet is theoretically possible according to the NAM3, but that looks increasingly unlikely. This looks like a cold rain.
The HRRR model substantially agrees with the NAM3 model, keeping this a cold rain. So does the SREF.
However, it's a very close call.
Despite warm temps today, ground remains very cold, and we'll come close to freezing again tonight. I'd be wary of slippery conditions if driving late tonight/overnight/early AM on bridges, overpasses, or at elevation (such as Joelton, 840 near Fairview).

— NashSevereWx (@NashSevereWx) January 7, 2018
Tonight, overnight, and in the morning, we'll be watching observations and radar trends in case sleet or freezing rain develops. We don't expect it to, but it's close enough that it will require a watchdog. We will post updates to Twitter @NashSevereWx.
All models agree by mid morning Monday we'll be well above freezing, melting anything that may have frozen. Expect just under a half inch of rain with this system. Rain should end around – hopefully before – the Monday evening rush hour.
Warmer, Cloudy, Soggy Week Ahead

Rain chances Tuesday and Wednesday are iffy. Rain totals should be relatively light.
End of the Week Snow Chance!
Very warm temps Thursday, rain, then a cold front racing in Friday will make things interesting. Rain may change to snow Friday afternoon or evening. This afternoon, NWS-Nashville wrote:
By Friday night, temperatures cool sufficiently to allow for a chance of a rain/snow mix, with most areas likely cold enough for a chance for all snow by sunrise Saturday.
Note the language: "a chance for all snow by sunrise Saturday." A chance.
Sled Index remains set to "It's not worth it to spend 10 minutes looking in the garage or attic for the sled, but at least I'm thinking about it."
I'll leave you with this:
By next Sunday morning, memories of our brief mid-week "heat-wave" will fade, as lows dip back into the teens and lower 20s.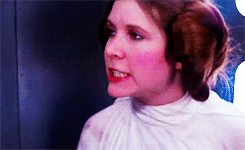 ---