---
It's Cold!
This is going to be a bundle up forecast for the next week. Pull out the extra blankets!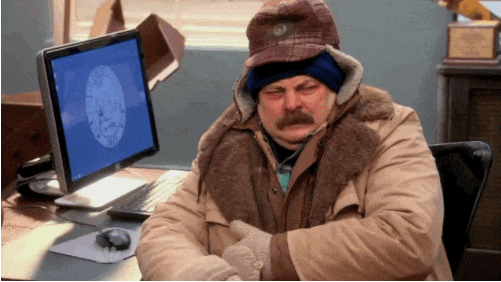 Overall Forecast Now Through The Beginning of Next Week
Here's what you can expect for the week to come from our local NWS:
"Cold…cold…cold! That is the forecast for the next seven days. It will be dry…so this will be a winds…cloud…and temperature forecast. Did I mention that it will be cold?"
No precipitation or snow chances currently in the foreseeable future; just looking at sunny skies with a few clouds.
Main storyline over the next week will be our cold temps. Once temps drop below freezing tomorrow afternoon, they look to stay that way through at least next Wednesday.
Music City Bowl Forecast
For those heading downtown for the Music City Bowl, temps will be in the upper-30s at kickoff before dropping into the low-30s by the end of the game. Luckily, winds will be very light, not adding to the bitterly cold temps.
Hourly Forecast Noon to 9 PM

Titans Forecast
Tomorrow's Titans game is going to be a cold one folks.
Temps will stay in the 20s through the daylight hours, with winds in the 5-10 mph. With these bitter temps and light winds, wind chill temps will be in the mid-teens throughout the entire game.
Hourly Forecast 9 AM to 4 PM

New Year's Eve Forecast
Think it couldn't be any colder? Well, New Year's Eve is going to be ridiculously cold. If you are planning to go downtown, you are going to want to bundle up. Layer, hot hands/feet, a good hat. Wind chill temps look to stay in the single digits throughout the night.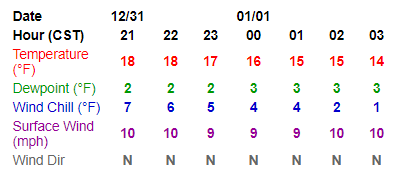 Bottom line for the next week: Dress warm! 

---