On close inspection, as this afternoon's rain fell, it turned into a wintry mix at about 1,000 feet. As that mix skydove, it encountered above-freezing air, changing it back to rain. That rain hit your windshield having had a wild ride.
Temps are falling. At 5 PM it's 37° at BNA. Winds have been gusting mid-20 MPH. The wind chill is in the 20°s.
More light precip is expected to rotate in early tonight. The HRRR model illustrates: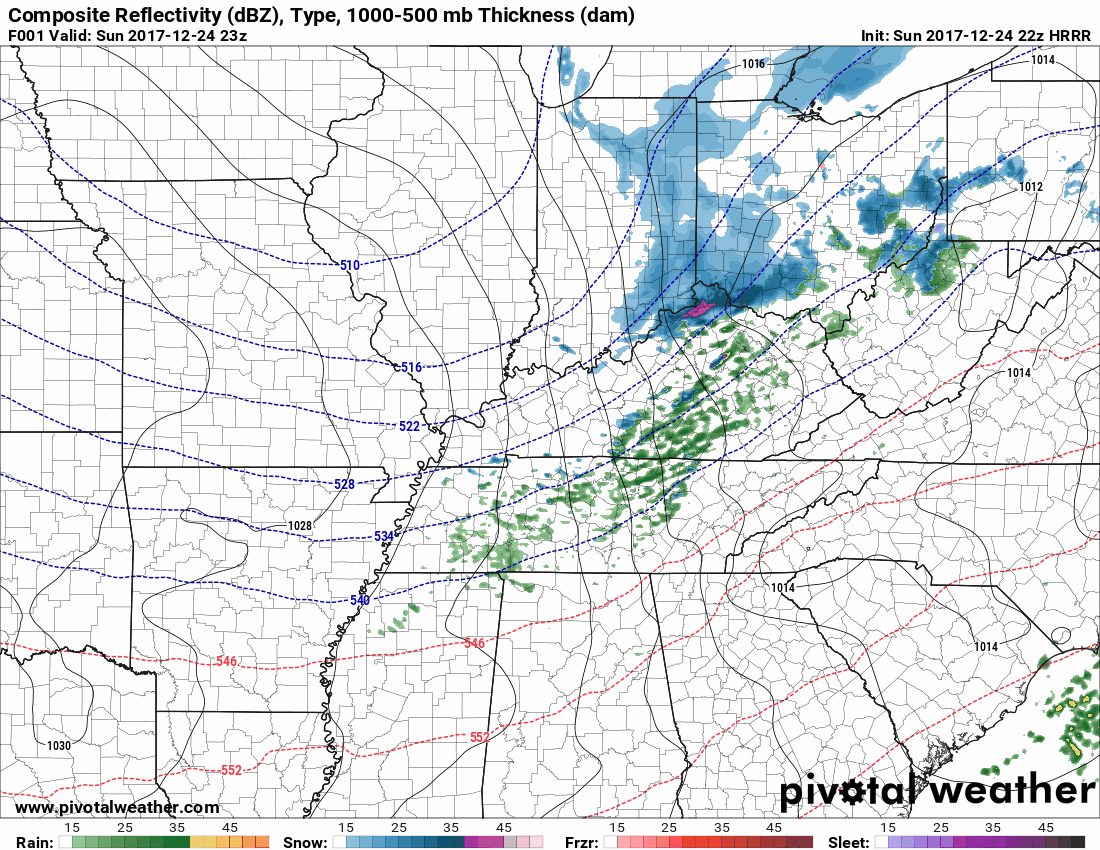 It's likely some of the precip will transition a wintry mix or snow. However, by the time we get to freezing, around or after 8 PM, the precip should have escaped east. No accumulation is expected.
Black ice is the only concern. Strong winds will help dry the roads, but all the same if you see a wet road, it may contain hidden, thin ice, especially on elevated surfaces like bridges and overpasses. I'm looking at you 840 near Fairview. Yes, you.
As usual, we'll be tweeting updates through the evening.

Monday Night / Tuesday Morning
NWS-Nashville official has us dry until Thursday, and I believe them. The GFS has no precip during this time.
Except. Well.
This morning I wrote about a small chance of snow passing through Monday night or Tuesday morning, and well, yeah, here it is again in the afternoon edition of the Euro: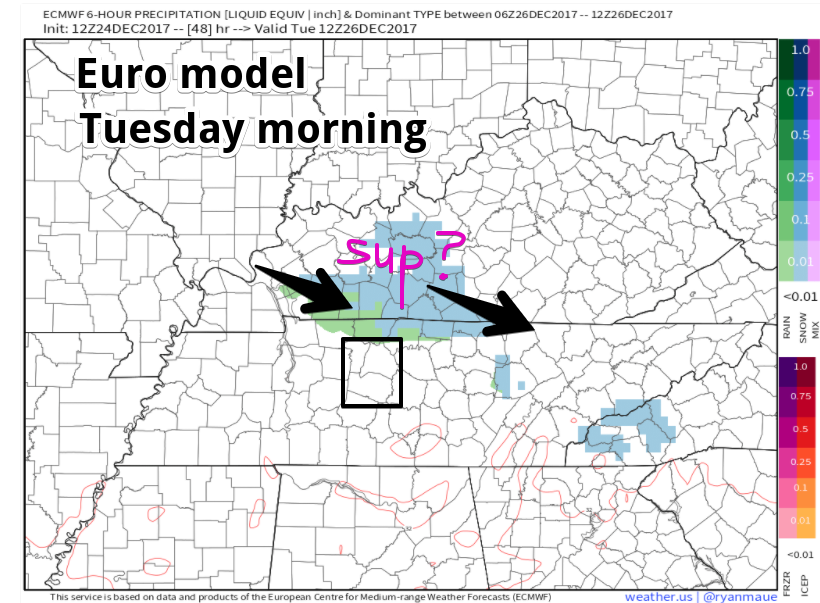 That's weak and would not be worth mentioning, but the NAM3 also has some light rain and light snow passing through from Monday night into Tuesday morning: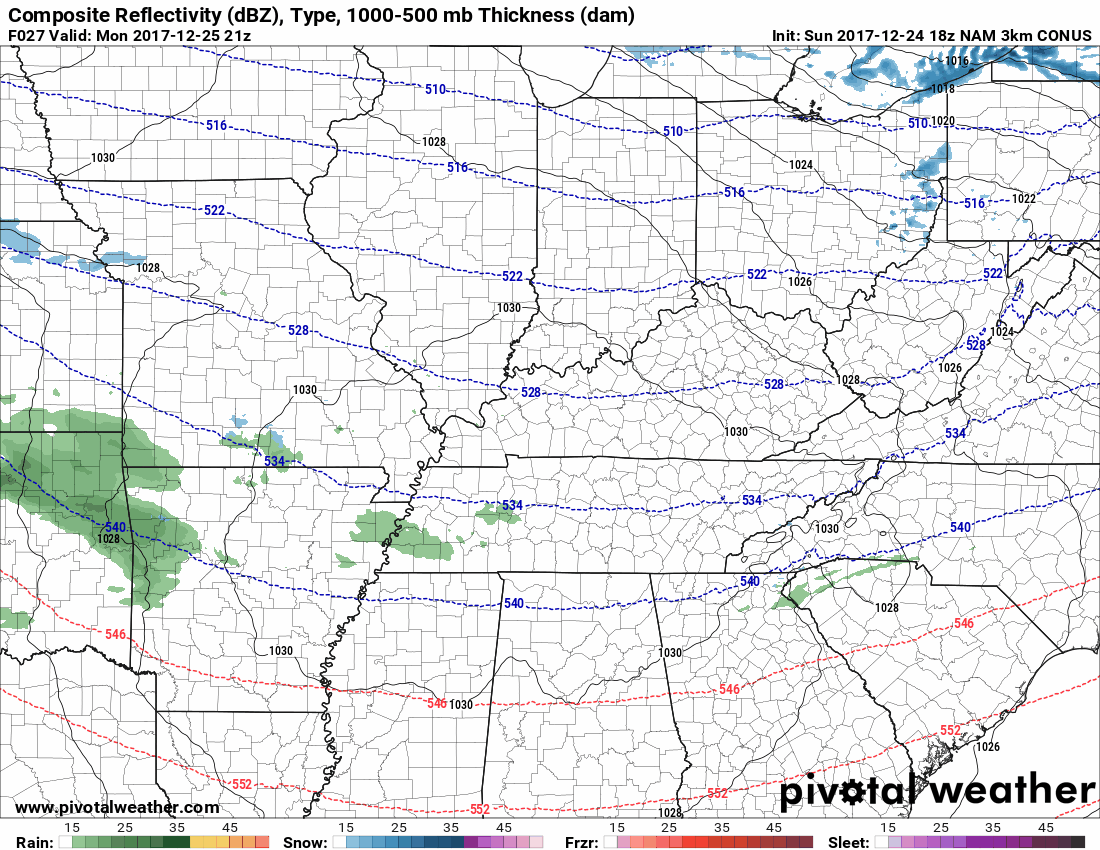 Looks like a kinda OK chance of wintry precip to me, but nothing by way of accumulation.
Snow Thursday? Meh.
Per NWS-Nashville:
The next active weather system appears to come together on Thursday and may include wintry precipitation given the persistent cold temperatures. This does not appear to be a major winter weather system, so [any] …. snowfall amounts will be light.
Although the GFS model, below, has green (rain) as this system passes by, it's a very close call. It could be a mix or just light snow.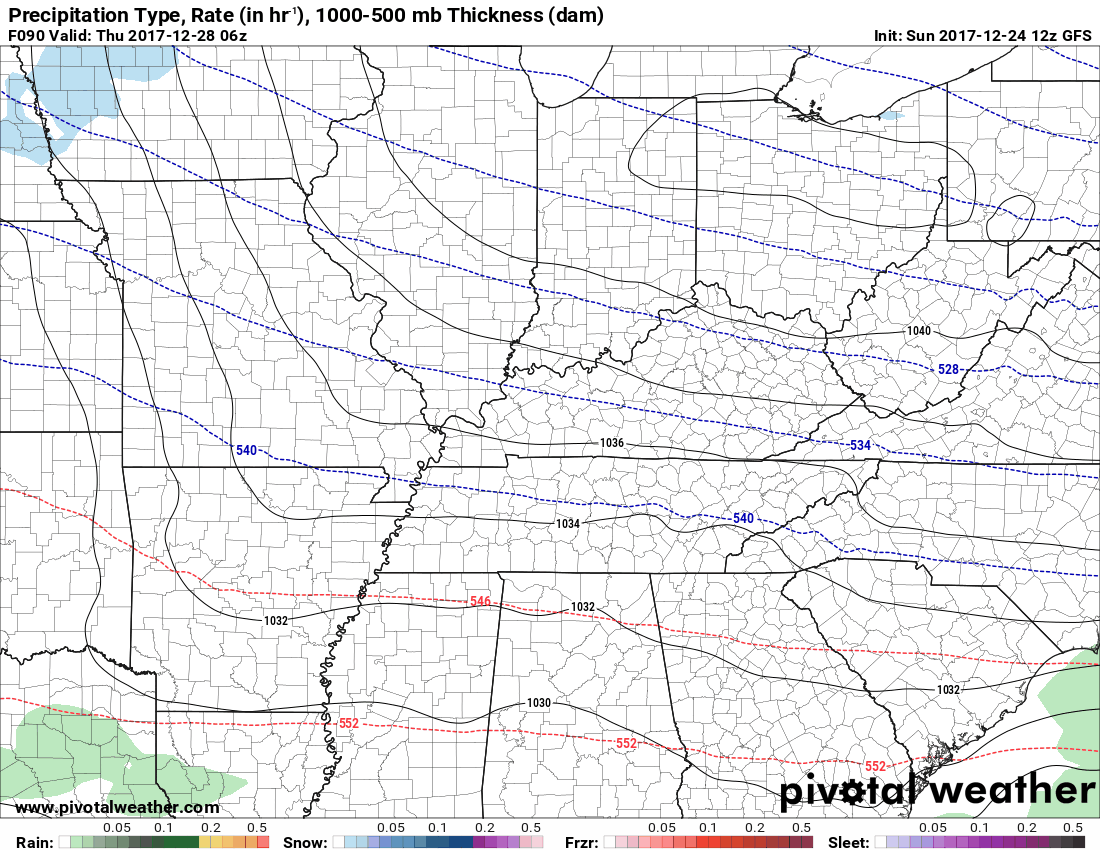 But Euro is not a believer, passing the system completely south of us: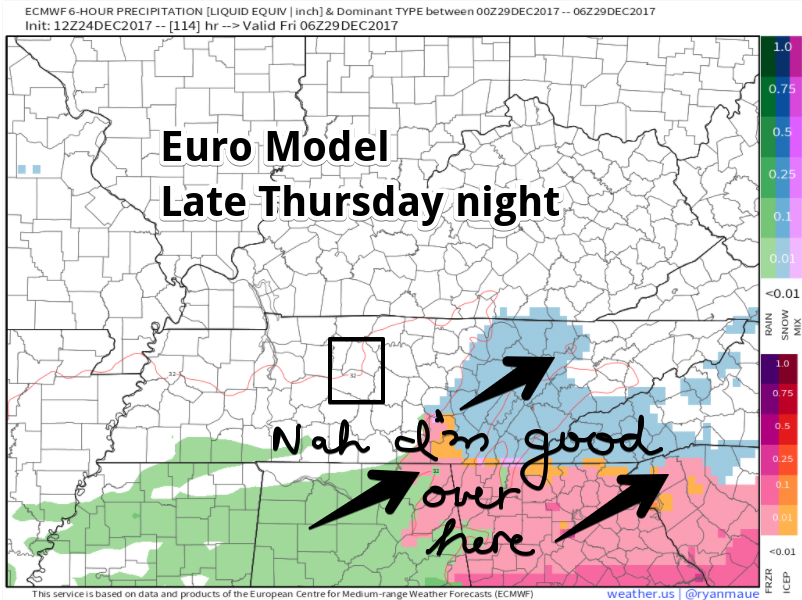 I usually side with the Euro, but who knows?
???Next Weekend???
Maybe. Models disagree. NWS-Nashville wrote:
the GFS & Euro diverge significantly, with the GFS bringing a much stronger system into the region Saturday night and Sunday.
The GFS has a stronger system, sure, but most of it is in Kentucky.
The Euro drops a weaker system on us. Flakes? Maybe, but we may end up above freezing when the precip shows up.
It's all kinda meh. Plus forecasting Yes/No and amounts for next weekend is an exercise in speculation upon which no conclusions should be drawn.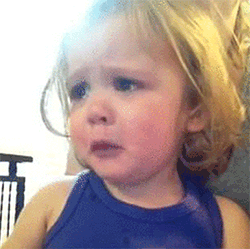 Save the snow for school, kids.
---