If you're going to the Titans game, it's going to be cold and windy, bundle up. Winds will run 8-11 MPH by game time. As precip falls later in the afternoon, winds will pick up too. By tonight winds may gust to 28 MPH.
Some rivers and creeks are still up. Turn around, don't drown.
Christmas Eve Snow Potential
A reminder about the difference between rain, freezing rain, sleet, and snow: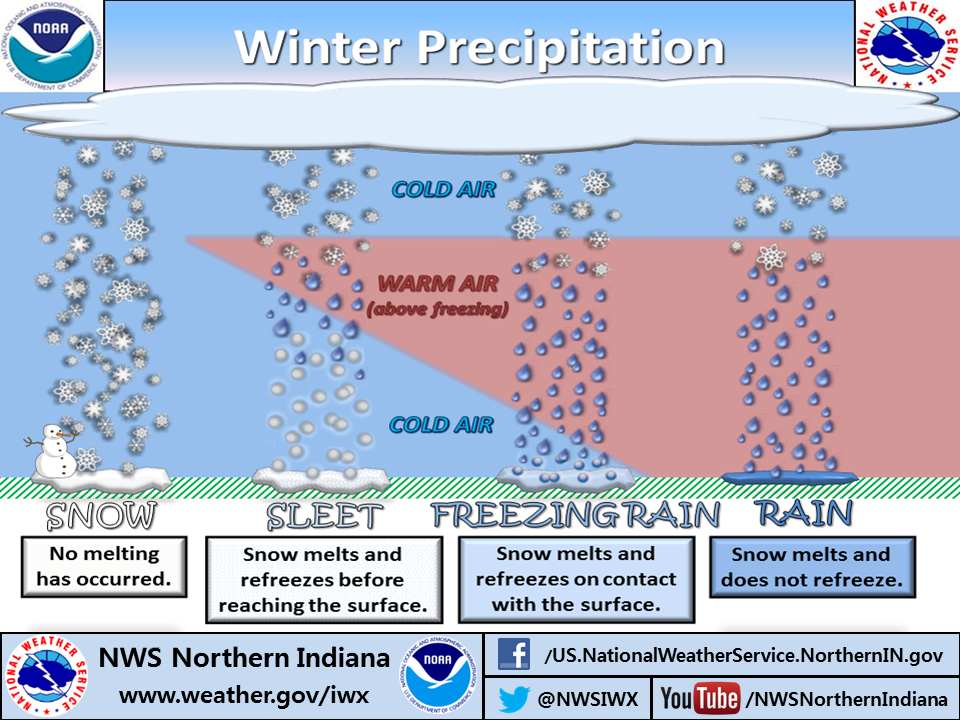 Today we have something to talk about, but it doesn't look like much.
This morning, NWS-Nashville wrote:
all models are indicating precip potential this afternoon and evening as the shortwave speeds overhead. The challenge for this forecast is how warm temperatures will get this afternoon, and how fast temperatures will fall below freezing during the evening.
It wouldn't be a winter precip forecast here without substantial uncertainty.
What
A rain/snow mix. Probably, mostly light rain, because:
by the time temperatures are cool enough for all snow the lift will be off to the east. However, should temperatures cool earlier, a rain snow mix or light snow may impact more of the mid state.
But we could see a quick transition to wintry precip/snow with flurries flying around.
When
Rain this afternoon, flurries possible later this afternoon or early tonight. Nothing overnight.
How Much
Again, from NWS-Nashville:
For now, only have a few tenths of accumulation possible in the upper Plateau region for this evening where temperatures look to be cold enough for snow and still have some lift for precip development.
No accumulation is forecast here. We're under no winter weather advisory or other special weather statement.
What The Models Say
The lower resolution, global models:
The Euro thinks we'll see rain this afternoon, then a few snowflakes flying around after dark, with nothing accumulating.
The GFS thinks a few flakes will squeeze out early tonight, but with such a low amount of precip to work with, the Dry Air Monster may eat it before it gets to us.
The higher resolution, regional models provide the best visual:
The HRRR shows rain late this afternoon, then a break, then a quick blast of snow racing overhead trying to dodge the Dry Air Monster, no accumulation: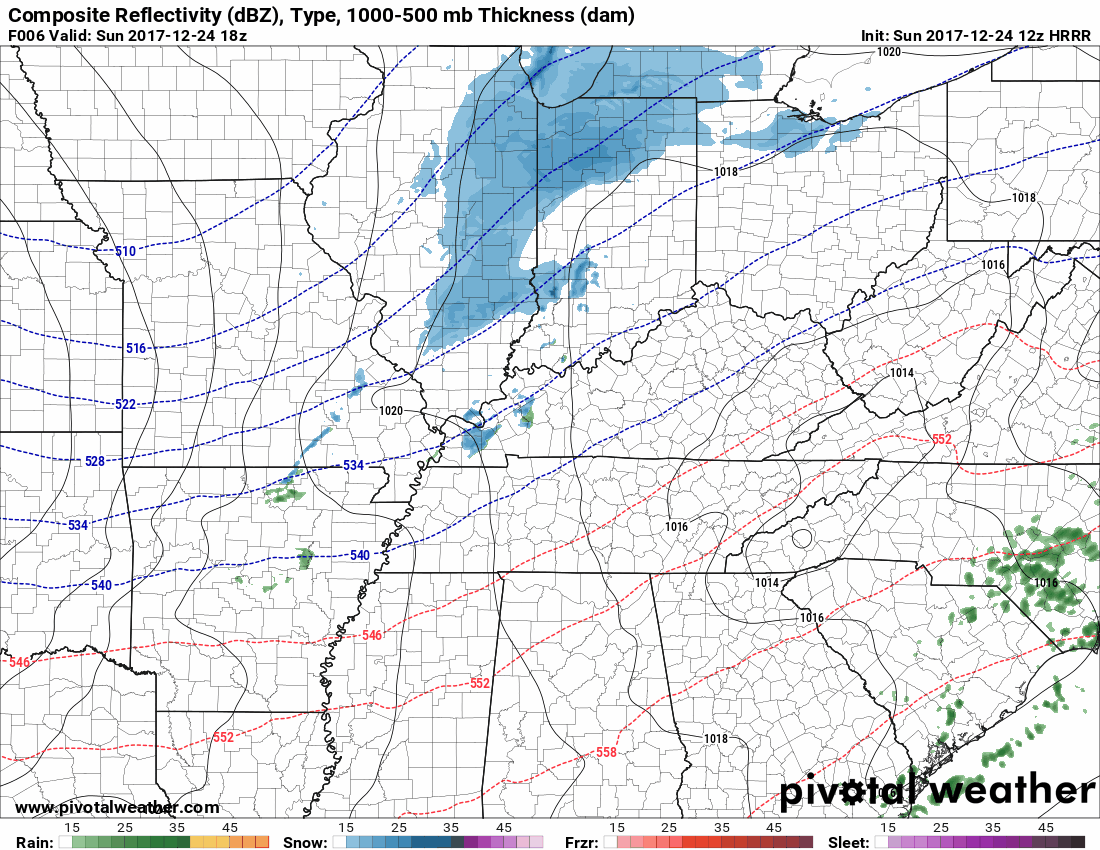 The NAM3 shows even less precip, and when the snow showers race across, not everyone in Nashville or Will Co will see it: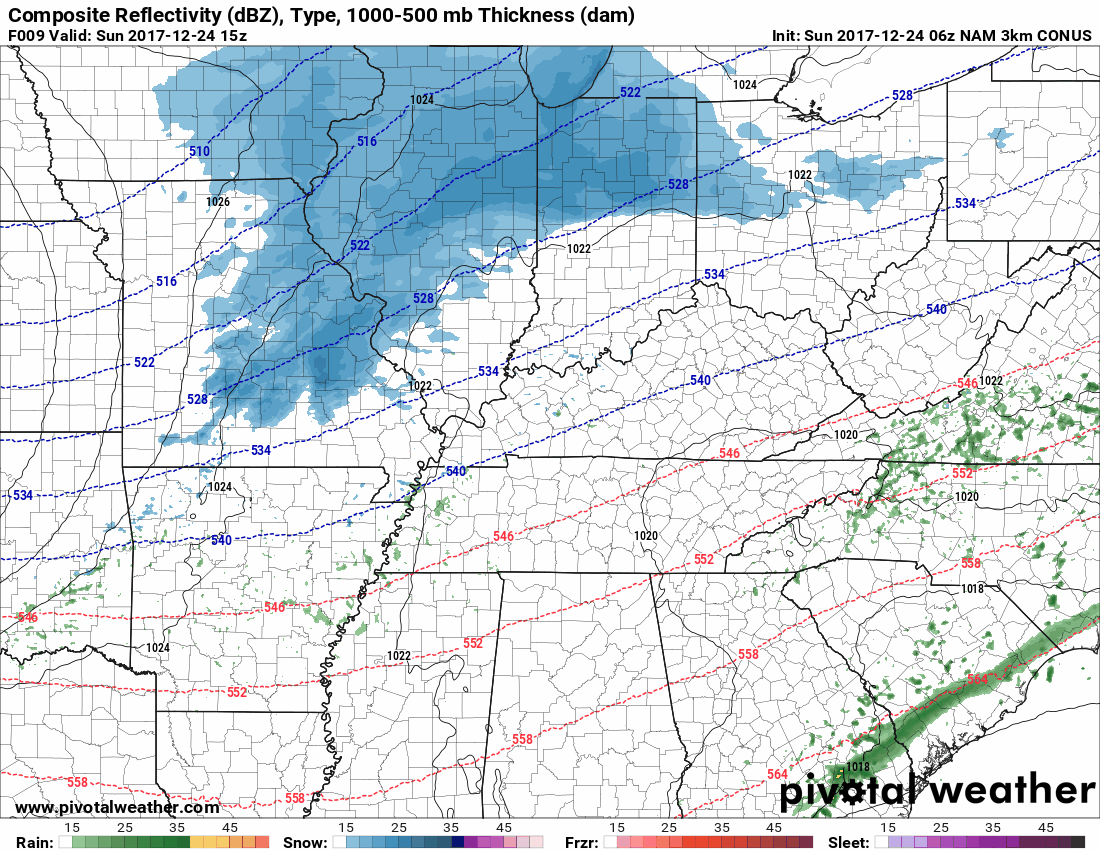 Could the models be wrong and we get more snow? Yeah, sure, but there is pretty good consensus that there isn't enough moisture to work with, so I don't anticipate travel concerns here locally.
Yesterday it was 70°; sled hills are warm and won't be receptive to any snow we get. Not that there will be enough snow for sledding.
Roads are colder. The friendly road sensor, the closest one to us on I-65 in Franklin, Kentucky, shows a pavement temp of 30.9° with a subsurface temp of 38.4°, so just take it easy when you're driving through any precip today.
I'm not too excited, at least not right now, about any upcoming snow potential, but a lot can change.
I know that crap app forecast, above, has "mostly cloudy "Christmas night" and "mostly sunny" on Tuesday, but perusing some models and look what I see:
Christmas Night/Tuesday Morning Rain-Snow Potential
The GFS model is bone dry Monday and Tuesday.
But look at the Euro Christmas evening, showing another quick hit of light snow showers: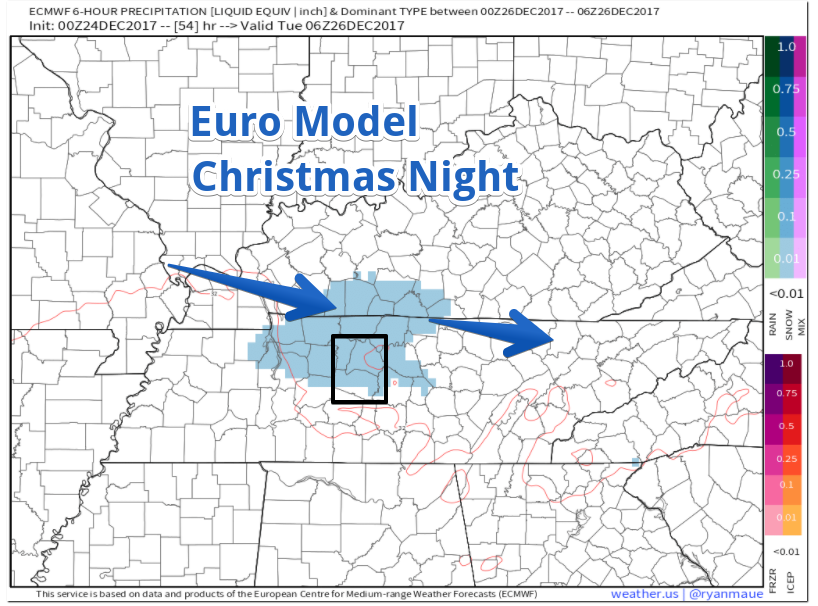 NAM3 kinda agrees, although it has a rain/snow mix coming through Christmas night lasting into Tuesday morning, but mostly going north of us: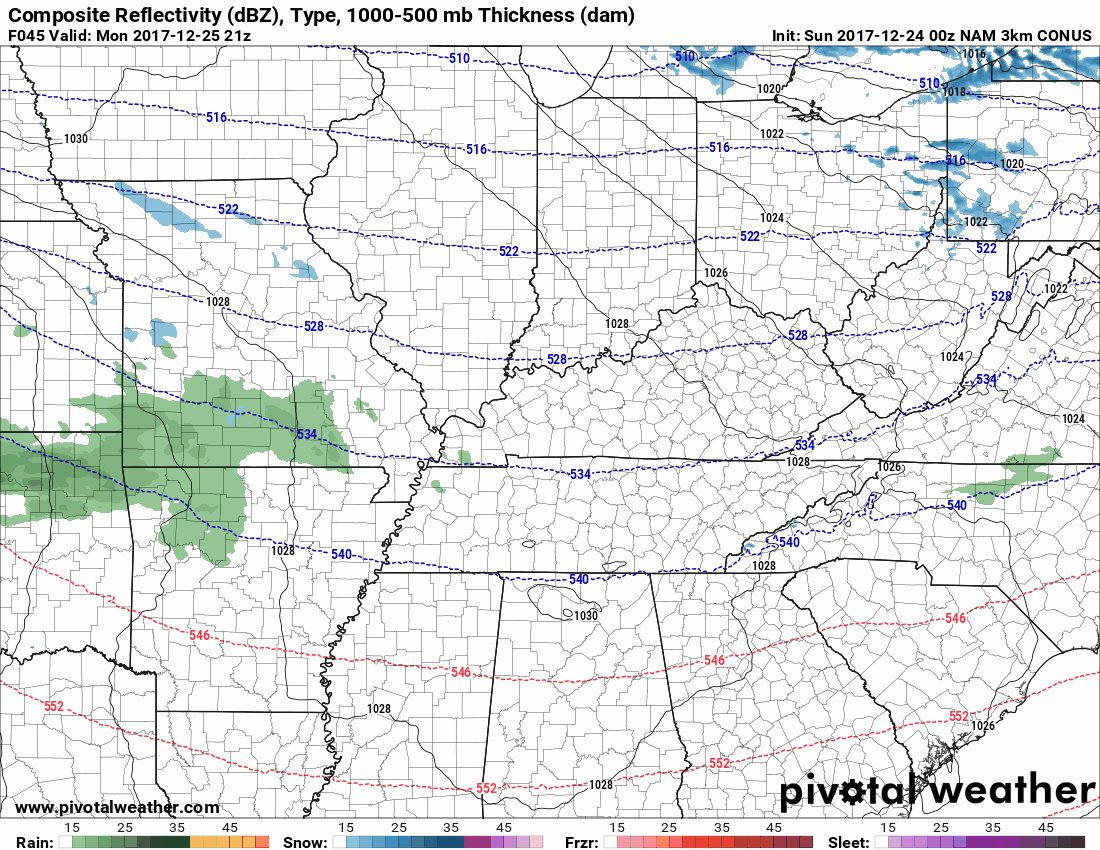 More about this tonight as more data comes in. I still don't think this will be much/anything since temps should run above freezing after sunrise Tuesday. Also, the NAM3 forecast sounding shows the Dry Air Monster aloft, gobbling some of that wintry precip.
Sled index: still in garage.
2 Different Ideas About Thursday/Friday
The crap app above also shows snowflake clip-art Wednesday night, but that's just in case the GFS model is correct and it comes a bit early. Don't expect snow Wednesday night.
The GFS model predicts a wintry mix very early Thursday morning, transitioning to rain once the sun's up and we push over freezing.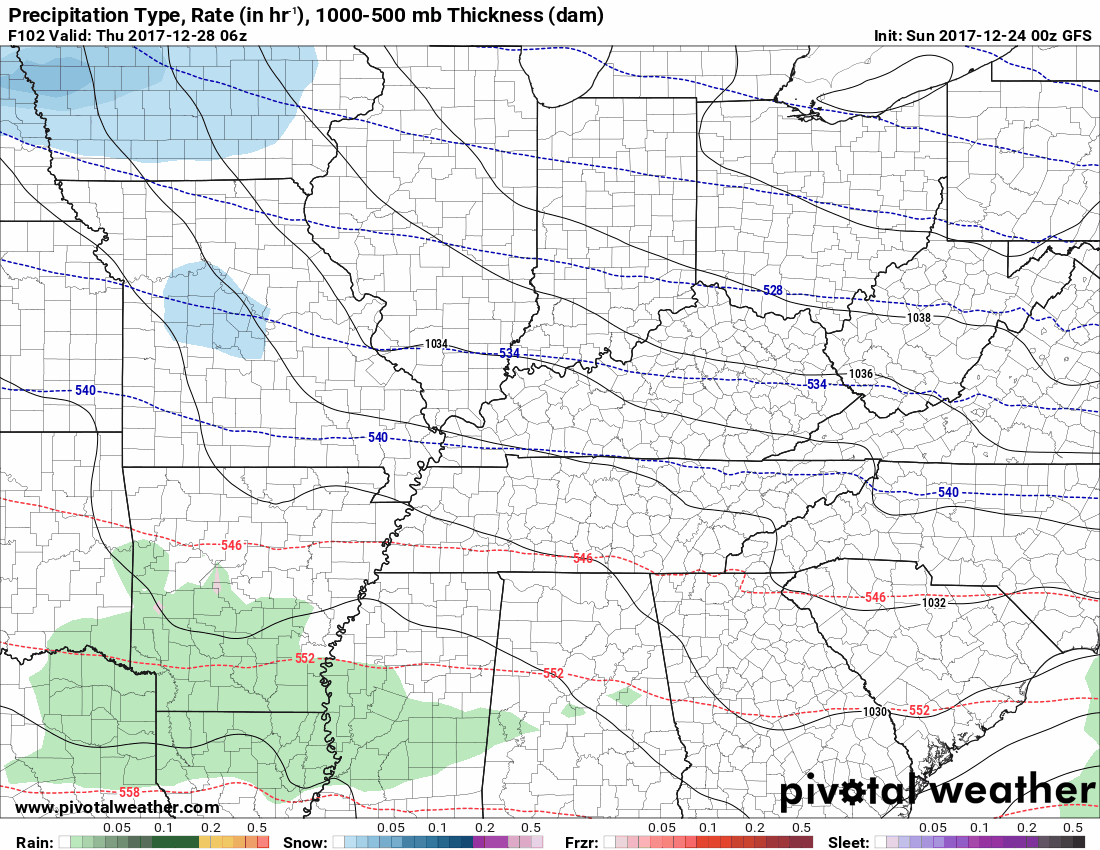 The Euro model thinks this system comes Friday instead of Thursday, and it passes entirely to our south: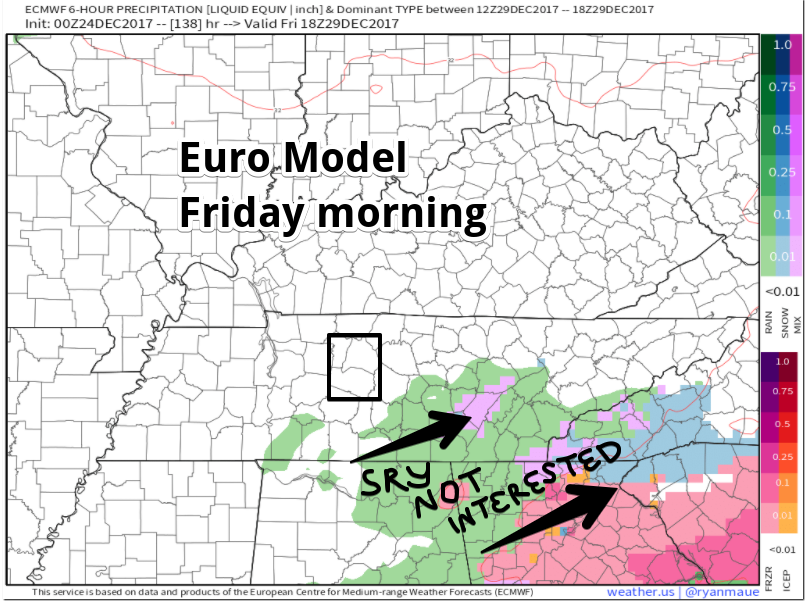 Those models need to get together if we're going to expect an actual forecast baby.
????Next Weekend Snow????
Usual disclaimer: forecast skill 7 days is bad, especially when discussing Middle Tennessee snow.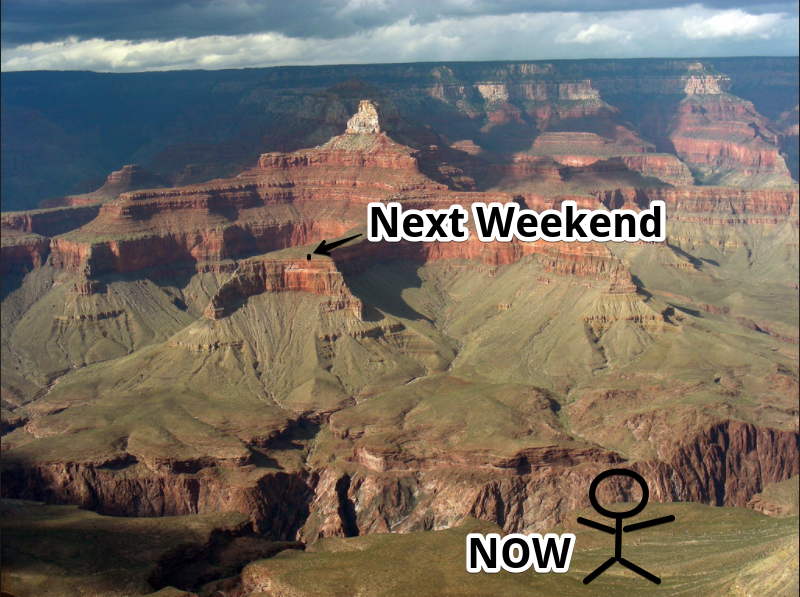 Here's what NWS-Nashville has to say about it (the only reason we're talking about it is because they mentioned it):
The GFS brings in another system on Sunday, but the Euro is lagging a bit behind, so just have chance mention in on Sunday for now. Since temperatures look to remain on the cool side, most of the precip looks to be a rain or mix during the daytime hours, and a mix or snow during the overnight hours. Still too early to determine any accumulation potential later in the week, so will wait for better model agreement for more confidence on duration and potential for any accumulation.
Neither the Euro nor GFS look impressive to me.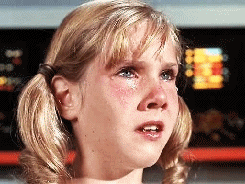 Save the snow for school, kids.
---