Cloudy Skies Overnight, Flood Advisory for the Harpeth River
Temps should fall into the low-40s this evening before dipping into the 30s overnight.
Overall, the majority of our area received anywhere from 2.5″ to 3″ of rainfall from yesterday into overnight's rain. For this reason, we do have a river currently under a flood advisory as this water runs off.
Harpeth River for both Davidson and Williamson Counties

If you do happen to come across an impassable road, remember to turn around don't drown. Additionally, report it on Twitter using #tspotter .
Cooler Temps for Next Week, Christmas Day Looks Chilly

Cooler temps look to be the main story starting tomorrow through much of next week. Besides tomorrow's small chance of showers (discussed more below), we really do not have any other chance of showers until the second half of the week. Until then, enjoy the semi-dry weather.
So about tomorrow's rain chance. We do have a small chance of a shower tomorrow afternoon thanks to a shortwave moving across the area. If it happens, it shouldn't last too long, you may just want the umbrella going to any activities you have planned.
Titans Forecast
Overall, tomorrow's Titans game looks to be pretty chilly. Mostly cloudy skies are expected for the majority of the day, so no help from the sun. Winds will begin to pick up towards the end of the game with winds in the 10-15 mph range.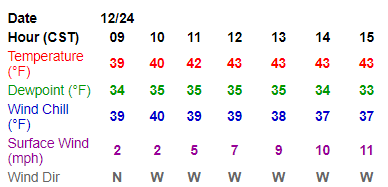 We'd suggest a good, warm, water-resistant jacket for tomorrow's game with these temps and the possibility of showers.
About tomorrow's flurry chances
Well, we have a chance of some flurries for tomorrow evening.
Ya know I think we may see some flakes late tomorrow afternoon or evening. Doubt we will see any accumulation, but cool anyway. Still, the Dry Air Monster May grinch us.

— NashSevereWx (@NashSevereWx) December 23, 2017
Some models are showing our afternoon scattered showers crossing over into a wintry mix with the possibility of some flurries.
NAM3 Model 2 PM Tomorrow – Rain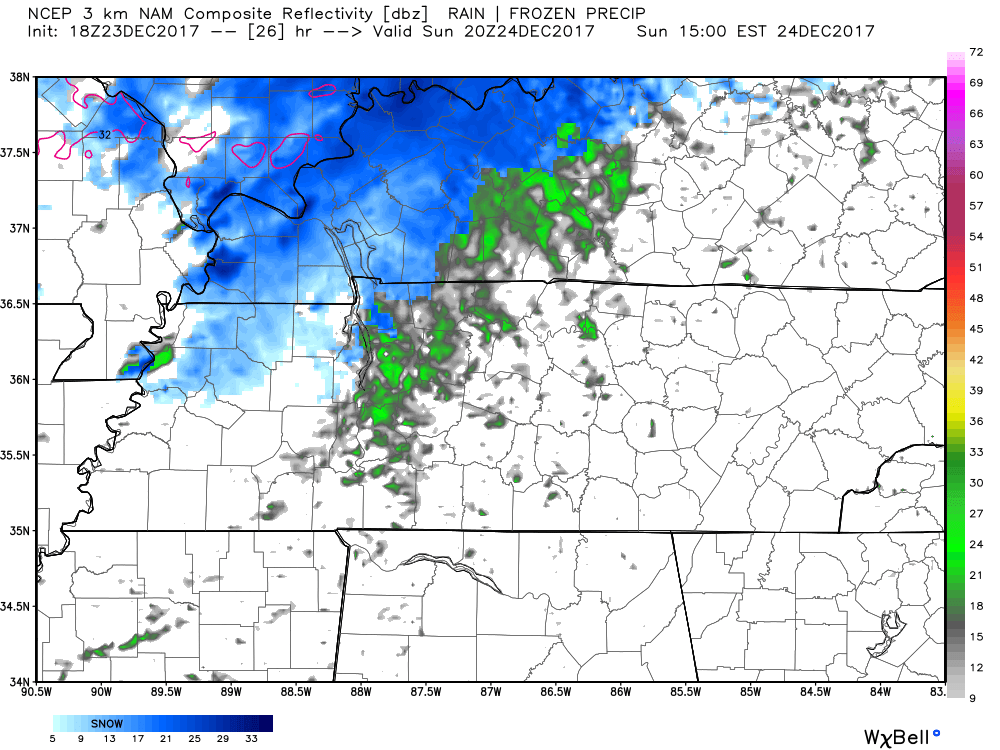 NAM3 Model 5 PM Tomorrow – Maybe Some Flurries
There flurries, if they even happen, shouldn't accumulate to anything; and we have to hope that dry air won't eat all our snow. However, there is a possibility of a few flurries tomorrow afternoon into the evening.
Christmas morning looks chilly folks.
The high on Monday looks to stay in the 30s. Temps will likely still be in the upper-20s when you wake up that morning.
https://giphy.com/gifs/filmeditor-will-ferrell-elf-3ofT5EtPNBpIjC8jTy
---