---
Rain Continues, Heaviest Rainfall This Evening into the Overnight Hours
Bands of showers continue to push through Middle Tennessee with heavier showers on the way later tonight.
For real-time radar & updates: https://www.nashvillesevereweather.com/realtime
Hazards: 
Flash flooding is a concern with this much rainfall. For this reason, there is a flash flood watch out for our area until noon tomorrow.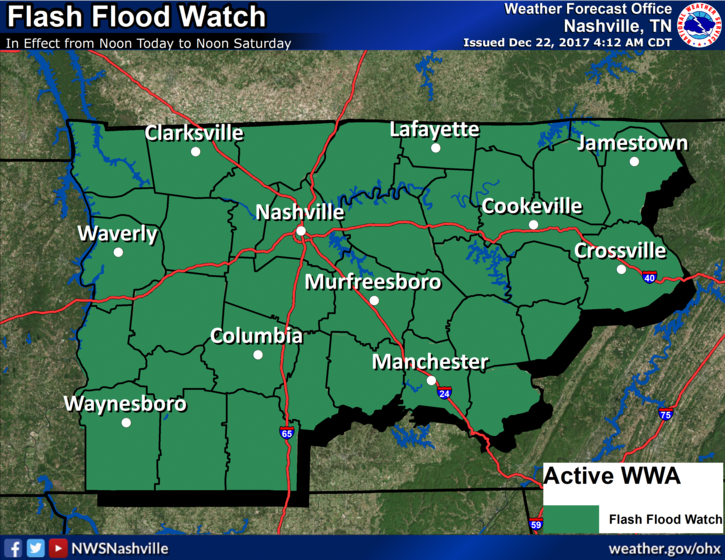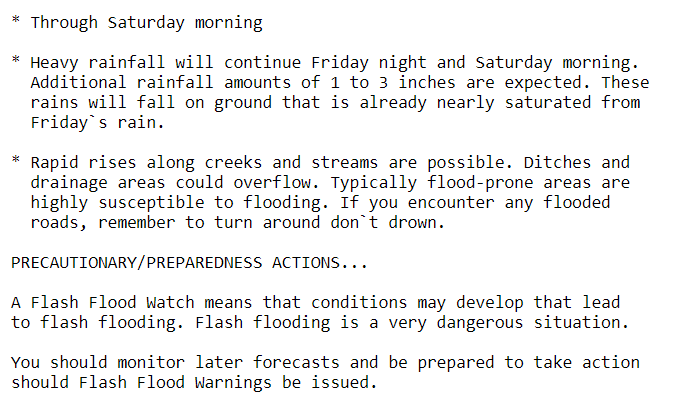 We get it, it's the holidays and people will be traveling. Especially into tonight, it can be very difficult to tell if a road is flooded or not. Give yourself a little extra time when traveling today and always remember turn around don't drown.
Additionally, widespread severe weather is not a concern, but we could get a lightning strike or two in the mix today.
Timing:
Expect showers to continue from now through noon tomorrow. The heaviest bands of showers look to start moving through this evening and continue until the early morning hours tomorrow.
There are variations of when exactly showers will end tomorrow (NAM3 says a little earlier than the GFS), but the HRRR, NAM3, and GFS all display this rain-train moving through today into tomorrow.
An additional difference that models have begun to diverge on is if we will see a short break in these showers. HRRR and GFS say not so much, NAM3 thinks we may squeeze in a period of little to no showers tonight.
HRRR Loop Now Through 8 AM Tomorrow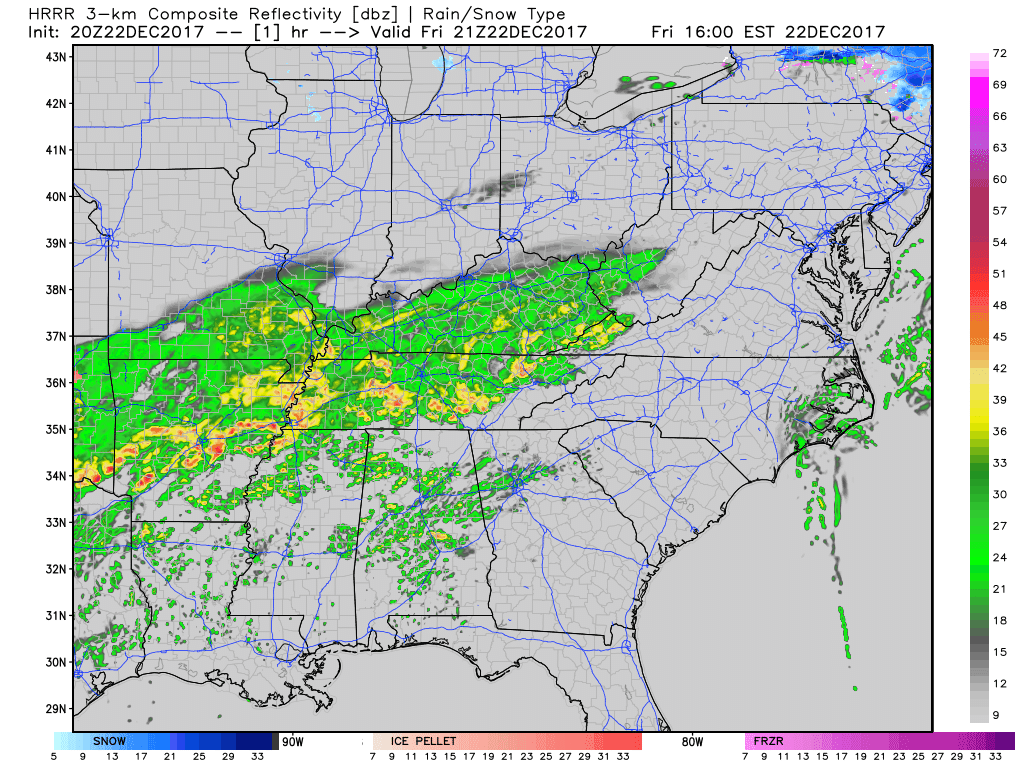 NAM3 Loop Now Through 3 PM Tomorrow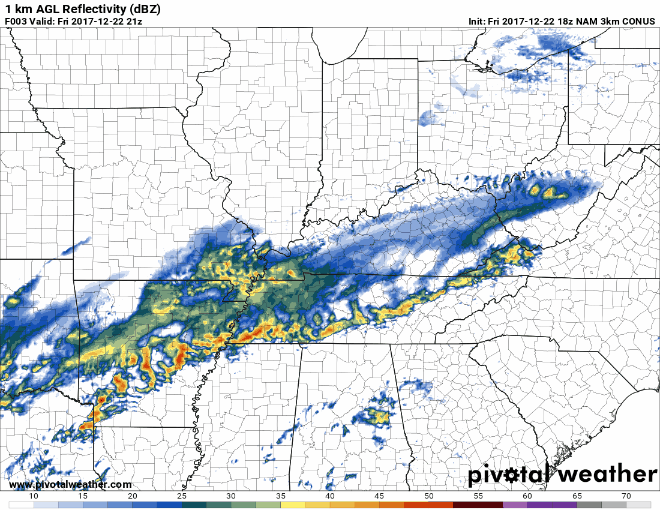 GFS Loop Noon Today Through 6 PM Tomorrow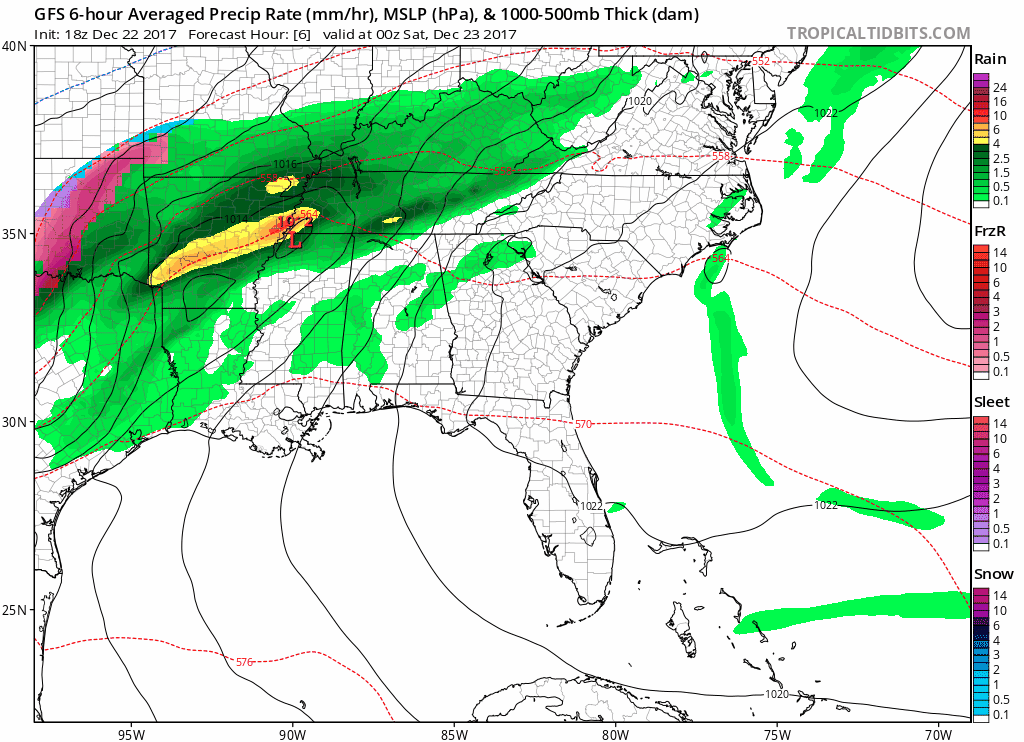 I still think if you are looking for a "break" in these showers, there really will not be one. Showers may become somewhat lighter at times, but expect for the rain to continue until tomorrow.
How Much Rain:
Right now we are looking at anywhere from 3″ to 4″ of rainfall.
If we get 3" to 4" total we should see some flash flooding but not a major, widespread event. Those in flood prone areas obviously most at risk; watching closely because if we go over 4" it'll be a bigger deal. pic.twitter.com/TPAR4plnSB

— NashSevereWx (@NashSevereWx) December 22, 2017
There is a possibility that some localized areas could receive more rainfall, which would depend where the heaviest bands of rain pass through.
Takeaways:
Showers will continue for the rest of the day, overnight, and into tomorrow morning.
The heaviest showers look to move through this afternoon into the overnight hours tonight.
Flash flooding is our main concern. Remember "turn around, don't drown".
While we are expecting 3″ to 4″ of rainfall, some areas may receive more than this.
As always, we will be following this event throughout the day today on Twitter @NashSevereWx . If you happen to come across a flooded road later today, be sure to tweet using #tspotter to report it.
Saturday Around Lunchtime On
While we may have a few lingering showers in the afternoon, the majority of the heavy rainfall looks to move through by lunchtime tomorrow. As these showers move off, you may notice temps continuing to decrease through the day.
Tomorrow will be another one of those temperature odd days with our "high" tomorrow occurring early in the AM and temps falling through the day.

Cooler Temps and Somewhat Sunny Skies to Begin Next Week
After showers clear out on Saturday, expecting less dreary and cooler conditions to follow. Highs through at least the first half of next week look to stay in the low-40s with overnight temps falling into the mid-20s.
Next precip. chances do not look to arrive until towards the end of the work week, so we will get plenty of sunshine in before then.
---