Tonight, Cloudy Drizzly Foggy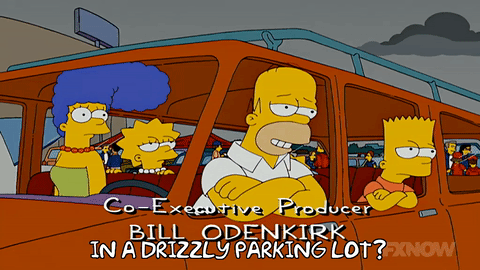 Monday, Cloudy, Early 43°, High 58°
Maybe a little fog early.
Tuesday, Rain Late, Heavy Rain Possible, Early 45°, High 60°
Rain should begin Tuesday night.
Southern Middle Tennessee should see the most rain, a real soaker, more than 2″.
It's possible the models are a bit off and we will see that very heavy rain here.
In fact, the excessive rain outlook (for flash flooding concerns) has crept a bit further north (and closer to us) compared to the same outlook issued this morning.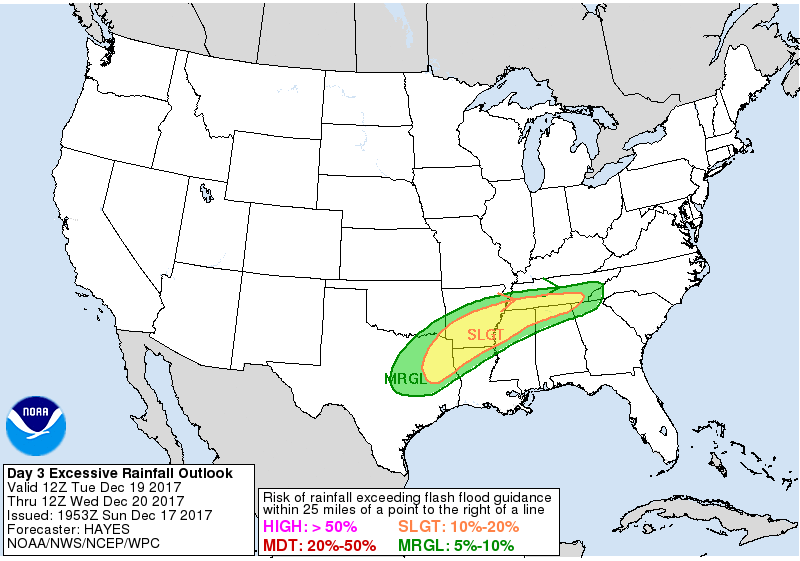 So the trend is to bring that heavier rain closer to us, but it's not quite to us, and it may never get to us at all.
Wednesday, Morning Rain, Wake Up 48°, High 55°
Rain that begins Tuesday night should end by mid-day Wednesday.
After that, NWS-Nashville wrote:
We continue to expect dry weather late Wednesday night through Thursday. Mild south winds will increase ahead of a developing frontal system over the plains. This will make Thursday our warmest day of the week with highs reaching the lower 60s in many areas.
Thursday, Drying Out & Warmer, Early 39°, High 61°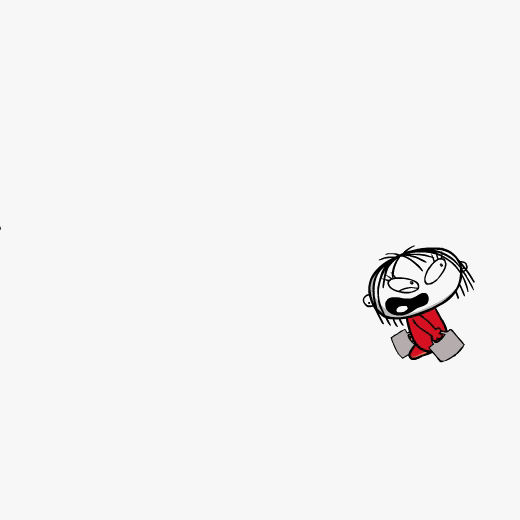 Friday: A Lot More Rain, Wake Up 48°, High 61°
From NWS-Nashville:
The frontal system from the plains will move in by Friday with a good chance for showers for Friday through Friday night. Another soaking event is expected with more than 1 inch of rainfall across the area. Models continue to vary with the progress of this front, possibly keeping some rain into Saturday as well. But, none of the latest operational solutions shows any wintry precip potential at all Friday night through Saturday.
The Weather Prediction Center forecasts between 1″ and 2″ for this event: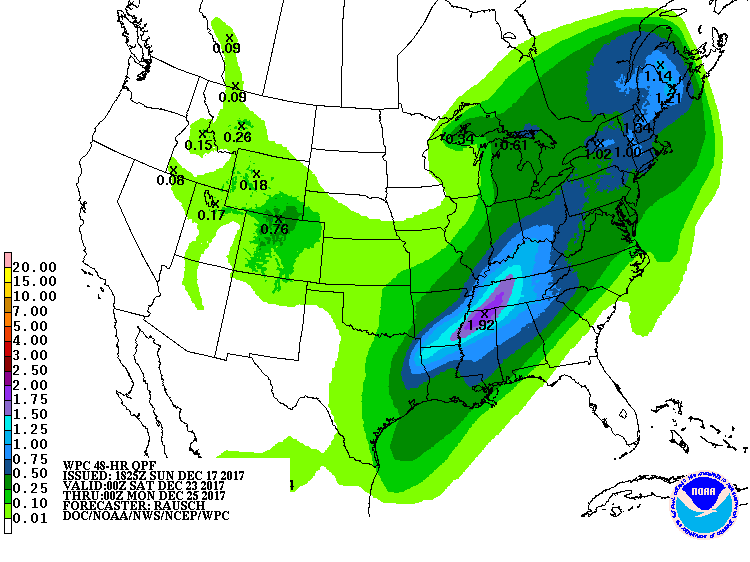 This morning the Weather Prediction Center thought we had a small chance of wintry precip Friday/Saturday. We've since been completely removed from that chance. Only expecting rain right now, but stay tuned.
White Christmas? Probably Not.
1. Disclaimer
I do not recommend you bet an amount of money that means something to you predicting the winner and final score of the Alabama-Clemson game on New Year's Day. Similarly, do not make plans that are meaningful to you based on a model "snow depth" map or a crap app that says 3.2″ of snow on Christmas Eve.
Why? Even if you have studied it extensively, after kickoff of the Alabama-Clemson game, so much can change that you didn't expect: a QB gets injured, a running back fumbles, a wide open receiver drops a pass, a cornerback trips on his own feet and falls down at the worst moment, etc. All of these are normal things that happen in a football game that dramatically alter the expected result, yet cannot be reasonably predicted.
Similarly, weather forecasting can suffer the same fate. Weather models often get the timing off by a few hours, which in a wintry mix precip event is everything. Or the Dry Air Monster shows up. Or the precip goes everywhere except here. Or it's 34° not 31°. Or snowfall rates are low and it all melts on a warm ground.
So, let's talk about it in probabilities and possibilities. Avoid the "deterministic" approach predicting the result and the final score because that's silly and always a loser.
2.  From NWS-Nashville:
Forecast confidence remains low for Christmas Eve and Christmas Day, but at this point, models point toward the possibility for wet weather. It just depends on where the next frontal zone sets up. We cannot rule out the possibility that enough cold air may arrive to eventually bring a little wintry weather on the north edge of the precipitation shield somewhere over the region, but the latest data indicate that would not be until Christmas night or Tuesday- if at all.
3.  The Models
Latest run of the Euro model has a light-rainy Christmas Day, with a chance of more rain possibly/improbably turning to wintry precip December 26. This is a complete departure from what the previous run of the Euro showed, which was dry during this time. Therefore, "forecast confidence remains low."
The latest run of the GFS looks different, too. Rain Christmas Day, possibly becoming a wintry mix early December 26. This too is hard to believe, given the scrambled picture the GFS model has painted over the past few days.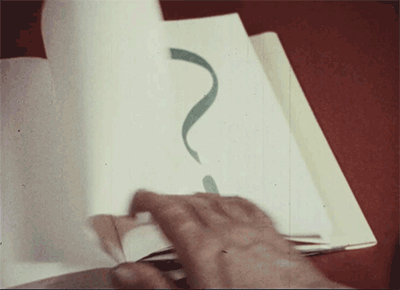 4.  Conclusion
Don't draw a conclusion. Data remains inconclusive. Everything is still on the table: rain, snow, and nothing. Right now I'd say rain is most likely of the three.
---