Today, Sunday, High 49°
This gross cold rain should end before or by noon, replaced by drizzly foggy funk beneath a blanket of clouds.
From NWS-Nashville:
The last recorded rainfall at Nashville airport was back on December 5th. While today`s rainfall isn`t going to go far to relieve us from this latest snap of dry weather, we will make up for it through the rest of this week.
Monday, Cloudy, Early 41°, High 58°
A sprinkle is possible but no measurable rainfall is expected. A forgotten umbrella is no big deal.
Tuesday, Rain Late, Heavy Rain Possible, Early 46°, High 61°
A heavy rainmaker will approach from the southwest. Right now we think the heaviest rain will go south of us, leaving us with lesser amounts under 1″, but models disagree exactly where the heaviest rain will fall.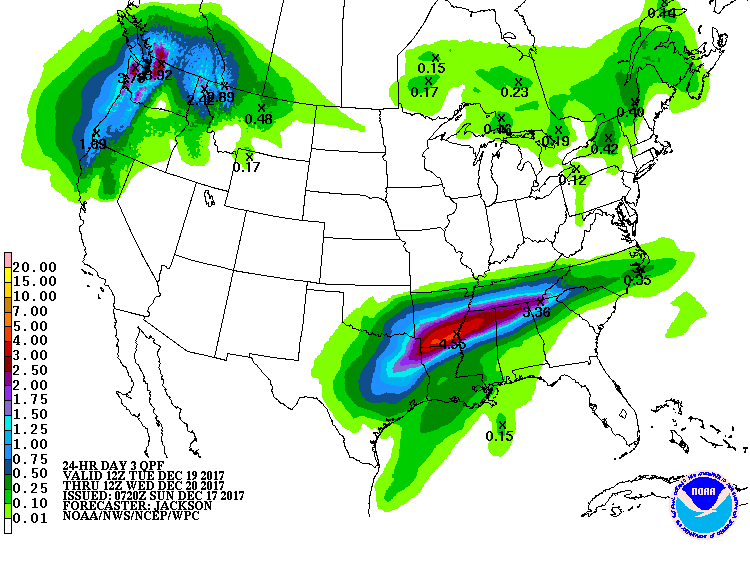 Stay tuned for changes. Current ETA is after noon Tuesday, probably closer to sunset. If future runs of the Euro model bring this system a bit further north, late Tuesday into Wednesday morning could be a washout. It's also possible Williamson County could get a lot of rain, with Nashville seeing less. Right now we just don't know.
Currently the excessive rain outlook (meaning watch out for flash flooding) includes those well south of us.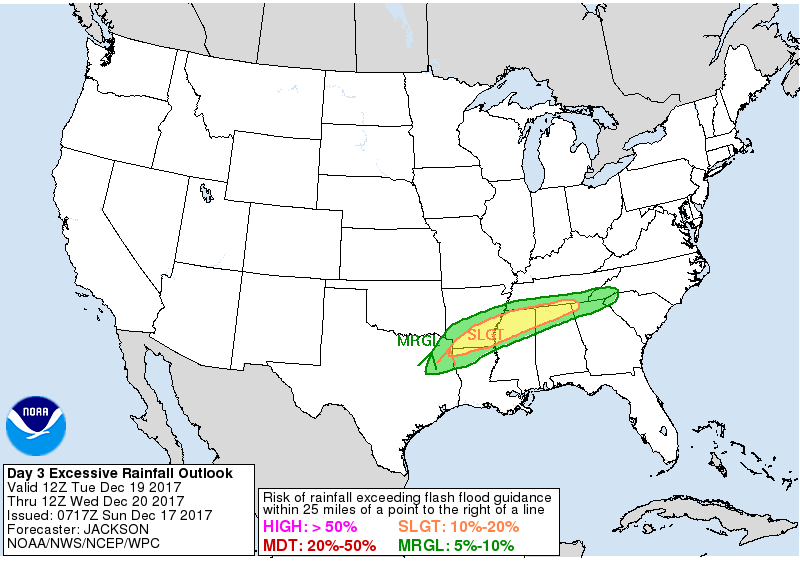 It's "abnormally dry" in Northern Davidson County. So a reasonable rainfall would be welcome.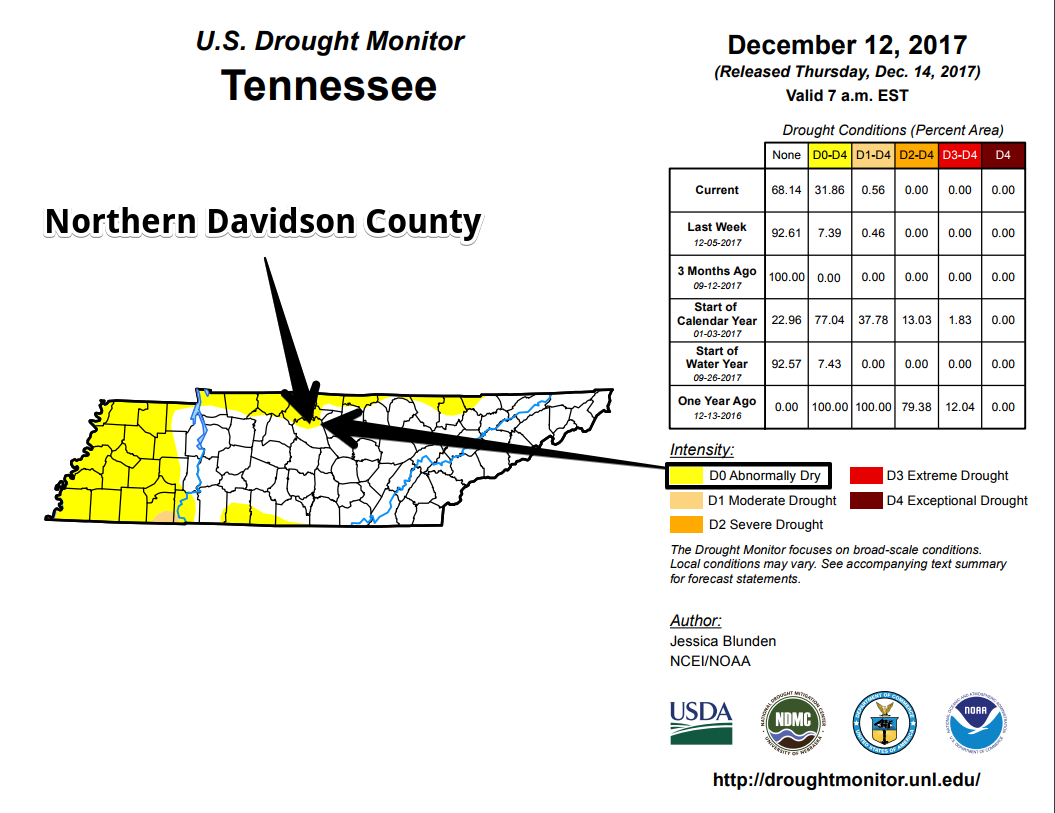 Wednesday, Rain (Heavy Possible) Early, Wake Up 44°, High 54°
See above; that rain should continue into Wednesday morning.
Expecting drying out by Wednesday night.
Thursday, Drying Out & Warmer, Early 37°, High 60°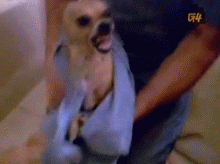 Friday & Saturday: A LOT More Rain
More from NWS-Nashville:
[O]ur third system of the week (which models have been persistently portraying) should move in Friday and bring us rains through Saturday morning. Storm total rainfall should be as much, if not more, than the Tuesday system.
The Weather Prediction Center has a 2″+ potential for us from Friday morning through Sunday morning.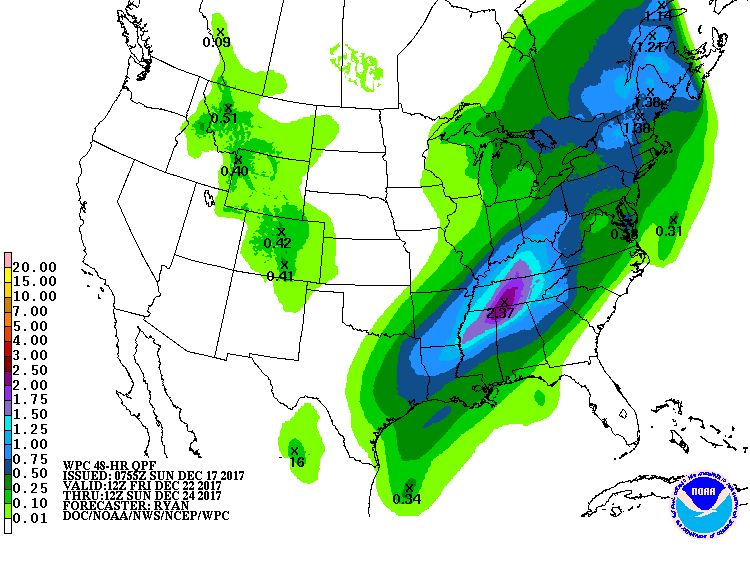 We can probably handle that much rain over 12 hours without having flash flooding worries. With high temps running into the mid 50°s Friday and mid 40°s Saturday, this should be all rain.
However, keep reading.
What's All This About Wintry Shenanigans for Weekend Christmas Travel and Christmas Day?
I do not recommend you bet an amount of money that means something to you predicting the winner and final score of the Alabama-Clemson game on New Year's Day. Similarly, do not make plans that are meaningful to you based on a model "snow depth" map or a crap app that says 3.2″ of snow on Christmas Eve.
Why? Even if you have studied it extensively, after kickoff of the Alabama-Clemson game, so much can change that you didn't expect: a QB gets injured, a running back fumbles, a wide open receiver drops a pass, a cornerback trips on his own feet and falls down at the worst moment, etc. All of these are normal things that happen in a football game that dramatically alter the expected result, yet cannot be reasonably predicted.
Similarly, weather forecasting can suffer the same fate. Weather models often get the timing off by a few hours, which in a wintry mix precip event is everything. Or the Dry Air Monster shows up. Or the precip goes everywhere except here. Or it's 34° not 31°. Or snowfall rates are low and it all melts on a warm ground.
So, let's talk about it in probabilities and possibilities. Avoid the "deterministic" approach predicting the result and the final score because that's silly and always a loser.
The Euro Model
The last three runs of the best model we have at this range, the Euro, running from (oldest run)(middle run)(newest run) predicts:
Friday night and Saturday: the oldest run says rain changing to wintry mix Saturday, the middle run thinks only rain, and the newest run also only rain.
Christmas Day: the oldest run says no rain and no snow, the middle run thinks light snow in the morning, and the newest run says nothing at all.
The GFS
The GFS model has a worse track record than the Euro. Note neither model has a good track record at this range.
The 12z run of the GFS yesterday had a weird idea of it raining Saturday morning through Christmas Day, with frozen precip occurring to our northwest, finally changing to snow the day after Christmas. This run looks like an outlier and should be largely (but not completely) discarded.
The latest run of the GFS, the 0z which ran overnight, is more in line with the Euro: rain Friday night into Saturday but not quite changing over to frozen precip, then a snow event for the plateau on and after Christmas Day, but nothing for us.
(We omitted the 18z and 6z runs, if you know what those are you probably know why).
My Elevator Speech
So, right now, if asked in an elevator whether it'll snow, I'll say "probably not, looks like a cold, heavy rain Friday and Saturday, and unlikely to see any precip Christmas Day, but keep checking back because there is a small possibility we may have wintry shenanigans."
Weather Prediction Center for Friday/Saturday
The Weather Prediction Center has an "experimental" product that says there's a 10% to 30% chance of wintry precip exceeding 0.25″ Friday night or Saturday morning: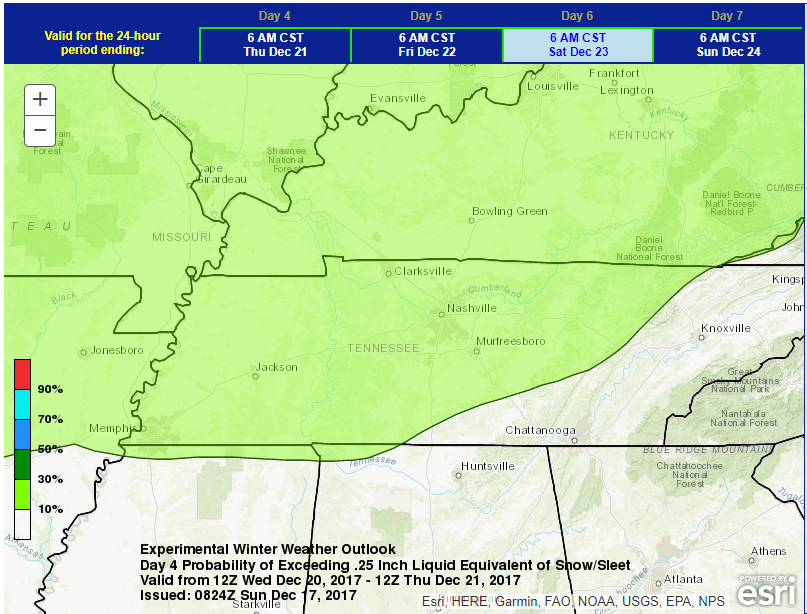 As for Saturday morning to Sunday morning, they bump that probability to 30% to 50% for those north of I-40 and keep it at 10% to 30% for those south of I-40: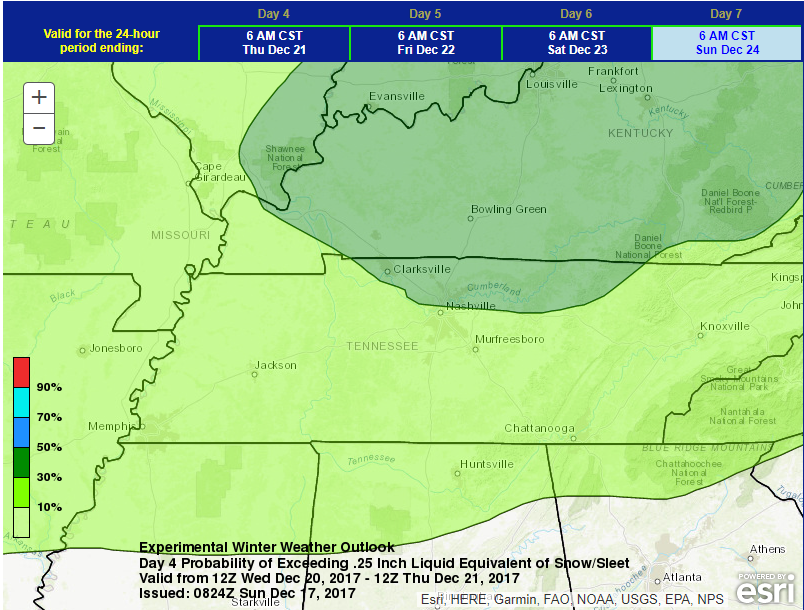 I don't know, that seems pretty high to me, based on the GFS and Euro. I'm going with our local NWS-Nashville meteorologist, who this morning wrote:
Colder air is being forecasted to fill in behind the precipitation and while I`m nowhere near ready to talk winter precip, I can tell you, only one long range model is suggesting any frozen stuff. For now, I`ll just carry a small probability of precipitation on the backside of the Friday/Friday night system and leave it all liquid.
Friday Night / Saturday Summary
Rain, likely heavy rain, is forecast late Friday into Saturday morning.
Wintry precip is possible Friday night and slightly more possible Saturday, but this is most likely just going to be a lot of rain.
Your decision to go/no go is a function of your risk tolerance and ability to adjust your plans.
Always continually check updates to the forecast, especially in a rain/mix/snow scenario. Forecasts can meaningfully change even a few hours before the event.
As for a White Christmas, right now I think nah. But we're way too far away to dash hope a dreams. It is possible, but unlikely.
Inserting this obligatory GIF here: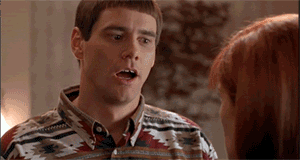 ---