---
Cold Continues and Mostly Sunny Skies Remain
Cold, cold weather continues to be the main story here in Middle TN. Highs will continue to be in the low-40s through the rest of the week with overnight temps dipping down into the mid to low 20s.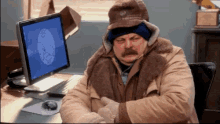 Variation in sky conditions will be really the only difference now through Sunday. Skies will become mostly to completely sunny during the daytime and more clouds becoming present overnight.
A Note About Saturday's "Wintry Mix"
A few days ago, models had been hinting at some wintry precipitation reaching Middle Tennessee. Now, models have significantly backed off this thought. We do still have the possibility of seeing a few scattered flurries on Saturday morning. However, it does not appear like there will be enough moisture or forcing for this to accumulate to anything at all. The cold conditions are here to stay, but any wintry precipitation on Saturday continues to look less likely.
Near-Normal Temps Monday, Colder Temps Reinforced Behind
On Monday, temps will begin to creep up a bit returning to the low 50s. However, even with this brief "warm up", multiple impulses will pass through next week to bring highs back down into the 40s.
Next week could be more active than this week. Models currently hint at several shortwaves to reinforce these colder temps, and bring rain/additional wintry mix chances with it. Given how many days away that is, I wouldn't set anything in stone, but the colder temps are definitely here to stay.
---