Sunshine today, maybe a few clouds here and there, mid 60s this afternoon, gentle east breeze blowing over the top of Nissan Stadium for the Titans game.
Pretty great for December 3.
It's all going downhill from here.
Monday Night Wind
Clouds gather tomorrow while winds increase (16 MPH) and temp climbs to 72°. Monday night winds will gust to around 28 MPH, so be sure to secure all your outdoor Christmas decor, Clark.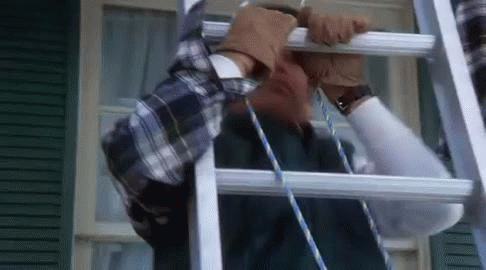 Monday Night – Tuesday Rain
Rain begins sometime Monday night. It should be falling by midnight Monday evening continuing into Tuesday morning. Rain should continue through the daylight hours Tuesday. Rainfall amounts will be 1″ to 1.5″ total. That's a lot of rain obviously, a total washout of outdoor plans, but there are no flash flood or general flood concerns. Heavier rain will be south of us: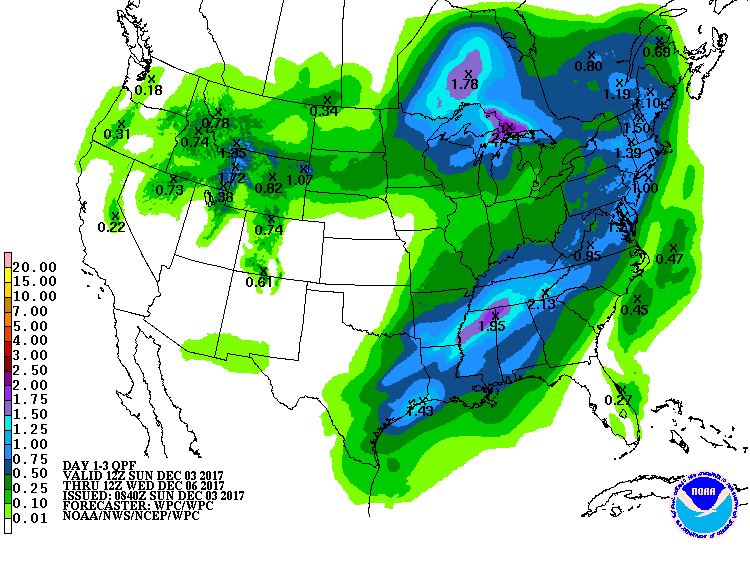 Thunderstorms?
A thunderstorm may accompany the rain, but instability (an essential element of thunderstorms) is very limited. The Storm Prediction Center excludes us from its general thunderstorm outlook: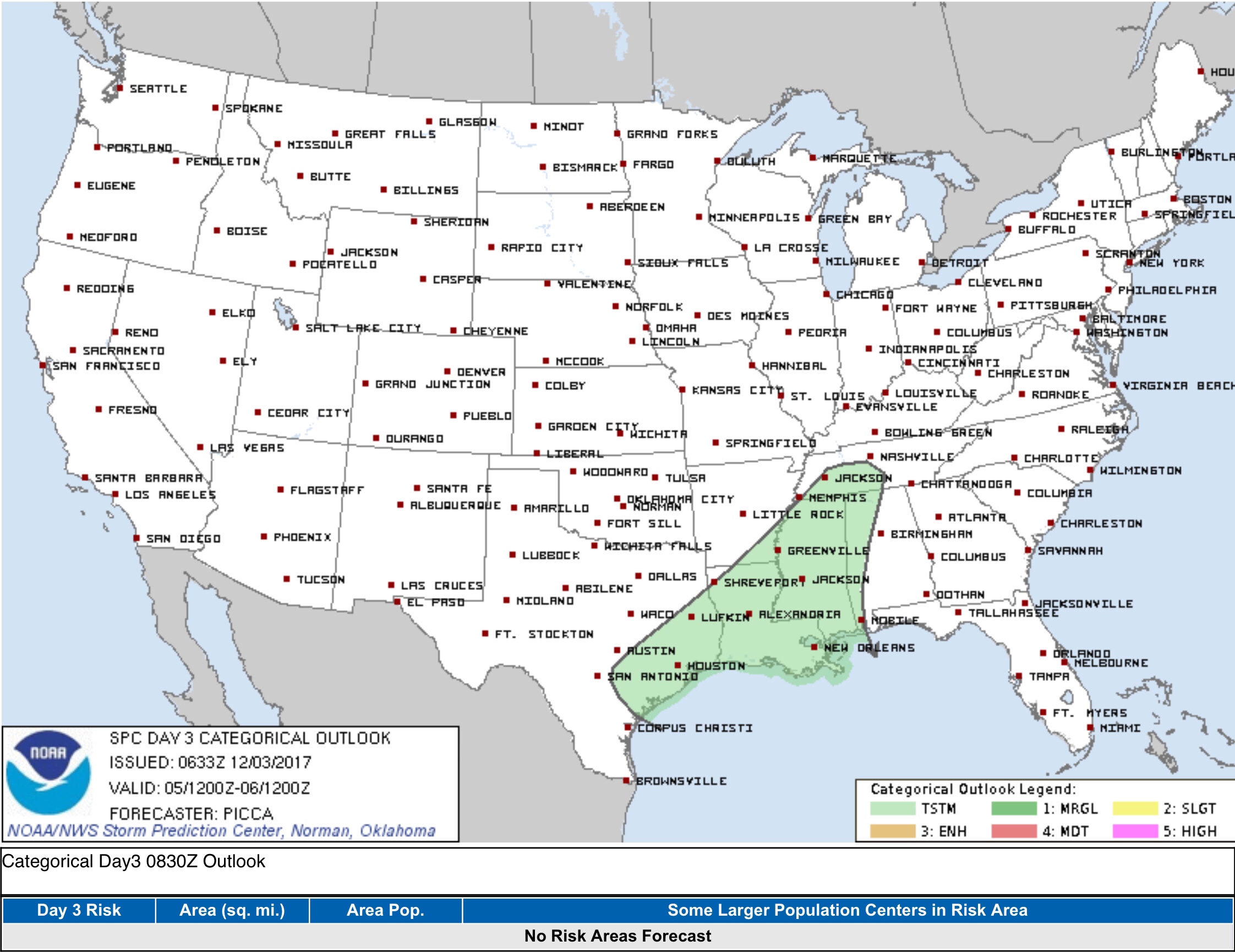 So you heard it may change to snow Tuesday? As the rain begins to end Tuesday, cold air will rush in behind it.  But it won't be that cold. The rain should be gone round the time the sun is going down, and by then surface temps will be in the upper 40°s. No snow Tuesday!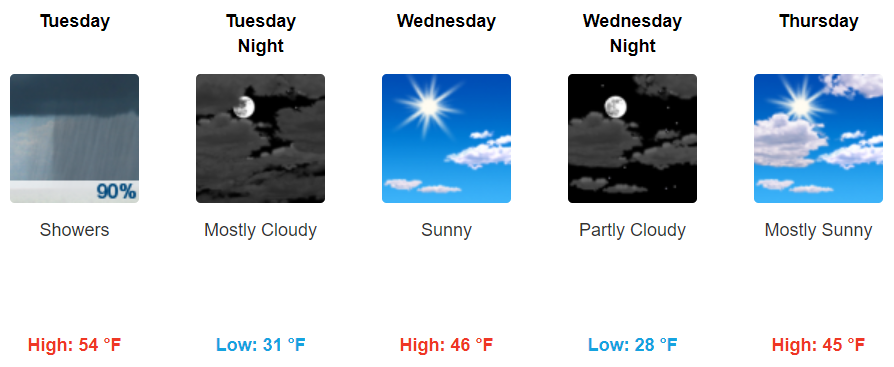 Friday Snowshowers?
This forecast will change several times this week. Here's what we think right now. NWS-Nashville has added a slight chance of snowshowers to our forecast Friday, but do not get excited or panic about a Friday snow during 9 to 5 work hours or school. This "slight chance" is statistically unlikely, but even if it did happen, it would be mixed with rain and wintry stuff, then splat on the ground and melt with above freezing temps. We'll hit 43 Friday afternoon.
That said, the Euro model has some light precip sliding in Friday night into the wee hours of Saturday morning. It shows temps at 5,000 feet between -6°C and -8°C which is plenty cold enough for snow, with the temp at the surface just at or above 32°F. I wonder if the Dry Air Monster will eat a lot of it. If this scenario verifies, it would result in a grassy dusting overnight, melting soon after sunrise Saturday. This type of system, a clipper, is not be a prolific snow-maker, so I think you can remove Winter Wonderland from the list of possibilities (for now).
Draw conclusions at your peril. Stay tuned. Forecast gonna change.
I'll leave you with this Cautionary Tale from NWS-Nashville's morning forecast discussion:
But at this time, am hesitant to talk about any significant accumulations this far out as several additional model runs along with forecaster interpretational reasoning will be required to make the final determination. But, for those eagerly anticipating the first accumulating snowfall of the season, as previously stated above, it is looking like there could be a possibility over the first part of the upcoming weekend across the eastern half of the mid state region, especially the higher elevations of the Cumberland Plateau Region. As stated above, there is still a great amount of uncertainty though with actual accumulation amounts and associated impact potentials, and thus will not reference this possibility in this mornings Hazardous Weather Outlook issuance.
---