Yesterday's Tornadoes
What Went Well
The warning system did well for the "Gladeville" Tornado, because it showed itself on radar.
It was EF-1, winds 100 MPH.
Before the tornado formed, intense straight line winds swept ENE from Cane Ridge.
Winds picking up big time in Cane Ridge as it crosses I-24. 444 PM pic.twitter.com/8NPsZo9cIH

— NashSevereWx (@NashSevereWx) November 18, 2017
At 4:52 PM, the tornado began to develop, seen well on radar.
Area south of Percy Priest Lake trying to wrap up with rotation. Watch closely if nearby. Radar from 450 PM pic.twitter.com/tKUWccspVf

— NashSevereWx (@NashSevereWx) November 18, 2017
NWS told media the Tornado Warning was coming at 4:53 PM.
***SE Davidson Co Tornado Warning coming. S of P Priest Lake.

— NashSevereWx (@NashSevereWx) November 18, 2017
The Tornado Warning issued at 4:54 PM, before tornado damage was seen.
It was easy to see where the tornado was . . .
If you live S Rural Hill take cover! Likely a tornado here.454 PM pic.twitter.com/QiJkYAFoyV

— NashSevereWx (@NashSevereWx) November 18, 2017
. . . advances in radar confirmed it as a tornado with debris signatures . . .
Debris signature here for tornado S of Rural Hill. 455 PM. Turn on TV or Andrew's Periscope. https://t.co/u6PoBBFtHV pic.twitter.com/iLgRZVL3iq

— NashSevereWx (@NashSevereWx) November 18, 2017
. . . and it was clear where it was going as it raced east of Davidson County into Wilson County toward Gladeville, where the EF-1 damage was seen.
Fellowship Road
Mires Road
Underwood Road

Torando moving to you, with debris confirmed on radar.

TAKE COVER.

Gladeville you're next.

— NashSevereWx (@NashSevereWx) November 18, 2017
That's exactly where it went.
(Wish I had spelled that "Tornado," but I think you got the point.)
What Didn't Go Well
Many "squall line" tornadoes , aka "QLCS" (Quasi Linear Convective System) tornadoes are missed because (1) they do not show themselves on radar, or (2) they are so brief they occur between the 60-70 second scans of the radars.
Neither "excuse" applies here.
The Joelton tornado was EF-1, with winds of 105 MPH. It was on the ground for 2.25 miles and it was 200 yards wide. It started at 4:29 PM and ended at 4:32 PM.
Usually we have three radars on a storm coming into metro, but we were down two of those last night. The radar at Hopkinsville was down, and TBNA radar was too far away and the beam it shot at the storm was a mess. But the OHX radar saw it. We were all looking at the data in real time.
We missed it. I missed it.
At 4:28 PM, one minute before the tornado touched down, I tweeted there were 70 MPH winds at Joelton, but at the time I did not think it was a tornado.
Line about to cross I-65. Damaging straight line winds the main concern. 428 PM. Winds over Joelton possible over 70 MPH per radar. pic.twitter.com/GIWHEBh962

— NashSevereWx (@NashSevereWx) November 18, 2017
Today I went back and reviewed the radar data. There were radar scans while the tornado was ongoing, at 4:30 PM and 4:31 PM. Knowing I'm looking for a confirmed tornado from a storm survey, I can see it on radar.
At 4:30 PM: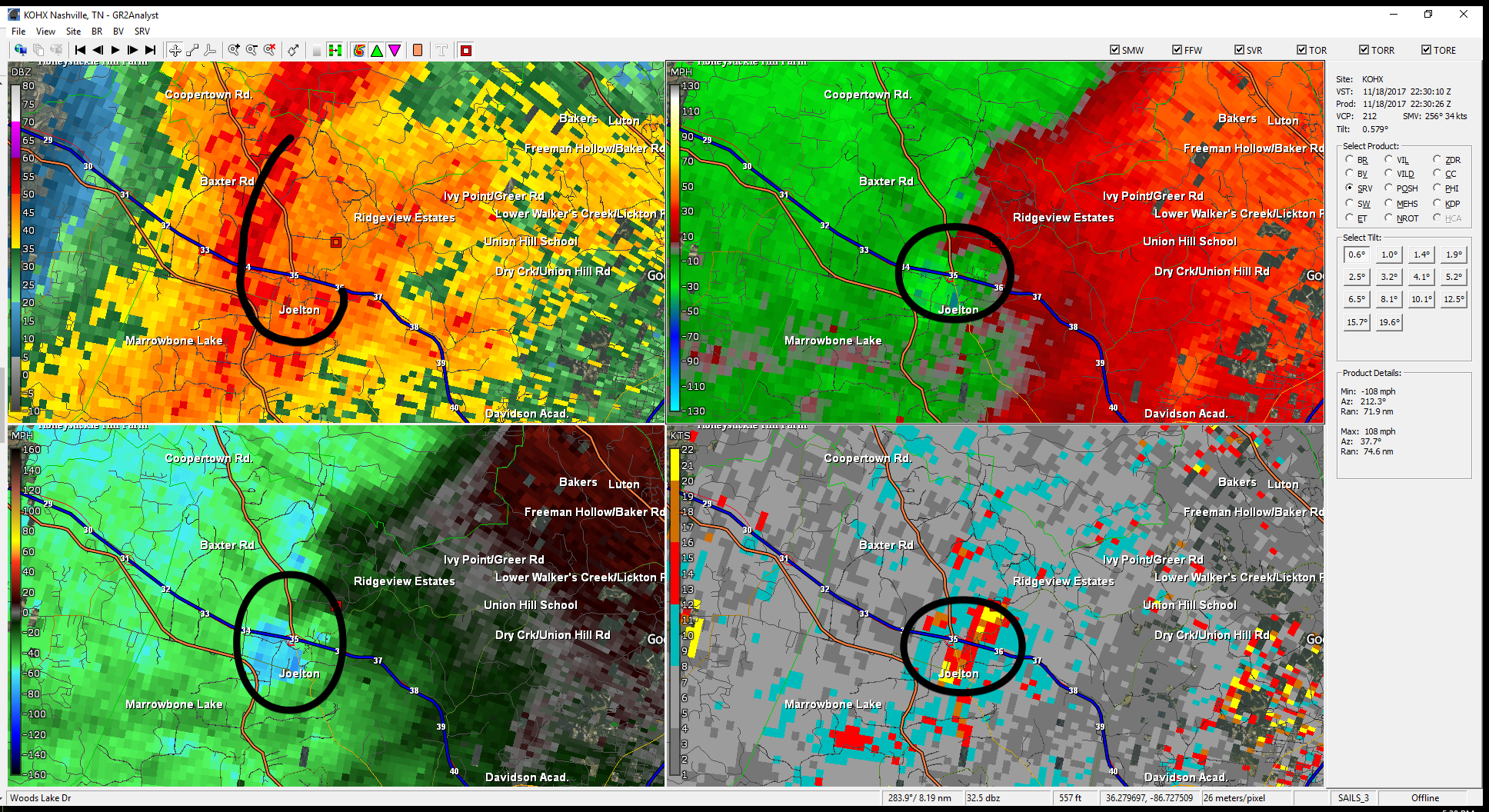 Despite that presentation, NROT (normalized rotation) scores were well under what we saw with the Gladeville tornado, and the CC (correlation coefficient) used to determine whether unlike things (such as debris) had been lofted, well, that too was unimpressive even though it was there. It was interpreted as an unclear signal of lofted debris.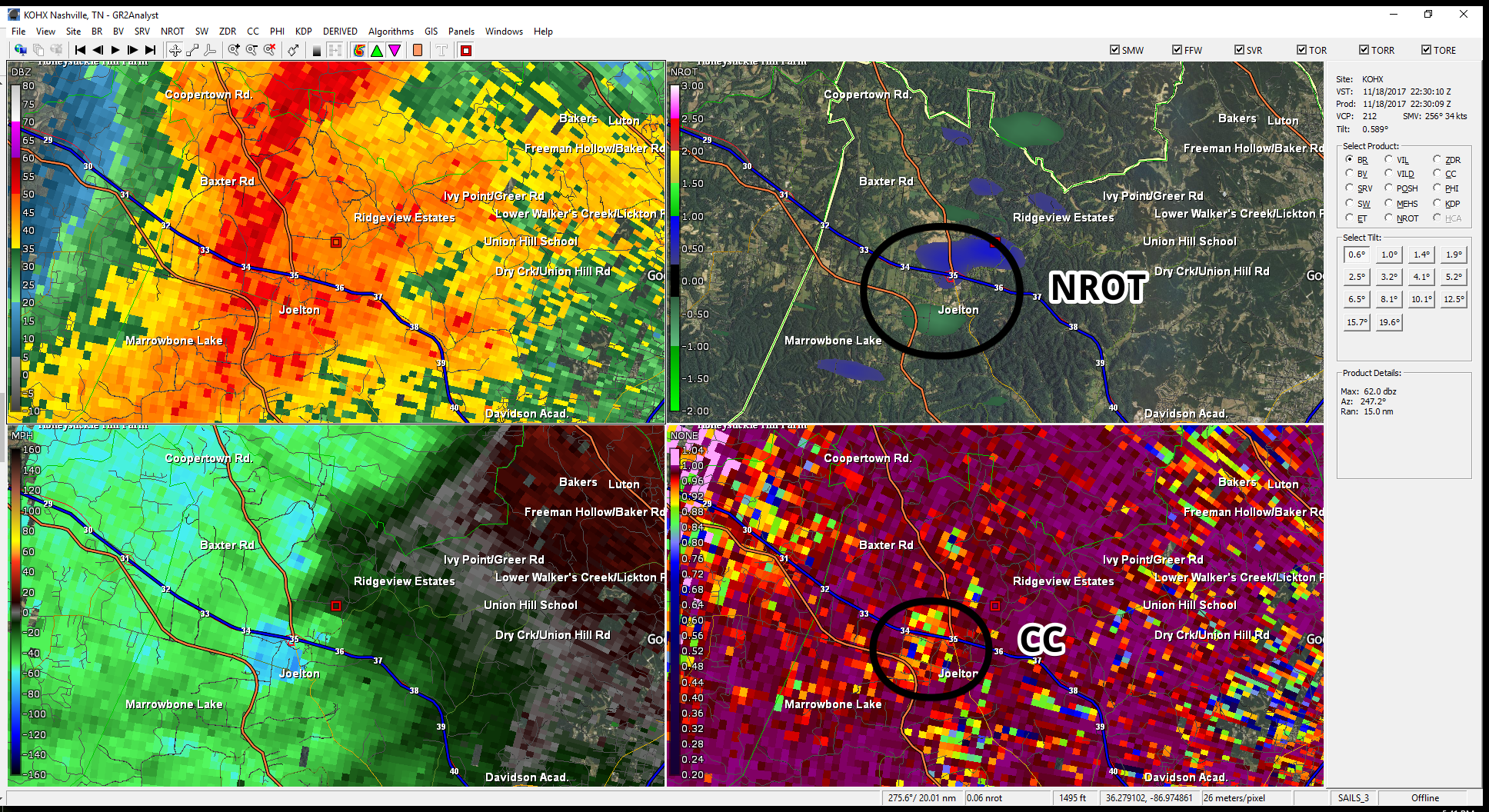 Detecting QLCS tornadoes is very difficult; this was a very close call. It's easy to sit here and second guess it with hindsight. Had I been at the warning desk, I would not have warned based on the scan at 4:30 PM. After seeing the next scan, at 4:31 PM, a warning could have been justified, but by the time the warning would have been issued, the tornado was gone.
If every single "kink" inside a QLCS line is tornado-warned, the result will be dozens and dozens of false alarms. Many times a storm will present the way the Joelton storm presented on radar and not produce a tornado. Studies show overwarning causes inaction, which is also dangerous. There's a clear tension here.
Further, when this tornado struck, there had been no prior evidence this particular QLCS could produce a tornado. The Gladeville tornado occurred about 25 minutes after the Joelton tornado.
But, at the end of the day, we missed it. TV missed it. NWS missed it. I missed it. The weather enterprise missed it.
Some may excuse it, perhaps saying there technically was a "tornado possible" advisory attached to the Severe Thunderstorm Warning . . .
New Severe Thunderstorm Warning
everyone in Davidson and Williamson Co
Until 5:15 PM
70 MPH wind gusts possible
a spin up tornado also possible pic.twitter.com/C8J5ZLuunV

— NashSevereWx (@NashSevereWx) November 18, 2017
. . . but who takes cover from a "tornado possible" tag? Very few people. At the end of the day this was a miss.
I'm happy no one was physically hurt.
QLCS tornadoes are being studied by researchers and operational meteorologists to improve "POD" (probability of detection). We aren't there yet. We need to get better. I need to get better.
About Nashville's Tornado Sirens
I've lost count how many times I've ranted about how the NWS issues warnings based on a polygon system and Nashville activates its sirens on a county-based system. They're two members of a band reading off different sheets of music, and the song sounds terrible.
Rather than launch into another rant, let's just state two plain facts about last night and leave it at that.
 Sirens did not sound when there was a tornado in Joelton in Davidson County. That's on the weather enterprise, myself included.
 Sirens sounded for a tornado that wasn't in Davidson County, wailing while it was obviously in Wilson County and moving away from us, causing the usual confusion and panic and further contributing to siren fatigue. That's on the Metro Office of Emergency Management.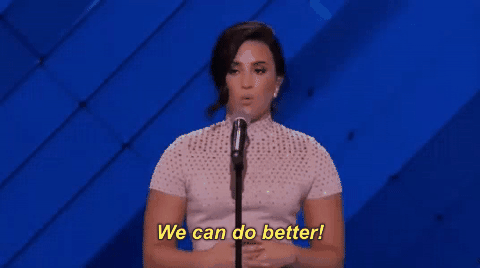 The Week Ahead
Expect a hard freeze tonight, lows in the 20°s overnight.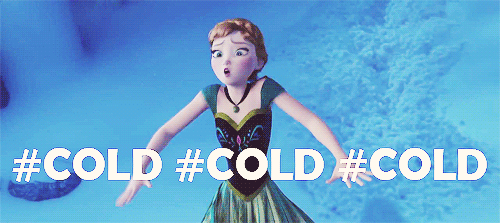 Monday & Tuesday we warm up just a bit with highs Monday in the mid-50°s and highs Tuesday near/to 60°.
Cooler Temps Return & Sunny Skies for Thanksgiving

All in all, Thanksgiving looks pretty great. No real weather hazards for those traveling in and around the area, sunny skies for all outdoor activities, and cool temps look to set up a nice Thanksgiving holiday.
https://giphy.com/gifs/friends-thanksgiving-turkey-PjYfyarIEsNGM
Next Weekend Guess
Saturday looks a bit warmer with highs reaching back into the 60°s. Another dry cold is expected to drop temps back down Sunday.
Looks dry, with precip below normal next weekend into early next week.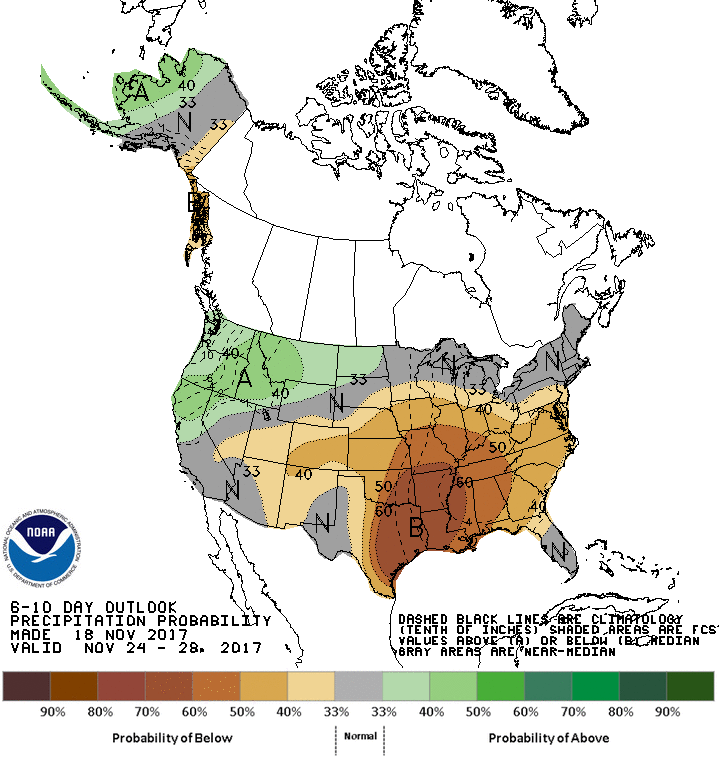 ---