Wood expands and contracts in the summer and winter. With these overnight cold temps, boards in your house "pop" pretty loud, especially in the middle of the night when it's coldest. It can be so loud you may think someone sinister is inside your house burgling your meat and cheese foodstocks. Do not worry, it's not a "robber" as is the phrasing at my house, also it's probably not this guy: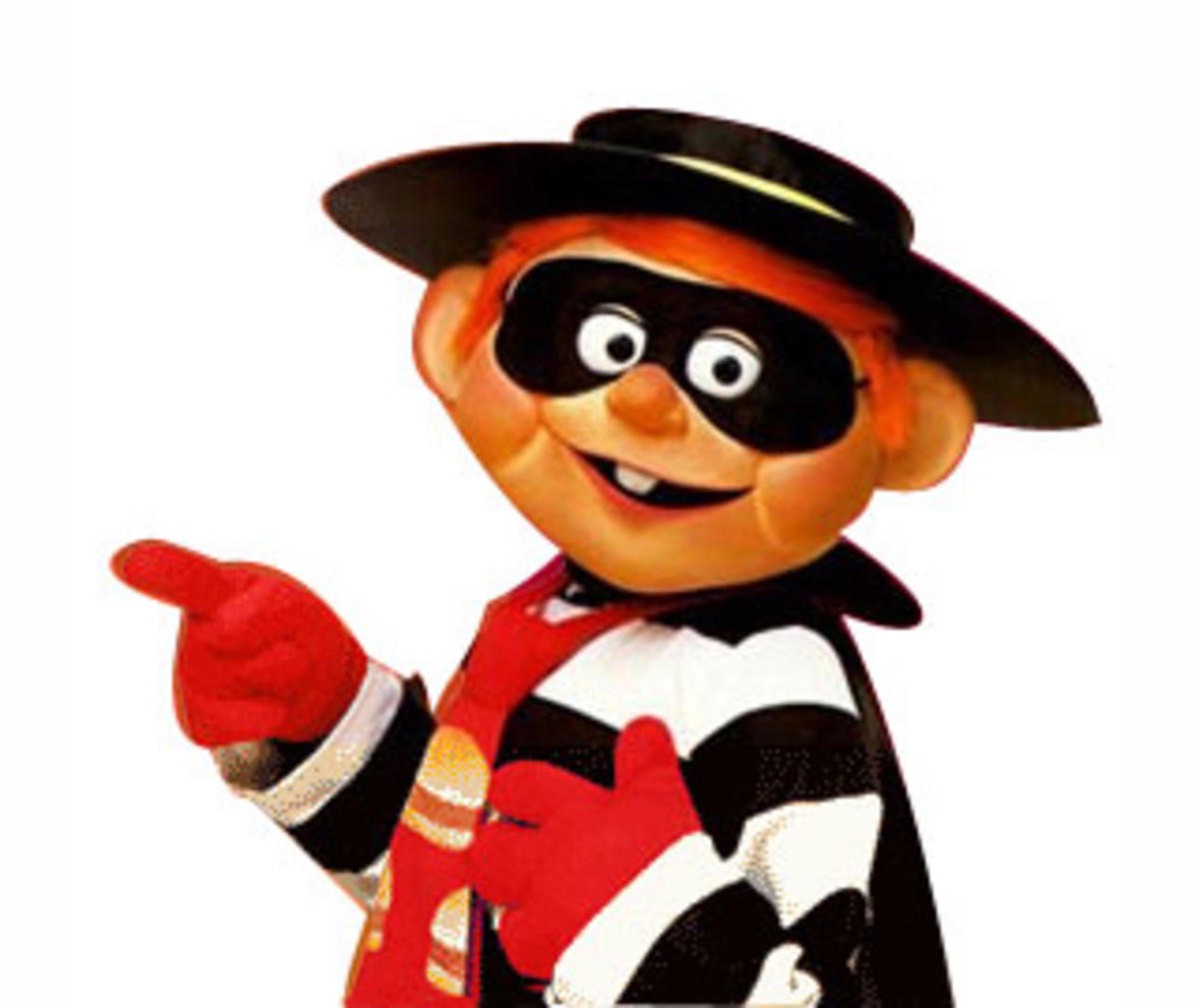 For those of you too young, that's the Cheeseburglar, a member of the McDonald's family of creepy kids-themed characters which terrorized children most in the 80's in the form of rusty metal playground implements that kept the tetanus shot industry in business. You were supposed to play on them even though when exposed to direct sunlight they were about 195°.
Anyway, we should see the sun sometime Sunday, high 49°, but NW winds will deliver a low/mid 40°s wind chill. No rain today.
Frost Advisory Sunday Night – Monday Morning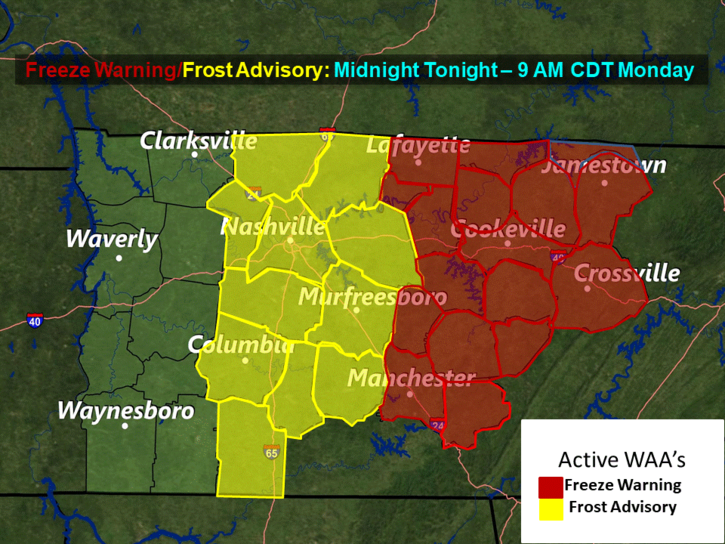 To get really cold, you want clear skies and calm winds because clouds and wind act like a blanket trapping daytime warm temps and preventing the warmer air from escaping toward space. Tonight clouds should clear, but winds will pick up. Officially the low in Nashville is 36°, Franklin 34°, but those of you with less pavement around you should dip near or to freezing.
Monday will deliver the coldest morning of the week. It'll be chilly again Tuesday morning, but we'll warm up after that.
Trick or Treat
Rain is not in the forecast. Temp 51° when it gets dark, settling into the upper 40°s by the time the kids ringing your doorbell are getting older. Winds will be calm.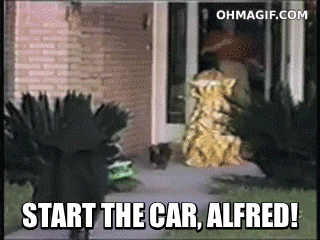 Next Rain Chances Begin Wednesday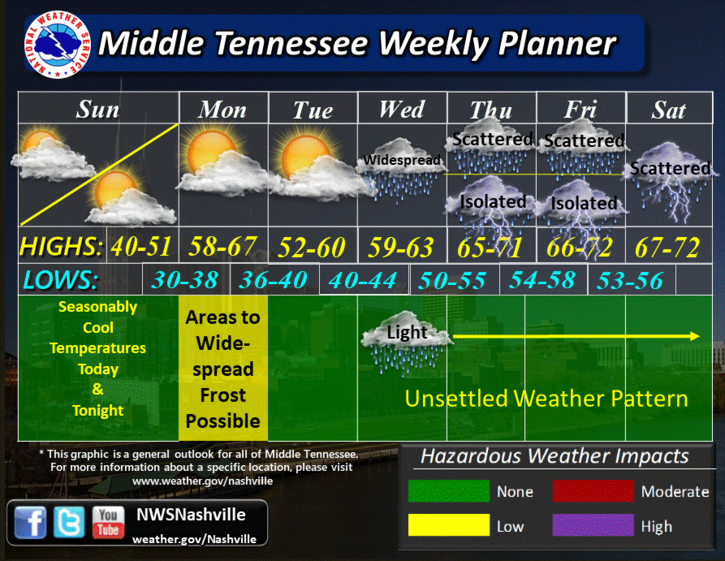 A warm front will come in from the south to provide moisture, and a series of upper level disturbances will perturb the atmosphere and give us some rain. When and where remains very unclear right now given differences in timing in the models and the fact we're at least three days away from it. Precision predictability is poor.
The most likely times for rain are Wednesday night thru Thursday morning, then Friday and again Saturday mornings, but rain could fall anytime between Wednesday morning and Saturday night. This would be scattered rain, so it'll hit/miss you, which is horrible for those of you planning stuff.
Humidity returns Friday and Saturday, when thunderstorms will be possible. Currently there's no indication these storms will be strong or severe.
We may even see a good bit of rain Friday morning through Sunday morning; WPC has us down for almost 1″ during that 48 hour period: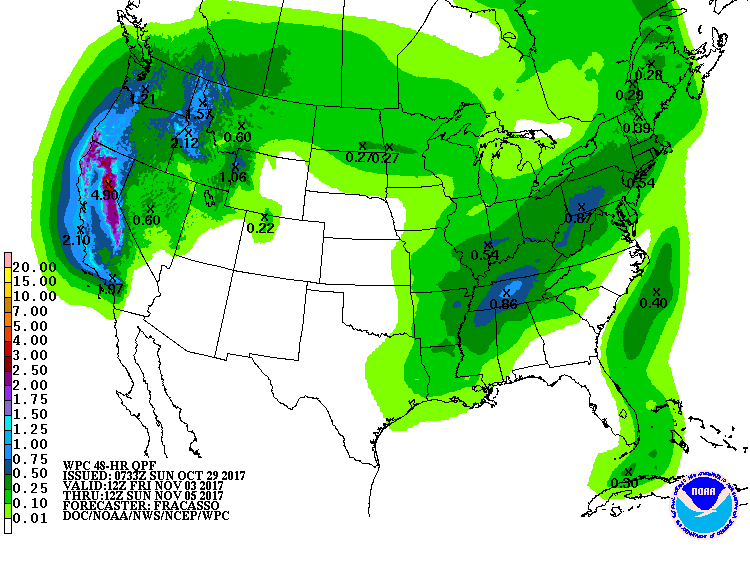 Next Few Weeks
Pretty mild. Current cold weather begone!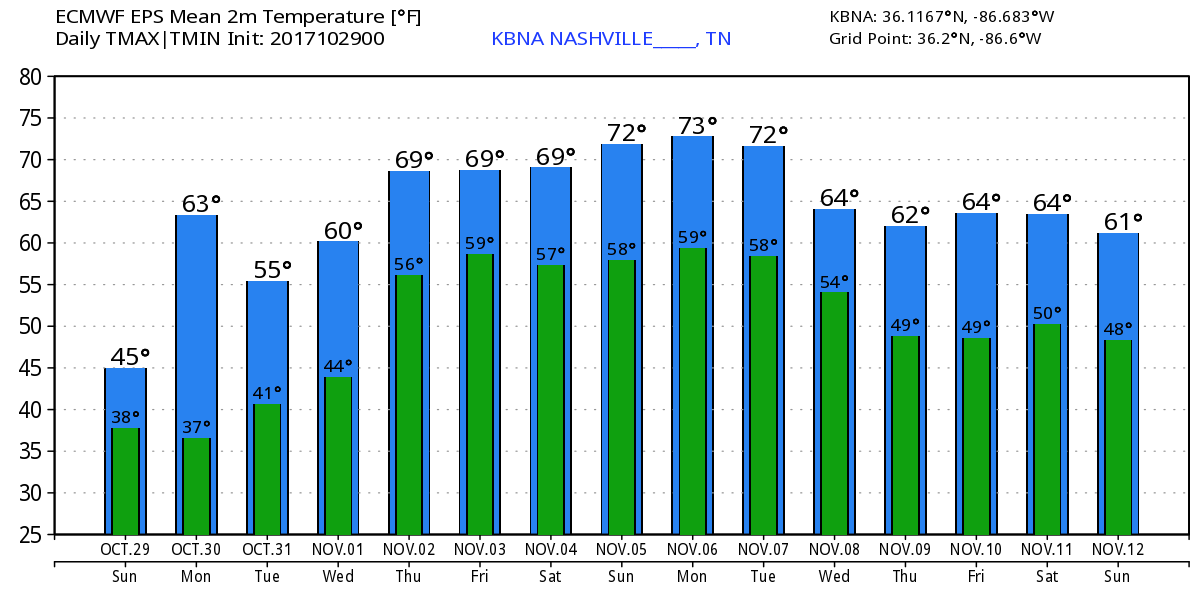 Though this is not a good look for us as we enter the secondary severe weather season of November. Have a great Sunday!
---