Expect a breezy/windy Sunday afternoon. Gusts in the 20 MPH range are possible. It'll be overcast, high 79°, with the return of late summertime humidity.
Rain will be here late tonight.
Last night we thought it would be here around 7 PM, but models overnight have pushed the ETA back. Expect rain to start well after dark, as a slow, light rain gradually increasing through the night.
Here's the HRRR model from 7 PM to midnight: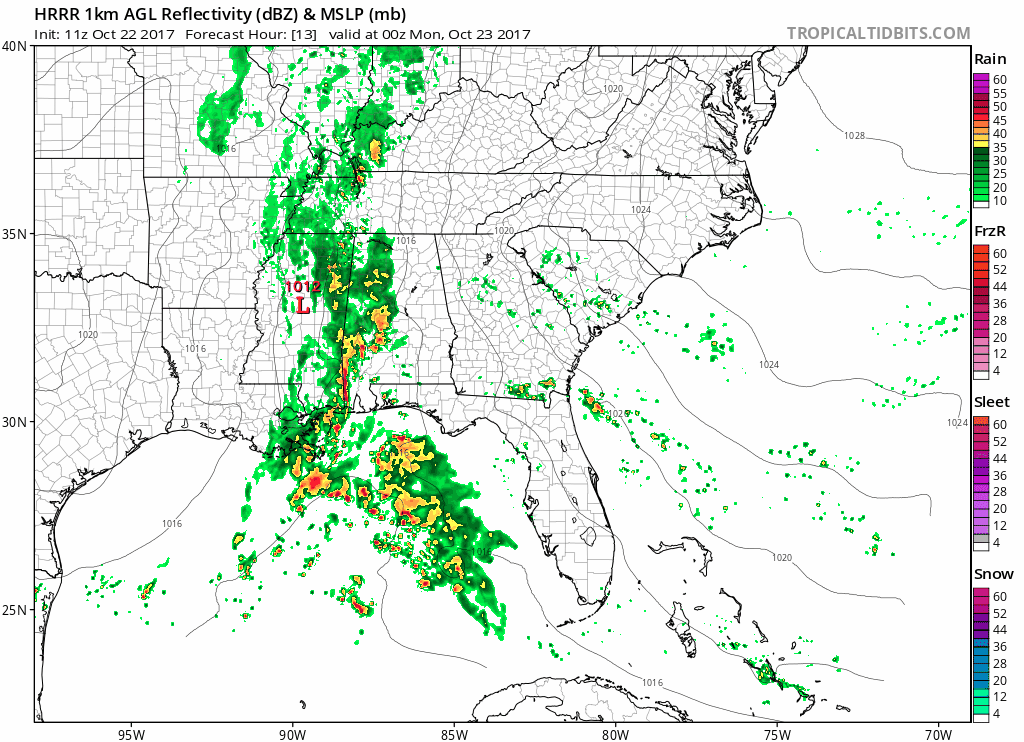 ETAs are volatile, so check back here and/or on Twitter with @NashSevereWx for more info. The rain line won't move east quickly.
How Much Total? The Weather Prediction Center has us down for 1.5″ to 2″…
…officially @NWSNashville agrees, forecasting just under 2″. We would need to get just over 2″ in one hour to raise Flash Flood concerns, but this 2″ we are getting will fall over a 24 hour period. I'm not worried about flash flooding, but there's no reason to rule it out completely. WPC says the risk of a flash flood here is between 2% and 5%…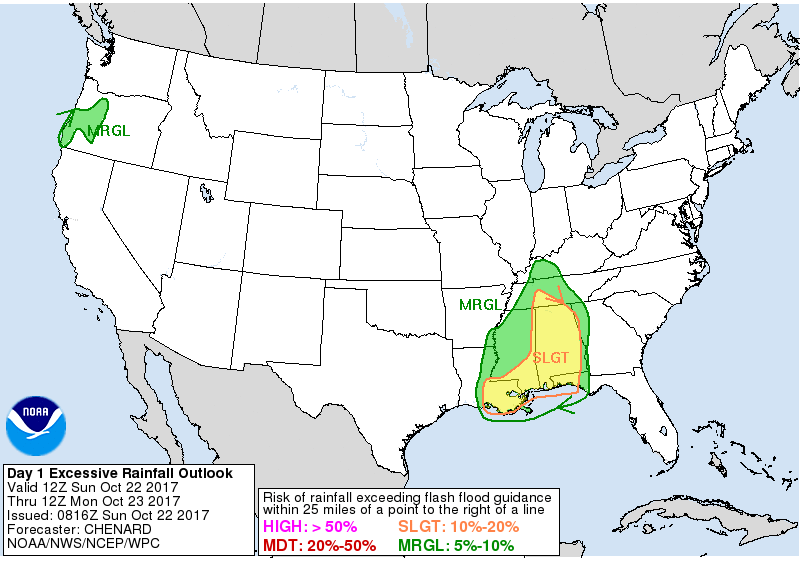 …which is an entirely reasonable quantification.
A thunderstorm is possible, but nothing severe.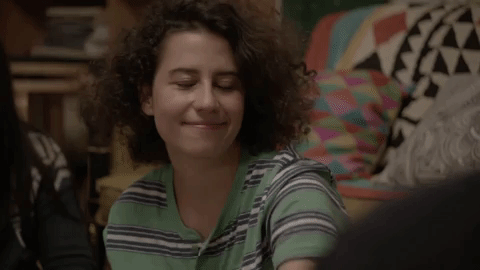 This should be a rain event.
Heaviest rain will fall overnight and mess with the morning commute.
Most of the rain should end around lunch. The NAM3 model is below, showing midnight tonight to noon Monday: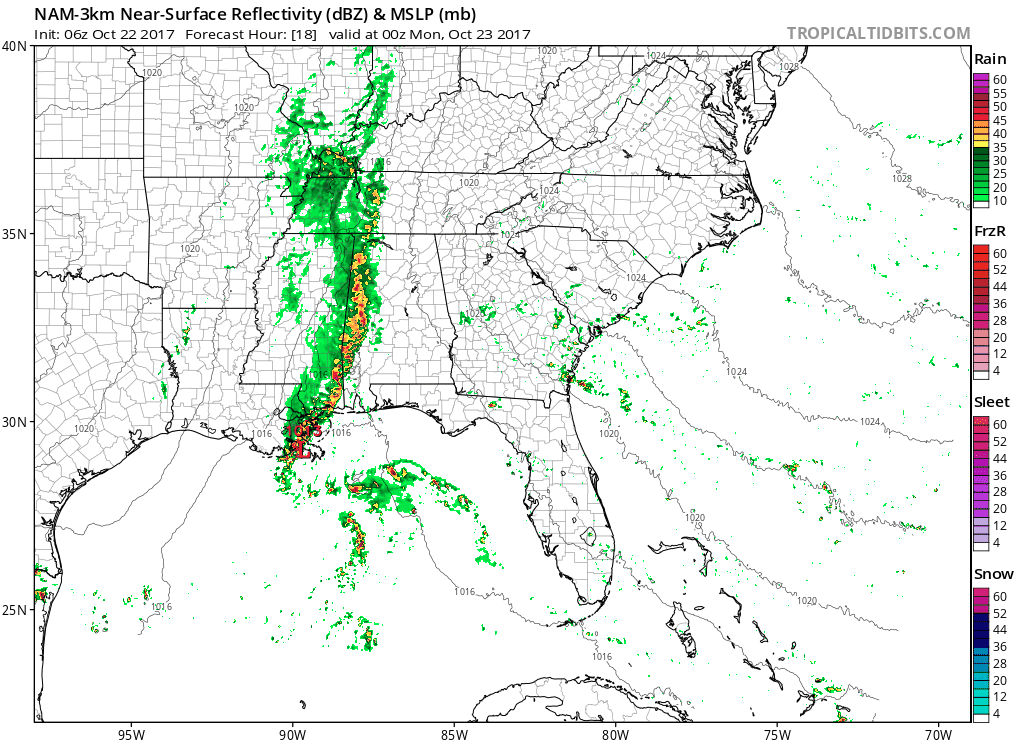 A few straggling, light showers may linger after noon and maybe into the evening.
Monday, winds will shift and replace Sunday's humid/warmth-containing air with a drier/cold-allowing airmass, restoring order to fall. We should slowly clear out Tuesday.

Another front/rainmaker is in the models sometime this weekend. GFS thinks Saturday, Euro thinks Sunday. So expect some rain sometime next weekend. When? We don't know.
Public Service Announcement
It's that time of year weather models, looking at predictions 5+ days away, for which they have a horrible record, start showing sn*w.
Do. Not. Believe. Them.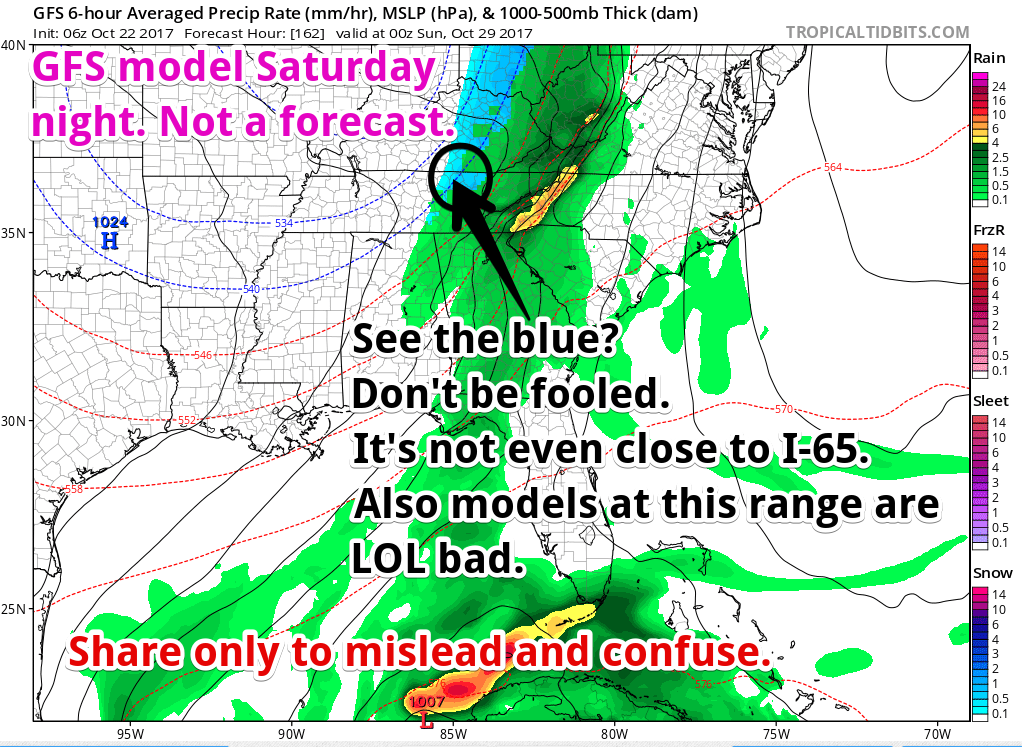 I don't want to pretend it isn't there, but remember: All Models Are Wrong, Some Models Are Useful, and this model run is not useful.
It's the GFS (bad track record at this range) model. The Euro model has no sn*w. This shows sn*w on the Plateau (not us), and this is a "freezing temps chasing precip," a classic BUST snow forecast.
Trick or Treat
Way too soon to attach confidence to this forecast, but most indications are no rain, low 50°s falling into the upper 40°s the evening of October 31. Dress warm.
---