---
Scattered Showers Starting Tomorrow, Keeping an Eye on Tropical Storm Nate
Let me start by saying that there are still a lot of uncertainties surrounding Nate's track and how the remnants will eventually impact Middle Tennessee. Ultimately, we will see showers, and sometimes showers will be heavier than others.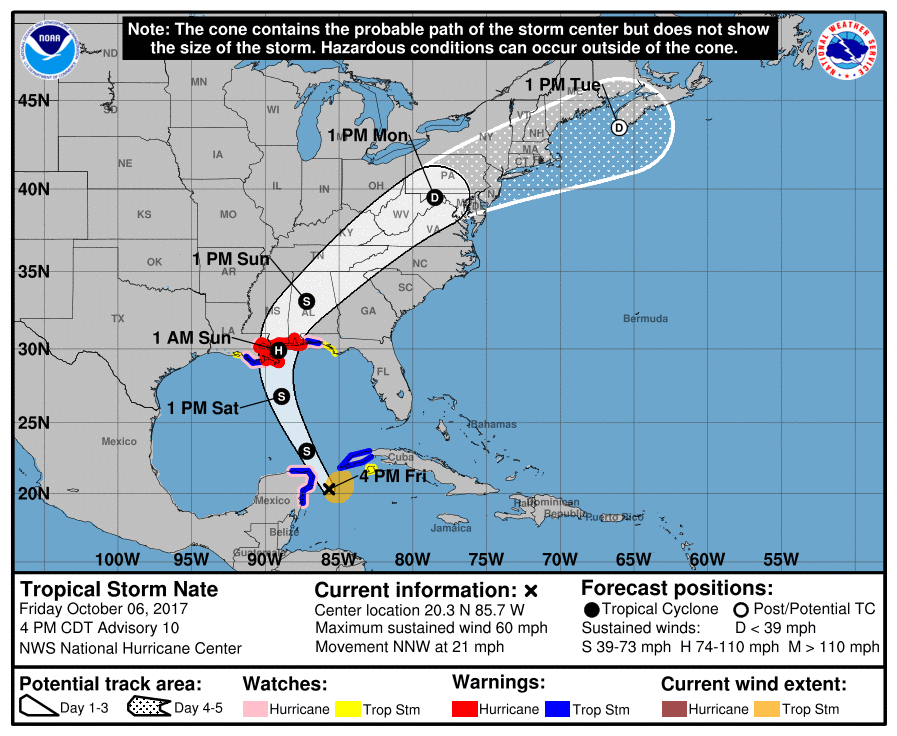 Here is what we do know and where the uncertainties come into play:
When will it start raining?
This is a two-fold question.
For tomorrow's rain, showers appear to start off pretty scattered, with showers increasing as we move into the evening. It does appear that some of us may remain rain-free in the AM, so you may be able to those early morning activities in. Most models show most of the showers developing around/after lunchtime and continuing into the evening.
NAM3 Loop Saturday 1 PM Through Sunday 3 AM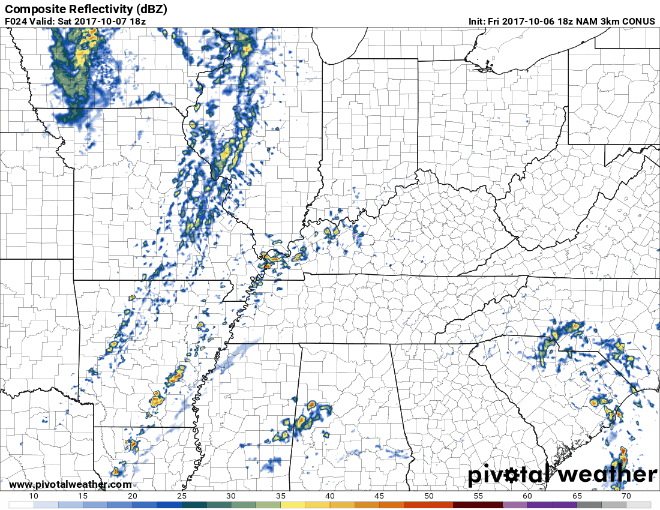 As for Sunday through the beginning of next week, the exact timing will be dependent on Nate and its eventual track. Our area will likely see showers even with any shifts in the track, the track will determine how much rainfall we eventually see. Expect showers to start as early as Sunday morning with heavy rainfall increasing through the day and continuing into Monday.
GFS Loop Saturday Morning Through Late Tuesday Night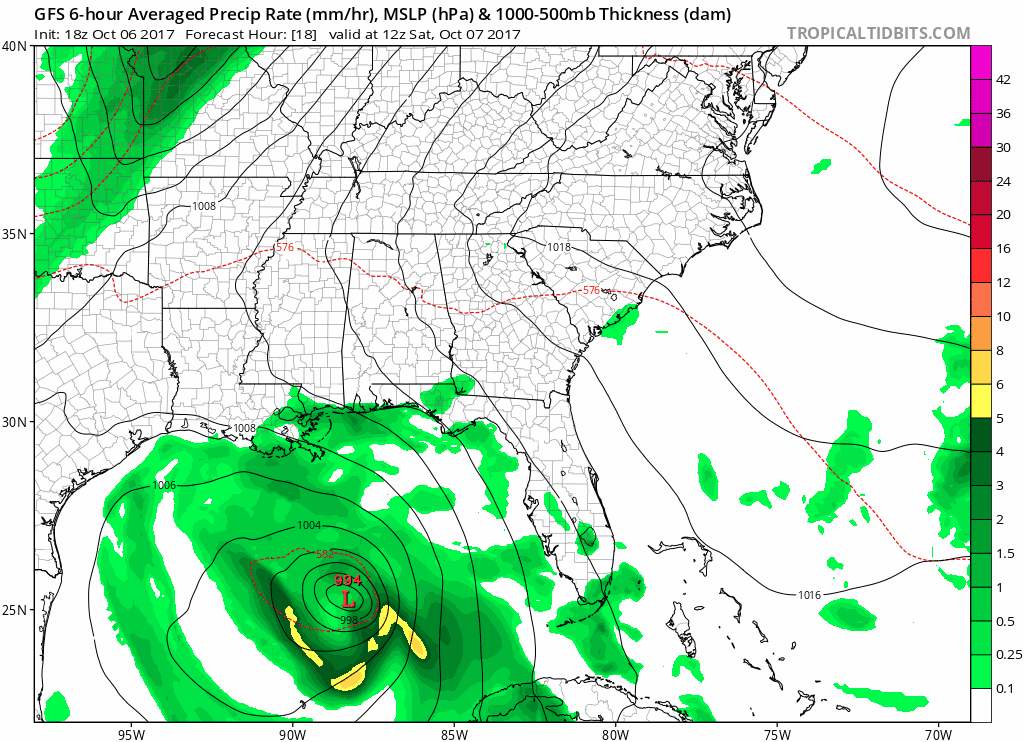 How much rain?
We are expecting around 1 to 3 inches of rainfall across our area. Some areas could see upwards of 4 inches in association with Nate.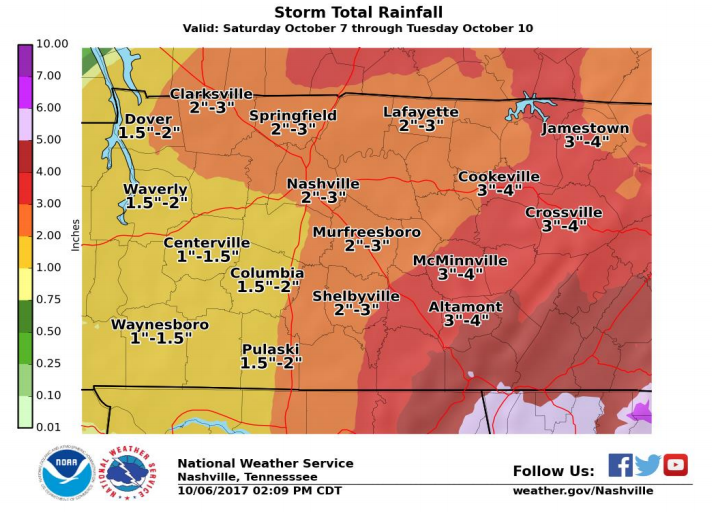 You may be thinking, this looks like a lot of rain so are we expecting flooding. The simple answer is that flooding does not appear likely. Given the fact that this system will move rather quickly (unlike Harvey) AND we haven't seen any measurable rainfall in quite some time, flooding should not be an issue. However, our local NWS did have this to say about total rainfall and flooding in association with Nate this afternoon.
Thus showers and storms will be able to easily dump out locally heavy rainfall, and despite the recent dry weather the past few weeks cannot rule out some localized flooding, especially in our eastern counties. Based on coordination with WPC and latest model QPF, storm total rainfall from Saturday through Tuesday of 1 to 3 inches looks likely west of I-65, with 2 to 4 inches east of I-65, and locally higher amounts are certainly possible especially on the Plateau. Any shifts in the track of Nate to the west or east would correspondingly affect the forecast rainfall totals.
This is still not a Harvey situation, but if you are in a low-lying area and heavy rain moves over your area there could be some localized flooding issues.
Are we expecting severe weather?
As of today, models continue to lean towards no widespread severe weather. With tropical systems, severe weather can never truly be "ruled out", but it does appear unlikely at this time. Severe weather will depend on where the low pressure associated with the remnants of Nate eventually track. If it stays to our east, we would be less likely to see any type of severe weather. If it tracks to our west, our severe weather chance may increase. The latest run of the GFS and Euro keep the center low pressure to our east, which is good news for us in terms of severe weather.
Key Takeaways:
Scattered showers are possible starting tomorrow. Some thunderstorms are possible, a strong thunderstorm cannot be ruled out at this point.
There are still many variables at play in terms of Nate. Showers associated with the remnants of the system could begin as early as Sunday. These showers will continue through at least Monday. However, specific impacts and timing remain uncertain at this time.
Winds could get gusty at times on Sunday and Sunday evening. Timing will depend on how quickly Nate moves northward.
As for severe weather, tropical systems are very complex so you can never rule it out, but models don't seem too impressed with that idea currently.
This forecasting is evolving and will change. Continue to stay up to date with us on Twitter @NashSevereWx
---