---
Two More Days of Nice, A Weekend Spent With Nate
Sunny skies and mid-upper 80s are two phrases you'll only find in the late spring and early fall, but to have 5-6 days of it in a row has been quite the gift. Unfortunately, the sunshine and "relaxed" weather pattern will come to a screeching halt this weekend, thanks to an active Gulf of Mexico. Southerly flow is expected to return in full force tomorrow, ushering in added moisture and warmth…consequentially leading to increased cloud cover and a small chance for an afternoon thunderstorm.
However, the main headline for this forecast is Tropical Storm Nate.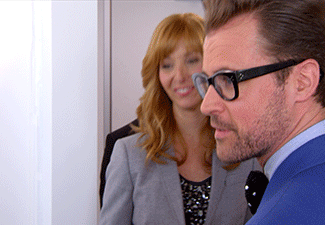 11AM EDT Advisory – Tropical Storm Nate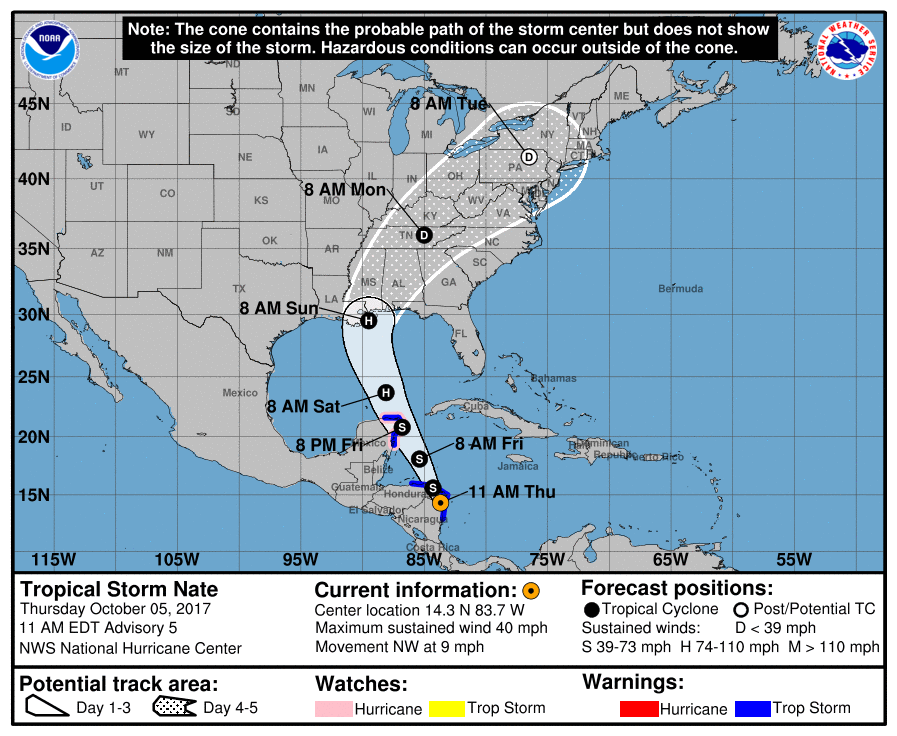 A decent amount has changed since yesterday in terms of a more westward track and faster timing. What we do know more certainly, now, is that a weakening tropical system with a decent, soaking rain is en route to Tennessee. Let's break it down:
Saturday
Increase in clouds throughout the day. Temperatures reaching into the middle 80s. A surge of moisture spreading over the area through the afternoon and evening will provide enough support for some showers to develop. Rain, scattered in nature, will overspread much of Middle Tennessee by Saturday night into Sunday morning. If you had yard work or other outdoor activities planned for Saturday, your best bet would be to get those things done before 2PM on Saturday.
Latest GFS Model – Saturday, 7PM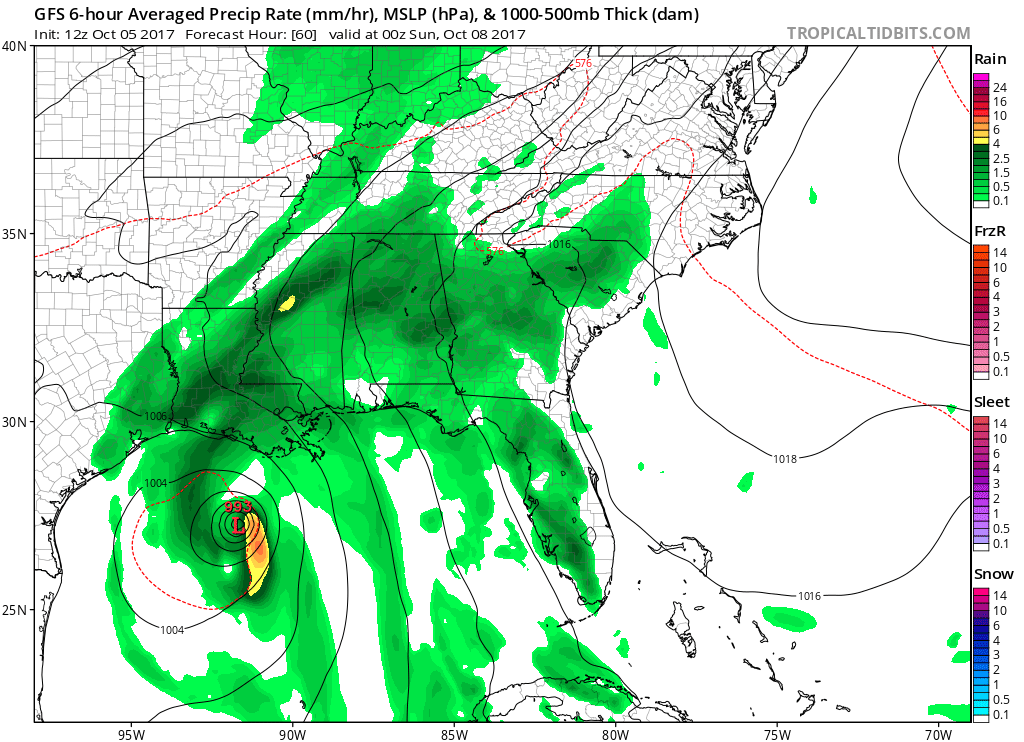 Sunday
Nate, as a remnant tropical system, will move northeast as an upper level trough picks it up. The latest GFS models show Nate's center directly atop Nashville by 1AM Monday morning. Meanwhile, Sunday should prove to be pretty rainy. Heavy rainfall and gusty winds are possible at times, but no widespread severe weather is anticipated at this time. Keep in mind, even from this morning's NWS Nashville discussion, models have taken the track of Nate even more west. A further west track generally means more rain and a tad more wind in here on Sunday. If Nate's center decides to spread east of I-65, the heavier rain and windier impacts here in the immediate Metro decline.
Latest GFS Model Loop through Monday AM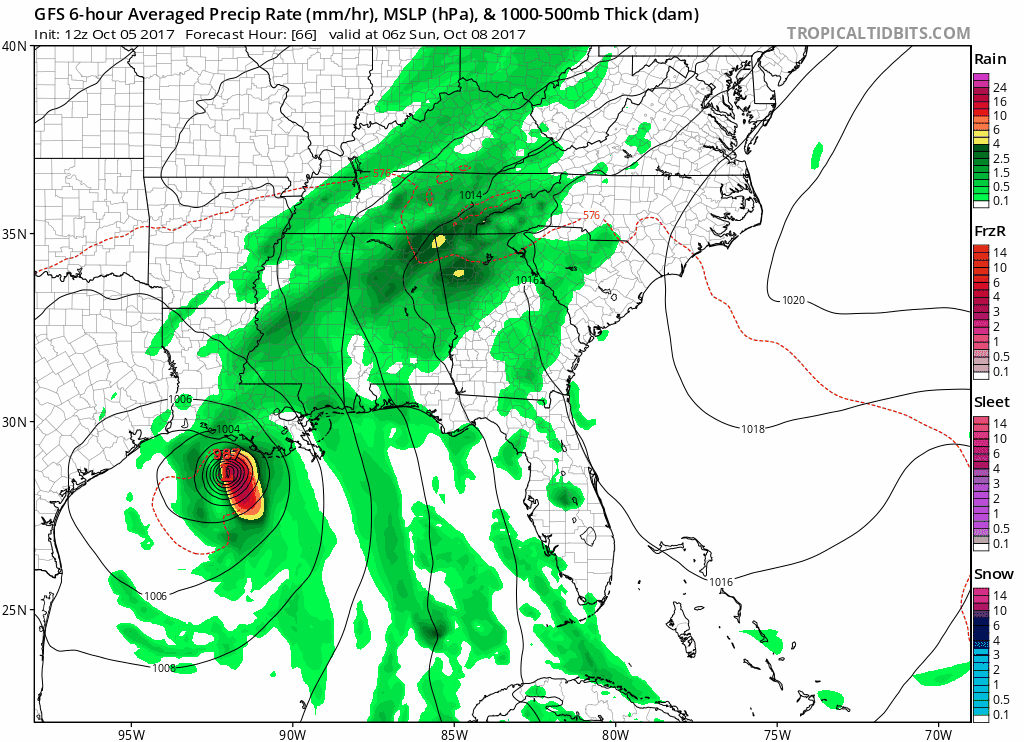 Latest WPC Rainfall Forecast – Total Rainfall From Nate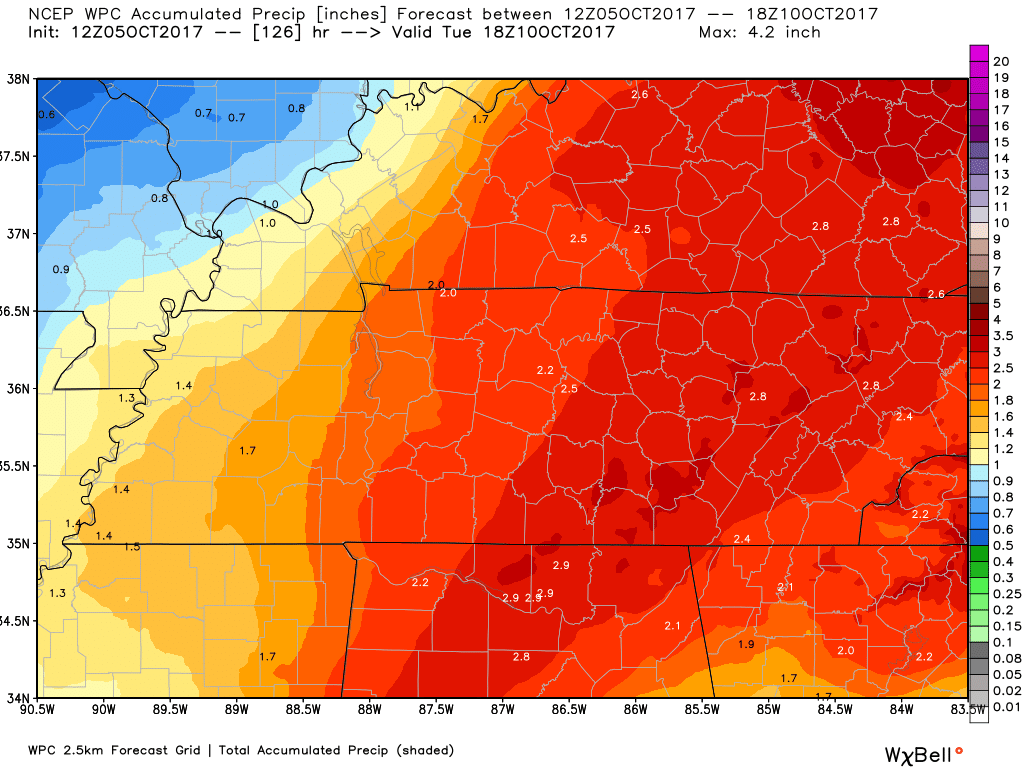 After a lengthy dry spell of weather, a 2-3″ rainfall here will be welcomed by all vegetations. Keep in mind…these amounts could/will adjust up or down based on the track of the low pressure system (Nate).
After All is Said and Done…
Cooler weather will return, thanks to Nate. Highs next Tuesday/Wednesday will be in the 70s with some areas experiencing the 40s for overnight lows!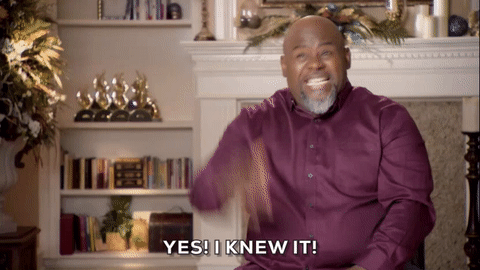 ---