---
Here Comes Irma
Irma is on the way and we will begin to feel the effects of Irma on our Middle Tennessee weather pattern. Irma, now a tropical storm, will continue to make its way north and westward through the remainder of today and into tomorrow.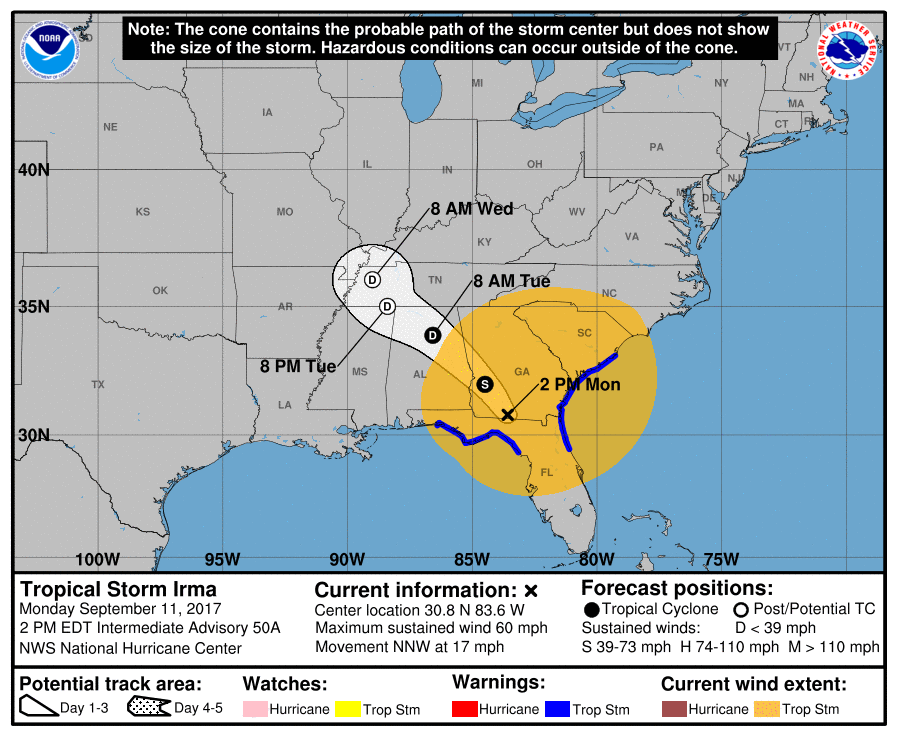 With this track, Irma will bring plenty of showers and some gusty winds to our area.  Notice the orange looking circle around the "X" of Irma's current location. This means that tropical storm force winds are occurring all around that area. For this reason, Irma will easily bring gusty winds to our area starting this afternoon.
Wind Advisory Starts This Afternoon Through Tomorrow Morning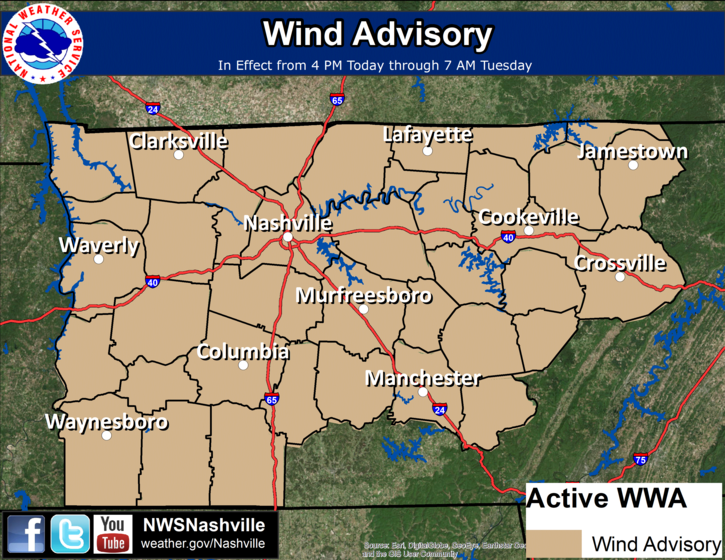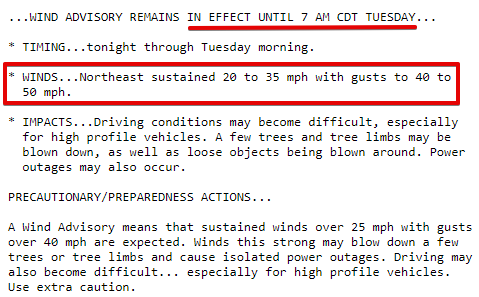 Expect for winds to ramp up into this evening thanks to Irma. Winds will be in the 20 to 35 mph range throughout the rest of the day and into the overnight hours with gusts upwards of 40 to 50 mph possible.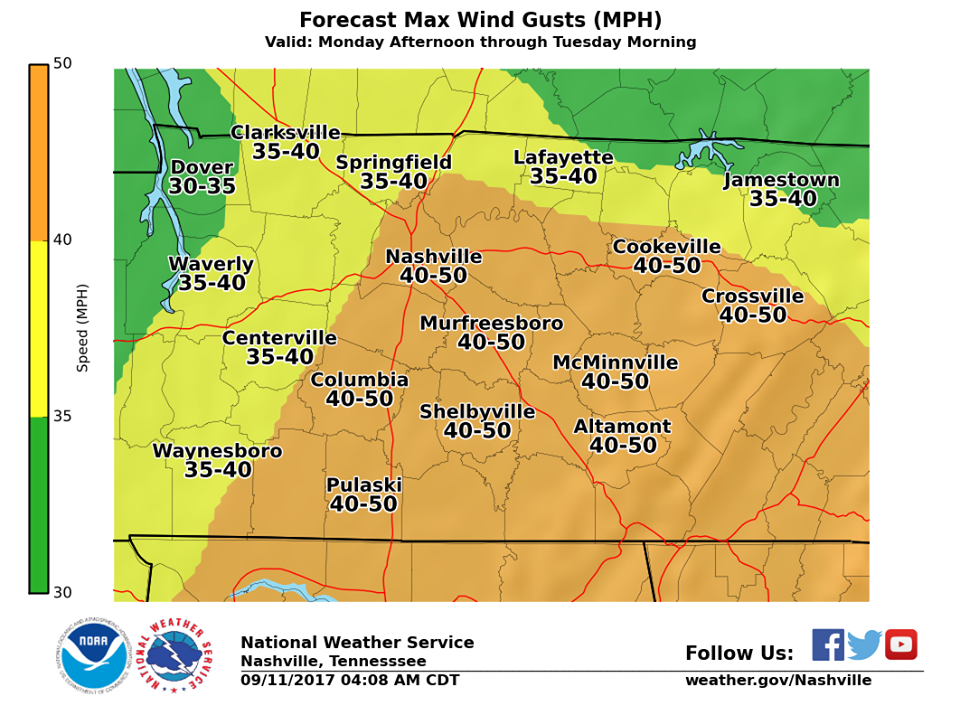 The gradient from Irma that'll cause these winds is anticipated to be the strongest around 9 PM to 3 AM tonight. I would go ahead an secure any loose objects ASAP because even 20 to 35 mph can blow some of these objects around.
Winds will start out a bit gusty again tomorrow with winds in the 15 to 25 mph range and gusts upwards of 35 mph. By tomorrow evening, winds will begin to calm down into the 10 mph range.
A Rainy Week Ahead
Forecast Rainfall Totals Through Thursday Morning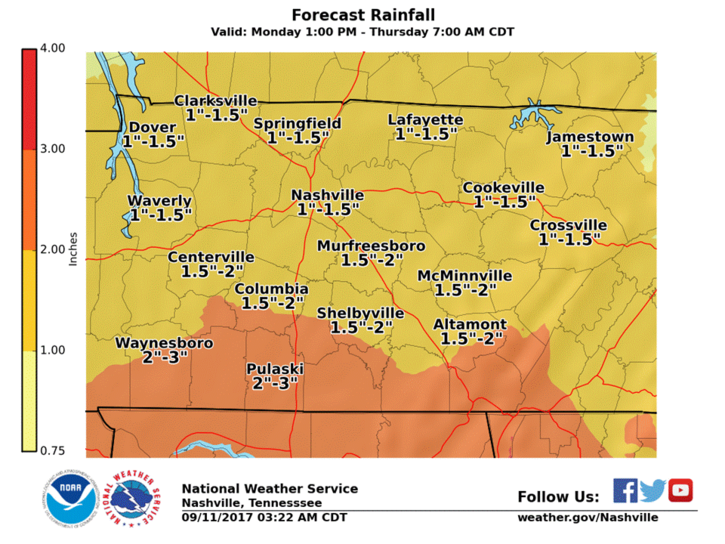 The good news is that we are not expecting a repeat of Harvey type rainfall. The bad news is that it will be pretty dreary over the next few days with showers possible starting this afternoon through at least Wednesday evening. Our total rainfall amount should be in the 1″ to 2″ range when all is said and done.
Latest radar scans show showers knocking at our door. Latest run of the HRRR has a decent bit of showers hanging around through the evening into the overnight hours, before becoming somewhat lighter in the AM.
HRRR Loop Now Through 7 AM Tomorrow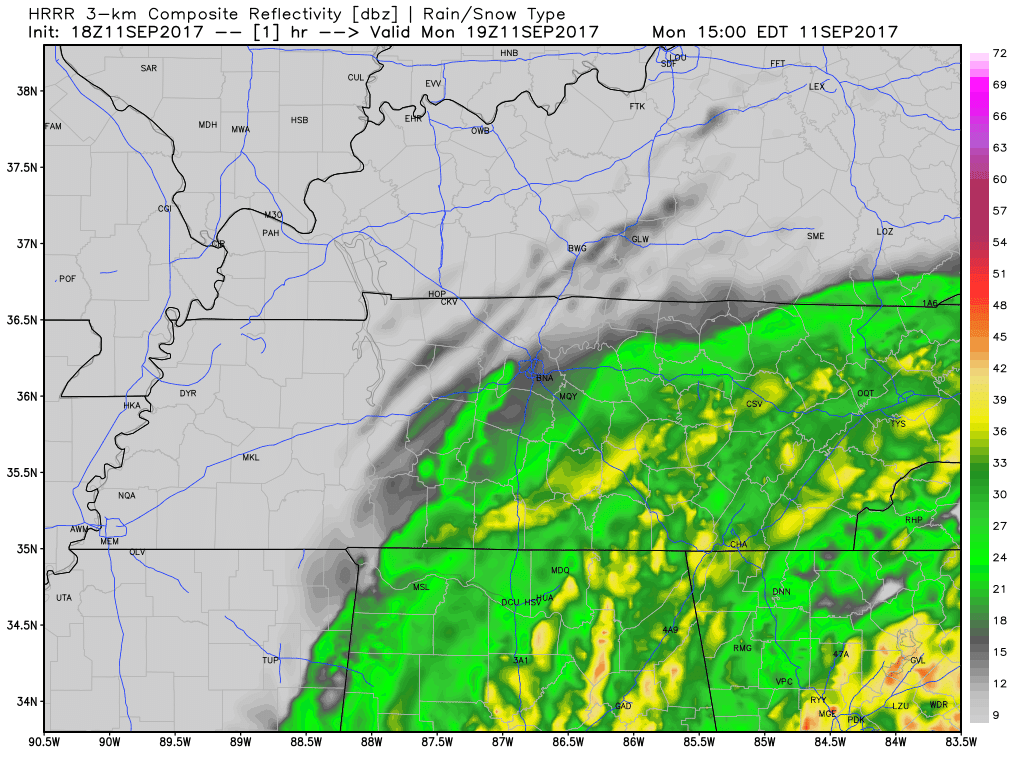 Tonight, by far, is when we should see the most rainfall. We do have a marginal risk of excessive rainfall with higher risks to our south.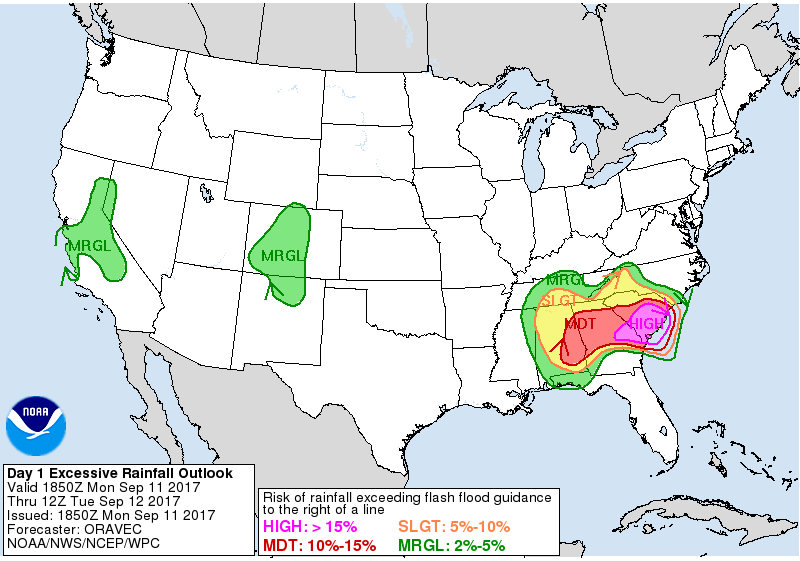 Again, this is not going to be a repeat of Harvey. However, low lying areas could have some localized flooding during periods of heavy rainfall.
Luckily, through all of this no severe weather is expected.
Thursday On – Rain Clearing, Slightly Warmer Temps
Looking forward, some showers could linger into the day on Thursday. Beyond Thursday, sunshine will return to Middle Tennessee with warmer temps following as well. Expect for highs this weekend to be a bit toasty and in the mid-80s. Additionally, dew points will creep back up a bit into the mid-60s.
---