This morning, Irma is a Cat 4 hurricane with maximum sustained winds of 130 MPH.
Sunrise revealed Irma's eye striking Key West at 7:49 AM CDT: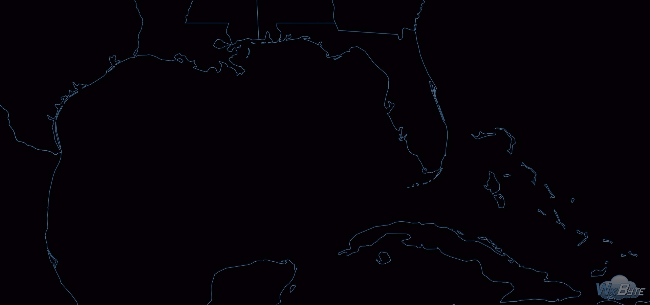 Irma is a large storm. Although its center is in Key West, the moisture train extends to the North Carolina-Virginia border: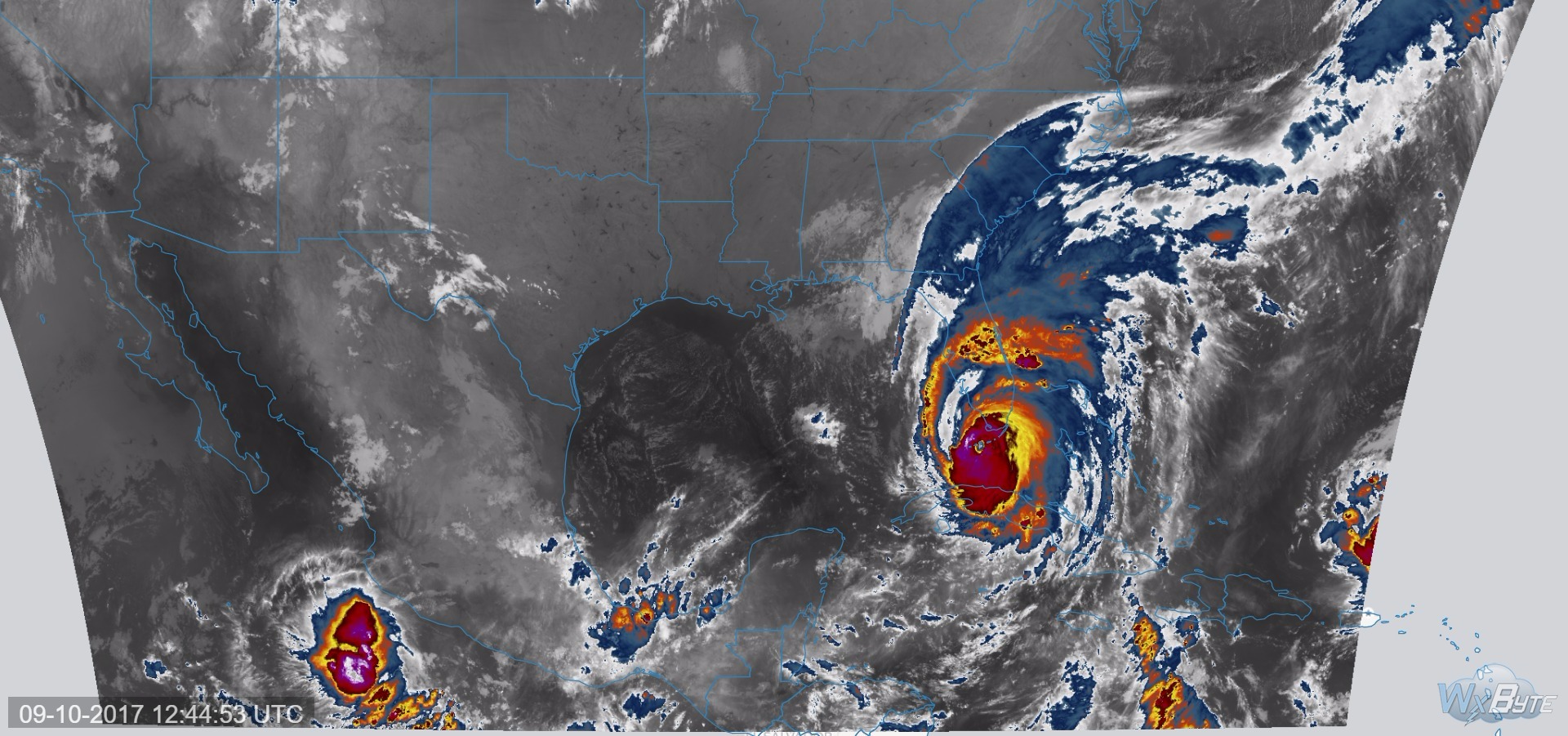 Below is Irma's official track from the National Hurricane Center for the center of the storm. This track continues to move the center of the storm southwest of us.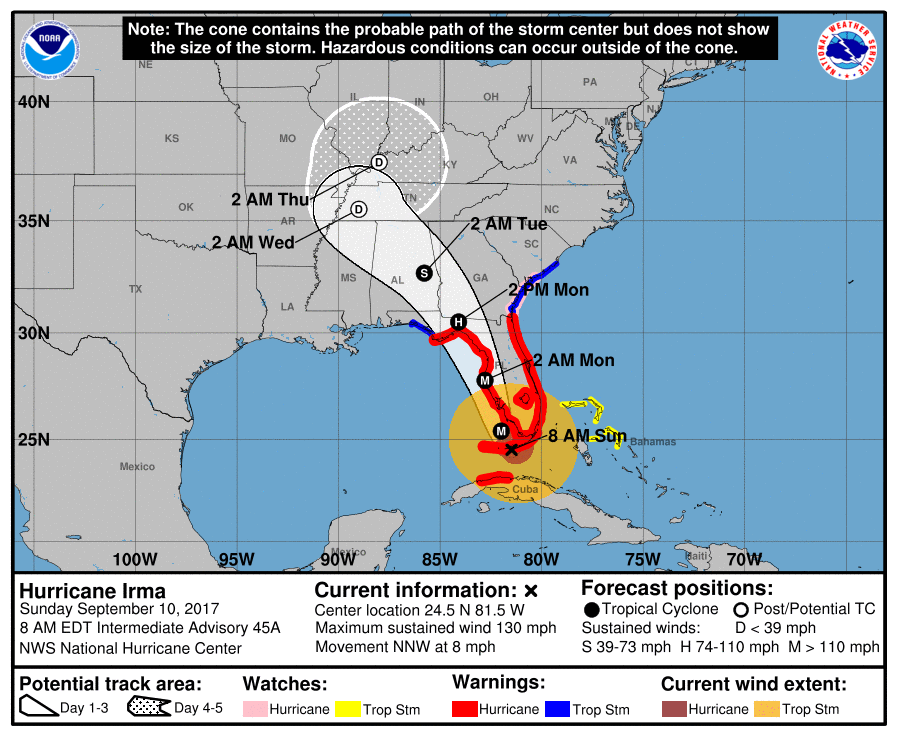 We remain inside the area where we can expect some tropical weather from Irma.
Before discussing impacts to us, don't get caught in the hype. Irma will be much worse in Florida, Georgia, and Alabama than it will be here. Irma will weaken significantly upon arrival in Tennessee.
Rain
Irma will ingest dry air as it enters Tennessee, shearing apart ability to produce flooding rains.
Check out the NAM3 model running through 1 PM Tuesday.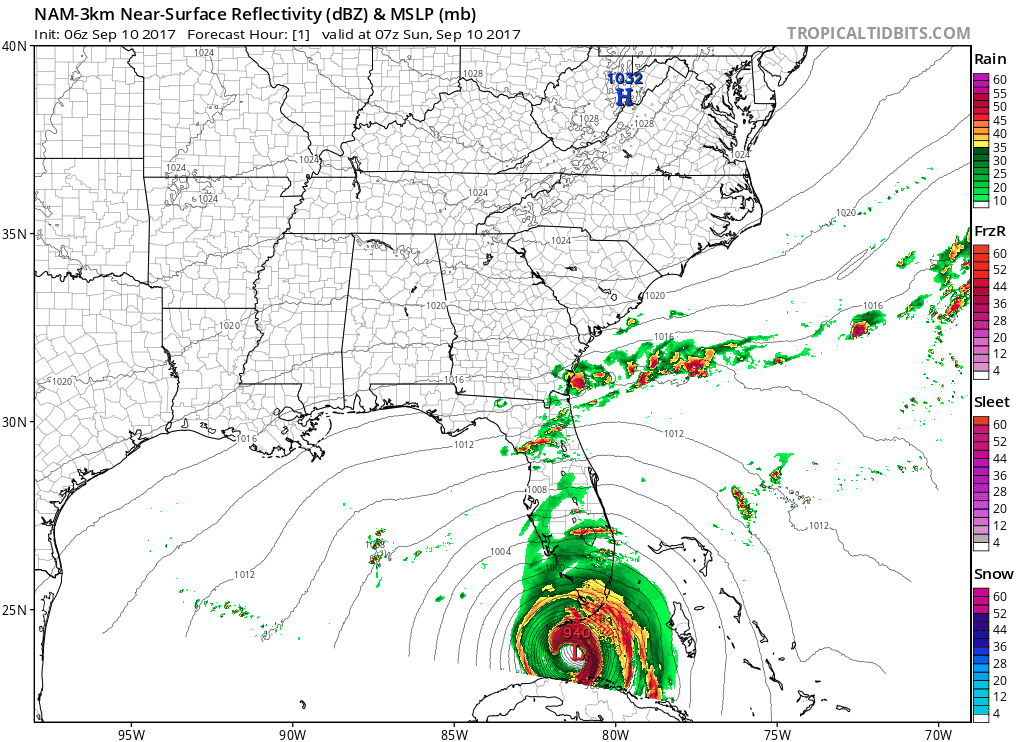 Irma's center is the Red "L." Notice how the reds and oranges (the heaviest rain) break apart as Irma moves into North Alabama and into Tennessee. This suggests Irma will be weakening.
We do not expect flooding rains like we saw with Harvey a few weeks ago.
Monday Night – Tuesday Morning
The rain ETA for us is sometime Monday night. The GFS and Euro models are still about 200 miles apart on the track Irma's center. The closer to the center, the better the rain chances. Currently the Euro model (which we prefer) has Irma's center closer to Memphis, but even if that ends up being right it still predicts about 1″ of rain. If other models which predict Irma to be closer to us are right, we will get a little more.
Rain should continue overnight Monday through Tuesday morning, dropping just under 1.5″ on us in a 6 hour period. We can handle this rainfall rate. Only localized flooding would be possible. Flash flooding would require rainfall rates of 3.1″ in Nashville and 4.1″ in Williamson Co over a six hour period. The current forecast is well under that.
We will watch the track of the low and update the flooding potential accordingly. However, we are not currently worried about flooding.
Tuesday Afternoon – Wednesday
By late Tuesday morning, rain should be decreasing with Irma's center expected to be to our west. Off and on rain chances will continue through the day Tuesday. Expect an additional 0.15″.
Thursday
Irma should have moved from West Tennessee into Kentucky, on its way northeast of us. Additional rainfall is possible, but it should be light. We expect rain chances to end Thursday night.
Winds
Winds will pick up Monday afternoon. By Monday evening, expect sustained winds in the low 20 MPH range, with gusts to 35 MPH. A gust to 45 MPH (tropical storm force) is possible Monday night and Tuesday morning, but I think those will be mostly southwest of us. Expect it to be windiest when it is rainiest (those maybe aren't real words, sorry Mrs. Rich, my 7th grade grammar teacher. Yes, she called it grammar. She was an excellent teacher).
Expect a Wind Advisory to be issued. A few power outages are possible. More details on that will be found in the text of the Wind Advisory, when it's issued likely later today.
After that, the winds won't be too bad. Expect sustained winds around 15 MPH or so, with gusts around 25 MPH, the rest of the day Tuesday until Irma leaves on Thursday.
Tornadoes?
Tornadoes are not even mentioned in the NWS-Nashville forecast discussion. The Storm Prediction Center has issued no tornado outlook for Middle Tennessee — they have the Carolinas and Georgia outlooked for tornado chances — but not us.
Friday & the Next Weekend Guess
Low 80°s, a little more humidity than we saw last weekend, but pretty good all things considered.
---