Summary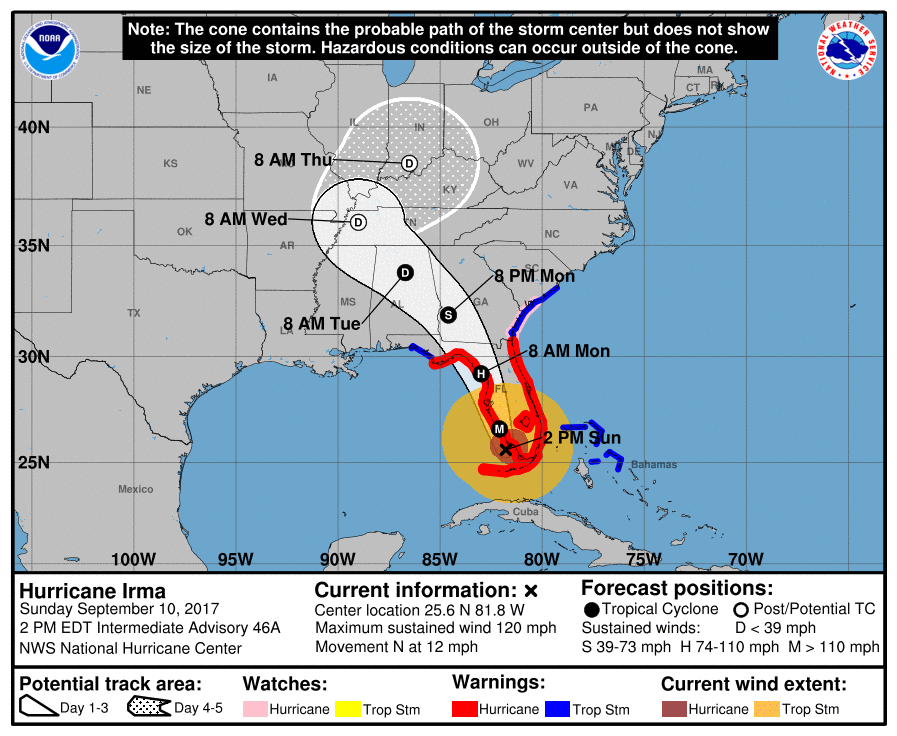 1.5″ to 2″ Monday afternoon through Thursday afternoon is most likely; most of it falling Monday night into Tuesday morning. Flash flooding cannot be ruled out, but it is not expected.
A Wind Advisory goes into effect Monday at 7 PM until Tuesday at 7 AM for winds 15 to 25 mph with gusts to 45 mph. Expect a few trees down, isolated power outages possible, and hazardous driving conditions.
Severe thunderstorms and tornadoes are not currently a concern.
This does not look like a repeat of Harvey, but stay connected to reliable weather information as this storm approaches.
Irma's Rain
Late Monday night, Irma's center will pass to our south.  See the red "L" below.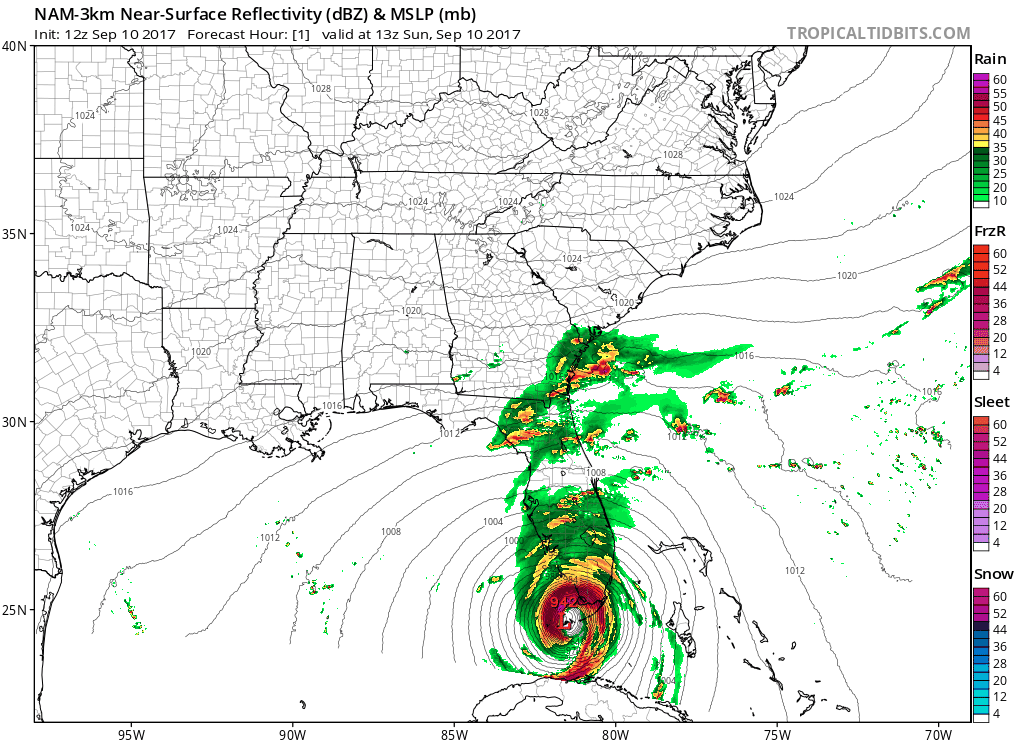 Irma is a large storm.  Before Irma's center crosses I-65 in Alabama, rain will approach from our southeast.
Light rain is expeected Monday afternoon. A better ETA should arrive tonight; we'll be tweeting about it @NashSevereWx.
Heavier rain is expected Monday night, continuing overnight into Tuesday's early morning hours.
Look for 1.34″ from Monday night at 7 PM through Tuesday morning at 7 AM. Flash flooding would be a concern if we were get 3.5″ in 12 hours in Davidson Co, 5.0″ in 12 hours in Williamson Co. The most likely scenario expects less than half that.
Rainfall rates should decrease during the day Tuesday, when steadier rain will transition to off and on rain, with about 0.25″ total from 7 AM Tuesday to 7 AM Wednesday.
This does not look like a repeat of Harvey's visit to Tennessee. "It appears that the deepest moisture will stay to the south and west of Middle Tennessee as the low center just clips our SW corner (or misses us altogether), and the circulation then pulls drier air into Middle Tennessee." NWS-Nashville Afternoon Forecast Discussion.
Rain is expected to end sometime Thursday, probably Thursday night.
Irma-related rainfall totals range between 1.5″ and 2″. This is the most likely scenario, with most of the rain falling Monday night into Tuesday morning.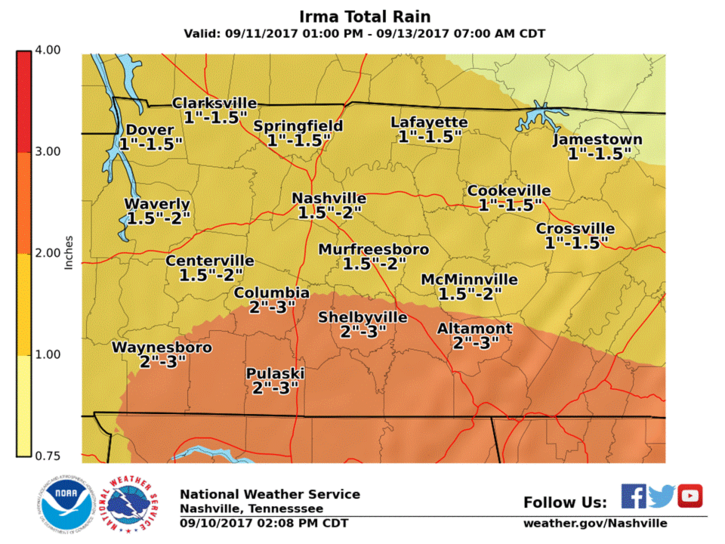 The best case scenario involves rain totaling under 1″. The worst-case scenario involves 2″ to 3″ of rain.
Flash flooding would be a concern only if we hit that "worst case scenario" and most of the rain comes within a 6 hour period.
WPC has us in a 2% to 5% risk of enough rainfall to qualify us for flash flooding Monday night into Tuesday morning: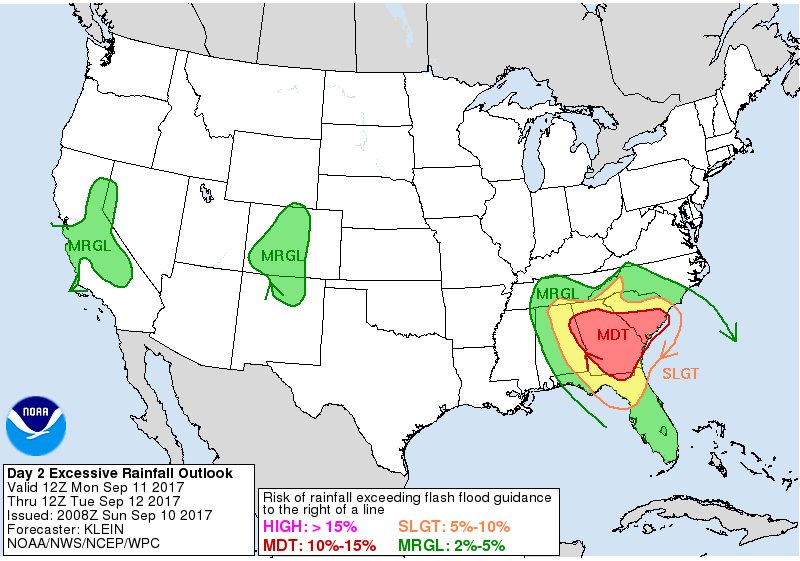 Irma's Winds
The strongest winds will happen during the heaviest rain.
NWS has issued a Wind Advisory from 7 PM Monday through 7 AM Tuesday.
"Even though Irma will weaken to a tropical depression before approaching Middle Tennessee, winds of 15 to 25 mph with gusts to 45 mph can be expected across a large portion of Middle Tennessee." NWS-Nashville.
These winds may blow down a few trees and scatter limbs. Isolated power outages are also possible. Driving will be difficult, especially because it'll be dark and raining hard when the winds are strongest. High profile vehicles are most vulnerable.
Winds should be relax to 10-15 MPH, with occasional gusts 20+ MPH, for the rest of the day Tuesday and Wednesday.
Severe Thunderstorms/Tornadoes
Irma will encounter dry air and very little instability. NWS-Nashville doesn't even have thunderstorms in the forecast. Just rain. The Storm Prediction Center agrees. They don't even have us outlooked for general thunderstorms, so the risk of severe storms & tornadoes remains as low as it can be without it being no risk at all.
Friday & the Next Weekend Guess
Mid 80°s, rising humidity, but not bad. Too far away to say, but rain is not in the weekend forecast.
---