---

It May Rain and Storm Overnight
We aren't sure when it'll start.
Chances begin around 3 AM, or . . . around 10 AM . . . or sometime in between.  Models disagree!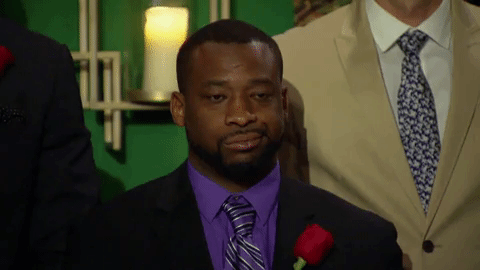 (1)  The NAM3 model thinks 3 AM. Here it is coming down I-24 tonight: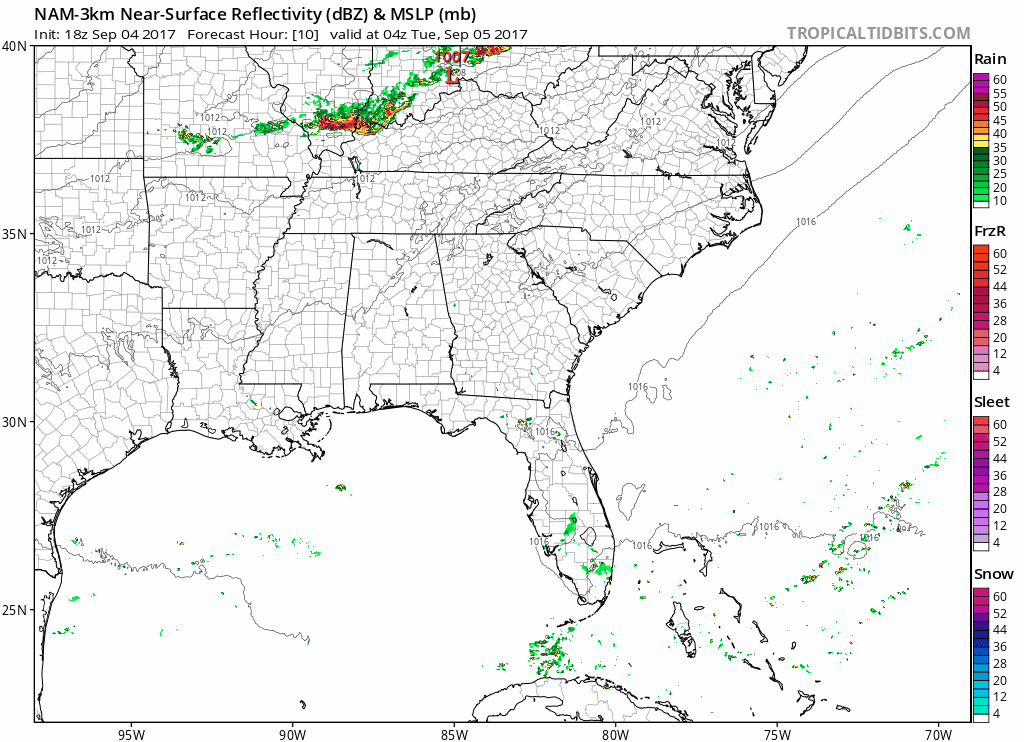 NAM3 model ETA is 3 AM or so Tuesday morning.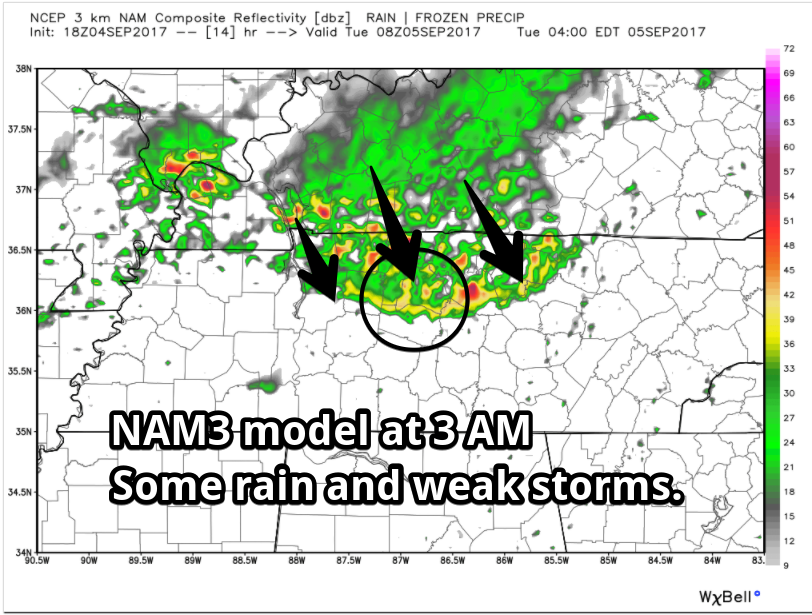 (2)  The HRRR model disagrees.
It thinks 3 AM rain and storms will miss us . . .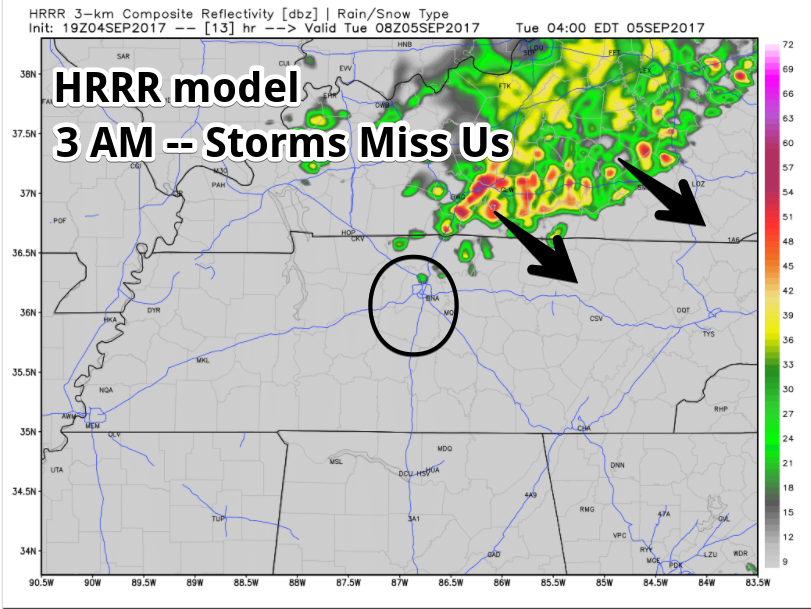 . . . only for another line of rain to form and show up around 10 AM or so.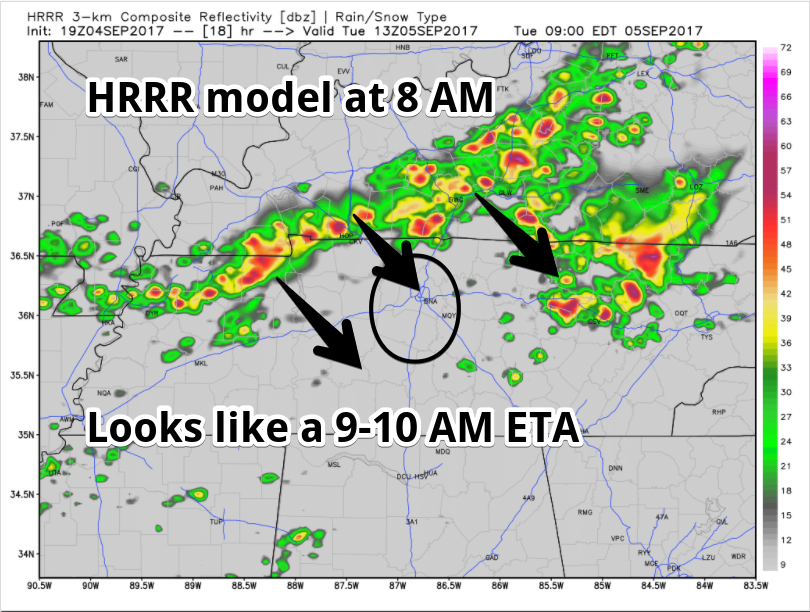 Except that now, the latest HRRR run has rain slamming into the middle of the morning commute, around 6-7 AM: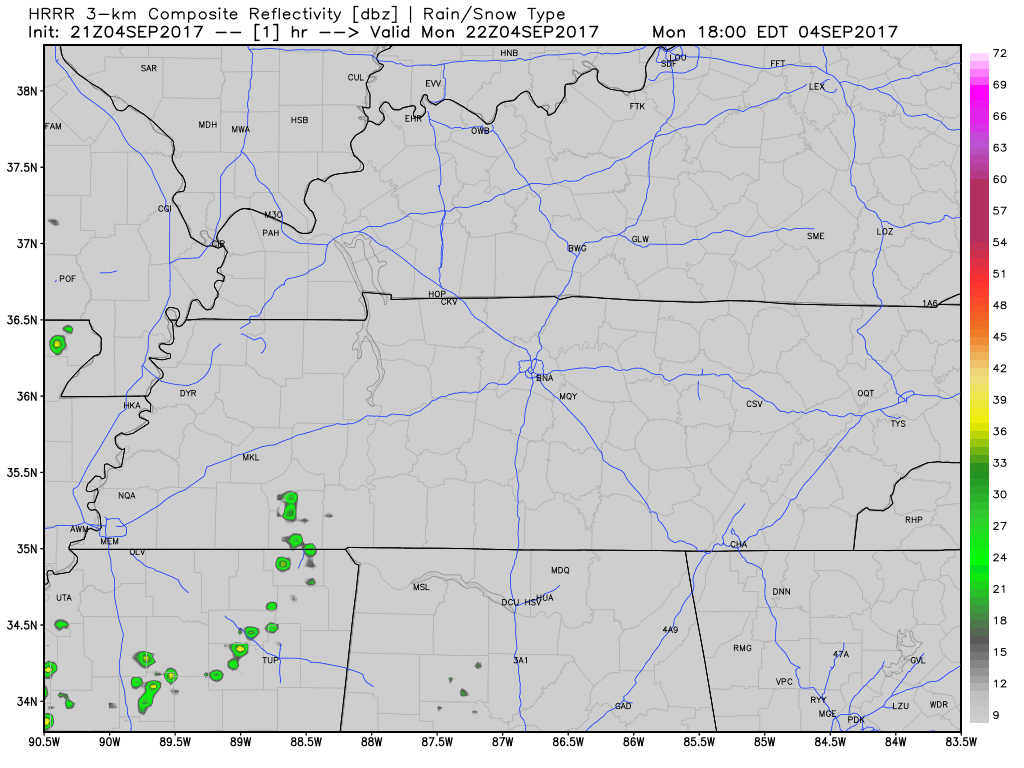 Tonight, we will update the ETA a few more time on Twitter @NashSevereWx as new data arrives.
Severe thunderstorms are not expected, but thunder/lightning is possible.
A cold front will arrive Tuesday afternoon. After the front, around late Tuesday afternoon/early evening, more light rain showers are possible.
WPC puts our risk of excessive rainfall leading to flash flooding Tuesday morning at 2% to 5%.
Expect anywhere from 0.3″ to 0.75″, enough to rainout most fields.
Cold Front Does Its Thing (you know, it makes it colder)
Humidity and temps will fall Wednesday. This will set us up for an outstanding fall-like end to the week weekend, mid 70°s, no rain, missing humidity. Temps will range from 10° to 15° below normal.
About Irma
This afernoon, Irma is a Category 4 (major) hurricane with sustained winds of 130 MPH.
Irma might impact our weather in about a week.
This afternoon's forecast discussion from NWS-Nashville included this about Irma:
Our next weather maker may very well be Irma, however forecasts are pretty uncertain as we head into next week. The Euro and GFS [weather models] are more in [agreement] this afternoon with IRMA making its way up the Atlantic Coast just off Florida`s coastline Sunday and Monday and then bringing it onshore in SC on Tuesday.
Below are Euro model ensemble tracks. These are called spaghetti tracks because they look like spaghetti. Each piece of pasta is one prediction of Irma inside the model.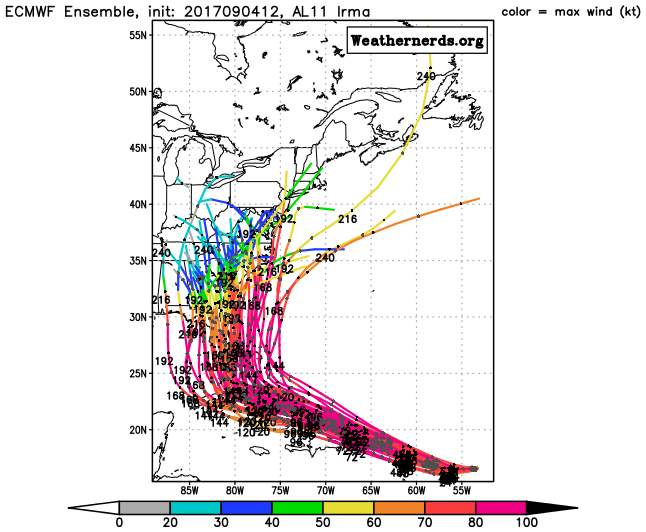 GEFS ensemble model tracks: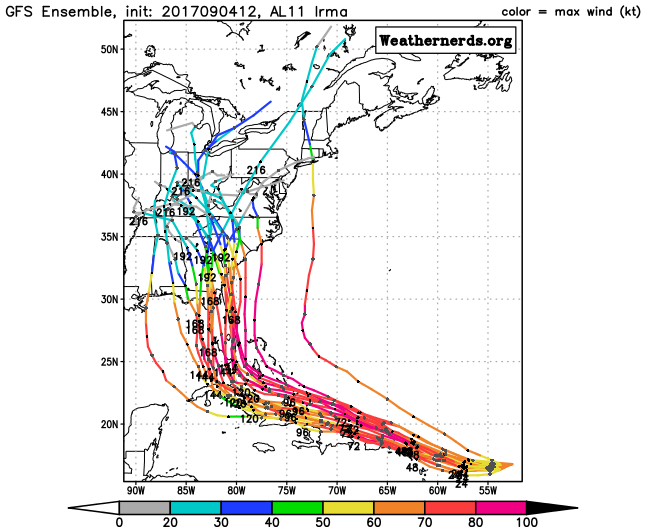 A lot can change with this forecast, including Irma's speed, size, location, and intensity. Follow multiple reliable sources for severe weather information. Who knows? The GFS model may even be right.
This afternoon, NWS-Nashville wrote about how Irma might impact our forecast: Right now it looks like we could see some showers and maybe a few thunderstorms for our eastern counties next Monday night. This is at the very end of the forecast package, so I`m not spending any more time guessing what will happen. We`ll have to wait for more model runs to make sense of it.
"Eastern counties" do not include us. Irma wouldn't be a big deal here. If it got here, mostly just rain.
---