Monday (Labor Day) will be fantastic, even with dewpoints in the mid 60°s bringing sticky and uncomfortable humidity.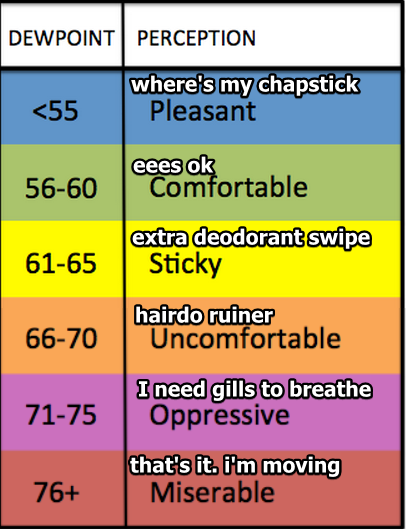 Rain & Storms Tuesday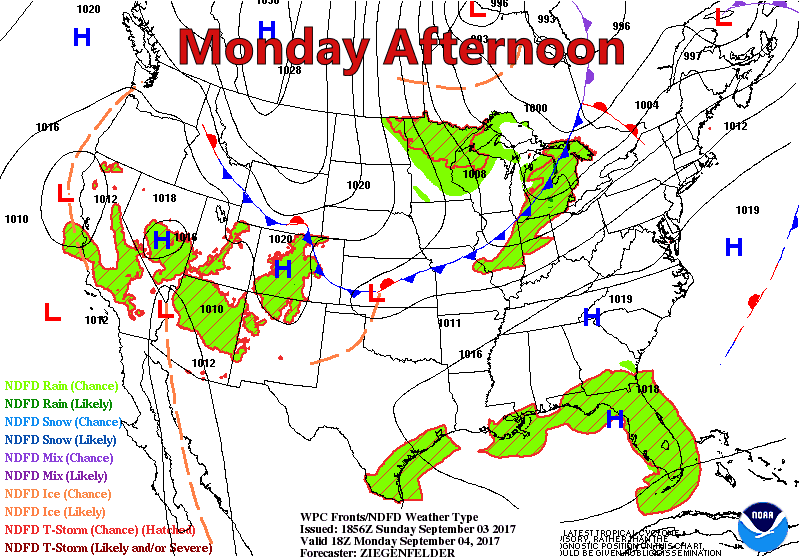 Rain should last most of Tuesday, clearing out Tuesday night. Most outdoor sports will suffer a rainout if we get 0.58″ (up from this morning's 0.36″).
The Weather Prediction Center thinks there is a 2% to 5% risk of excessive rainfall Tuesday morning. Our soil is saturated and can't take that much more water, but the flash flood danger is very low.
This does not look like a repeat of last Thursday night with Harvey.
Then We Cool Off…A Lot
Tuesday's cold front destroy high humidity. Wednesday will feel great.
Temps Thursday and Friday mornings will flirt with record low temperatures (low 50°s!!!!), with temps 10° to 12° below normal.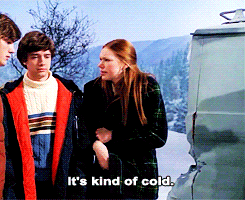 This will set us up for an outstanding fall-like weekend, mid 70°s, low chance of rain, and comfy humidity.
About Irma
NWS-Nashville wrote this afternoon…we are continuing to monitor the latest trends in guidance with regards to the track of Hurricane Irma. Currently we expect no significant impacts on weather for our area heading into early next week.
Irma is currently a Category 3 hurricane with max sustained winds of 115 MPH.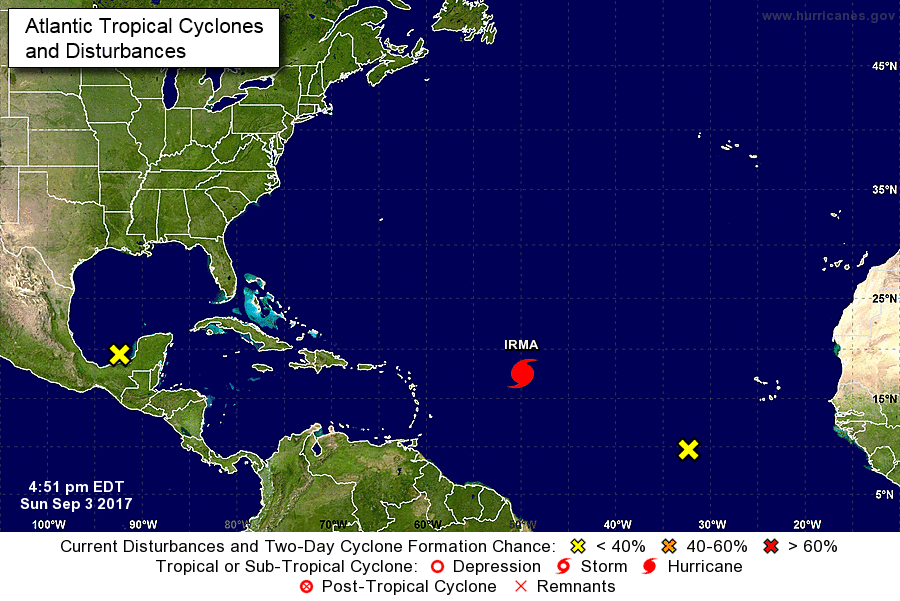 In five days, Irma's center is expected to be somewhere in the shaded area, not necessarily where that "M" is.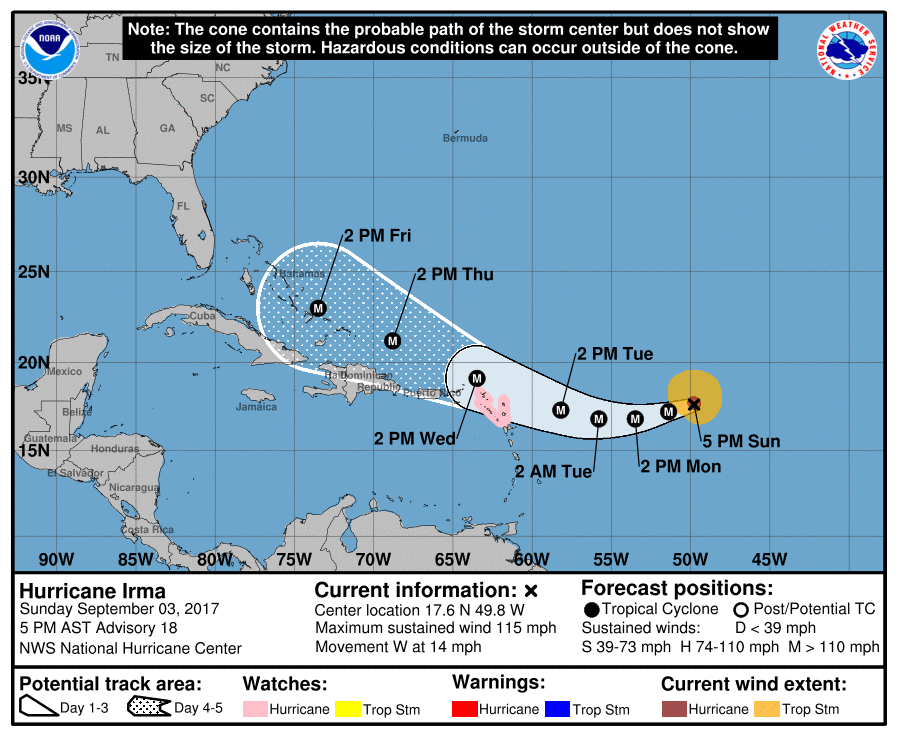 That shaded area is called the "Cone of Uncertainty" for a reason. Because "Uncertainty." Think about what this graphic is saying: in 5 days, the National Hurricane Center thinks Irma will be "somewhere around this shaded area," with a margin of error of several hundred miles. It's not a forecast of an exact position. Instead, it's a summary of data of several model runs from several different supercomputers, all of which have a different "solution" to Irma's path.
Weather models struggle accurately predicting a hurricane's path more than 5 days away. If you're going to look at model data predicting more than 5 days away, don't just take one run of one model and say "that's where it's going." Instead, use the ensemble approach — get many opinions and look for a consensus.
For example….
Here's an example of one run of one model you should avoid when on Twitter and Facebook this week. These are called "deterministic" models. Let's use the deterministic model run, today's 6z GFS: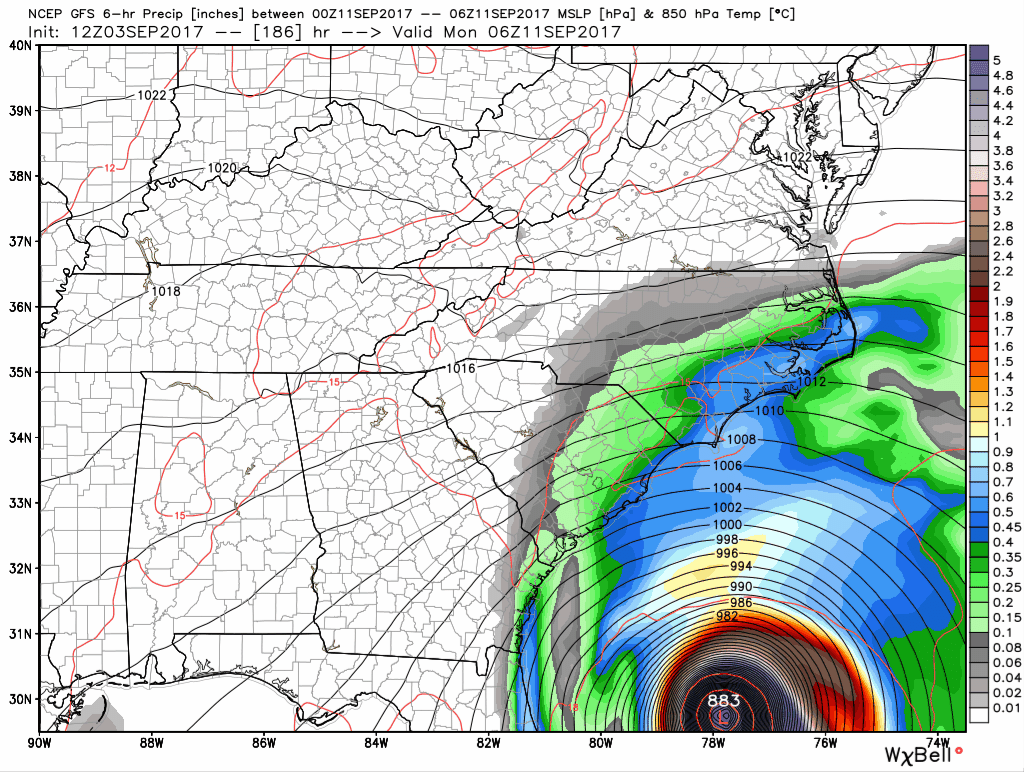 Without appropriate context, you could reasonably conclude the only idea about Irma's path is that it's going to make landfall at the South Carolina/North Carolina border as a major hurricane on September 11. It may, but this is only one possible solution. It may have the path, strength, and timing very, very wrong.
You get all possible solutions when you use the ensemble approach. Here's the GFS "ensemble." Check out many other places this model group thinks Irma could go, from the Florida Panhandle to DelMarVa: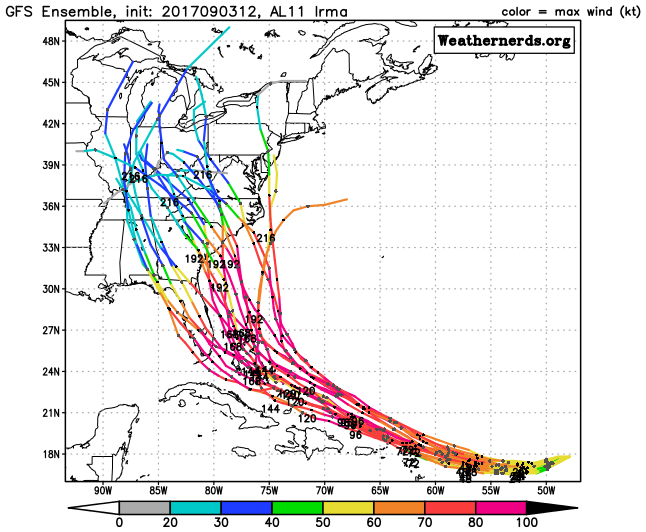 And then there is the European ensemble, which has landfall anywhere from the northern Gulf of Mexico to no landfall at all, curving away from the Atlantic seaboard and becoming a "fish."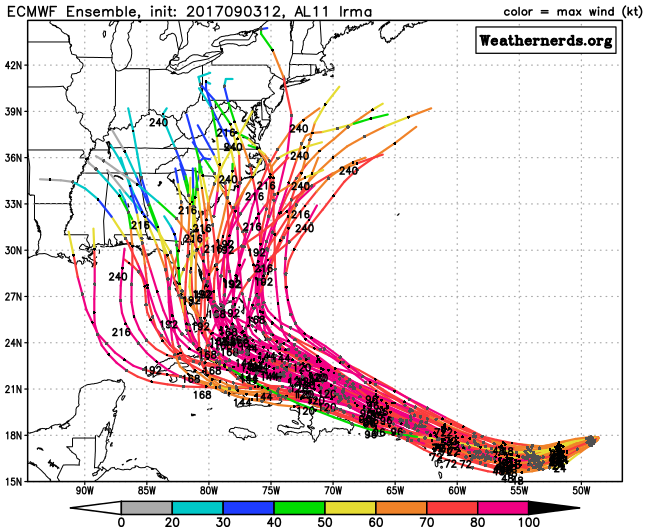 Don't get fooled by deterministic model graphics. Use ensembles. Avoid incomplete info.
---