Early morning fog has formed around water. Fog will mix out soon as the sun does its thing, revealing a great day.
A great two days, actually. Sunday (Live on the Green) and Monday (Labor Day) will be fantastic, except for humidity rocketing back up. Dewpoints in the mid/upper 60°s today and tomorrow mean uncomfortable, hairdo ruining humidity.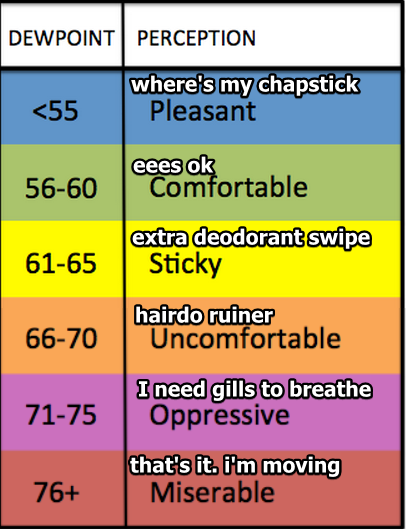 Rain & Storms Tuesday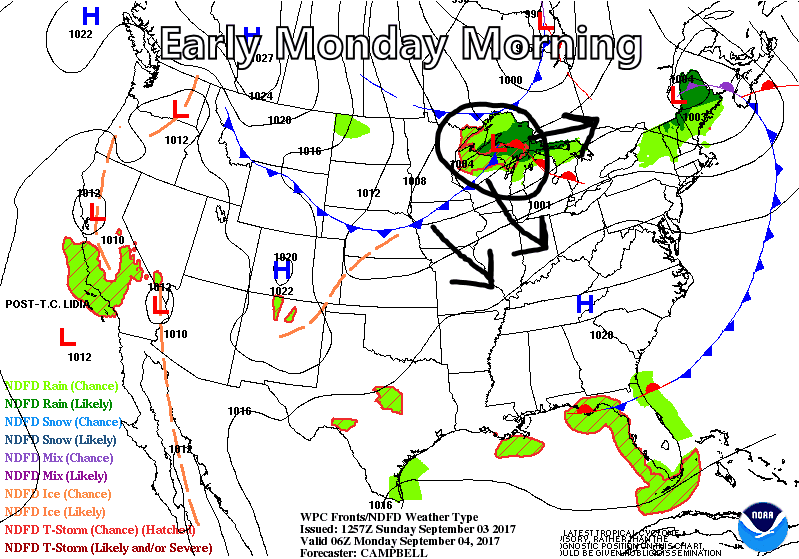 An upper midwest cold front arrives Tuesday, bringing us rain and thunderstorms beginning Tuesday morning.
I circled the red "L" above — that's the storm's severe weather/shenanigan-making parent — which is going to Maine for this storm. For us, even though scattered thunderstorms are expected, severe weather is not a concern.
Rain should last most of Tuesday, clearing out Tuesday night. Most outdoor sports will suffer a rainout if the 0.36″ forecast happens.
The Weather Prediction Center thinks there is a 2% to 5% risk of excessive rainfall. This is mostly a function of saturated soil, and the small chance heavy rain could stall over the area.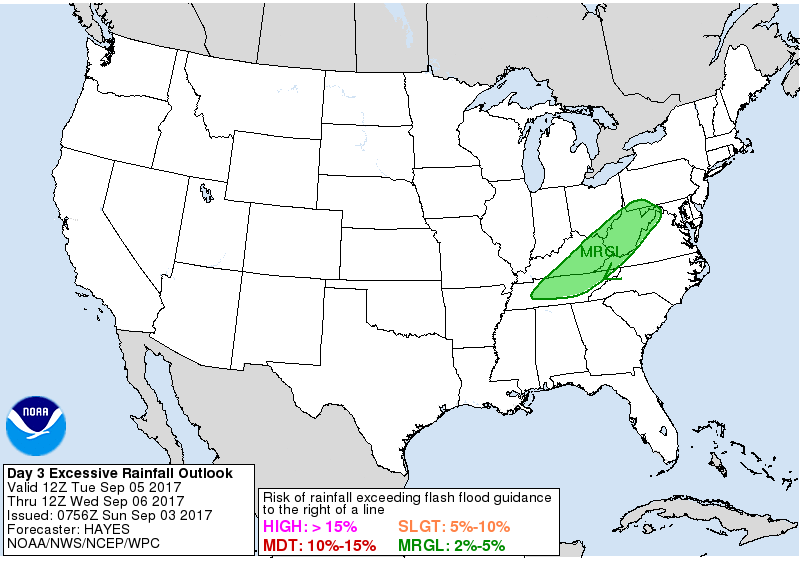 This does not look like a repeat of last Thursday night with Harvey.
Then We Cool Off…A Lot
Tuesday's cold front will scour out high dewpoints. Humidity will plummet beginning Wednesday.
Temps Thursday and Friday mornings will flirt with record low temperatures (low 50°s!!!!), with all temps 10° to 12° below normal.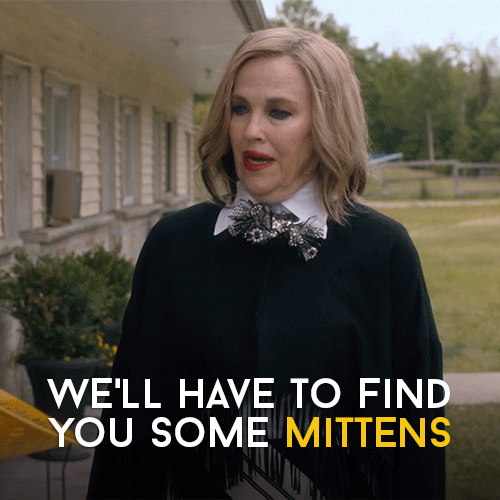 This will set us up for an outstanding fall-like weekend, mid 70°s, low chance of rain, comfy humidity, unless Irma…
About Irma
This morning, NWS-Nashville wrote that toward the end of this week…
…we`ll have to really start turning our attention to the Atlantic hurricane basin and what Irma will end up doing. Models are still very erratic however, both the GFS and Euro have been showing landfall on the east coast for a couple of days now. What happens after that is a toss up at this point, but we very likely would end up in the subsidence area outside the storm and remain dry for several days. Will illustrate that with the end-of-the-forecast probability of precipitation and show a completely dry forecast after Wednesday morning.
Let's grab perspective.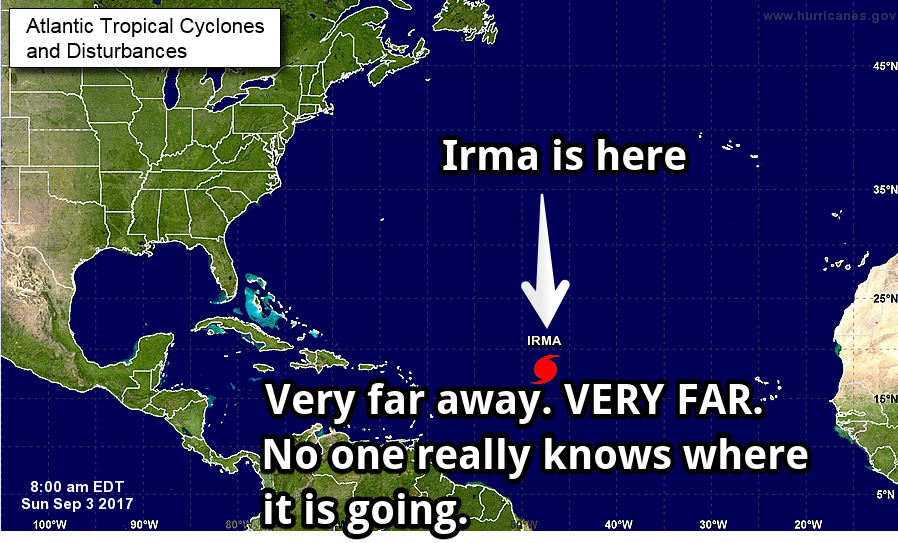 In five days, Irma's center is expected to be somewhere in the shaded area, not necessarily where that "M" is.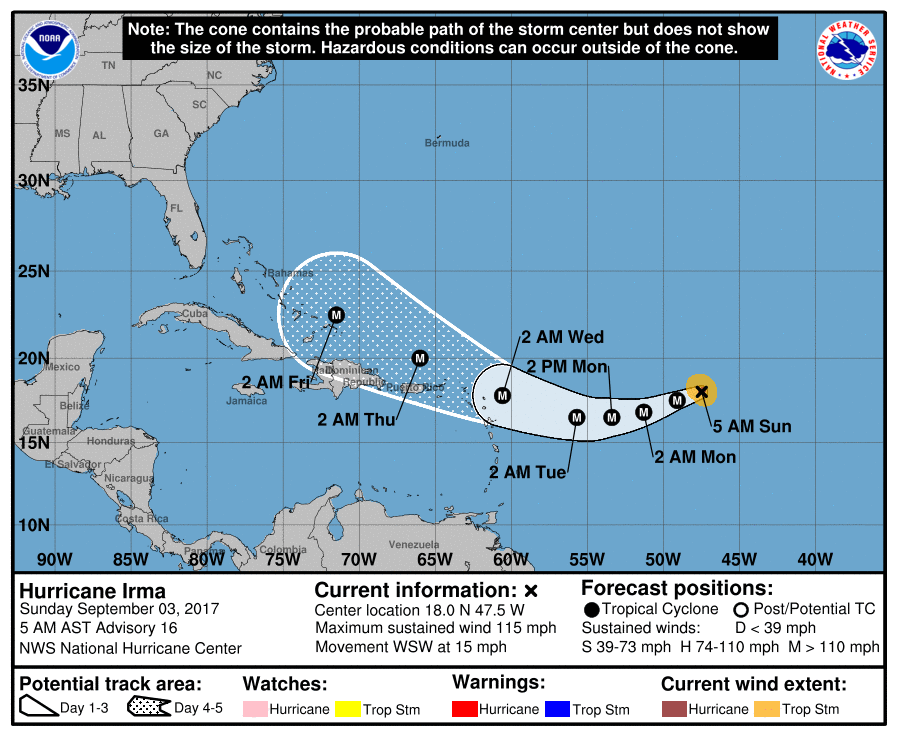 That shaded area is called the "Cone of Uncertainty" for a reason. Because "Uncertainty." Think about what this graphic is saying: in 5 days, the National Hurricane Center thinks Irma will be "somewhere around this shaded area," with a margin of error of several hundred miles. It's not a forecast of an exact position. Instead, it's a summary of data of several model runs from several different supercomputers, all of which have a different "solution" to Irma's path.
Weather models struggle accurately predicting a hurricane's path more than 5 days away. If you're going to look at model data predicting more than 5 days away, don't just take one run of one model and say "that's where it's going." Instead, use the ensemble approach — get many opinions and look for a consensus.
For example….
Here's an example of one run of one model you should avoid when on Twitter and Facebook this week. These are called "deterministic" models. Let's use the deterministic model run, today's 6z GFS: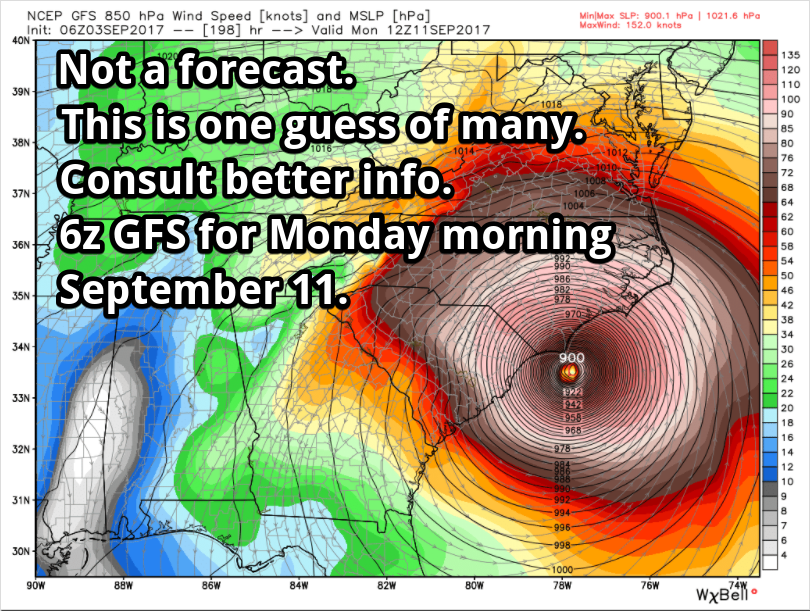 Without appropriate education, one may reasonably conclude Irma's going to make landfall in North Carolina as a major hurricane on September 11. It may, but this is only one possible solution.
You get all possible solutions when you use the ensemble approach. Here's the GEFS "ensemble." Check out many other places this model group thinks Irma could go, from Miami to NYC: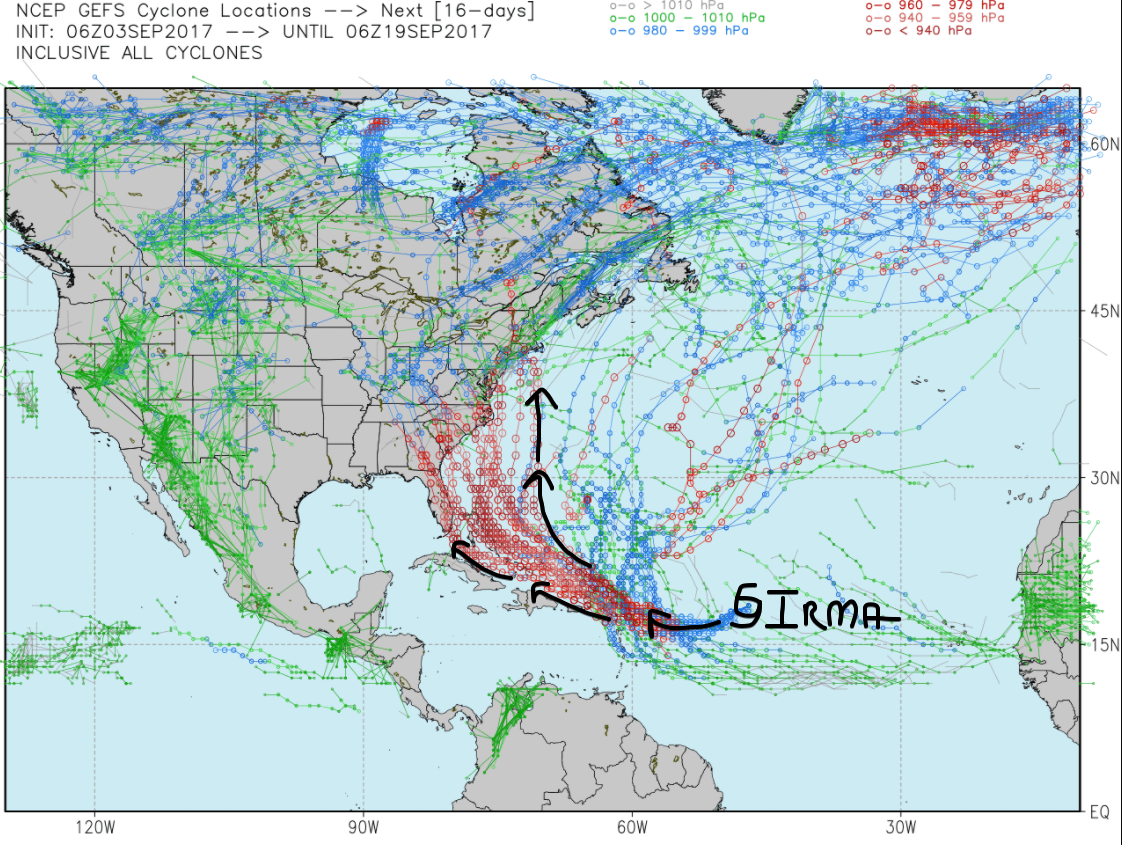 And then there is the European ensemble, which has landfall anywhere from the northern Gulf of Mexico to no landfall at all, curving away from the Atlantic seaboard and becoming a "fish."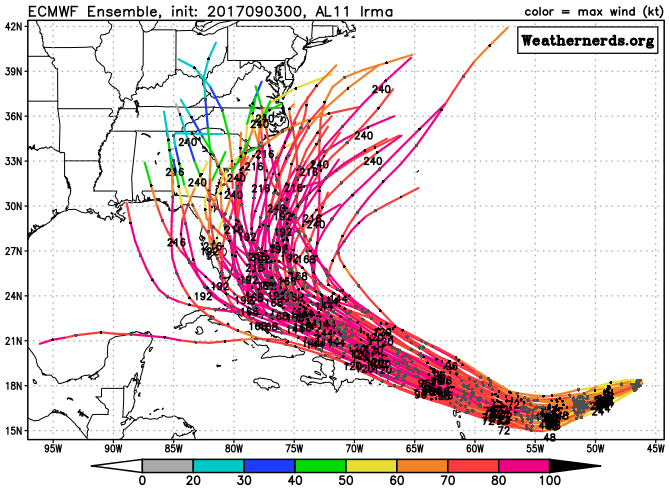 Don't get fooled by deterministic model graphics. Use ensembles. Avoid incomplete info.
Last 16-GFS forecasts of Hurricane #Irma continue to progress West demonstrating futility of focusing on early single deterministic runs pic.twitter.com/6OaIW402B5

— Ryan Maue (@RyanMaue) September 3, 2017
So, what does all this mean for us?
If Irma makes landfall on the east coast late next weekend/early next week, we will experience sinking air around the outside of Irma, which should keep us dry. However, if Irma steams ashore and keeps coming, we may see some rain from it, but right now that looks unlikely.
Bottom line: be wary of those who misuse model data predicting 5+ days away. Irma is unlikely to do what Harvey did to us. But we don't really know right now.
---