Periscope from 4 pm Detailing Latest Thinking on Rain/Storms
Harvey's Rain and Storm (low tornado) Potential Tonight. Review and discussion. https://t.co/Fo8v6jqeu2

— NashSevereWx (@NashSevereWx) August 31, 2017

---
Harping On Harvey – Scattered Showers Turn Into Steady Rain By Evening
Last night, the National Hurricane Center officially wrote its last advisory on ex-Hurricane Harvey: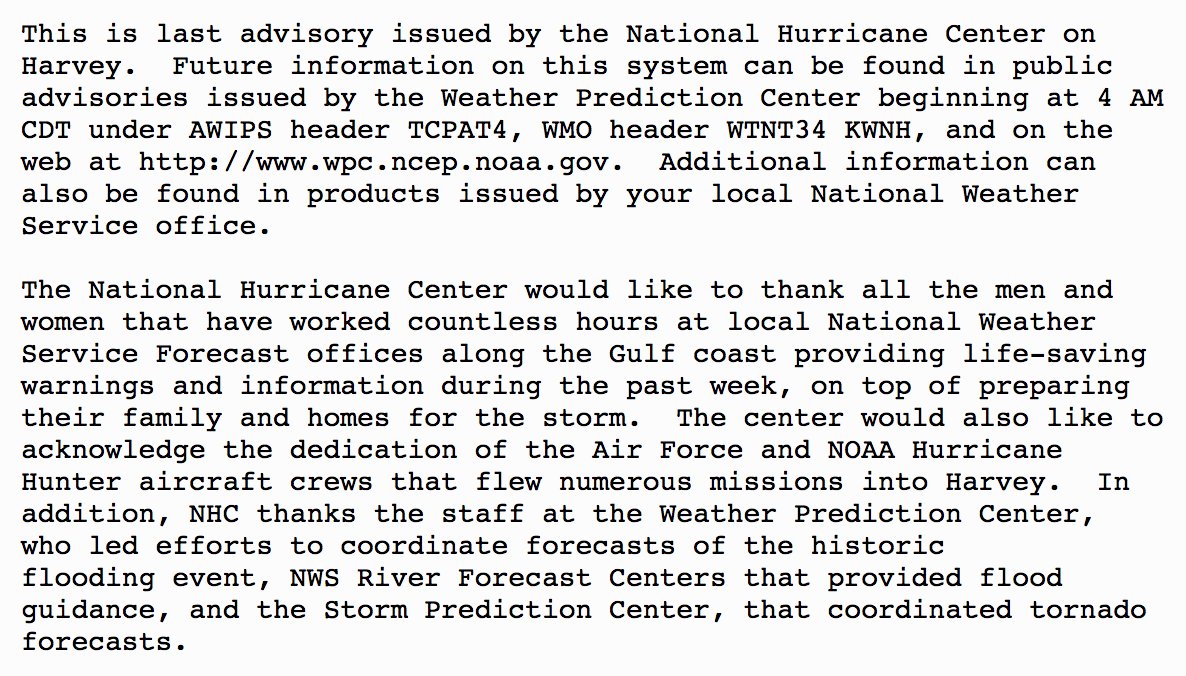 So now, we deal with the rainfall and (potential) severe weather threat that the system brings over the next couple of days.
Today
Expect a lot of dry time. Scattered showers are possible during the daylight hours, but the "main rain event" is not anticipated to arrive until around the PM commute or a little after (6-8PM). The latest HRRR model shows this scenario quite well:
Latest Regional HRRR Loop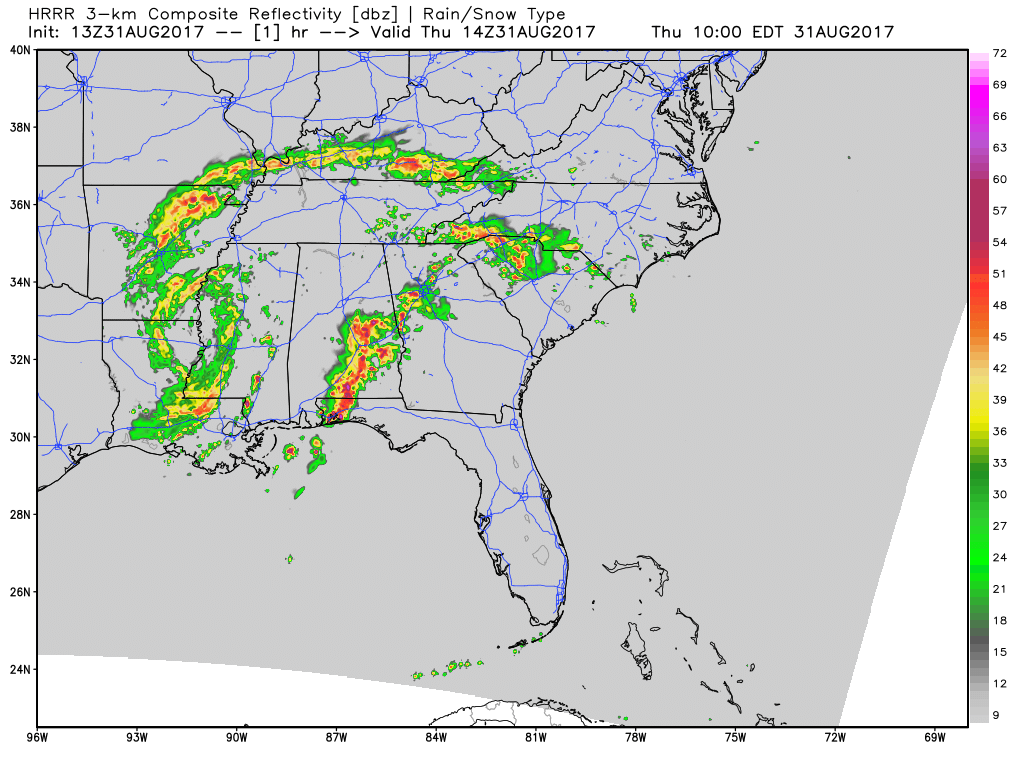 Latest Local HRRR Loop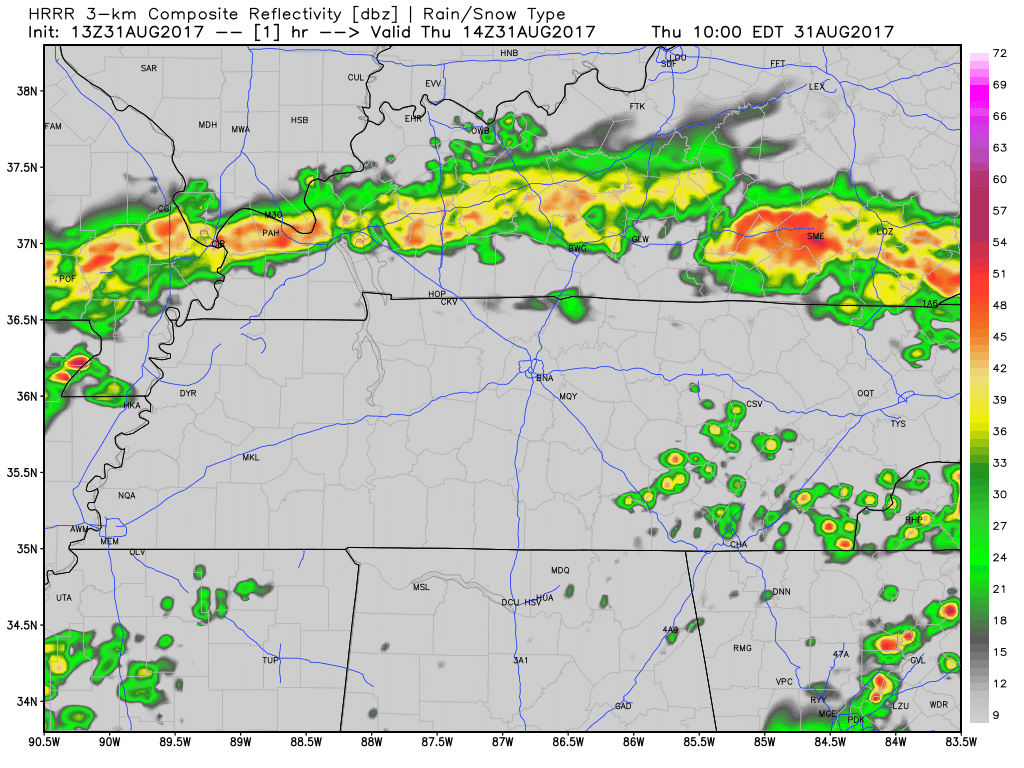 There are two main concerns with this dominant wave of energy: severe weather and flooding potential.
Severe Weather Threat
SPC Day 1 Convective Outlook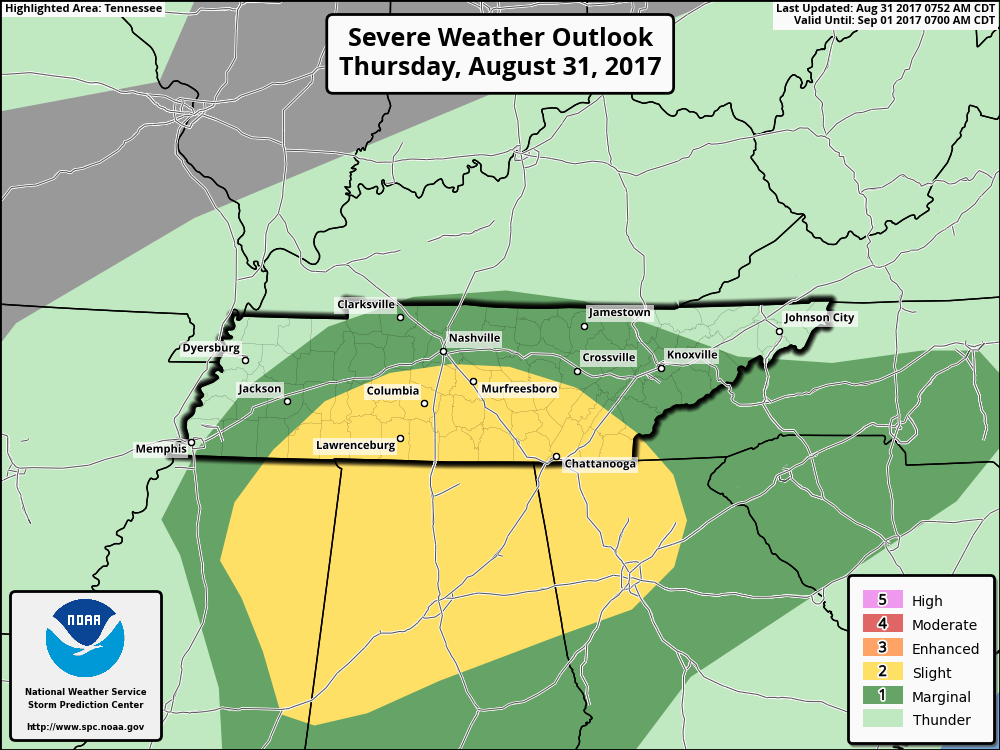 This morning, the SPC pulled the "Slight Risk" south, away from Davidson County. In all reality, this is a very minor shift because storms do not pay attention to lines drawn on maps. However, there is good reason for it…
The latest forecast soundings out of the NAM3 Model show decent helicity (spin) values for the Nashville Metro around 7PM. In addition, model forecasts further down I-65 from Williamson County and points south, show higher "spin" values. With the better dynamics south of Nashville, it's likely why the SPC took downtown out of the "Slight Risk". Nevertheless…
Isolated tornadoes are possible, particularly south of I-40 this evening. With our geographic location on the east side of Harvey's remnants, this is not an uncommon threat. Stay tuned to @NashSevereWx and your favorite media outlets for any misbehaving storms tonight.
Flash Flooding Threat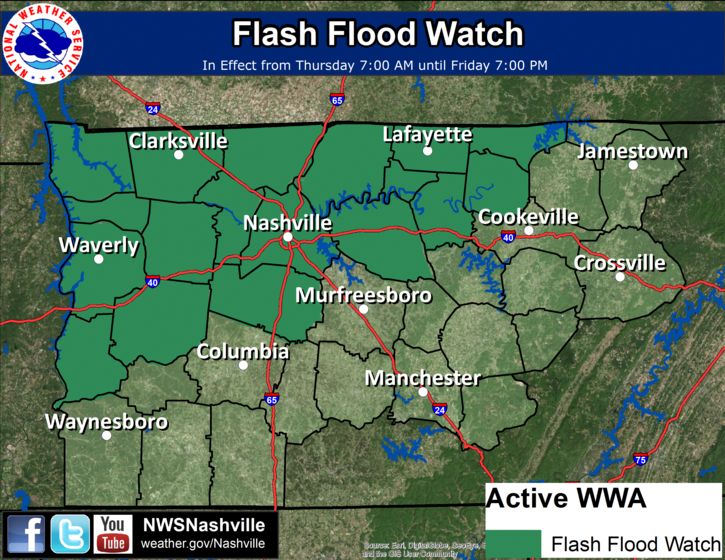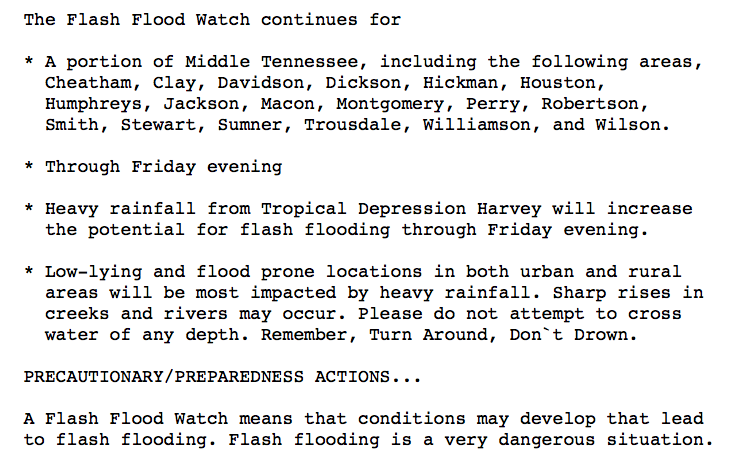 Quite a sum of rainfall is forecast for Davidson/Williamson Counties over the next 24 hours…and look at our neighbors to the west and northwest. Yikes!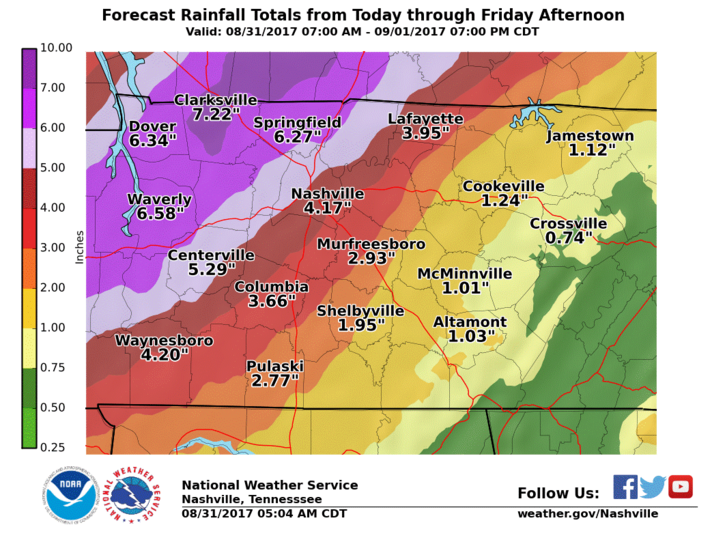 We cannot reiterate enough – do not drive into flooded roadways!
Live on the Green Forecast – Thursday Through Saturday

Tonight…Storms expected around showtime. Bring the umbrella/poncho. Severe weather and heavy rainfall possible. Winds could also gust upwards of 20 mph. Stay tuned to @NashSevereWx and local media outlets. See detailed forecast above for more information.
Temperatures will be in the mid to upper 70s.
Friday Night…Showers likely, but slowly tapering off during the evening. Winds could gust up to 25 mph. Temperatures will be in the mid to upper 60s…brr!
Saturday…Slight chance of a rain shower, not for everyone, though (isolated). Temperatures in the mid 70s, dropping into the 60s by 9PM.
The Weekend and Labor Day – Drying Out
Saturday, as mentioned, could still bring a few spot showers. Another gloomy day with temperatures in the 70s. Sunday is definitely the pick day of the weekend. Sunshine and temperatures in the low to mid 80s will finally provide good outdoor activity conditions!
Labor Day will also be awesome. Sunshine and an official high of 86ºF.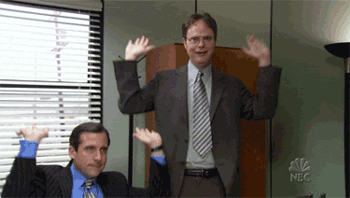 ---