---
Remnants of Harvey Will Bring Showers Our Way for the Rest of the Week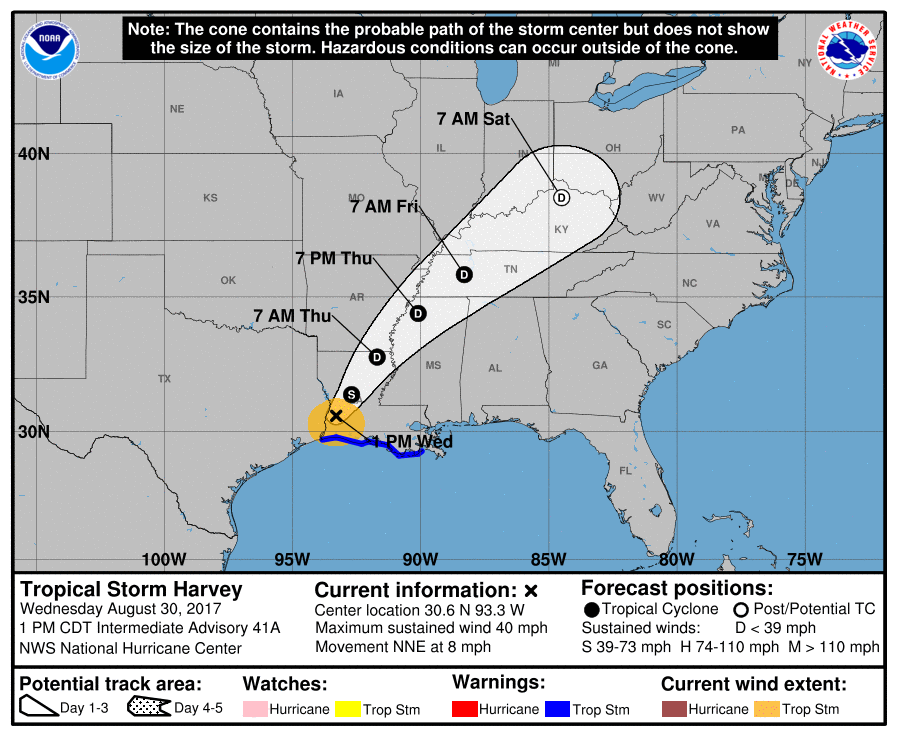 Harvey's rain is arriving.
Current rain is just the beginning. Most of it (the "bulk" of it) will begin late tonight, heaviest rain for entire event ETA Thurs night. pic.twitter.com/dEr31qhoKP

— NashSevereWx (@NashSevereWx) August 30, 2017
Most of the rain of the "first wave" is expected late Wednesday night into the early Thursday morning hours. The HRRR model illustrates: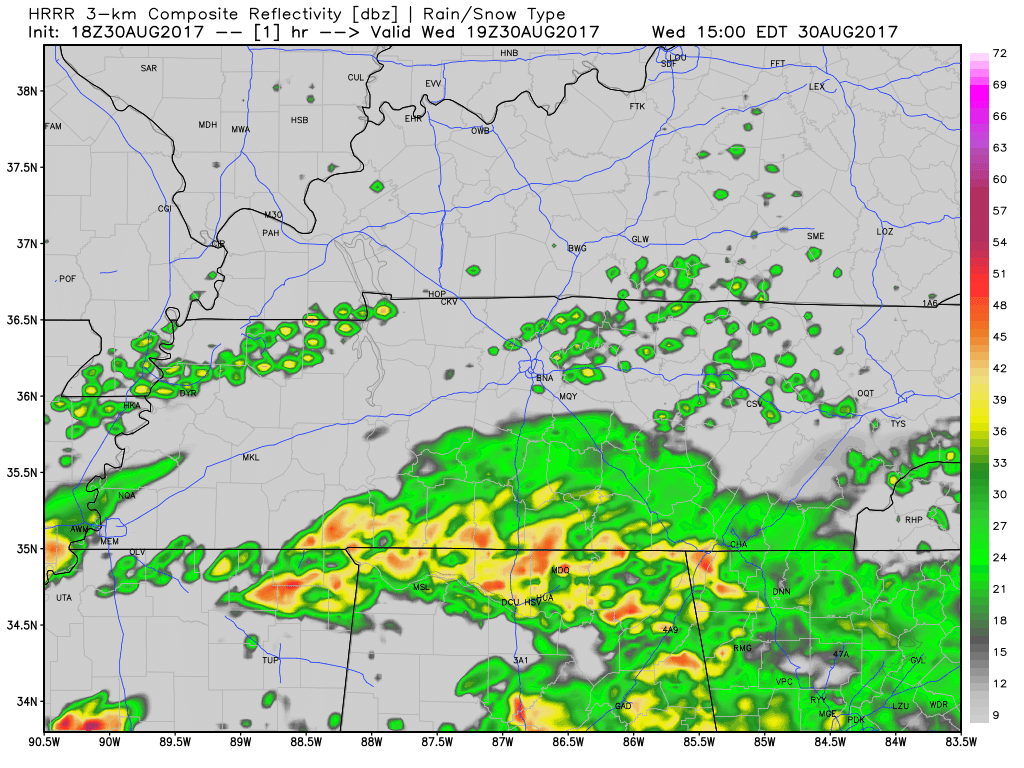 Tonight's rain should be relatively light, but persistent.
Heavier rain is expected overnight as a "first wave" lasting into the AM commute.
We could see a few thunderstorms in the mix today/tonight, but no severe weather is expected.
Thursday at 7 AM, our Flash Flood Watch begins. It expires 7 PM Friday.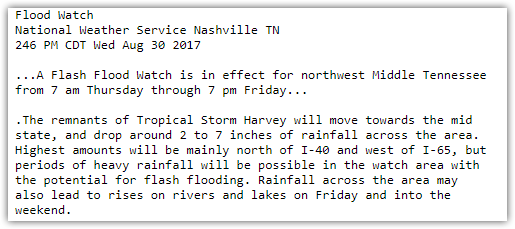 Both Davidson & Williamson Counties are included in the Flash Flood Watch: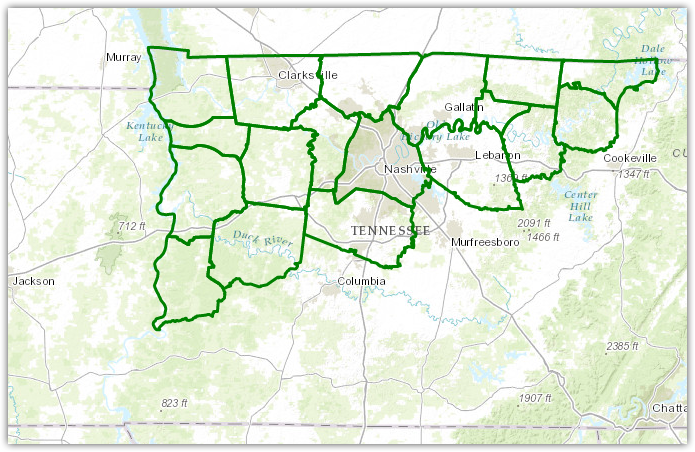 After Thursday morning rain, most models show a break in the rain, where we are rain free most of the day. I'm skeptical we will be totally dry during daylight hours Thursday, and so is NWS-Nashville, which thinks rain is "likely" during the day.
We then await the "second wave" of rain.
Second Wave Thursday Night/Friday Morning Could Bring Heavy Rainfall and Thunderstorms
Sometime Thursday night, the center of what's left of Harvey (look for the red "L" below) will streak through Middle Tennessee.
This is when the heaviest rain will happen. We don't know exactly when Thursday night it will start. Some models hold it off until late Thursday night. Plan for rain Thursday night, but expect the heaviest rain to arrive late Thursday night and continue into Friday morning.
Not only will heavy rainfall bring chances of localized flash flooding, but we also could see a few strong to severe thunderstorms with isolated tornadoes being possible. The current probability of a tornado within 25 miles of you is 5%. Tropical system tornadoes are usually isolated, weak, and brief.
SPC Day 2 Outlook: Marginal Risk (10% Probability of severe weather within 25 miles of your location)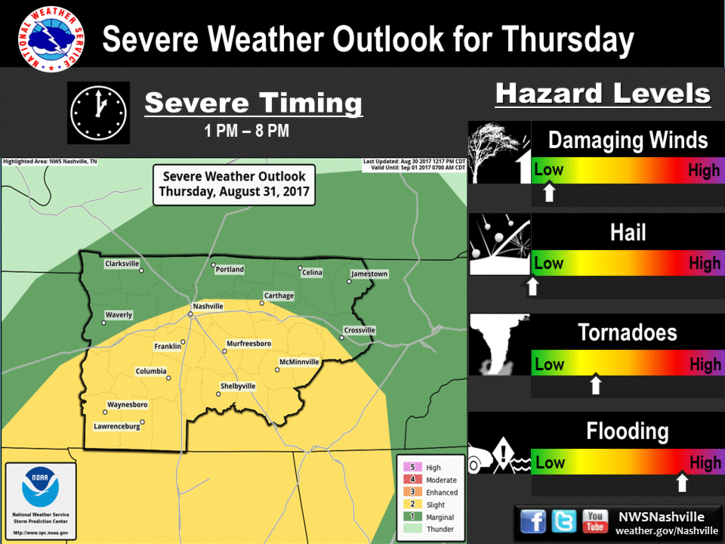 In addition to this marginal risk of severe weather comes flooding potential.
WPC Day 2 Excessive Rainfall – Slight Risk for Thursday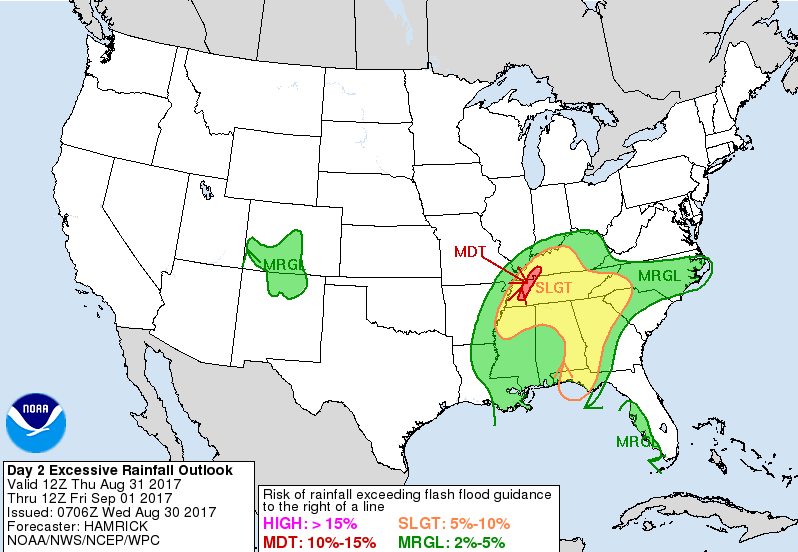 WPC Day 3 Excessive Rainfall – Marginal Risk for Friday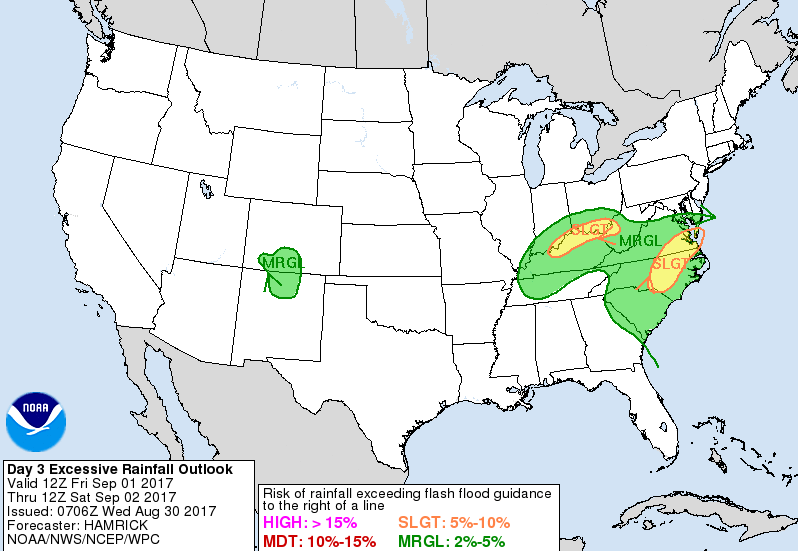 As the center of Harvey arrives Thursday night, winds 10 to 15 mph range with gusts upwards of 25+ mph will be common.
Rain Winding Down Friday Night into Saturday
As Harvey pulls north into Kentucky Friday, light rain will wrap around its south side and last most of the day. Expect rain to end sometime Friday night or Saturday morning. We could still see a few stray showers through Saturday, but by then the heaviest rains will have moved off to our north.
After that, things look pretty good.
Takeaways
Most of the rain will fall tonight, Thursday night, and Friday, ending sometime late Friday night or early Saturday. The NWS is expecting storm total rainfall to be around 3.5″ or so.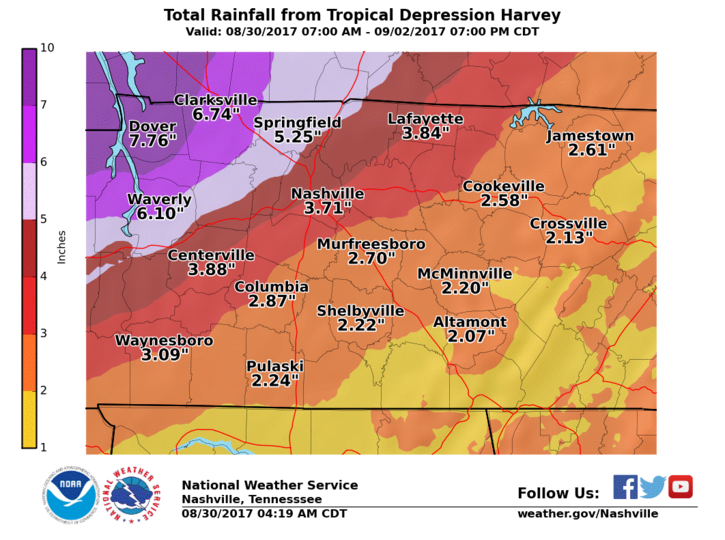 These comments from NWS-Nashville involve all of Middle Tennessee:
The first wave of rainfall today and tonight will moisten soils considerably, but it is the second wave of heavier rains Thursday and Friday that will stand the greatest chance of producing flood problems for the Mid-State. Creeks and rivers may rise and get to action/flood stage Friday through Sunday, depending on timing of heaviest rainfall and if Harvey slows slightly to drop additional rainfall. In addition, as soils become increasingly saturated over the next several days, local flash flooding could develop, especially in poorly drained low lying areas.
Localized flash flooding is possible. We will continue to update our Twitter @NashSevereWx with the latest information over the course of the next several days.
Live on the Green Forecast – Thursday Through Saturday

The final weekend of LOTG is upon us. Things kick off at 5:15 PM on Thursday, 5 PM on Friday, and 1 PM on Saturday.
Thursday 5:15PM…80% chance of rain — We are hoping for a late ETA of the main/second wave of rain.
Friday 5:00PM…rain should be ending.
Saturday 1:00PM…maybe a lingering shower.
Pack rain gear and go enjoy some music. However, as always, if a thunderstorm is heading your way, remember "when thunder roars, go indoors!"
---