---
Rain Stays North Today, Isolated Shower May Sneak In
Latest HRRR Model Loop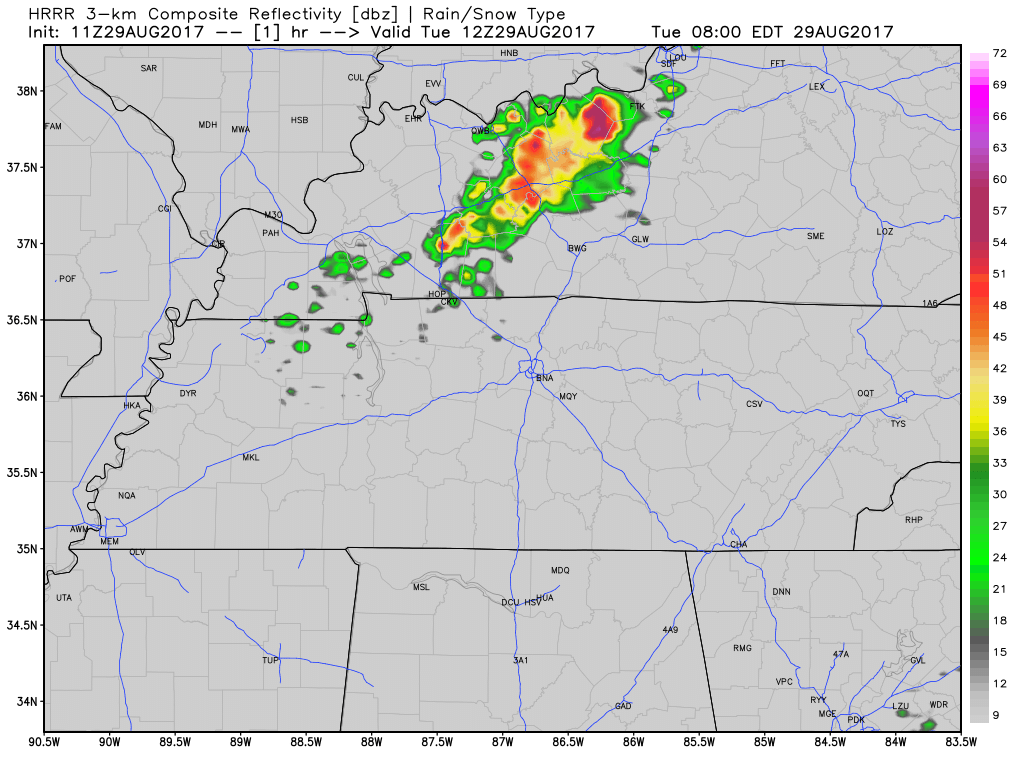 A weak upper level impulse will slide further south today, sparking showers and an isolated storm in Kentucky and along the KY/TN border. One or two of these may meander far enough south into Davidson County, but the chances are low. Temperatures will stay in the mid 80s for afternoon highs. Otherwise, expect some cloud cover around…as already evidenced by GOES this morning (also, note the fog around Nashville):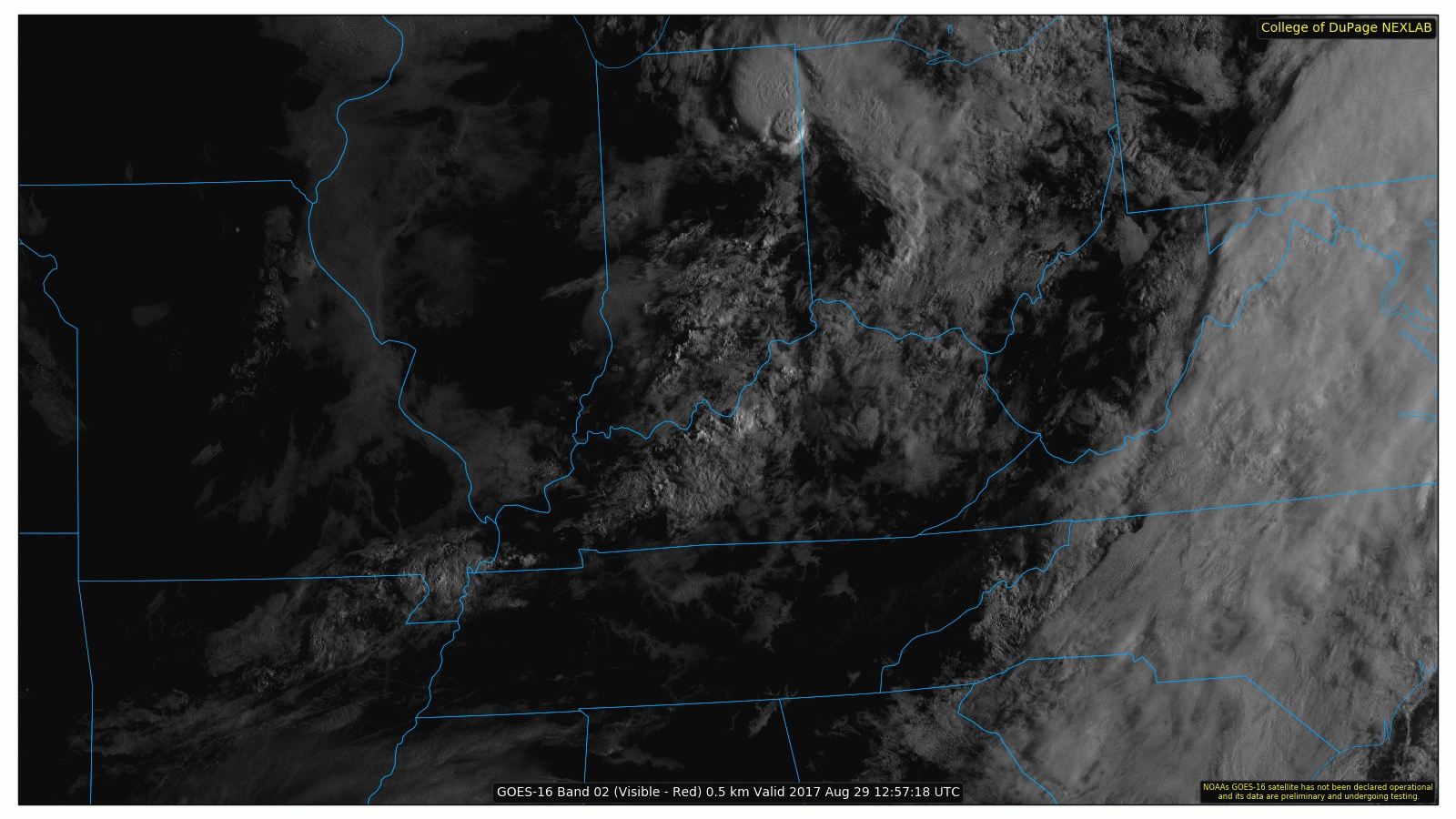 Wednesday Into the Weekend – Harvey Pays Us a Visit
NHC forecasts the center of Harvey's remnants to arrive early Saturday morning. This track delivers us ~ 2.5" rain total Wed-Thu-Fri-Sat. pic.twitter.com/Ncj9VDHxnm

— NashSevereWx (@NashSevereWx) August 29, 2017
A wet forecast is in store, beginning Wednesday and continuing into the weekend. This is thanks to none other than Harvey, who has dumped incredible amounts of rain along the Texas/Louisiana Gulf Coasts this week. For us, some localized flooding is possible toward the weekend. The EURO is a bit faster moving rain through here and drying us out on Sunday; however, the GFS is slower and keeps rain in here through Sunday.
Using the GFS (only a model, not a forecast), let's step through time, starting at 7PM Wednesday:
GFS 6-Hourly Precipitation 7PM Wednesday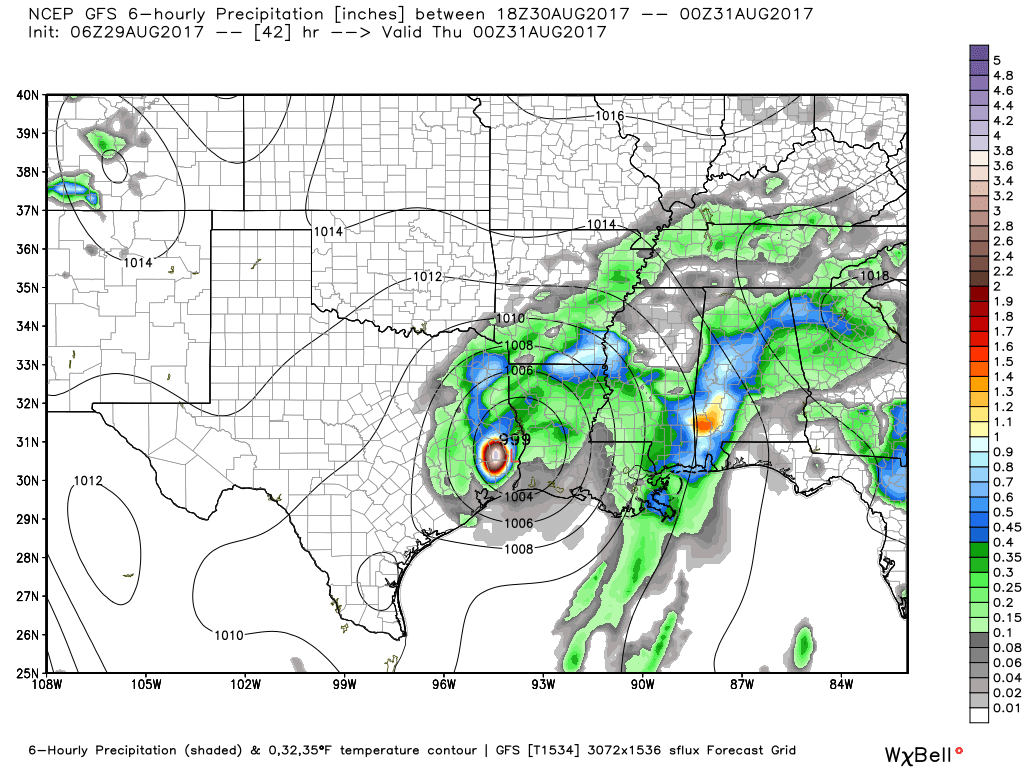 GFS 6-Hourly Precipitation 7PM Thursday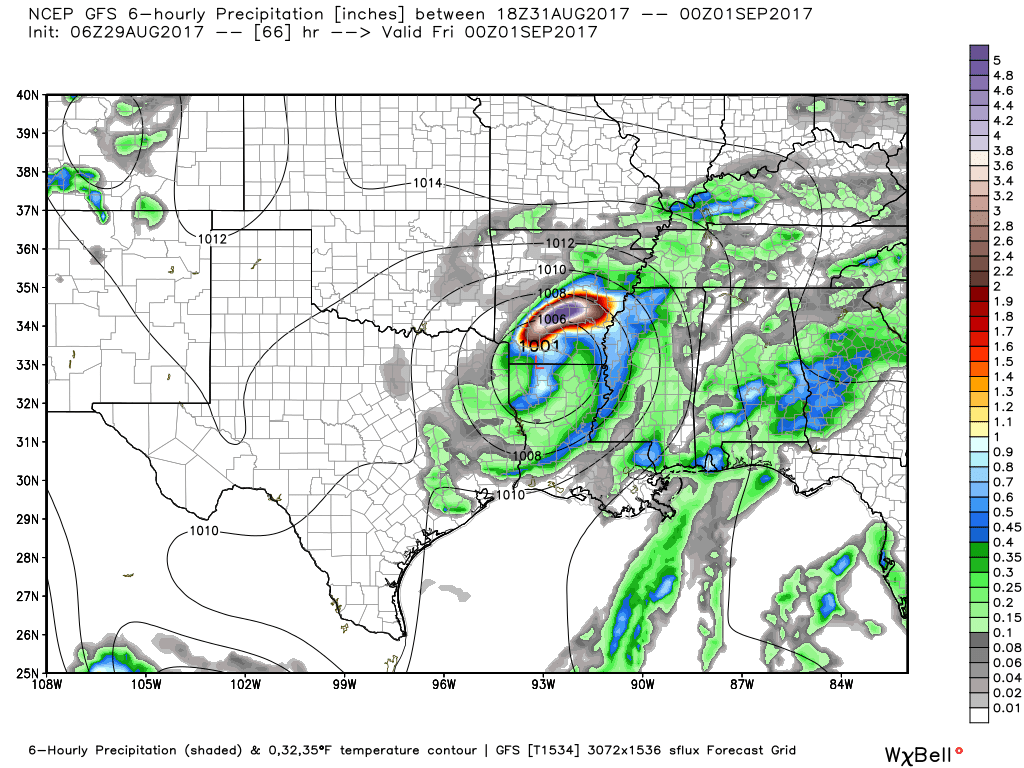 Note: There is a possibility of severe weather on Thursday, per the Storm Prediction Center. With us being on the east side of Harvey's remnants, a few tornadoes are not out of the question:
SPC Thursday Severe Weather Outlook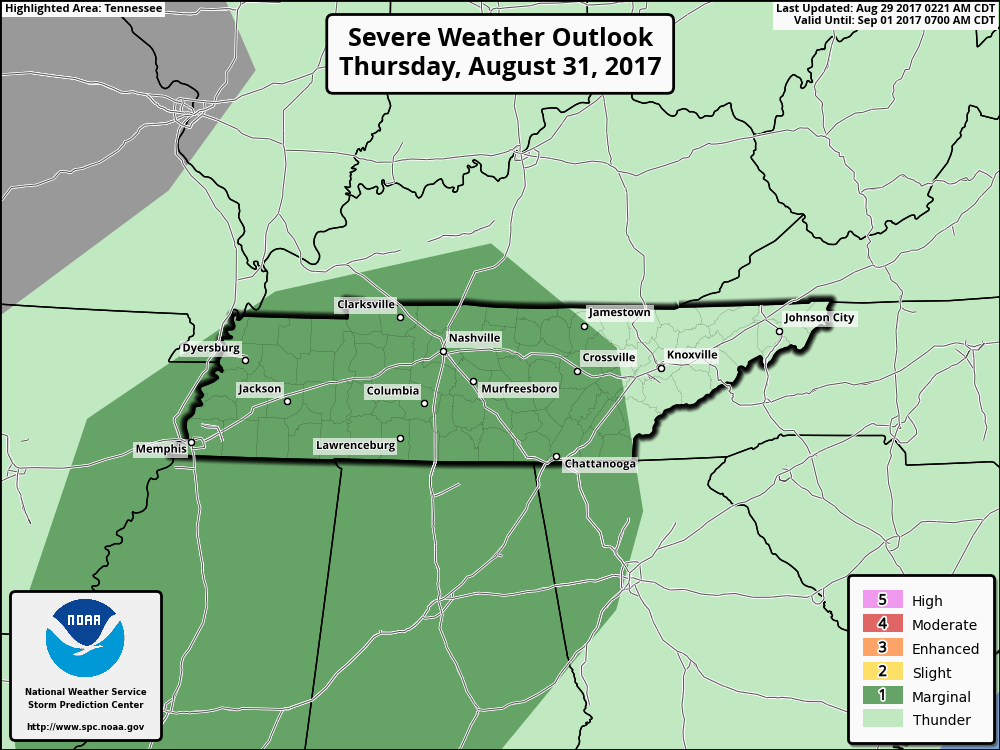 GFS 6-Hourly Precipitation 7PM Friday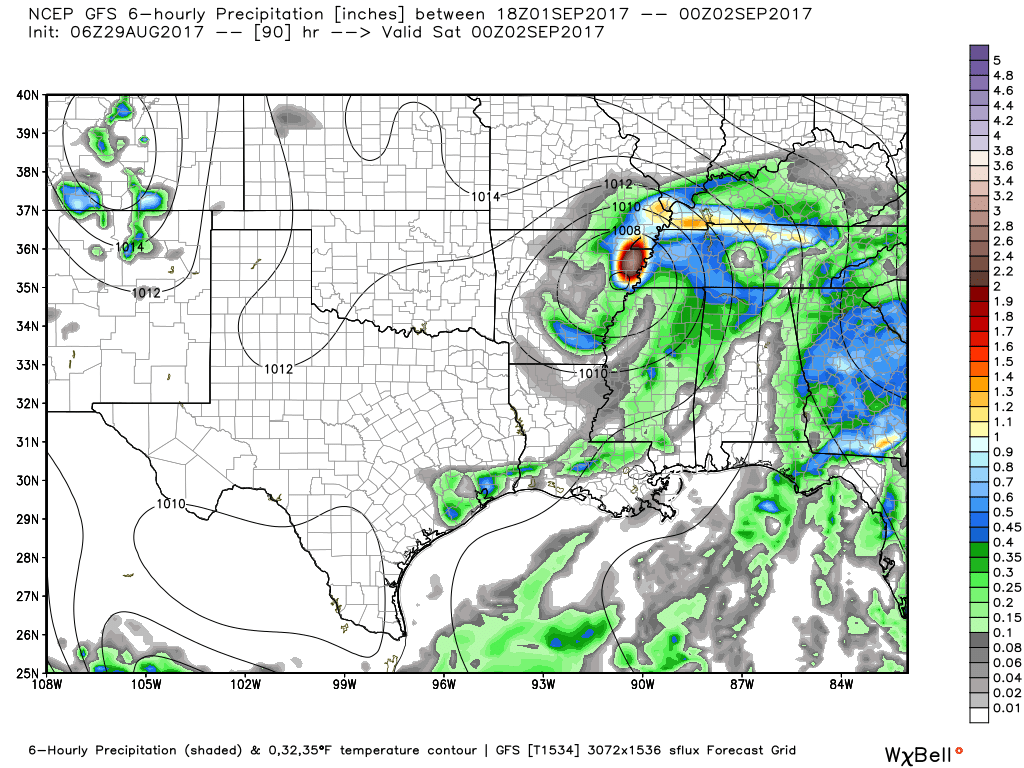 GFS 6-Hourly Precipitation 7PM Saturday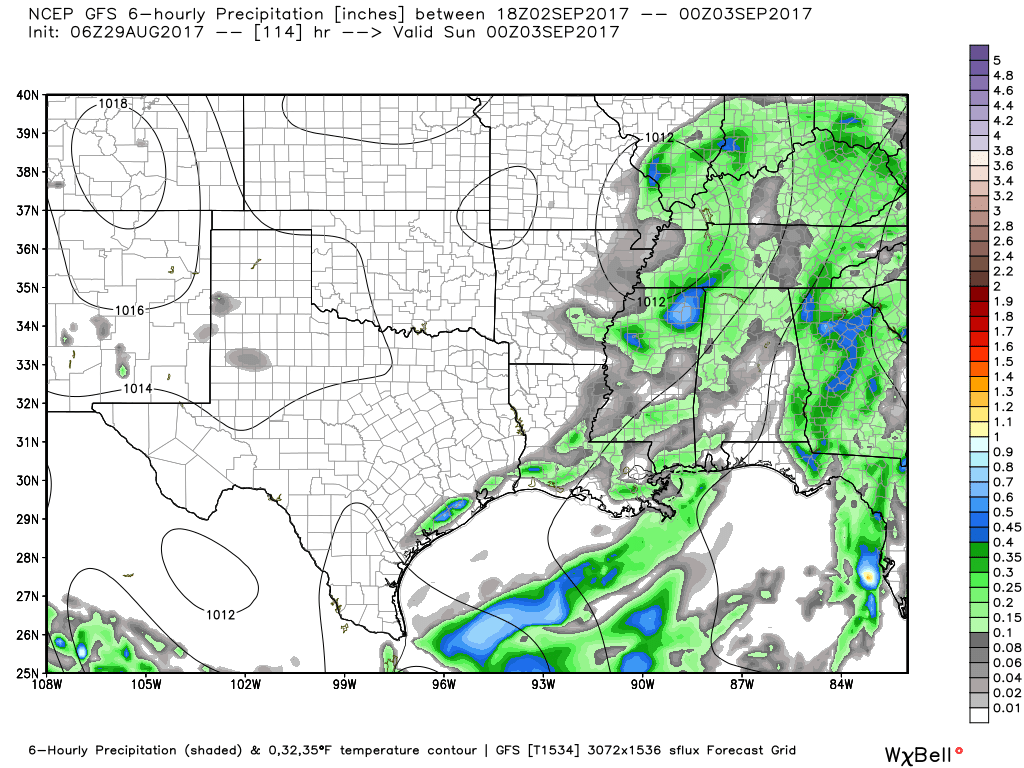 TOTAL Accumulated Rainfall Expected *Per GFS Model*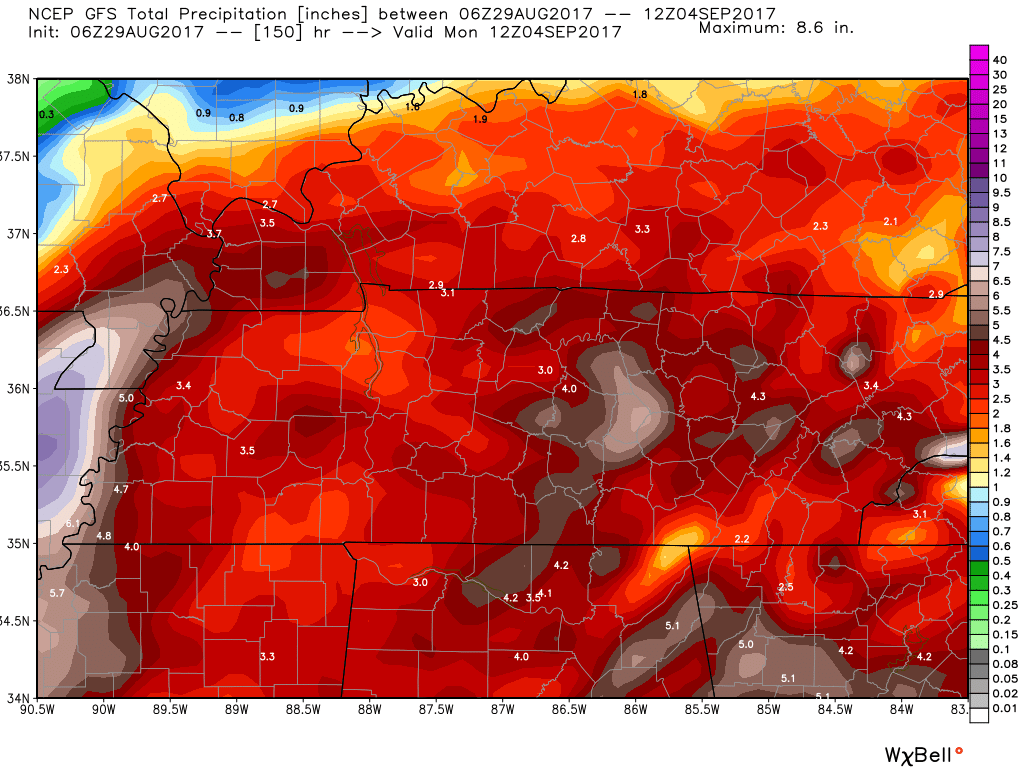 …compared to official NWS Nashville rainfall forecast…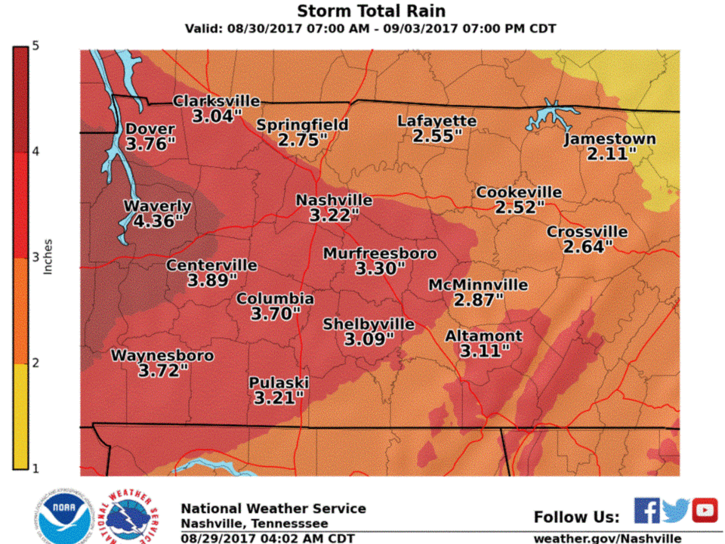 Bottom line: Essentially, if you have any yard work to complete, today is your day. Harvey's remnants will bring rain, localized flooding, and possibly an isolated tornado. Stay tuned as we refine the details later this afternoon and tomorrow.
Live on the Green Forecast – Thursday Through Saturday

The final weekend of LOTG is upon us. Things kick off at 5:15 PM on Thursday, 5 PM on Friday, and 1 PM on Saturday.
Thursday 5:15PM…70% chance of rain
Friday 5:00PM…70% chance of rain
Saturday 1:00PM…50% chance of rain
Expect to get wet. Ponchos are the official gear. You won't want to miss the great lineups, but keep in mind…"When thunder roars, go indoors!"
---