---
Showers Dissipating Tonight, Tomorrow will be Cloudy with Some Showers Possible
Majority of the rainfall has moved out over the course of this afternoon. We do have a few lingering showers around the area, but nothing that an umbrella won't fix. For those with plans to head out to the Nashville Sounds game tonight, rain should clear by then. We may see a stray shower but nothing to worry about.
Tuesday appears to be another one of those dreary days with highs staying below normal thanks to cloud coverage. Expecting for more showers tomorrow, but probably not as much as we saw today.
Wednesday Through the Weekend Continues to Look Wet
For the remainder of the week, scattered showers will be possible thanks to ample moisture being present in our atmosphere. Highs will be in the mid 80s with dew point temps coasting around the mid to upper 60s.
Another key part of our forecast Wednesday on will be where the remnants of Harvey track. Wednesday/Thursday we will probably see some scattered showers regardless of Harvey, but Harvey could add moisture if it moved our way quick enough.
Friday on really appears to be when Harvey will come into play even more. As our local NWS put this morning, we still have low confidence where the remnants of Harvey will go.
Unfortunately, model solutions for the track and timing have not been consistent. For this reason, our confidence in the weekend forecast is low.
Additionally, our local NWS added this tidbit about what the remnants of Harvey would do if it came our way.
If and when this tropical moisture impacts us, it will enhance rainfall coverage and amounts, but we will not see anything like the impacts being seen over TX.
We will continue to keep an eye on things and let you know the latest information as it becomes available.
Live on the Green Forecast – Thursday Through the Weekend

The last Thursday and weekend of Live on the Green is here. Things kick off at 5:15 PM on Thursday, 5 PM on Friday, and 1 PM on Saturday. A lot of the forecast for this event is still up in the air thanks to Harvey as mentioned previously. It does appear that the latter half of this week will be pretty wet though.
If you have plans to go out to LOTG on either night or day, I wouldn't let the rain discourage you, but you will probably need an umbrella through most of it.
GFS Loop Thursday Afternoon Through Saturday Evening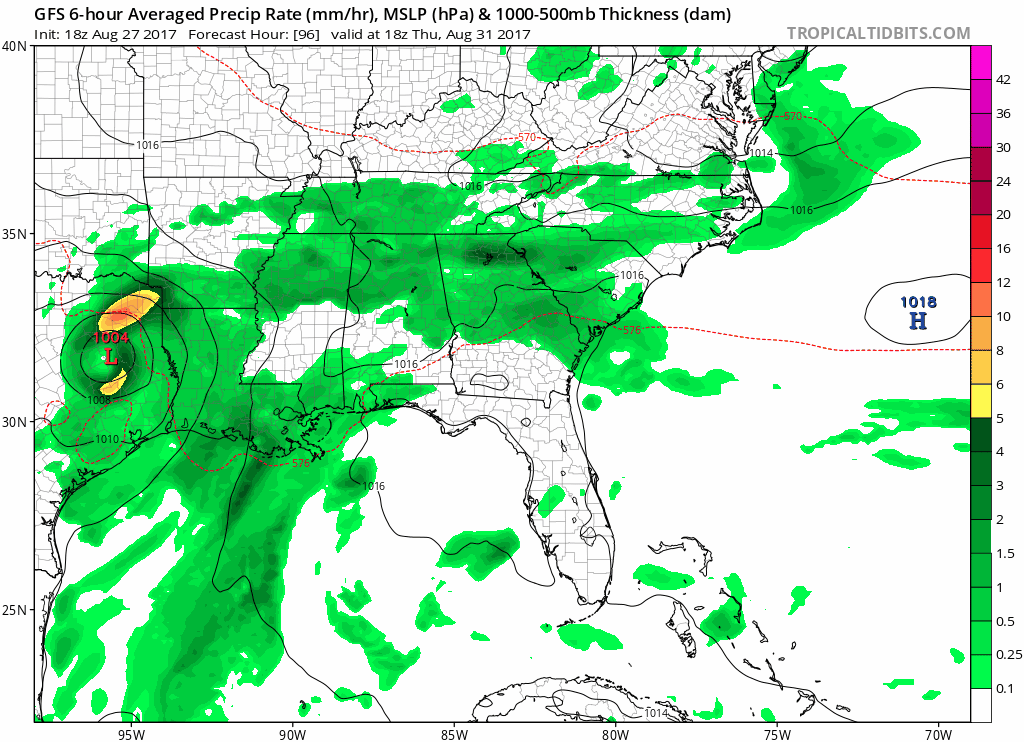 This is just one model, but it shows the general lingering wet period expected for the second half of this week.
They're may be times that we stay dry over this period, and probably will be, but between Thursday night, Friday night, and Saturday's events I think we will end up dodging showers for a lot of it.
---