[tminus t="21-08-2017 11:58:00″ align="left" omitweeks="true" id="Solar-Eclipse"/]
---
A Total Eclipse of Nashville!

Once upon a time we were worried of rain, now we're only watching for clouds.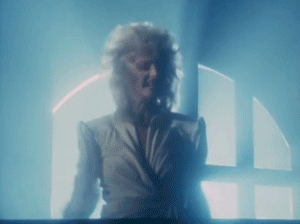 At the afternoon update, NWS Nashville preliminarily forecasted these sky conditions for the Eclipse tomorrow:
12pm…91 degrees, 23% cloud coverage (Partly Cloudy Skies)
1pm…90 degrees, 25% cloud coverage (Partly Cloudy Skies)
2pm…86 degrees, 28% cloud coverage (Partly Cloudy Skies)
3pm…91 degrees, 32% cloud coverage (Partly Cloudy Skies)

Every model run we get a little excited hoping skies will clear on out.

GFS Cloud Cover 1PM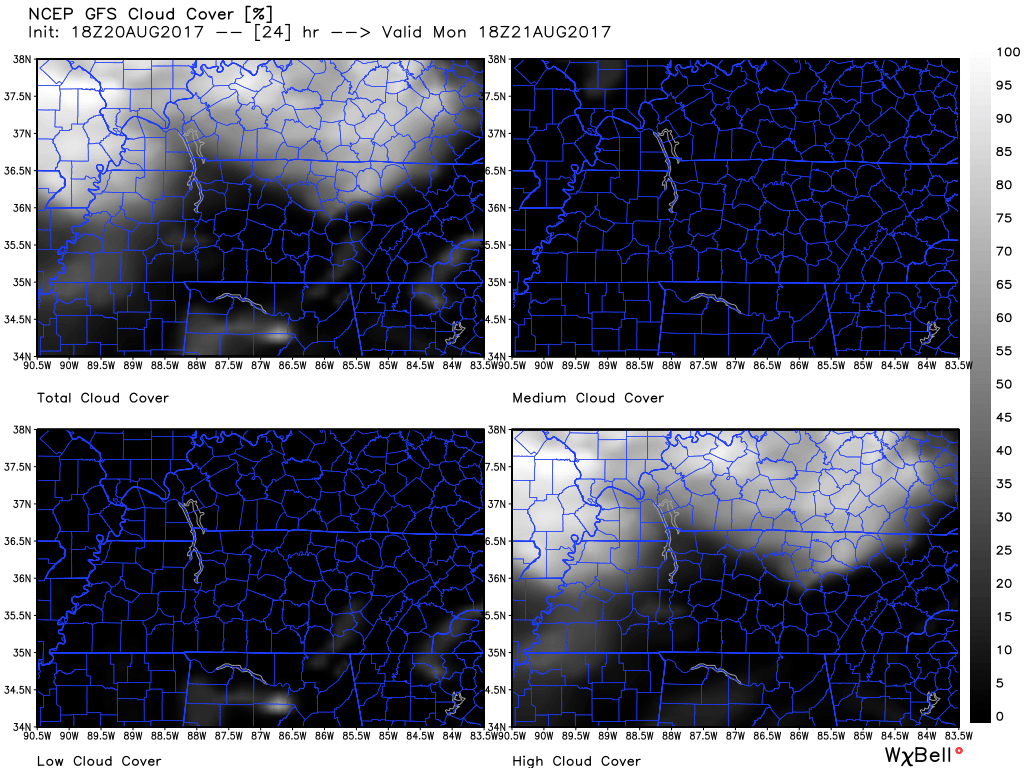 NAM3 Cloud Cover 1PM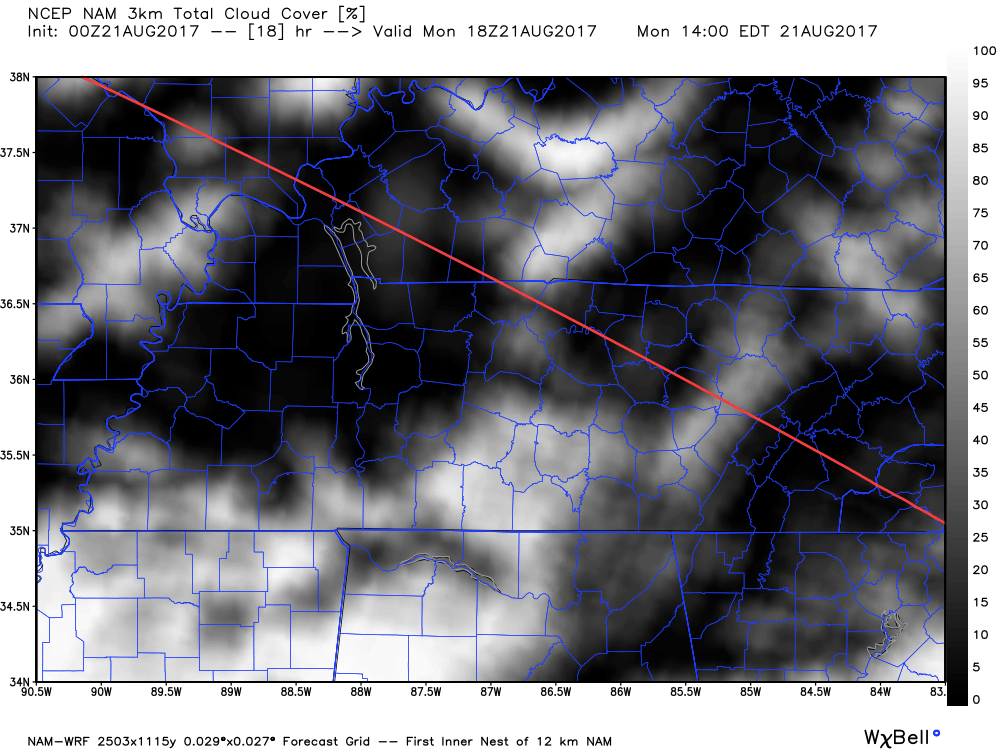 HRRR Cloud Cover 1PM
NWS Nashville says, "Honestly, we really couldn't have asked for a better forecast statistically speaking for August 21st." And as the day goes on, like suggested on the NAM3, some cumulus clouds will develop over the area, hopefully not blocking anyone's view of the Eclipse.
Below is a depiction of how the event will unfold for Downtown Nashville (other areas in Middle Tennessee are subject to slightly different times):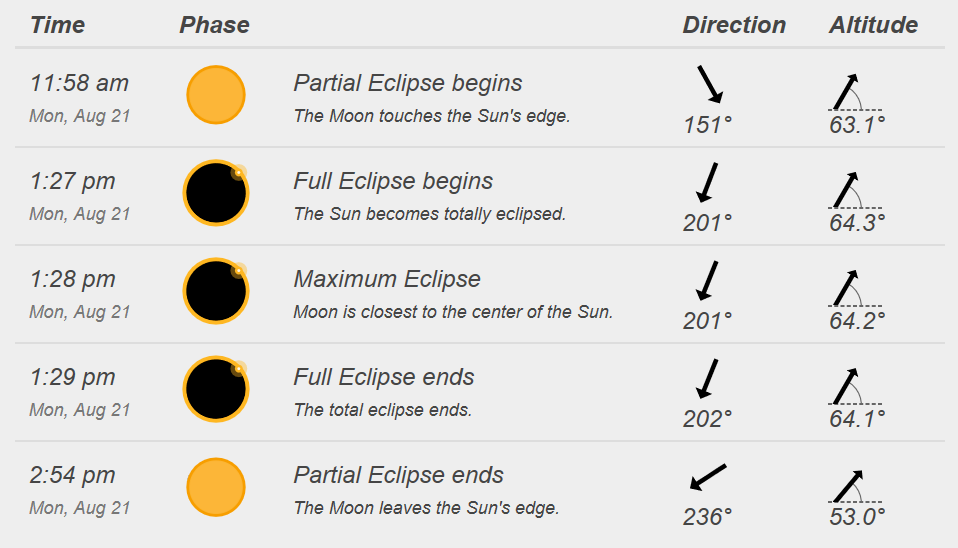 Temperatures will be acting a bit strange, too, during the full Eclipse. Expect about a 5-7°F drop in temperature as the maximum Eclipse begins and ends. As the sun returns into view, afternoon temps will quickly rebound into the 90s.
A wise professor once told me…put down your phones and take it all in. Here are a few phenomena that will occur during totality:
If you get the chance, stand next to/under a large tree. As totality arrives and ends, the pinhole light that is being shone on Earth will filter through the tree's leaves…creating thousands of mini-eclipse shadows on the ground below.
Shadows! Pay close attention to lampposts, human-cast shadows, buildings, etc. Everything casts a different shadow, and you will be able to see these shadows change position on the ground in just a matter of minutes.
Animals tend to get a little confused. Studies on bees, other insects, and birds all show that the Eclipse affects them in different ways. See if you notice anything unusual on Monday.
All-in-all, this is an incredible event for our country, for Nashville, and is a chance for science to take center-stage. Think of this as one big experiment, brought to you by the alignment of the Universe (glasses not included).
Stick with us on @NashSevereWx for more talk on cloud-cover and other cool items leading up to and after the Eclipse. Otherwise, we'll be busy soaking in totality.

Nashville, right on cue, a total eclipse soon to start!

Cold Front Moving In Tuesday Night, Cools Off Nicely Mid-Week

Tuesday is just another day in the Nashville sauna, but relief is on the way. A chance for measurable rain returns early Wednesday morning associated with a cold front.
GFS 7AM Wednesday (This shows rain that has accumulated over the past 6 hours…i.e. 1AM-7AM)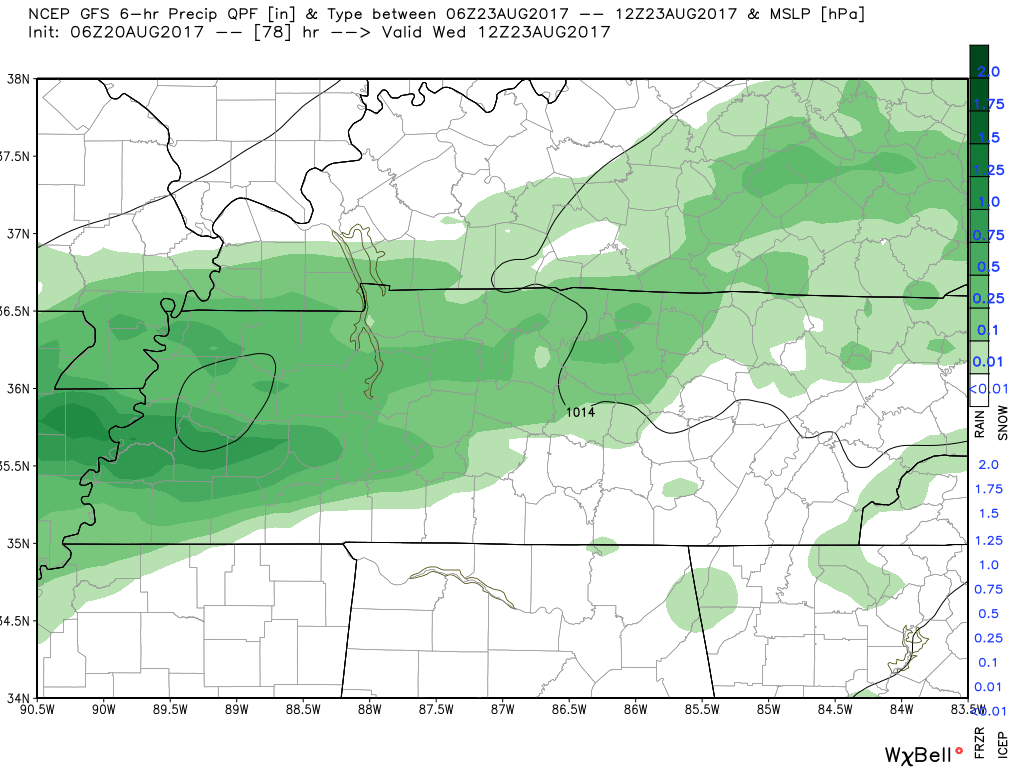 Showers and storms are expected through the day on Wednesday, clearing out of Davidson/Williamson Counties by dinnertime. The Storm Prediction Center thinks a few of the storms Tuesday night/Wednesday morning could produce gusty winds, which is why we are in a "Marginal Risk" (1 out of 5) for severe weather: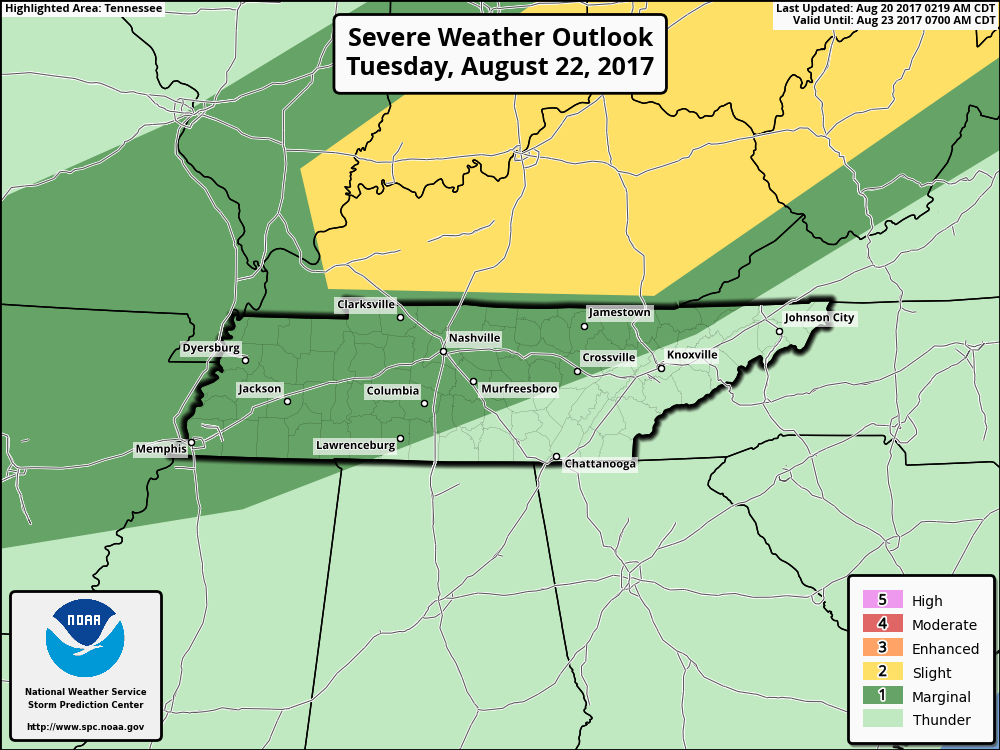 Thursday through the start of next weekend looks spectacular with afternoon temperatures in the mid 80s and partly cloudy skies.
---