---
Sunny Skies and Highs in the 90s Through the Weekend
A pretty mild three-day stretch is ahead with no substantial chance of rain. Highs will coast in the 90s over the next few days with dew point temps slowly creeping back to the 70s by Sunday.
Friday Night Lights – Great Conditions
Temps will generally be in the mid to upper 80s before kickoff. Temps will decline pretty rapidly after 7 PM with temps falling down into the upper 70s.
In terms of wind speed and direction, winds will be calm but may shift direction throughout the game. Winds will start off from the northwest before shifting towards the southwest.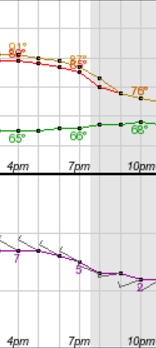 Red – Temperature ; Green – Dew Point Temperature ; Gold – Heat Index ; Purple – Wind Speed and Direction
All in all, seems like pretty decent conditions for any outdoor activities this evening!
https://giphy.com/gifs/friday-night-lights-rAXanpAdExsly
Mostly Sunny Conditions Expected for Monday's Solar Eclipse
Conditions for Monday's solar eclipse continue to look pretty good! Whether you are seeing totality or pretty close to it, most of us should be able to see this incredible event.

Monday will be a lot like today and this weekend with highs in the 90s and a few scattered clouds here and there. The morning will consist of  mostly clear skies before a few high cirrus clouds begin to move in later in the AM. By eclipse time, there may be a few patchy clouds across Middle Tennessee, but I am optimistic that most people should get a glimpse of totality.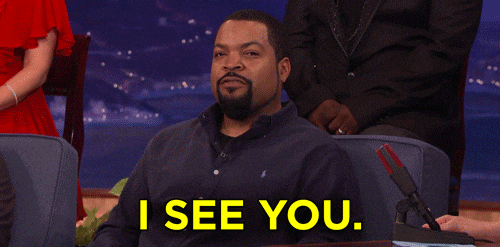 Our local NWS had a very detailed discussion this afternoon concerning the eclipse.
*Note: 18Z is 1 PM, 19Z is at 2 PM, and 20Z is at 3 PM*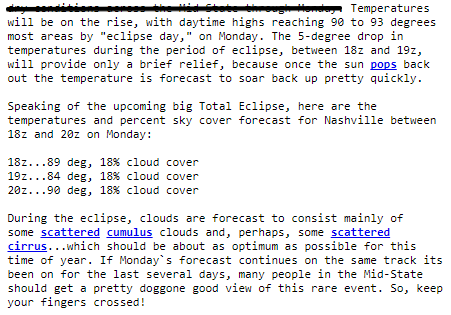 Remember, Nashville's (Downtown) totality begins at 1:27PM and continues until 1:29PM.
For more information about the upcoming solar eclipse, visit the two websites below.
http://www.weather.gov/source/crh/eclipse.html?sid=ohx
https://eclipse2017.nasa.gov/sites/default/files/interactive_map/index.html
---