Heat Advisory Again Today
It's already really, really muggy outside. No surprise there. Dewpoints in the low 70°s will make being outside uncomfortable.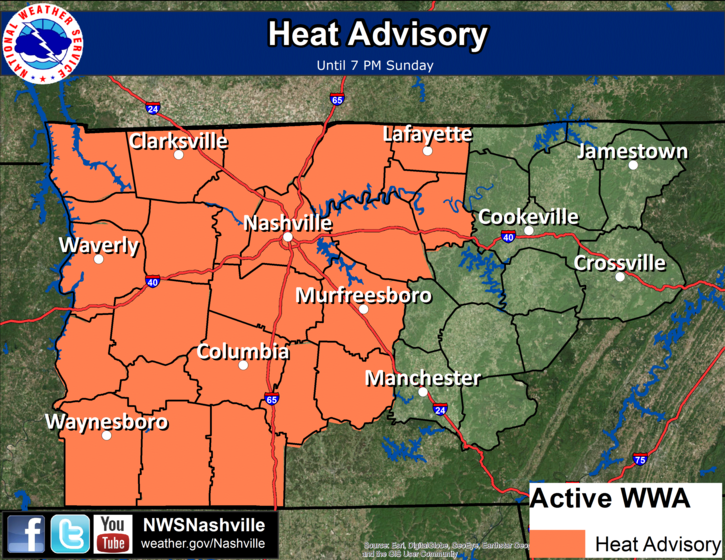 The heat index will run between 100° and 106° this afternoon; however, temps aren't expected to get to 98° like they did a Friday and Saturday. Look for 96° today. ("Oh, is that all? Only 96°?) It's not really going to feel cooler than Friday or Saturday.
Rain & Thunderstorms
As usual, there are conflicting signals.
What the Models Say
Last night, HRRR and NAM3 models predicted strong storms to develop around mid/late afternoon. Here's what the NAM3 model showed yesterday just before 6 PM: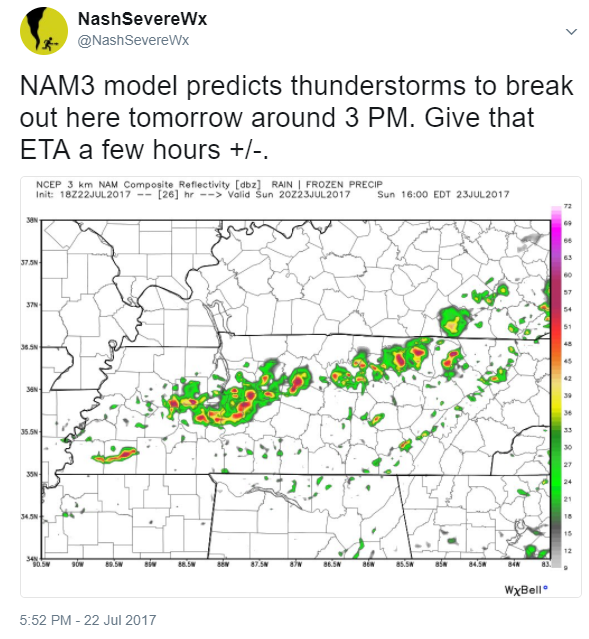 This morning, the models are changing their minds about the timing and intensity of the storms.
Neither model predicts storms to arrive mid/late afternoon. And, they disagree about storm intensity.
The latest run of the HRRR model predicts only a few light showers around 7 PM to 8 PM: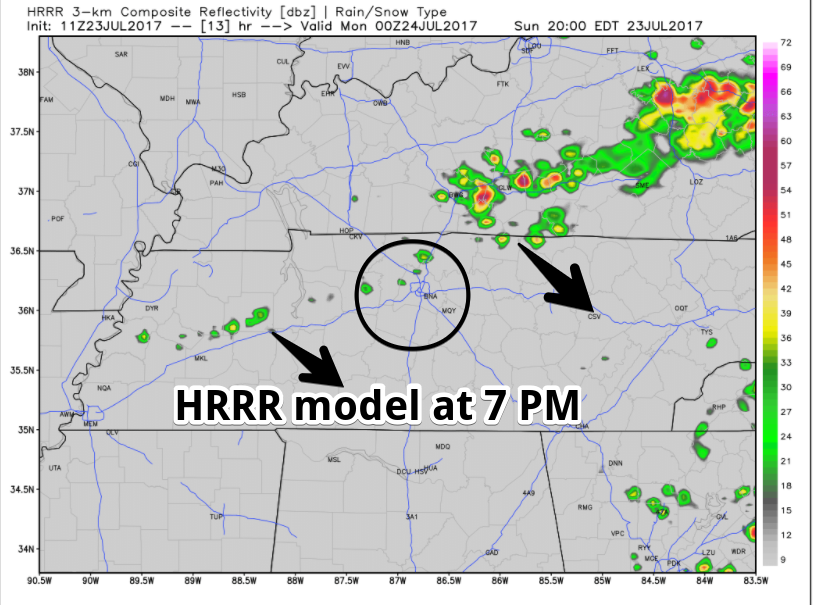 The latest NAM3 model agrees that there will be no storms mid/late afternoon. It disagrees with HRRR, and predicts strong storms around 7 PM to 8 PM: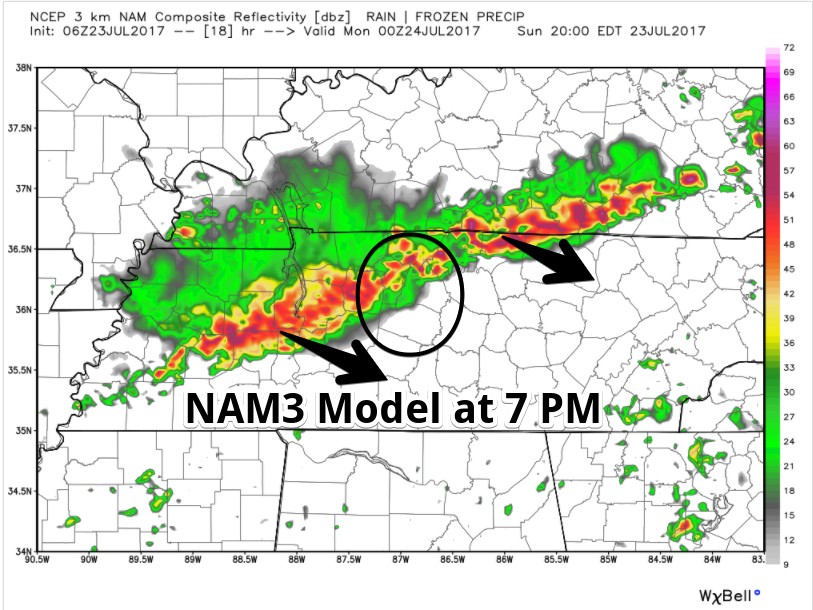 You can't trust "the models" because they're giving us different, conflicting ideas. That was just one example.
What NWS-Nashville Thinks
Pop-Up Storms Possible: NWS-Nashville thinks: "By midday, isolated pinhead showers will begin popping up across the area. The more significant chances for thunderstorms will hold off until late afternoon when a front will be dropping across the Ohio Valley."
Whether those "isolated, pinhead" showers will pop up in any one specific location in Middle Tennessee is unknown. It's probably unlikely you'll have one, but that won't be true for everyone reading this. No one is any good at predicting the precise location of pop-up summertime showers/storms.
Late Afternoon/Early Evening Storms: NWS-Nashville continues: "When the thunderstorms increase in coverage late this afternoon, a few could be strong to briefly severe, especially across the north half of our area." This suggests NWS is leaning more toward the NAM3 idea of stronger storms rather than the HRRR idea of very little/nothing at all. These storms, if they develop, will have heavy rain, frequent lightning, but will move only 15-20 MPH, so if you're stuck under one, it won't blow over anytime soon. The main severe risks are damaging wind gusts and 1″ hail. Tornadoes are not part of the forecast due to insufficient wind shear across the region.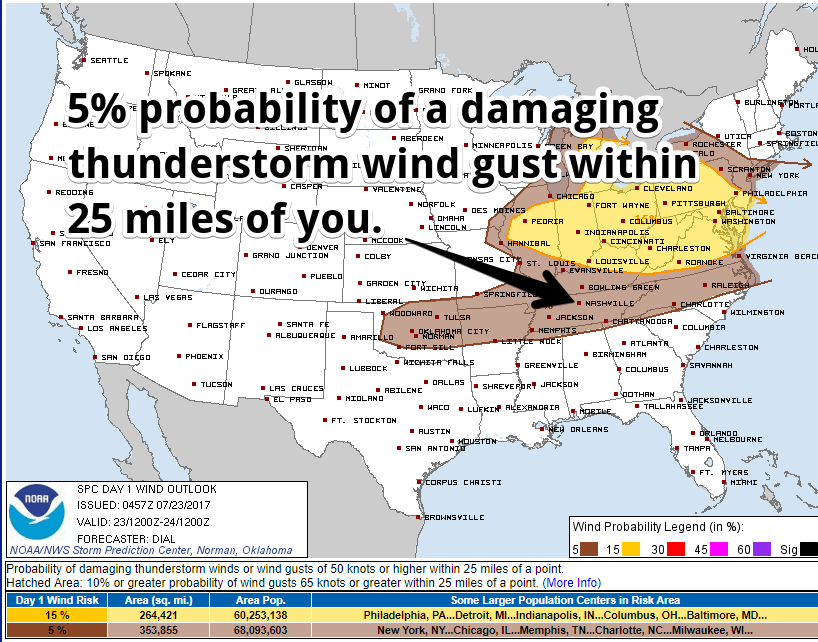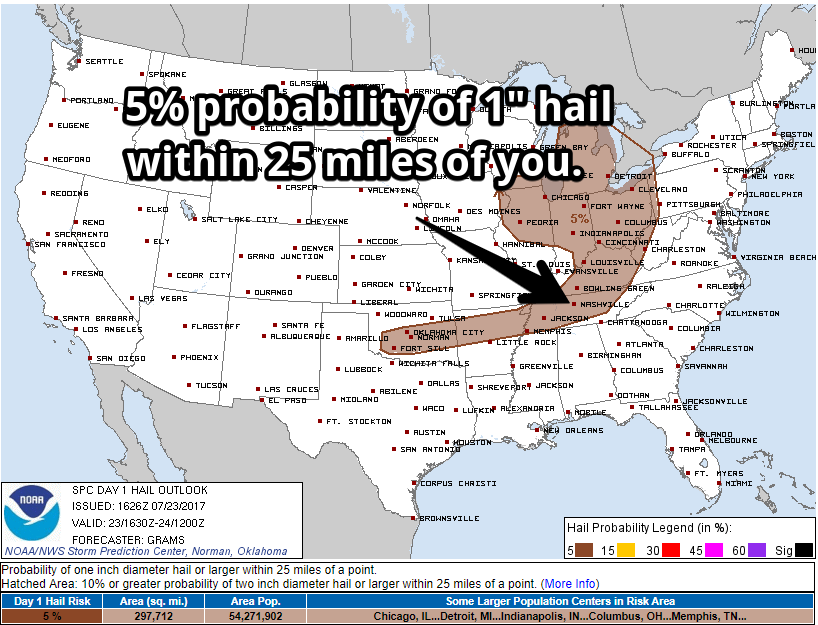 My gut says we should see some rain and a few thunderstorms around 6-9 PM. But, uncertainty remains. 
Any storms should diminish late tonight, with a few isolated shower chances remaining possible.
We will frequently update the forecast on Twitter @NashSevereWx, which you can also follow on this web page.
Not So Hot Week Ahead
Low 90°s instead of upper 90°s. Less high pressure overhead will bring typical chances of mid/late afternoon pop-up showers and thunderstorms. Rain is more likely Thursday and Friday as another weak front approaches. If it that weak front gets here then, it'll cool us off a bit more.

---