---
"Better" Chance of Showers this Evening
So far today we have stayed, for the most part, rain-free. Latest radar scans do not show a whole lot on the radar, so good news so far. Into the rest of the evening, we will still need to keep an eye on showers attempting to move our way.
I think David says it best though:
Instead of a radar image, please accept this illustration of the rain trying to come at us from the west. pic.twitter.com/TDdXse17HV

— NashSevereWx (@NashSevereWx) June 30, 2017
Latest run of the HRRR has us staying fairly dry through the evening now (it didn't this morning).
HRRR Loop Now Through 7 AM Tomorrow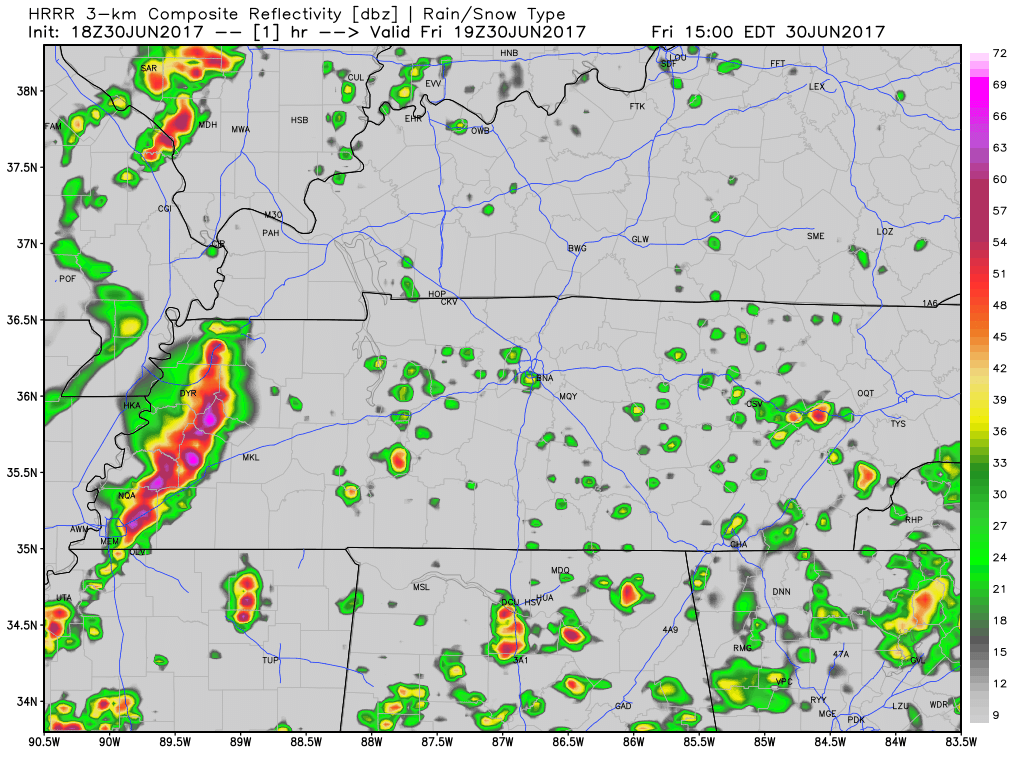 There are some timing inconsistencies between models. However, models do seem to be agreeing a bit more that we will see showers tomorrow morning instead of tonight. We will see.
If any thunderstorms develop, we will let you know. The only concern would be damaging winds if anything pops up.
Continue to follow us on Twitter @NashSevereWx for updates on timing of any showers through the day.
More Rain Saturday, Strong to Severe?
Looks to be a similar story for tomorrow as there is today. We will probably have periods of the day tomorrow where we stay dry, but also periods were we get wet.
Models do seem to be having a tough time handling today and tomorrow. The aforementioned shortwave that could pass through later tonight, could end up passing through early tomorrow morning according to some models (beginning to look more like this will be the case).
Into tomorrow afternoon, we have another chance of seeing some showers and thunderstorms develop thanks to daytime heating.
Latest run of the NAM3 show these showers developing in the late afternoon tomorrow.
NAM3 Loop 10 PM Tonight Through 1 AM Sunday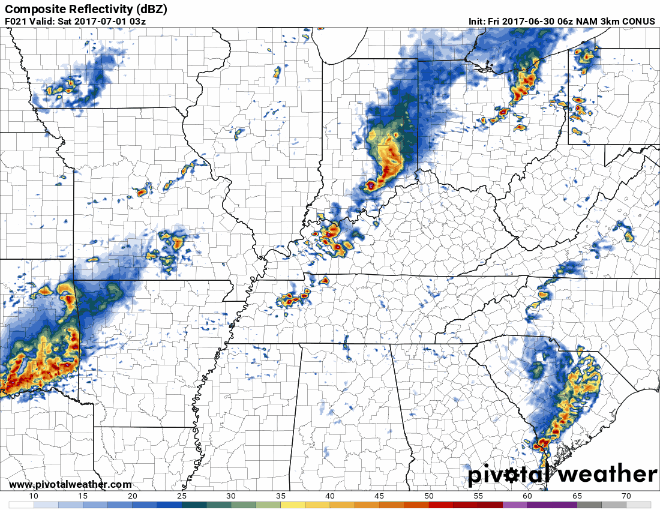 Additionally, we do have a Marginal Risk for severe weather from the Storm Prediction Center. This translates to there being a 5% probability that severe weather will develop within 25 miles of your location. Damaging winds are the main concern.
Sunshine Returns on Sunday & Next Week's Guess
Sunday into the beginning of next week looks like it will feel a lot like summer.
https://giphy.com/gifs/here-we-go-again-4Zwakd53tvK4o
There does not appear to be any serious rain chances at this point, but we will probably end up seeing some scattered showers in the afternoons, per summertime usual. Additionally, highs look to creep into the low 90s with dew point temps staying in the low 70s.
For those wondering about festivities on the 4th, it is still too far out to give any type of reliable forecast. Tuesday looks hot, it'll probably be muggy, but rain chances are still questionable.
Here is what our local NWS said in this mornings discussion about the 4th:
"Most showers and storms look to be diurnally driven on Monday and Tuesday with the best chances in the afternoon and early evening. As mentioned in yesterday`s discussion, this may hopefully clear things out for the holiday activities in the evening on Tuesday, with mainly isolated precip in the evening the way the models currently look today."
Still a lot of time before now and then, but we are semi-hopeful.
---