---
More Rain & Severe Weather Potential For Today
Showers and some strong to severe thunderstorms are possible. Today will be one of those if you absolutely must do something/drive somewhere today, do it early rather than later. 
Timing: After Lunch into the Evening
This morning, we do have a chance of seeing a few scattered showers. However, the main bulk of showers and thunderstorms should arrive sometime around or after lunchtime.
HRRR Loop Now Through 11 PM Tonight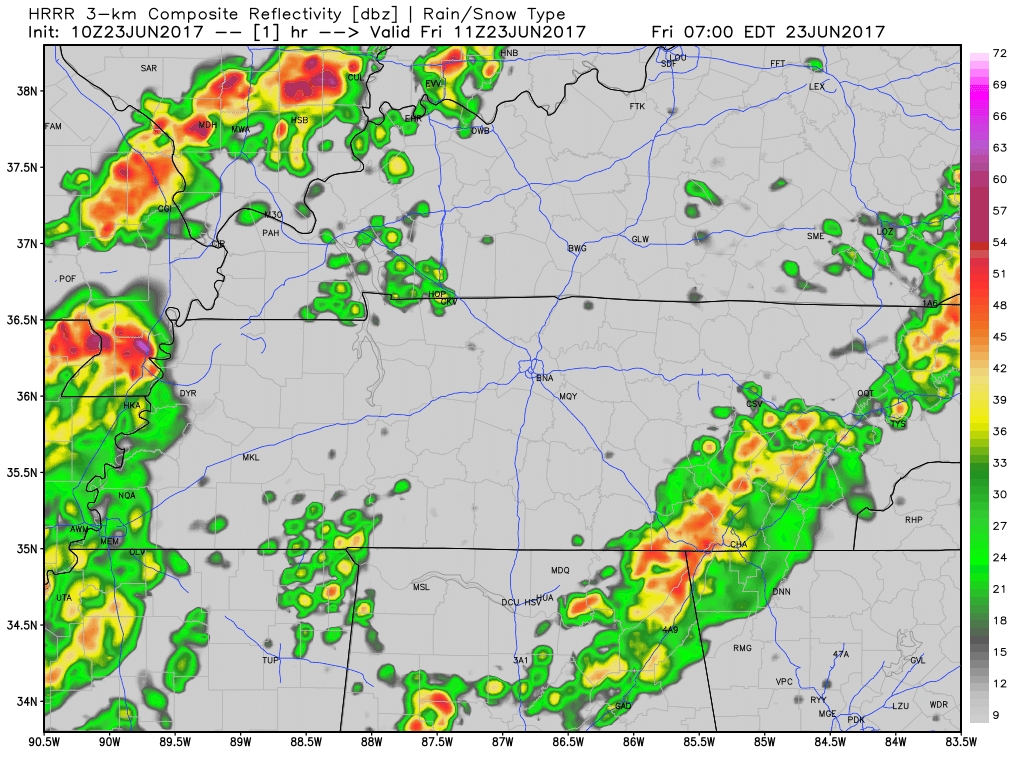 The best time frame for the severe weather is anytime after lunch. You may notice that there is a initial line with a lot of showers and thunderstorms. Severe weather will not only be possible with this line, but with any remaining showers/thunderstorms following behind.
These showers will likely run over into the evening hours. If you have any outdoor plans tonight, you may want to have a rain plan ready to go.
Stay weather aware today and continue to follow us on Twitter @NashSevereWx for the latest updates on timing and severity of these storms.
Main Concerns: Flash Flooding, Damaging Wind Gusts, and Isolated Tornadoes
First things first, both Davidson and Williamson Counties are under a Flash Flood Watch from 10 AM today through 7 AM tomorrow.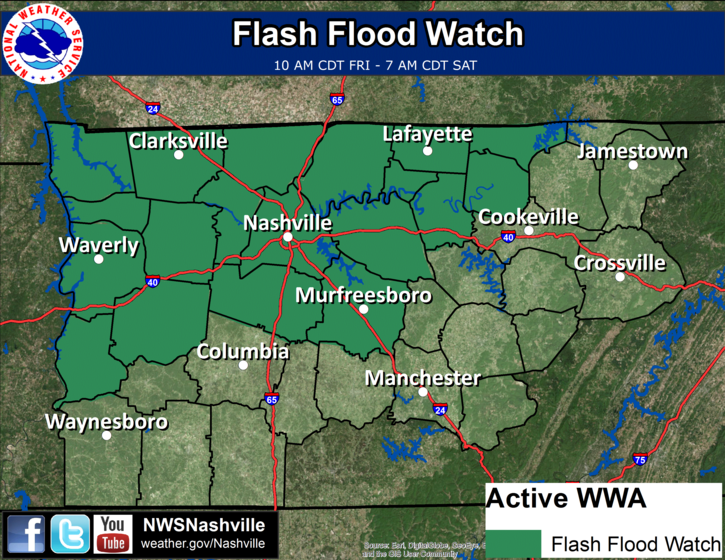 Here is the text for the watch:
This coincides with the Weather Prediction Center having us in a "Slight Risk" for excessive rainfall.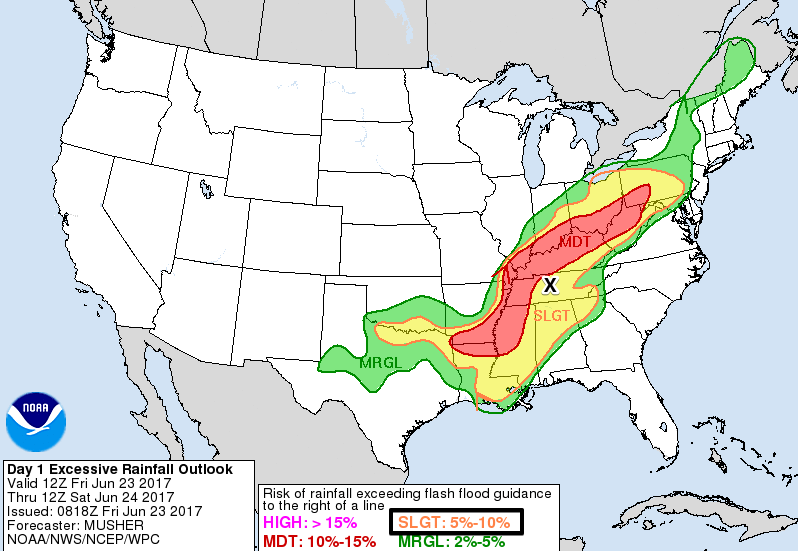 We received a lot of rainfall yesterday, and will be receiving a lot more today. In total, we could see anywhere from 1.5 to 2.5 inches of additional rainfall today.
If you come across a flooded road at any point, turn around don't drown.
Now for more of the severe weather side of things, the Storm Prediction Center currently has us included in the "Slight Risk" category.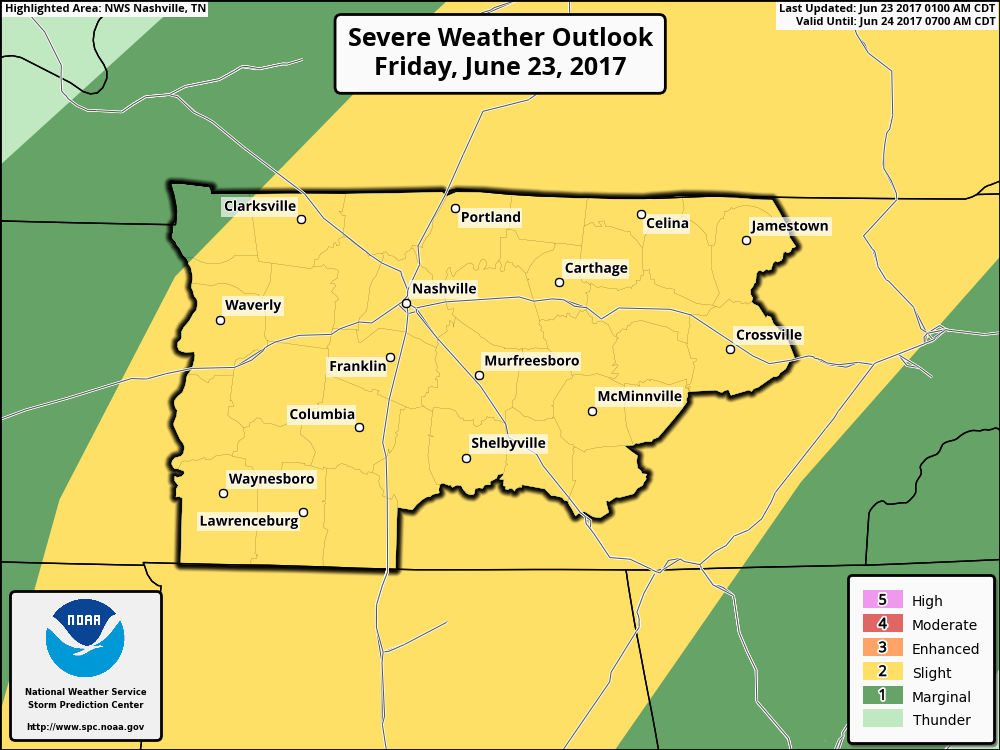 We have a 15% probability of damaging wind gusts occurring within 25 miles of your location.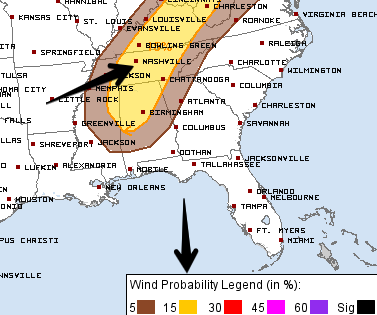 We have a 5% probability of an isolated tornado occurring within 25 miles of your location.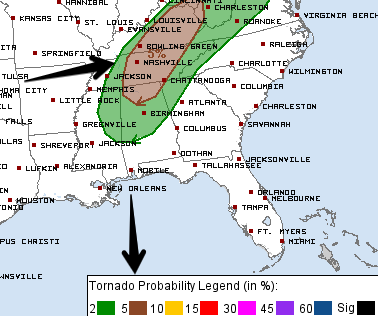 Note that since this air mass is remnants from Cindy, an isolated tornado, if we see one today, will not have the normal characteristics of tornadoes we see the rest of the year. These type of tornadoes will spin-up rather quickly, so adhere to any and all tornado warnings today if any are issued.
Recap:
More rain and severe weather is possible today. The rain will likely start after lunchtime with the severe stuff being possible throughout the afternoon and into this evening.
The main concerns are flash flooding, damaging straight-line winds, and isolated tornadoes.
Respect any and all warnings that are issued today. If you come across a flooded roadway, turn around don't drown.
When Will the Rain Finally End?
Good news, showers look to begin clearing out by tomorrow morning. While we do still have a very small chance of a scattered shower or two through the remainder of the day, the majority of any leftover showers should stay confined to our south and east. Clouds will break throughout the day, so we may even see some sunshine by the afternoon!
Looking into the future, no real strong rain chances right now. There is mention of showers being possible late into next week, but that is still a while away.
Next week looks pretty fantastic if you ask me. Sunny skies each day with highs only reaching the upper-70s to low-80s. Dew point temps will also be fairly nice for the time of year, with values in the mid-50s to start off the week.
---