---
More Rain Tonight? Maybe … Maybe Not
Right now we are in a dry-ish waiting game period. There are still a few scattered showers to our west, but the bulk of the rain and storms have moved on to the east. Additionally, the Flash Flood Watch for our area has been cancelled.
As for any remaining severe weather, the better dynamics does appear to be to our east. We still could see a thunderstorm or two this evening, but the main concerns with any remaining thunderstorm would be heavy rain and damaging winds.
To add some complications, tropical air masses are difficult to forecast and deal with. We have two sets of showers to keep an eye on. There are some showers, in Arkansas currently, that may make their way here tonight. We are not convinced that they will, but we will keep a close eye on them. In addition, some showers have begun to develop in Southern Illinois. If those stay together, then we could very well see more showers and thunderstorms tonight.
Here is what the latest run of the HRRR seems to think will happen tonight.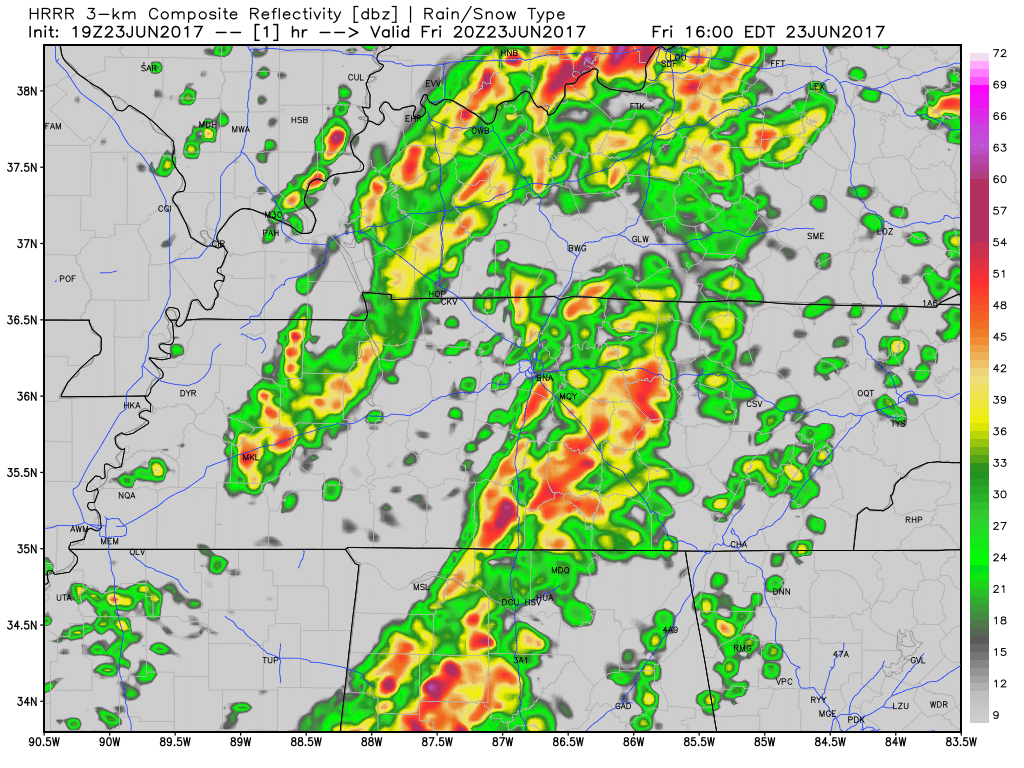 We will probably see a scattered shower or two through the evening, but it does not appear like it will be a complete washout. Bring the umbrella if you have any outdoor plans tonight!
We will continue to watch the radar through the remainder of the day into the evening. If either of the lines mentioned above look like they will reach us, we will let you know on Twitter @NashSevereWx .
When Will the Rain Finally End?
Good news, showers look to begin clearing out by tomorrow morning. While we do still have a very small chance of a scattered shower or two through the remainder of the day, the majority of any leftover showers should stay confined to our south and east. Clouds will break throughout the day, so we may even see some sunshine by the afternoon!
Looking into the future, no real strong rain chances right now. There is mention of showers being possible late into next week, but that is still a while away.
Next week looks pretty fantastic if you ask me. Sunny skies each day with highs only reaching the upper-70s to low-80s. Dew point temps will also be fairly nice for the time of year, with values in the mid-50s to start off the week.
---