---
Clouds Will Continue to Increase Through the Evening
Happy Summer! At 11:24 PM last night, summer officially started.
Into this evening, clouds will continue to move in. We may begin to see some showers move in this evening, but these will likely hold off until after midnight.
Latest run of the HRRR has showers moving in a little after midnight.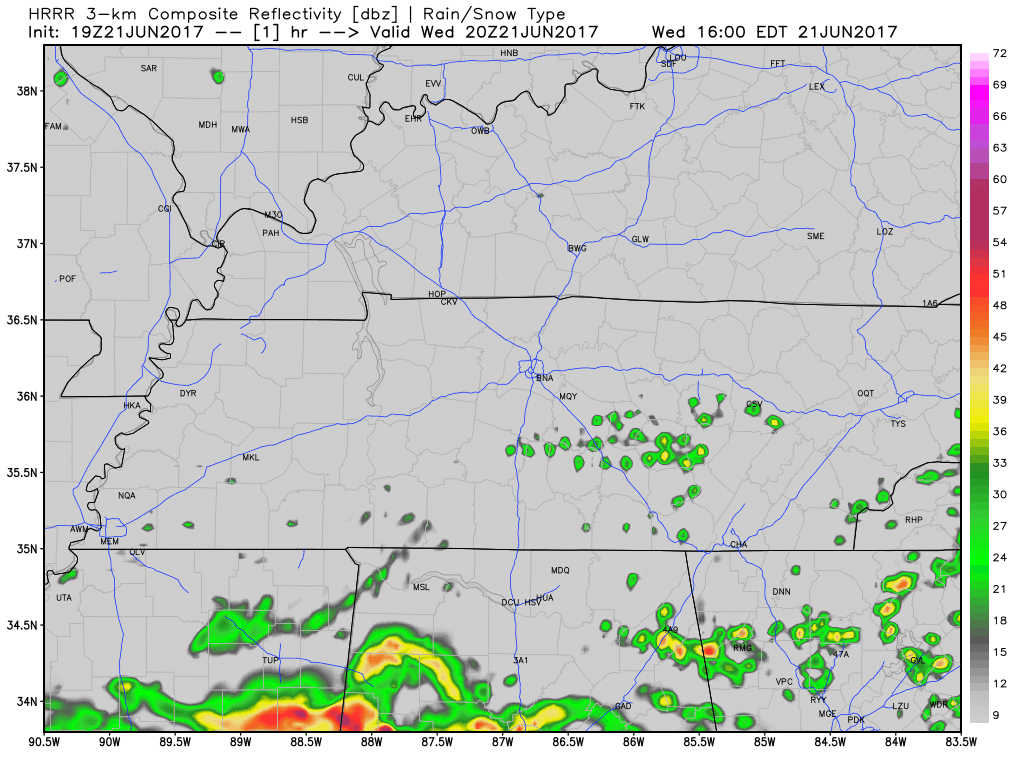 Rain, Rain, & More Rain Starting Tomorrow
If you haven't heard already, there is a Tropical Storm named Cindy currently churning away in the Gulf of Mexico. This storm has already brought ample amounts of moisture to those to our south. The remnants of this storm will push rainfall, and possibly some thunderstorms, in our direction starting tomorrow.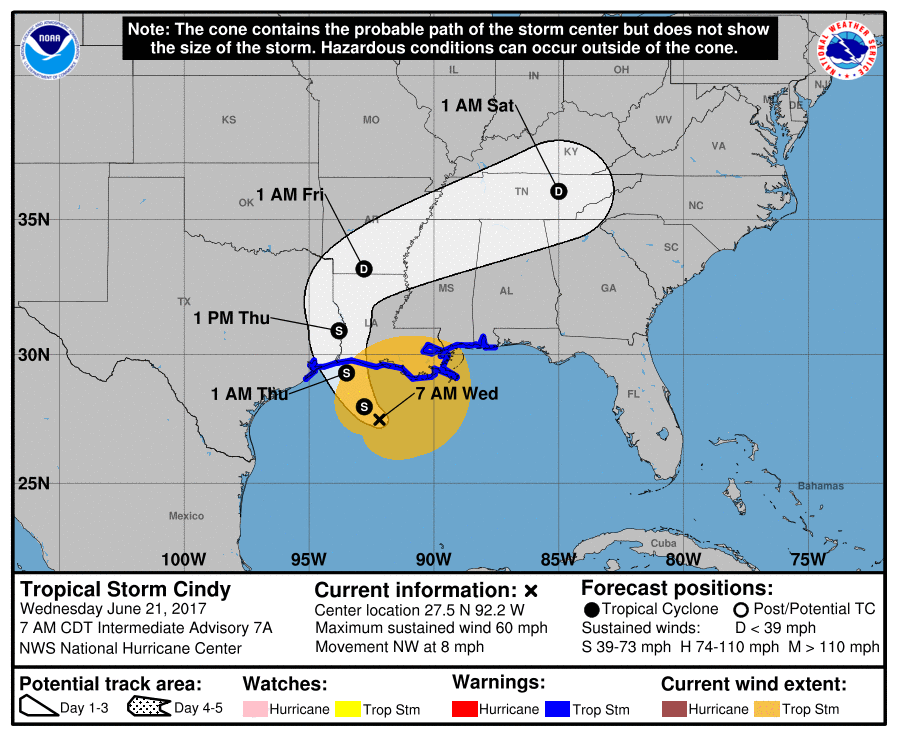 Here is broad overview of how one model, the GFS, thinks the next several days will play out.
GFS Loop 7 PM Tonight Through 1 PM Saturday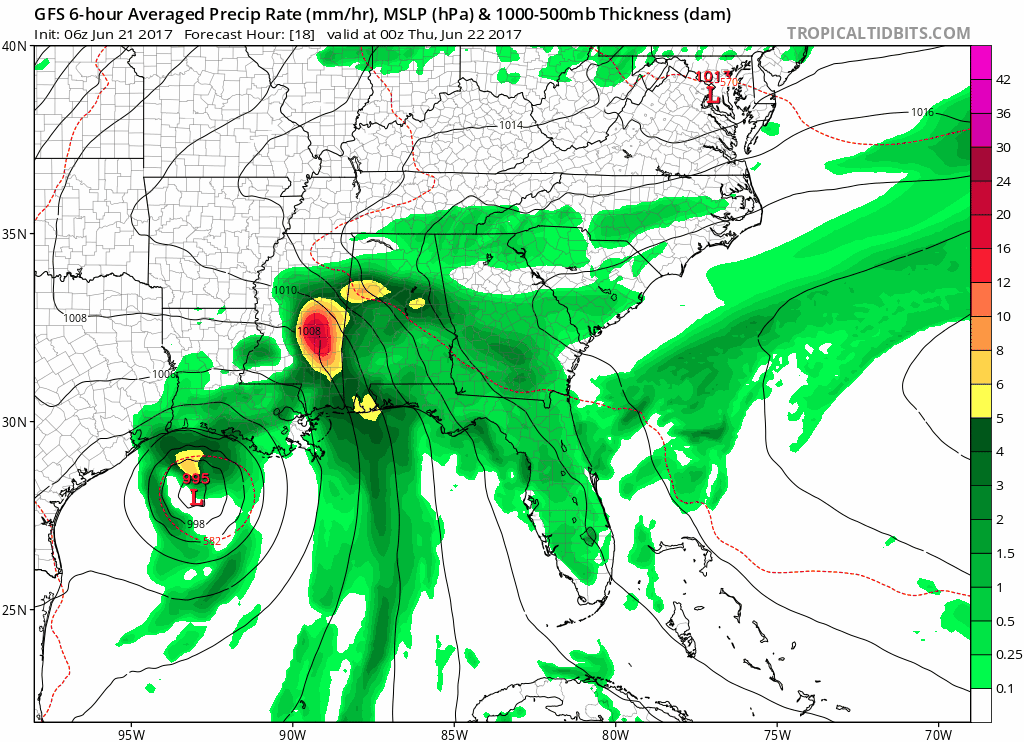 We are about to experience a very wet couple of days folks.
For Thursday, expect for showers to hang around for the majority of the day. In addition to these outer-band showers, we could see a few thunderstorms in the mix. While this does appear to be on the low-end of the severe weather spectrum, the Storm Prediction Center does include us in a "Marginal Risk" category for tomorrow. This translates to there being a 5% probability of severe weather developing within 25 miles of your location.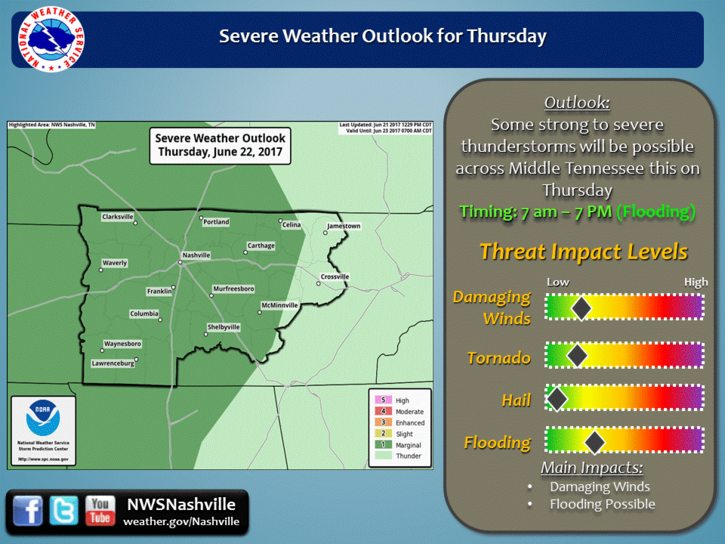 The main concern tomorrow will be localized flash flooding. Damaging winds and a spin-up tornado can not be ruled out. However, Friday has more severe weather concern than tomorrow…more on this later.
While we could see some thunderstorms on Thursday, the bigger issue will be how much rainfall we receive. The Weather Prediction Center currently has us in the "Marginal Risk" category for excessive rainfall.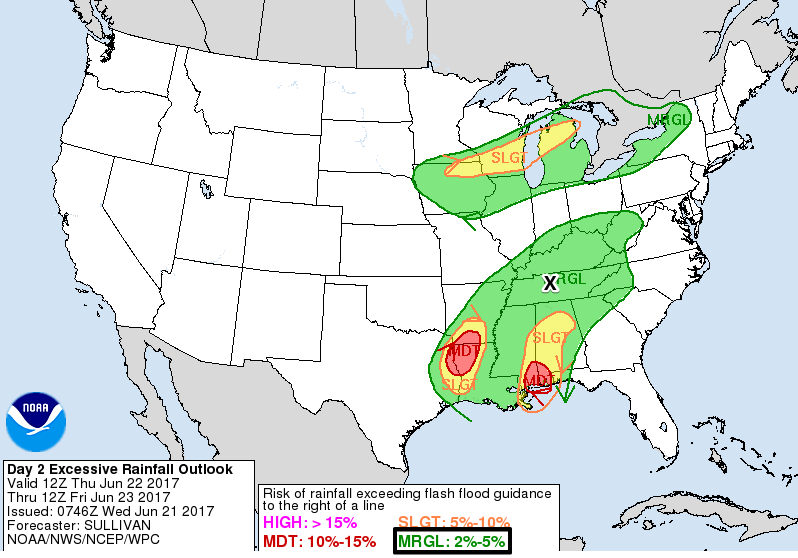 Thursday night into Friday morning we could see a "lull" in the showers. This does not mean the showers will stop (because they more than likely will not), but that showers could be a little lighter during the overnight hours.
Into Friday, we are expecting more rain and this is when the "severe weather" discussion comes in.  Right now, most of the models take the low pressure (remnants of Cindy) right along I-40 and through Nashville. In terms of severe weather, this is "good" news for those in Davidson County because if the low tracks this way, we could possibly skip the severe weather part. For Williamson County, the low will be to our north, so severe weather is still a possibility. We are not in the clear for severe weather in either county, we need to continue to keep an eye on the low pressure track for Friday. The Storm Prediction Center has included much of Davidson County in the "Marginal Risk" category and most of Williamson County in the "Slight Risk" category for Friday.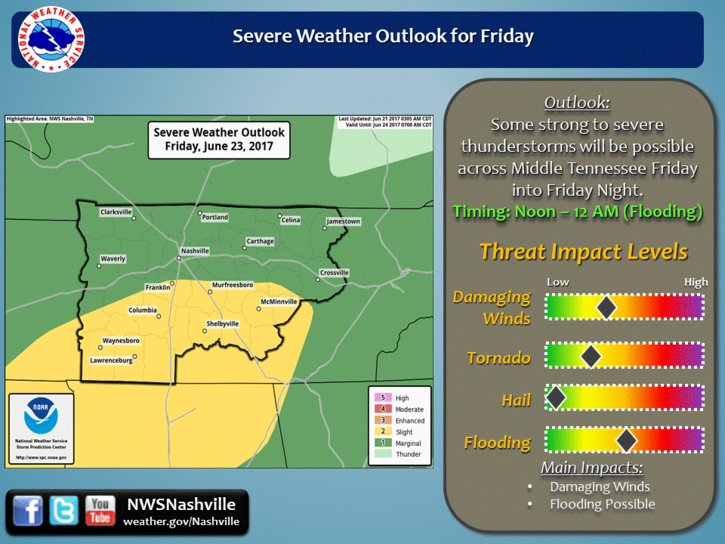 There isn't a good timeline of "when" storms could arrive, but the general thinking for the severe stuff will be Friday afternoon into Friday evening. The main concern once again is flooding (discussed further below). Additionally, we will have better environmental conditions to produce damaging winds and isolated tornadoes compared to Thursday. So the overall threat level for damaging winds and an isolated tornado goes up on Friday.
There is some bad news with this low pressure track. We will see a lot of rainfall, regardless if severe weather occurs or not, if the low pressure tracks this way. For this reason, the Weather Prediction Center has included us in the "Slight Risk" category for excessive rainfall on Friday.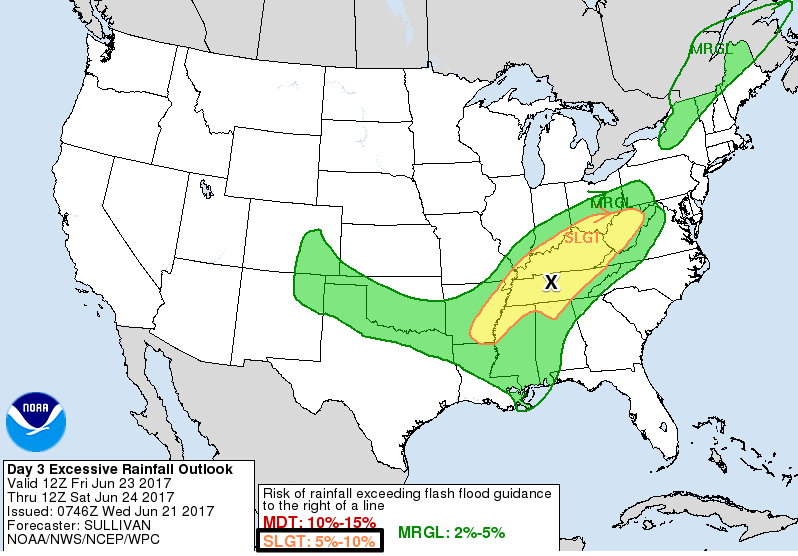 By Saturday, models have begun to come into better consensus. Showers and most of the moisture should begin to move off during the day on Saturday. We may even clear out in terms of rainfall by Saturday evening (no promises but keep your fingers crossed on this one).
Takeaways From This:
In terms of rainfall, we are expecting to receive a lot of precipitation. Our local NWS said this morning:
"some parts of Middle Tennessee will likely get between 3 and 4 inches of rain between Thursday and Saturday, and everyone is likely to get more than 2 inches."
We are going to see a lot of rain.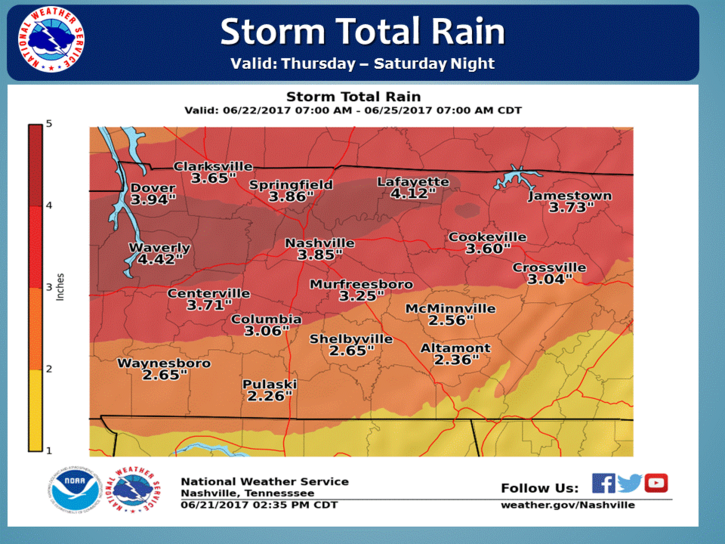 While this rainfall will be spread over several days (which is a good thing), localized flash flooding is possible.
In terms of our temperatures over the next several days, highs will top off in the low 80s each day, but it will be very muggy, so it will be a gross 80s.
Bottomline:
If you have any outdoor plans Thursday through Saturday, have a rain plan in place and ready to go.
Any severe weather that we see will be isolated. However, we will all see rainfall with this system.
This is an evolving forecast that will change by the end of the day and will change again by tomorrow. Consult multiple reliable weather outlets over the next several days to monitor this event.
All of this rain will end as we move into next week around the Monday/Tuesday time frame.
---