Today's Father's Day forecast is kinda like this.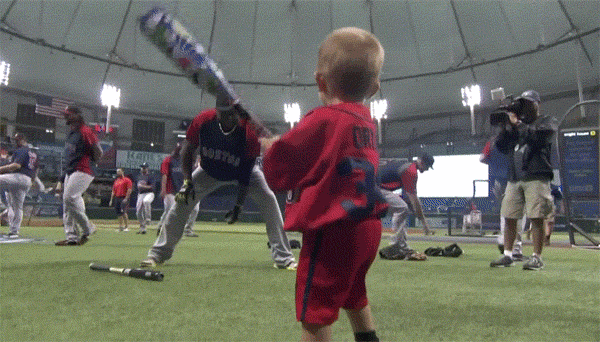 Expect thunderstorms.
At 8:45 AM, weak storms near Paducah, KY, are moving slowly our way down I-24. Those storms should strengthen as they approach and encounter a hotter, more destabilized airmass here in Davidson & Williamson Counties.
What. Heavy rain and lightning, with a low-end chance of severe weather.
Some storms may be severe, with damaging winds the most likely of the severe threats.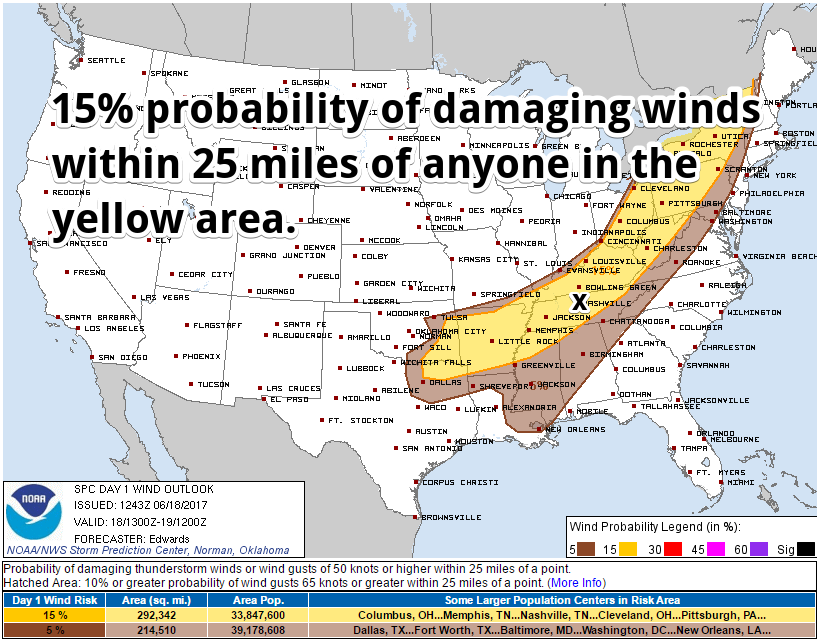 Hail also possible, but unlikely: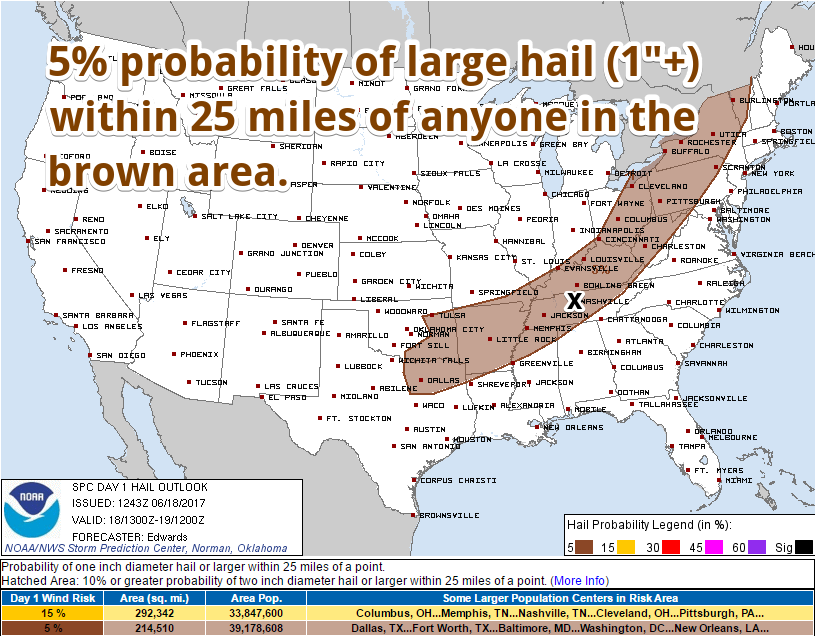 We are excluded from the SPC tornado risk.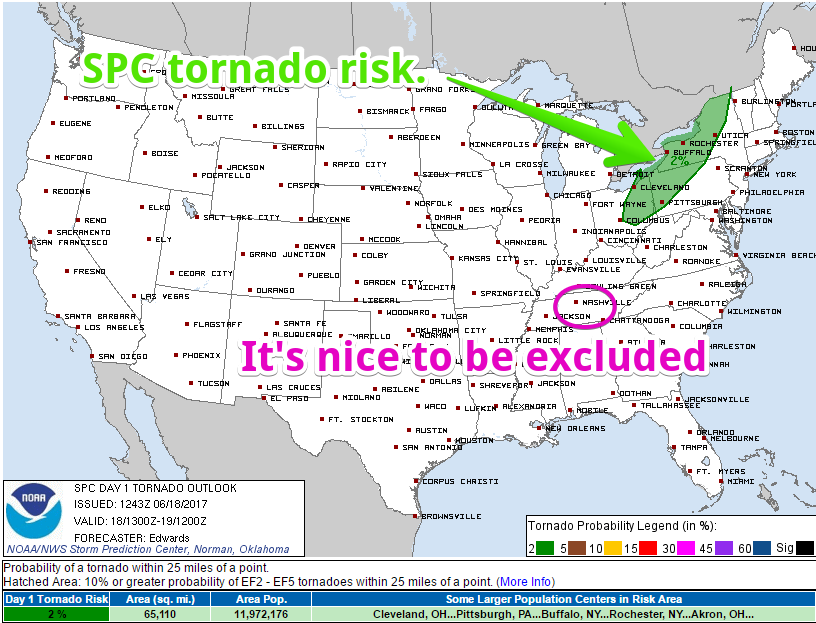 I reviewed the forecast soundings for when the storms will arrive and cannot imagine how a tornado could form in the expected wind fields. We are never really smart enough to rule out any tornado chances, but in terms of severe weather, this looks like a low-end damaging wind and maybe a hail threat today.
Watch out for lightning! Enclosed structures. Not trees. Not pavilions.
Some flooding is possible. Storms will be arriving when afternoon heating (90°) and humidity (dewpoint at an oppressive 71°) reaches their respective peaks, allowing for a ton of moisture to be ingested and released. Once the main line of storms arrive, your played-on-dirt-and-grass ball games will very likely be over for the day. Rain of varying intensity will last at least a few hours, maybe longer, and rain you out. A total of 1″ to 1.5″ is expected through midnight, with most of that falling at the beginning of the event.
The Weather Prediction Center thinks there is a 5% to 10% chance of flash flooding.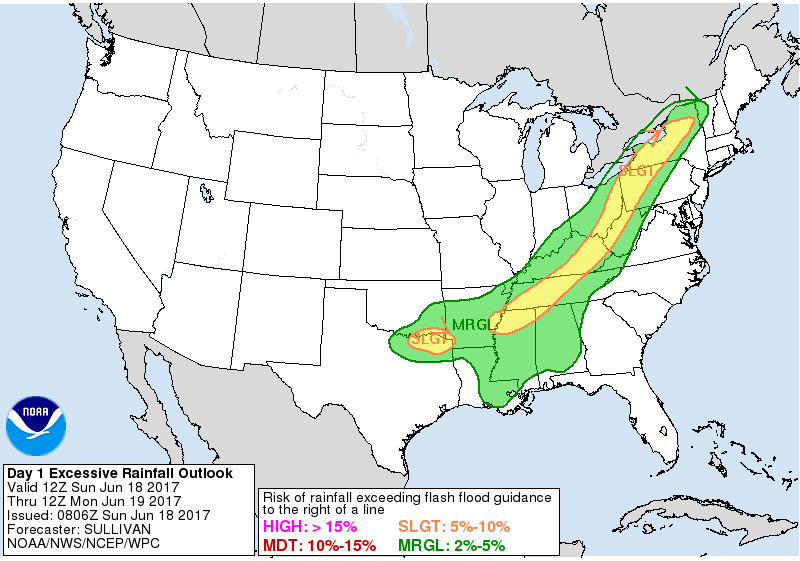 When. Mid to late afternoon, but confidence on that is low because the models aren't consistent from run-to-run.
Take the HRRR model. It makes a new prediction ever hour. Two hours ago it showed this at 3 PM: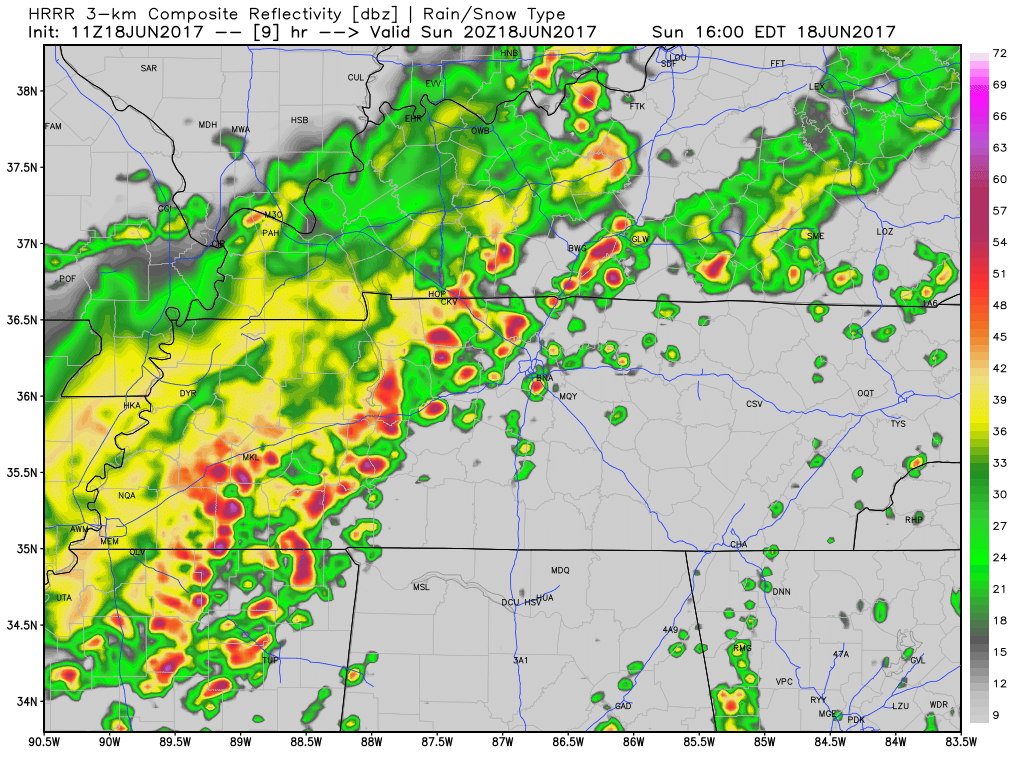 The latest run, also at 3 PM, showed this: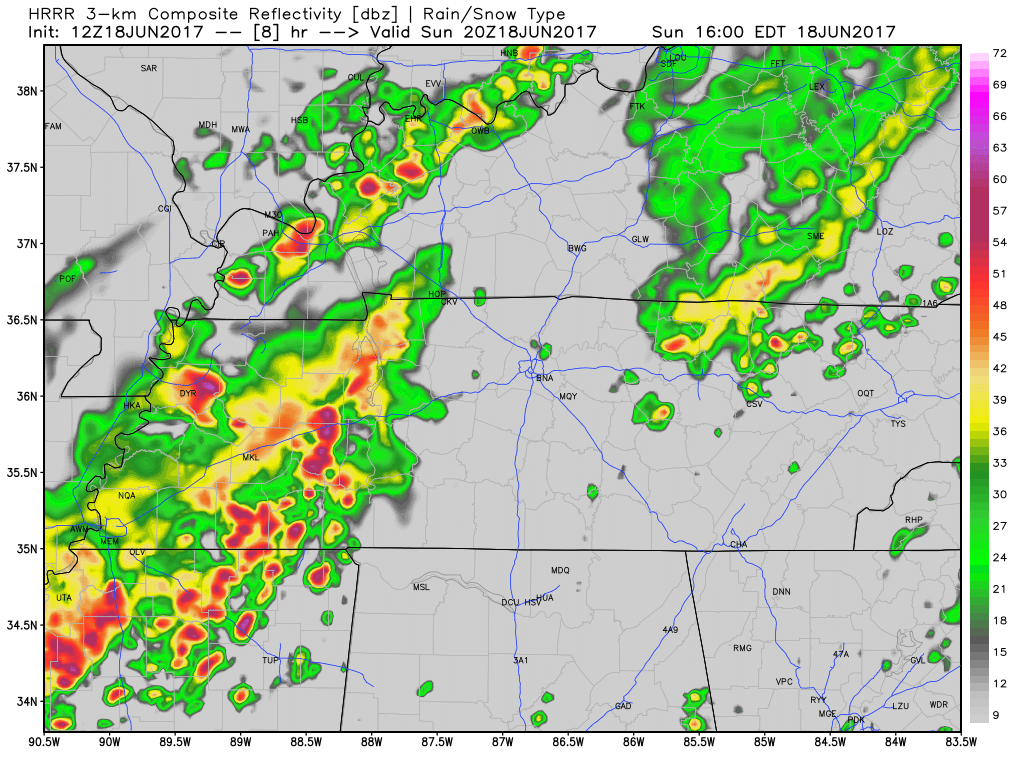 That's very different! No, I don't think it'll "miss us" with that last run, but it may push the storms back a few hours. Yesterday, we were saying 3 PM to 6 PM, and I still like that ETA for the main line.
However, may see a few storms pop-up after noon, before the "main line" gets here.
This is exactly why we tweeted this yesterday:
Storms approaching from the NW tomorrow. We pulled the archive of the last few times we gave an ETA for storms coming in from the NW: pic.twitter.com/BAh0dCH3kI

— NashSevereWx (@NashSevereWx) June 17, 2017
So, it's time to just watch the radar, and try to time these out by what's actually happening, instead of what the models think will be happening. We'll be tweeting these storms, as usual. You can track the storms on this radar page.
The rain should end in time for the Monday morning commute, but some early morning fog is likely.
Monday thru Wednesday: Less Humid
A cold front arrives Monday, and will scour away the humidity. It'll still be hot, but you'll love Monday – Wednesday, with no rain forecast.

Humidity returns Thursday through the weekend, and with it, another chance of typical-summery afternoon rain/thunderstorms, with maybe another cold front to create another rain/storm event next weekend.
---