Humidity increases tonight. The dewpoint will rise past past 65° around 7 PM and settle in around 67° by 10 PM, which will be more humid than it's been all week. Even though the temp will drop into the 70°s by 10 PM, those of you outside will be looking for water. It'll be that humid.
(turn your phone sideways to see this better)
[av_textblock av_uid='av-2xe628′]
[cjtoolbox name='Testing HTML 1′]
[/av_textblock]
No rain expected tonight. 
Hot & Humid Summer Returns Monday
High humidity. Hair-ruining dewpoints near 70° each day at least through Saturday, and probably beyond.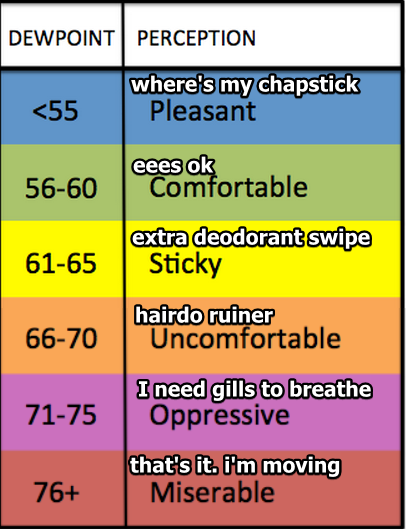 Dewpoints will be near-oppressive. Be careful out there.
Rain/Storm Chances
You remember this, right? The slight chance of thunderstorms?

Monday, Tuesday, & Wednesday, traditional "daytime heating" storm chances return. Temps approaching 90° will lift moist air parcels, and with no more sinking air to block their ascent, showers and storms should develop in "random" places in Middle Tennessee. Will they develop on us? We don't know.
Some storms may be strong thanks to plenty of storm food available and rapidly cooling temperatures the further up you go, but weak shear and a lack of real storm movement will limit severe potential. If you get caught under one of these, don't expect it to move far, and get out of the way — you may get a deluge with some lightning thrown in.
Sometimes these storms get us. Sometimes they don't. It's likely we will get at least some rain sometime Monday through Wednesday. I wish I could tell you when.
Rain/Storms Anytime Thursday thru Saturday. Monday-Wednesday's "afternoon/early evening" thunderstorm chances will become "a chance of rain anytime" on Thursday, Friday, and Saturday. Why? At upper levels Monday-Wednesday, relatively high pressure at the higher levels of the atmosphere will prevent storms from forming, unless those storms are driven by daytime heating. Beginning Thursday, that upper-level high pressure will slide east, allowing just about any disturbance coming through to form a shower or thunderstorm.
The best chance for rain/storms appears to be Thursday afternoon/evening.
As for storm strength, here's what NWS-Nashville wrote this morning: There continues to be no indication as of this time of any organized severe thunderstorm potential or flooding potential Wednesday through the first part of the upcoming weekend. However, this summertime pattern could produce a few strong thunderstorms with brief heavy rainfall at times that can lead to localized minor flooding/ponding of water on area roadways.
Today through Sunday morning, we should see around 1.75″ total.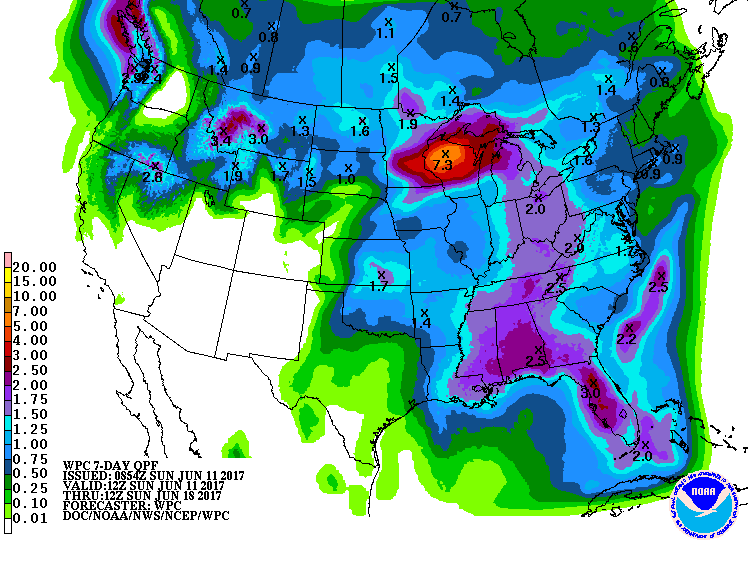 My bet is most of this will fall during the second half of that time frame.
---