This morning, NWS-Nashville wrote "Today through late Monday…the mid-state expected to remain in deep moisture regime…with a series of upper impulses passing …and with a few weak low-level boundaries in the immediate vicinity."
That means it's going to rain.
Sunday won't be an all-day rain. Instead, rain is possible anytime today, coming off and on.
The HRRR model likes an "after lunch" ETA for the heavier showers arriving from the south, but don't be surprised if these arrive sooner.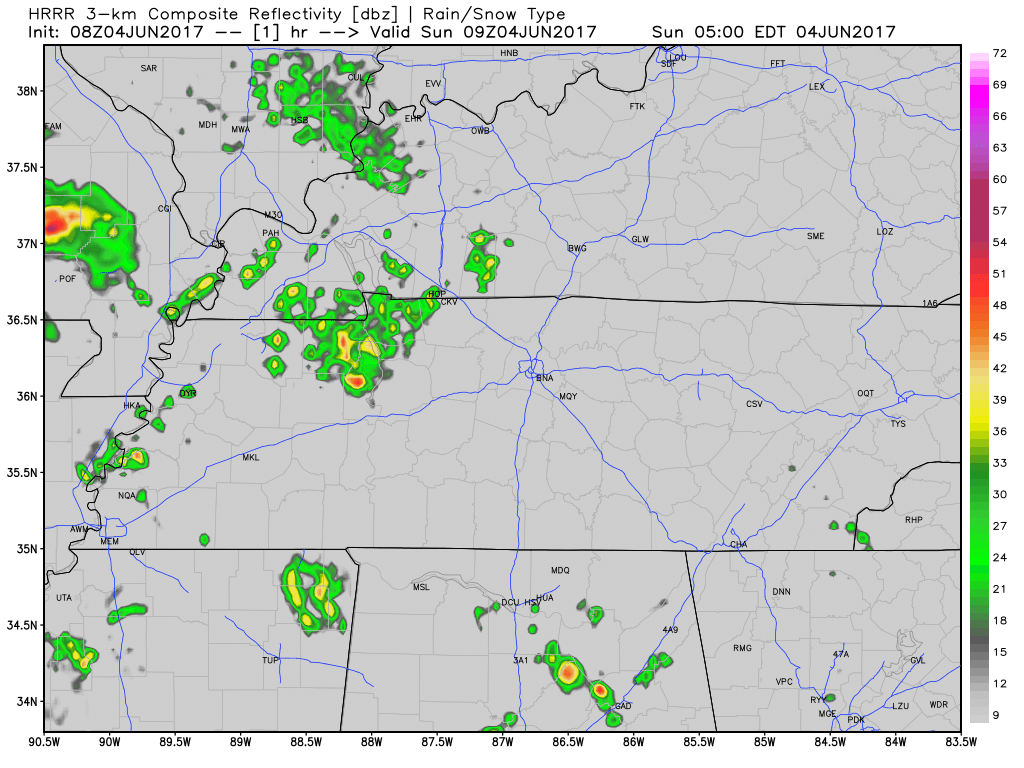 A few strong storms not out of the question but with weak shear and other missing ingredients, any storms are likely to remain below severe limits overall. We will be covering these on Twitter today, as usual.
Risk of flash flooding today is low, between 2% and 5%.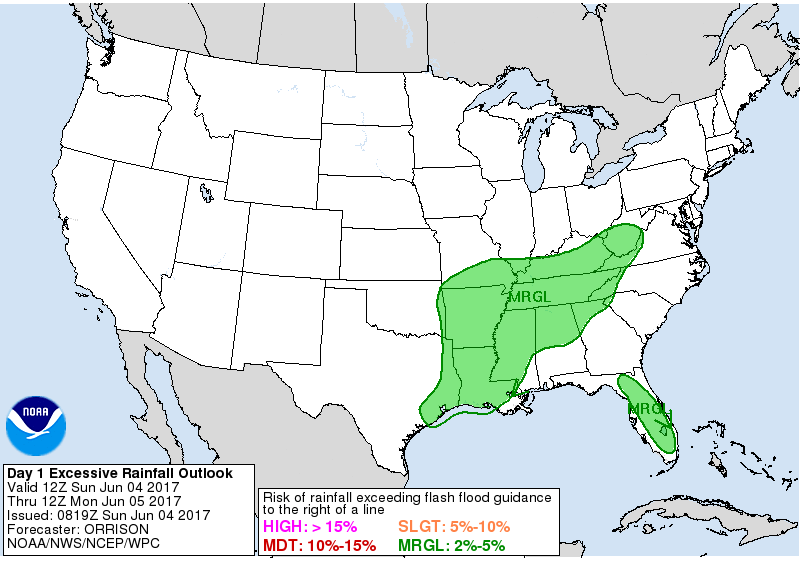 The rain should continue into Monday. By 7 PM Sunday night, we expect 1/3″, enough to rain out most things; however, due to the off/on nature of the rain streaming in from the south, expect your backyard totals to vary. The models show very different possibilities. The NAM3 model thinks the rain will be mostly "off" and widely scattered on Sunday, the Euro model thinks we could pile up close to 1″ thru 7 PM. It'll all depend where the heaviest showers "scatter."
More rain is expected Monday; in fact, Monday should be wetter.
A cold front is approaching. It'll sweep away the rainy atmosphere and clear us out Tuesday, but it'll set off another round of rain and maybe a few weak storms Monday into Monday night. With Sunday's rain, Monday night's outdoor rolly-ball activities are in danger of rainout, but confidence is not high.
Rainfall totals vary for Monday. The Euro model shows 0.5″ to 0.6″, with potential for 1″ or more. The GFS model agrees with that. The NAM3 models also shows streaks of 1.4″ and 1.5″ rainfall totals for Monday, mixed with other areas getting less than 0.5″.
Bottom line is that ETA/timing is almost impossible, and due to the scattered nature of the heaviest rain, we don't really know whether we will get drenched, or just a little wet.  This should impact Preds Plaza, SoBro, and other awesome outdoor community Predators parties.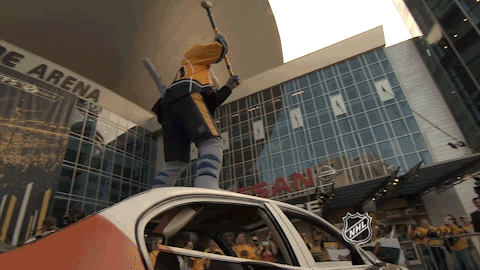 Monday thunderstorms are possible (this includes lightning) but not certain. Severe weather (58 MPH, hail 1″ or more) is unlikely.
Things Quiet Down Tuesday
Monday night's cold front looks good. The temps are below. What it doesn't show you is dropping dewpoints, sweeping away humidity through Friday.

Next Weekend Guess
It's a guess because forecast skill after 5 days is poor, but I hear there will be some people in town this weekend LOL.
The models are hinting at some weak showers late Friday or Saturday, but that's of little concern; the latest run of the Euro is dry all weekend with comfy dewpoints.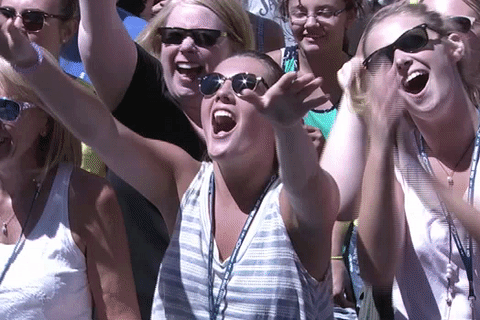 So far, so good, but keep checking back, country music fans. Remember, forecast skill this far away is poor.
---